ALLEN PARK, Mich. -- Detroit Lions right guard T.J. Lang has entered the NFL's concussion protocol after becoming ill during Wednesday's practice.
Lang was initially limited on Wednesday's injury report with an illness, and Lions coach Jim Caldwell said Thursday that doctors came after practice and suggested he be placed in the concussion protocol.
"After the ballgame was over with, sometimes these things don't manifest themselves between 24 and 72 hours, and this is one of those cases," Caldwell said. "He's fine. No issues all the way up until [Wednesday]. We start practice, and practice starts, and he gets ill.
"So we take him out of practice, get him inside, and then the doctors don't come until after we finish with, obviously finishing submitting our medical report. So after they had an opportunity to look at him, they determined that he should be placed in concussion protocol. So that's where he is at this particular point in time."
Caldwell said the concussion did not occur in practice.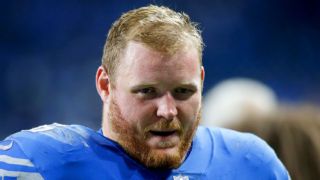 If Lang is unable to play Sunday against the Cleveland Browns, Emmett Cleary or Don Barclay would likely get the start. Lang, who was a Pro Bowl selection last year for Green Bay before signing with Detroit in the offseason, has been the Lions' best offensive lineman this season.
In a 2015 conference call with the Detroit media, Lang estimated he had suffered "three or four" concussions in his career and said, "They're scary to go through.
"I'm a player that it's just something that those things are going to happen, and that's part of the risk of this game," Lang said about concussions in 2015. "It's something that some guys feel like if it's too dangerous that they don't want to do it or some guys, they feel like that's the price you have to pay sometimes to do the things that you love to do."