The big NFL Honors show is this weekend, when the star players and coaches of the season will be recognized in red-carpet fashion with their end-of-season awards.
We decided to go a bit early.
Here are our picks for the 2017 NFL awards as voted on by our usual MVP Poll panel, starting with our final top five for Most Valuable Player, followed by our selections for coach and players of the year. We hope it holds you over until Saturday night, when you can check to see how we did.
Methodology: Our 12 MVP Poll panelists nominated their top five candidates for MVP and their top three for the other awards. First-place votes for MVP were worth five points, second-place worth four and so on. First-place votes for the other awards were worth three points, second-place worth two and third-place worth one. Full MVP results can be found at the bottom.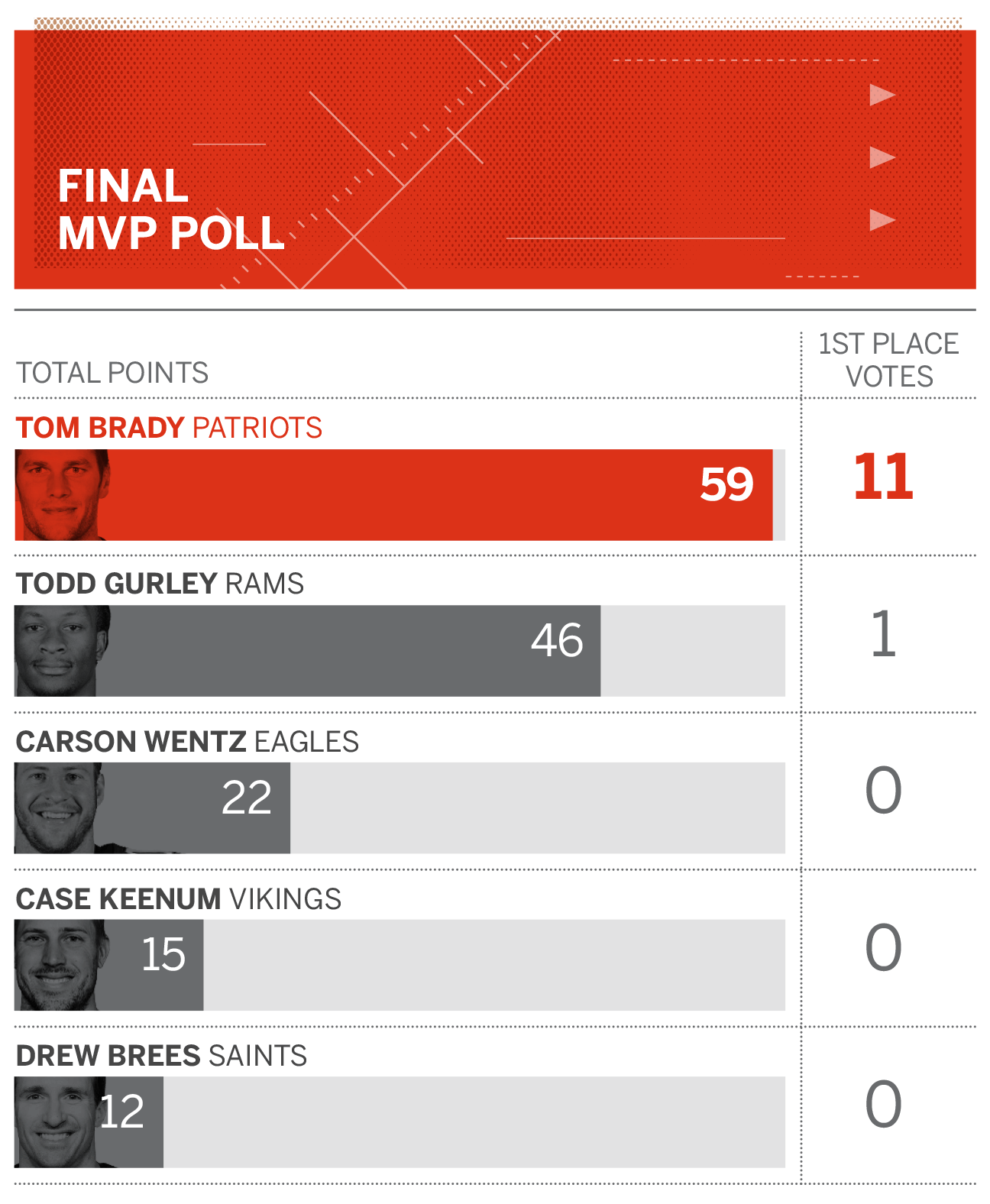 Regular-season passing: 385-for-581 (66.3 percent); 4,577 yards; 32 TDs; 8 INTs; 70.2 Total QBR
The case for Brady: Once Carson Wentz got hurt, this felt like a no-brainer. The starting quarterback on one of the four teams that tied for the league's best record at 13-3, Brady led the NFL in passing yards, was third in passer rating, QBR and touchdown passes, was fifth in completion percentage and yards per attempt -- you name it, he's up there. He also graded out as Pro Football Focus' MVP and Offensive Player of the Year, checking their advanced-stat boxes, as well as all of the aforementioned traditional ones. And he did it all in spite of losing his favorite receiver Julian Edelman in the preseason. This season was Brady at his best, and he's the best of all time.
The case against Brady: When Wentz went down, there really wasn't one. Brady ranked first on 11 of our 12 ballots and second on the remaining one. This was a runaway win.

Regular-season rushing: 279 carries; 1,305 yards; 13 TDs
Regular-season receiving: 64 receptions; 788 yards; 6 TDs
The case for Gurley: Gurley got that last first-place vote to go with nine second-place votes, a third and a fourth. A strong second-place finish in a year in which the winner seemed obvious, Gurley led the league with 2,093 total yards from scrimmage and 19 touchdowns. He was the engine that drove the NFL's highest-scoring offense.
The case against Gurley: It's just really tough for a running back (or any other position) to win this award in a year with strong quarterback candidates. It says a ton about Gurley's exceptional season that he beat out the other quarterbacks who could have finished here, but MVP voting deservedly takes into account the importance of the quarterback position relative to the others on the field.

Regular-season passing: 265-for-440 (60.2 percent); 3,296 yards; 33 TDs; 7 INTs; 74.4 Total QBR
The case for Wentz: In spite of missing the final three games of the season after tearing the ACL in his left knee in Week 14, Wentz still collected two second-place votes, three thirds, one fourth and three fifths. He was in position to beat out Brady and win this award before his injury, and Wentz still managed to finish second in the league in touchdown passes while finishing first in QBR. Wentz's magical second season helped secure the home-field advantage that helped backup Nick Foles deliver the Eagles to the Super Bowl. Wentz's value to the team was clear.
The case against Wentz: Really, just the three missed games. Last year, the case against Brady was the four games he missed due to suspension. Wentz ended up playing only 81 percent of the regular season, and since he and Brady were neck-and-neck, it doesn't feel right to give Wentz the award over a guy who played 100 percent of it.

Regular-season passing: 325-for-325 (67.6 percent); 3,547 yards; 22 TDs; 7 INTs; 71.3 Total QBR
The case for Keenum: Like Wentz and Brady, Keenum was the quarterback for one of the league's four 13-3 teams. Forget the fact that his emergence from third-stringer to playoff starter was one of the season's best stories, Keenum delivered the statistical goods. He was second in QBR -- right between Wentz -- and second in completion percentages, threw one fewer interception than Brady did and kept the Minnesota offense on track after Sam Bradford got hurt.
The case against Keenum: Kind of a meh 12th in passing yards and touchdown passes, seventh in passer rating, 13th in yards per attempt ... not that those are numbers to sneeze at, but if you're trying to crack a top three like this one, they're not great enough.

Regular-season passing: 386-for-536 (72.0 percent); 4,334 yards; 23 TDs; 8 INTs; 61.1 Total QBR
The case for Brees: Brees pulled the impressive trick of leading the league in both completion percentage and yards per attempt, setting a single-season record for the former in the process. He was second in passer rating and fourth in yards and had eight interceptions to go with 23 touchdown passes.
The case against Brees: His numbers were impressive but not Brees-esque. Which is to say he didn't get to 5,000 passing yards. The main case against Brees was the notion that the Saints leaned enough on their run game that he didn't have to be as valuable to them as he has been in years past.
COACH OF THE YEAR

The first-year coach took a Rams team that hadn't finished better than .500 since 2003 (or made the playoffs since 2004) and led it to an 11-5 record and a NFC West title. What's more, his stamp was all over it, as his offense led the league in scoring, Gurley became an MVP candidate and Jared Goff marked himself as a legitimate franchise quarterback after a rough rookie year. McVay got nine of our 12 first-place votes. The Eagles' Doug Pederson got two of them, and New England's Bill Belichick (who really could win it every year) got the final one.
---
OFFENSIVE PLAYER OF THE YEAR

A nice consolation prize after losing out in MVP voting to Brady. The OPOY award fits a guy who led the league in touchdowns and yards from scrimmage. Gurley's production cannot be disputed, and he was in the middle of all of the big scoring McVay's Rams did all season. He got seven first-place votes for this award. Brady got the other five.
---
DEFENSIVE PLAYER OF THE YEAR

A very close and difficult vote, this one went to the big free-agent signing who collected 14.5 sacks and helped lead the league's most fearsome defense all the way to the AFC Championship Game. Campbell wasn't the only star on that side of the ball for Jacksonville, but his dominance up front helped solidify things at all three levels. He received six first-place votes and five seconds, barely edging out the Rams' Aaron Donald, who got six first-place votes and only four seconds. There were nine players named on the three-slot ballots for this award.
---
OFFENSIVE ROOKIE OF THE YEAR

Kamara earned all 12 first-place votes in this award category, easily beating out league rushing leader Kareem Hunt of Kansas City (who received all 12 seconds). A brilliant bright spot in the Saints' rejuvenated offense from the outset, Kamara proved to be one of the toughest guys in the whole league to tackle. He touched the ball just 201 times (as compared to 343 for Gurley) but still finished sixth in the league with 1,554 scrimmage yards -- a whopping 525 of which came after first contact.
---
DEFENSIVE ROOKIE OF THE YEAR

Another sweep, as Lattimore collected all 12 first-place votes to complete the Saints' dominance of the rookie categories. The New Orleans secondary had become something of a joke in recent years, but the addition of the first-round pick helped lock things down on the back end for a defense whose resurgence was a major part of the Saints' turnaround. Bills cornerback Tre'Davious White finished a distant second.
---
COMEBACK PLAYER OF THE YEAR
After tearing his ACL in the 2016 opener and missing that entire season, Allen returned to finish fourth in the league in receptions, with 102, and third in receiving yards, with 1,393. Known for what seems like his entire career as a guy who has trouble staying healthy, Allen played all 16 games for the first time. He got eight first-place votes in our poll. Patriots tight end Rob Gronkowski, Seahawks safety Earl Thomas, Keenum and Cardinals safety Tyrann Mathieu each received one.
FULL MVP POLL RESULTS