There have been plenty of standout individual performances authored by NFL players over the years, but those that took place in the postseason hold a special spot in history.
As part of a project to name the best individual playoff performances across the four major sports, a trio of ESPN.com experts -- senior writers John Clayton and Jeffri Chadiha and NFC West blogger Mike Sando -- voted on the top 25 postseason performances in league history. The result is the list below.
Included are legendary Super Bowl moments, plenty of iconic players and some of the most memorable games in league history, as well as games by some less-heralded players who stepped up at the right time. The most recent playoff season is represented, and our list goes all the way back to the 1940s.
Did we miss any games? Which are ranked too low or too high? Peruse our rankings and let us know.
25. Packers KR/PR Desmond Howard vs. Patriots, Super Bowl XXXI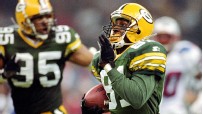 Howard didn't touch the ball on offense, but he earned MVP honors in the Packers' 35-21 win over the Patriots in Super Bowl XXXI. He returned six punts for 90 yards and four kickoffs for 154, including a 99-yard kickoff return for a touchdown immediately after New England pulled to within 27-21 in the third quarter. His 32-yard punt return set up Green Bay's first touchdown, and a 34-yard punt return in the second quarter began a drive that resulted in a field goal.
---
24. Colts QB Peyton Manning vs. Broncos, 2003 wild-card game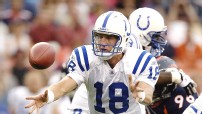 Manning finally proved himself in a big game, dismantling the Denver defense on the way to a 41-10 win in the 2003 wild-card round. He completed 22 of 26 passes for 377 yards, and Manning's 14.5 yards per attempt is the second-highest single-game average in postseason history. He threw five touchdown passes, tied for second most in postseason history, and left the game in the fourth quarter with a perfect 158.3 passer rating.
---
23. Steelers DE L.C. Greenwood vs. Cowboys, Super Bowl X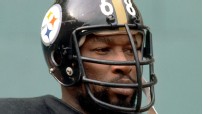 Sacks did not become an official statistic until 1982, but the unofficial ledger says Greenwood had a Super Bowl-record four in Pittsburgh's 21-17 win over Dallas in Super Bowl X. Greenwood sacked Cowboys quarterback Roger Staubach and forced a fumble on the first play of the game, and threw Staubach for a 12-yard loss in the second quarter. He then ended the Cowboys' first drive of the fourth quarter with a sack. Greenwood's final sack came on a second-and-6 play late in the fourth quarter, and on the next play, he stopped a pass short of the first-down marker to end a Dallas drive.
---
22. Oilers CB Vernon Perry vs. Chargers, 1979 divisional game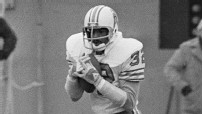 The Oilers entered their 1979 divisional game against the Chargers undermanned because of injuries, but Perry's amazing defensive performance helped keep the high-powered San Diego offense in check just enough for Houston to get a 17-14 win. He picked off Dan Fouts on the Chargers' second drive of the game, and shortly thereafter blocked a San Diego field goal and returned it 57 yards to set up an Oilers field goal. His second interception set up Boobie Clark's second-quarter touchdown, and Perry added two more picks in the second half. His final interception came with just more than a minute remaining and the Chargers looking for the go-ahead score.
---
21. Patriots QB Tom Brady vs. Broncos, 2011 divisional game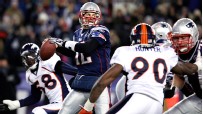 The fascination with Broncos quarterback Tim Tebow was the dominant storyline heading into the 2011 divisional matchup with Brady and the Patriots, but Denver had no chance against a dialed-in Brady and his teammates in a 45-10 loss. Brady tied the postseason record with six touchdown passes to four players, including three to tight end Rob Gronkowski, and finished 26-of-34 for 363 yards. He even managed to contribute on special teams, getting off a 48-yard punt that pinned the Broncos at their 10-yard line midway through the fourth quarter.
---
20. Chargers RB Keith Lincoln vs. Patriots, 1963 AFL championship game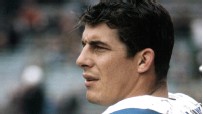 Lincoln's incredible all-around performance in a 51-10 win over the Boston Patriots in the 1963 AFL title game came before the AFL-NFL merger but is included in the NFL record book as one of the best playoff showings of all time. Lincoln carried the ball 13 times for 206 yards and a touchdown, and caught seven passes for 123 yards and another score. His 329 all-purpose yards remain the second most ever in a postseason game behind only the 350 put up by the Chiefs' Ed Podolak in a loss to the Dolphins in 1971.
---
19. Cardinals QB Kurt Warner vs. Packers, 2009 wild-card game
Packers QB Aaron Rodgers threw for 423 yards and four touchdowns against the Cardinals in the 2009 wild-card round, but Warner was even better for Arizona. Warner went 29-of-33 for 379 yards in the 51-45 overtime victory and threw more touchdown passes (five) than incompletions (four). It also marked the second time in his career that Warner, then 38, threw for five touchdowns in a playoff game (1999 divisional round versus Minnesota).
---
18. Dolphins LB/DE A.J. Duhe vs. Jets, 1982 AFC Championship Game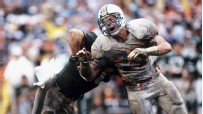 Offense was at a premium when the Dolphins and Jets played in a muddy mess in the 1982 AFC Championship Game, and Duhe could have provided all the points Miami needed on defense. The game was scoreless at halftime, and in the second half, Duhe intercepted three Richard Todd passes, including a fourth-quarter pick he returned for a touchdown to seal the 14-0 victory and help send the Dolphins to Super Bowl XVII against Washington.
---
17. Browns QB Otto Graham vs. Rams, 1950 NFL title game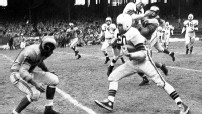 Graham's showing in the 1950 NFL title game against the Los Angeles Rams remains one of the best all-around performances in postseason history. He completed 22 of 33 passes for 298 yards and four touchdowns, and led all players with 99 rushing yards on 12 carries in a 30-28 victory. The Browns trailed 28-20 entering the fourth quarter before Graham threw his final touchdown pass to bring the score to 28-27, then Graham led the game-winning drive that ended with a Lou Groza field goal.
---
16. Steelers WR Lynn Swann vs. Cowboys, Super Bowl X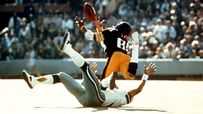 Swann suffered a concussion in the AFC title game and was questionable leading up to Super Bowl X against the Cowboys. Dallas safety Cliff Harris suggested Swann would play scared, but Swann got on the field and played a major role in the Steelers' 21-17 victory. Swann caught four passes for 161 yards, including a 64-yard touchdown late in the fourth quarter that provided the winning margin. Swann's 40.3 yards per reception is the second-highest average in Super Bowl history, and his juggling 53-yard reception while falling over a defender is one of the most memorable Super Bowl plays.
---
15. Bears QB Sid Luckman vs. Redskins, 1943 NFL title game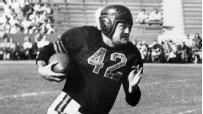 The 1943 NFL title game was a showdown between legendary quarterbacks: Luckman led the Bears against Sammy Baugh and the Redskins. The day belonged to Luckman, though. He completed only 15 passes but totaled five touchdowns and 286 yards in a 41-21 rout of Washington.
---
14. Rams QB Kurt Warner vs. Vikings, 1999 divisional game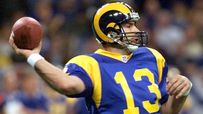 The first playoff start of Warner's career couldn't have gone much better. He shredded the Vikings in the divisional round, completing 27 of 33 passes for 391 yards and five touchdowns in a 49-37 win. Warner completed passes to 10 receivers, and each of his five touchdowns went to a different receiver. His best work came as the Rams scored 35 unanswered points in the second half, and Warner finished with an impressive 142.99 passer rating.
---
13. Colts WR Raymond Berry vs. Giants, 1958 NFL title game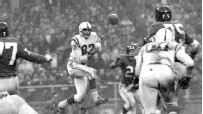 The 1958 NFL title game between the Colts and Giants is known as "The Greatest Game Ever Played," and Berry had a starring role in Baltimore's 23-17 overtime victory. The Colts' Hall of Fame receiver caught 12 passes from Johnny Unitas, still tied for the second most in a postseason game, including a second-quarter touchdown that staked Baltimore to a 14-3 lead. Berry finished with 178 receiving yards on those 12 catches and had a pair of receptions on the game-winning drive in overtime.
---
12. Broncos RB Terrell Davis vs. Packers, Super Bowl XXXII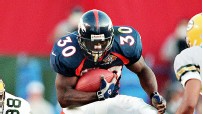 Not even a migraine headache could derail Davis on his way to MVP honors in Super Bowl XXXII. Davis sat out the second quarter while nursing the migraine but still managed to carry the ball 30 times for 157 yards and become the only player ever to score three rushing touchdowns in the Super Bowl.
---
11. Packers QB Aaron Rodgers vs. Falcons, 2010 divisional game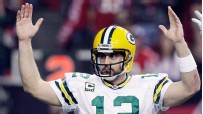 Rodgers accounted for four touchdowns while leading a stunning road blowout of the top-seeded Falcons in the 2010 divisional round. He finished 31-of-36 passing for 366 yards and three touchdowns, and ran for another score midway through the third quarter. Rodgers led four drives of at least 80 yards and showed impressive pocket mobility. His 86.1 percent completion rate is the second highest in a 300-yard game in postseason history.
---
10. Giants QB Phil Simms vs. Broncos, Super Bowl XXI
Simms set the Super Bowl standard for accuracy in the Giants' 39-20 win over Denver in Super Bowl XXI, completing 22 of 25 passes (88 percent). He passed for 268 yards, and two of Simms' three touchdown passes came during a 30-point second half for New York.
---
9. Redskins RB John Riggins vs. Vikings, 1982 divisional game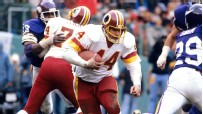 Riggins almost singlehandedly pounded the Vikings into submission in the 1982 divisional round. The 33-year-old back set career highs with 37 carries and 185 yards (also a franchise playoff record) in a 21-7 victory that was part of a run to the Super Bowl XVII title. Riggins' pummeling of the Vikings, which included a first-quarter touchdown, was also one of four straight 100-yard games for him during that playoff campaign.
---
8. Redskins QB Doug Williams vs. Broncos, Super Bowl XXII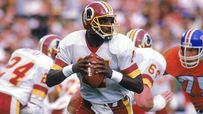 The Redskins trailed the Broncos 10-0 after the first quarter of Super Bowl XXII, but Williams led the second-quarter offensive explosion that put the game out of reach. Williams sparked the outburst with an 80-yard touchdown pass to Ricky Sanders early in the second and went on to throw for three more scores before halftime to give Washington a 35-10 lead. Williams finished 18-of-29 for 340 yards, including 9-of-11 for 228 yards and all four of his touchdowns in the second quarter.
---
7. Bills QB Frank Reich vs. Oilers, 1992 wild-card game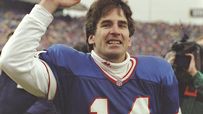 Reich engineered the biggest comeback in NFL history in Buffalo's 41-38 overtime win against Houston in the wild-card round following the 1992 season. The Bills trailed 35-3 early in the third quarter before a rushing touchdown closed the gap to 35-10. Then Reich went to work, throwing four touchdown passes (the final three to Andre Reed) to give Buffalo a 38-35 lead late in the fourth. Houston would tie the score in regulation, but an Oilers' turnover early in overtime led to a game-winning field goal for the Bills. Reich finished 21-of-34 for 289 yards and those four touchdowns.
---
6. Redskins RB Timmy Smith vs. Broncos, Super Bowl XXII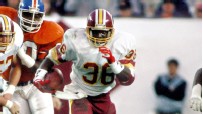 The MVP performance of Washington quarterback Doug Williams is the more-heralded individual showing from Super Bowl XXII, but Smith played just as big a part in the Redskins' 42-10 blowout of the Broncos. Smith carried 22 times for a Super Bowl-record 204 yards, ripping off a 58-yard touchdown run during Washington's 35-point second quarter. He had a second touchdown in the fourth quarter, and had runs of 43, 32 and 25 yards.
---
5. 49ers WR Jerry Rice vs. Bengals, Super Bowl XXIII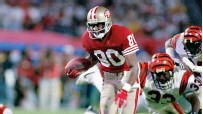 Super Bowl XXIII is widely remembered for John Taylor's game-winning touchdown catch with 34 seconds remaining, but the 49ers' 20-16 win wouldn't have been possible without Rice's MVP performance. Rice set Super Bowl records with 11 catches and 215 receiving yards. He also caught three passes on San Francisco's game-winning drive, including a 27-yard reception down the middle just two plays before Taylor's game winner.
---
4. Raiders RB Marcus Allen vs. Redskins, Super Bowl XVIII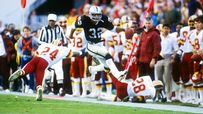 Allen set a Super Bowl record with his 191-yard performance in a 38-9 rout of the defending champion Redskins in Super Bowl XVIII. He needed only 20 carries to set the record, including a zigzagging, 74-yard touchdown run in the third quarter that remains one of the most memorable plays in Super Bowl history. Allen's showing is even more impressive given that Washington led the NFL in rushing defense during the regular season, allowing only 80.6 yards per game.
---
3. 49ers QB Joe Montana vs. Broncos, Super Bowl XXIV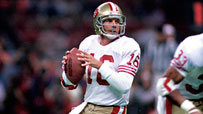 Montana dissected the Broncos on the way to a 55-10 win in Super Bowl XXIV, throwing a then-record five touchdown passes. He finished 22-of-29 for 297 yards, helping the 49ers set Super Bowl records for most points and biggest margin of victory. Montana completed passes to nine receivers, including seven (three TDs) to Jerry Rice, on the way to the fourth Super Bowl victory of his career.
---
2. Chargers TE Kellen Winslow vs. Dolphins, 1982 divisional game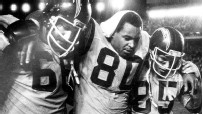 Winslow left it all on the field in San Diego's 41-38 overtime win against the Dolphins in the divisional round after the 1981 season. His 13 catches for 166 yards were a postseason record at the time, and his 25-yard touchdown catch put the Chargers ahead early in the second half. Winslow also preserved a 38-all tie by blocking Miami's potential game-winning field goal as time expired in regulation. Winslow's departure from the field after the game is one of the enduring images in playoff history.
---
1. 49ers QB Steve Young vs. Chargers, Super Bowl XXIX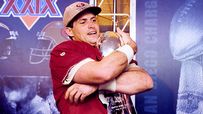 Young fully emerged from Joe Montana's shadow with a virtuoso performance in a 49-26 win over the Chargers in Super Bowl XXIX. The first of Young's Super Bowl-record six touchdown passes came on the third play of the game, and he completed 24 of 36 attempts for 325 yards and those six scores (three to Jerry Rice). Young was also the leading rusher in the game with 49 yards on five carries.