Our touchdown heroes turned 22.6 percent of their catches into six points in Year 1; the following season, the same guys converted just 9.0 percent of their catches into touchdowns.
For Watkins to justify a big new deal, his workload will need to increase, and it's not clear that his role in the offense should leap dramatically. Kupp and Woods are locked into long-term deals, and they both naturally assumed larger target shares than Watkins. Woods had 15 more targets than Watkins despite missing three additional games. Todd Gurley also outdrew Watkins. Watkins is a useful hedge if one of those guys gets injured, but is that hedge worth the cost of a franchise tag, which is going to top $16 million?
At this point, Watkins has produced 3,052 receiving yards and 25 touchdowns through four seasons, which is roughly equivalent to Mike Wallace (3,100 receiving yards and 20 touchdowns) or Jordan Matthews (2,955 receiving yards and 20 touchdowns) over the same time frame. Watkins has more upside based upon being a former No. 4 overall pick, but nobody is remotely suggesting Wallace or Matthews should sniff a franchise tag. If Watkins wants to come back on a one-year deal in the $8 million range, the Rams should bite and see if Watkins finally breaks out. If not, they should cut ties and use their assets elsewhere.
Joyner's versatility has been a hindrance in the past, with the Rams seemingly unsure about whether to use him at cornerback or safety without ever getting him to master either spot. Phillips moved Joyner around but got more out of the Florida State product as a free safety than Jeff Fisher ever did. The Rams have a far greater need for Joyner than they do for Watkins, and the $11.5 million they'll guarantee Joyner for 2018 would be a good step toward keeping Joyner around for the long term.
While general manager Les Snead will add more than one player, one logical fit would be to reunite Phillips with one of his star cornerbacks from Denver. Aqib Talib is virtually guaranteed to be a cap casualty by the Broncos, and while he's not playing at the same level as the guy we saw during Denver's deep runs into the playoffs, the 32-year-old is still comfortably a starting-caliber NFL cornerback. A one- or two-year deal would give the Rams a reliable veteran on one side of the field while they draft and develop younger talent.
Donald should expect to top both deals. It's hardly out of the question that the reigning Defensive Player of the Year will become the league's first $20 million-per-year defender and rack up $75 million in meaningful guarantees on his deal. If the Rams re-sign Donald for anything short of six years and $120 million, it will be a surprise.
Armstead should be healthy for 2018, and with the 49ers likely in line to have more than $100 million in cap room waiting for them in 2019, picking up Armstead's fifth-year option to see whether he can emerge as an every-down defensive lineman is a no-brainer.
Lynch then needs to improve the interior. Former first-round pick Joshua Garnett and Daniel Kilgore, who signed a three-year extension to stick with the 49ers at center, will be back. It wouldn't be a surprise to see the 49ers take a look at Spencer Long of Washington, who has the versatility to both help out at center and play as a full-time guard. Alternately, the 49ers seem like a logical fit for Notre Dame guard Quenton Nelson, who might still be on the board for them with the No. 9 pick.
Burton would be a logical investment in a well-rounded tight end who is stuck behind Zach Ertz in Philadelphia. George Kittle had a promising rookie season and finished with his first 100-yard game against the Rams in Week 17, but Shanahan should be able to find plenty of snaps for Burton, Kittle and expensive fullback Kyle Juszczyk throughout the season. Burton is going to have a surprisingly big market, and he should be able to top the three-year, $18 million deal the Bears gave Dion Sims last year.
Let's assume that the 49ers work with Witherspoon on one side and K'Waun Williams in the slot. They still need a viable top cornerback in a division with Jared Goff and Russell Wilson throwing the ball around. The good news? There are plenty of cornerbacks available in free agency, and the 49ers can outspend just about every team with approximately $80.6 million in cap space.
Pierre Garcon has already started to recruit Malcolm Butler, and while the former Super Bowl hero had a wildly inconsistent 2017 season before infamously sitting out the Super Bowl loss to Philadelphia, Butler would be an enormous upgrade on Dontae Johnson. Trumaine Johnson would simultaneously shore up one side of the field while taking a key player away from a division rival. Kyle Fuller broke out with the Bears in 2017 and could be this year's A.J. Bouye.
Foster looked promising when he was on the field, but the 49ers should prepare like he'll be missing for a chunk of the 2018 season. The inside linebacker market is perennially flooded with talent, which is one of the reasons Foster fell in the draft. Defensive coordinator Robert Saleh was previously the linebackers coach in Jacksonville under Gus Bradley, so it wouldn't be a shock to see the 49ers look toward veteran Paul Posluszny, who is a free agent and won't be an every-down linebacker for the Jags with Myles Jack and Telvin Smith in the lineup.
Schneider's decision to re-sign Kam Chancellor before the 2017 season might prove to be costly. He couldn't have known what might happen, but the three-year, $36 million deal Chancellor signed included a $6.8 million base salary that was guaranteed for injury this year. The star safety subsequently suffered a neck injury that could end his career; at the very least, Chancellor's 2018 season is in major jeopardy. Seattle is locked into paying Chancellor that money for 2018 and will owe $5 million in dead money if it cuts Chancellor or the safety retires after the season.
The Seahawks could have moved on from Chancellor after 2017 without any further obligations without the extension, and they appeared prepared to do so after investing in safeties during last year's draft. By rewarding one of its most talented players, though, Seattle ended up getting itself into a difficult situation as it tries to compete in 2018.
2. Work on re-signing Sheldon Richardson, but be prepared to let him leave. The Seahawks traded a second-round pick to acquire Richardson before the season, in part thanks to the mysterious injury suffered by top selection Malik McDowell. It's still unclear whether the 35th selection in last year's draft will ever suit up as a pro.
Richardson delivered an excellent season as a run defender but didn't deliver much as a pass-rusher, racking up one sack and seven quarterback knockdowns in 15 games. The Seahawks probably hoped for more interior pressure from Richardson as part of the trade, given that the 27-year-old racked up 16.5 sacks in three seasons with the Jets. Richardson might have contributed more than the numbers suggest, and it's extremely difficult to isolate individual players within a pass rush, but the Seahawks actually posted a higher pressure rate with Richardson off the field (31.3 percent) than on it (25.5 percent).
Valuing Richardson heading into free agency, then, will be difficult. History tells us that Richardson is capable of getting after the quarterback, but defensive linemen who haven't been significant pass-rush threats on the interior have generally been disappointed with their hauls. Look at interior linemen such as Dontari Poe and Bennie Logan, who had to settle for one-year deals last offseason. Brandon Williams came away with a five-year, $52.5 million contract, but the Ravens might even look at that deal as an overpay, given where the market went.
It was only a year ago that teams -- including the Seahawks -- wanted Richardson to take a pay cut from the $8.1 million salary he was due in 2017 as part of a trade. Have the circumstances changed so dramatically for the Seahawks to hand Richardson $10 million per year on a long-term extension? He is a valuable player, and the Seahawks should want to keep him around, but the price has to be right.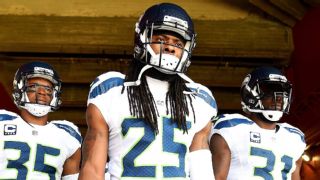 3. Re-sign their Hall of Famers. This is a good problem for the Seahawks to have. Let's start with Earl Thomas, who looked like his old self this season and was the only member of the Legion of Boom standing by the end of the year. The 28-year-old is entering the final year of the four-year extension he signed before 2014, and unless Thomas is seriously entertaining notions of retirement, the Seahawks should be locking up the Texas product for another four seasons. Given the deals handed out to Eric Berry and Reshad Jones, the Seahawks probably are looking at four years and $55 million on Thomas' next deal.
Schneider generally hands out deals with one year left to go on a player's contract, but it wouldn't be crazy to think about extending Russell Wilson this offseason. The superstar quarterback's cap hit jumped from $14.6 million to $23.8 million this year, which is the seventh-largest figure in football. Wilson has two years and $32.5 million left on his current deal, and while the Seahawks restructured Wilson's base salary last year to create cap room, that's going to be tougher to pull off with one year remaining on Wilson's contract.
Wilson isn't going anywhere outside of Seattle to play football (or baseball), so the question is simply whether it makes sense for the Seahawks to re-sign Wilson now or next offseason. With the quarterback market about to be reset again by Aaron Rodgers' extension and whatever deal Kirk Cousins finds in free agency, the Seahawks can get ahead of the deals to come and create cap room for all the moves they have to make this spring.
Duane Brown isn't a Hall of Famer, but it also seems likely that the Seahawks will hand the longtime Texans left tackle an extension as he enters the final year of his deal. Brown was only traded after a lengthy holdout related to a new deal, so we know he's looking for more money. The Seahawks probably can't reduce his $9.8 million cap hold by much, but they should be able to lock in Brown with a four-year deal in the $50 million range.
As for Richard Sherman, it's probably too early to re-sign him, given that the franchise cornerback is coming off an Achilles tear suffered in mid-November. We're not even sure Sherman will be ready for training camp. I don't think the Seahawks should move on from Sherman, given that he was still playing at an All-Pro level before the injury, but this might be a situation in which the Seahawks have to evaluate Sherman on the field before they can really think about an extension. Simultaneously, given the reports of discord in the Seattle locker room before last season, a clean break after 2018 might end up being the preferred option for all parties involved.
4. Wait to re-sign Frank Clark. The 24-year-old Clark has generated 19 sacks and 39 quarterback knockdowns over the past two seasons, both of which rank among the top 16 in the league over that stretch. The Seahawks are unlikely to get much of a discount in signing Clark this year, though, given that the vast majority of edge-rusher contract extensions either come before a fifth-year option plays out or after a player is slapped with the franchise tag. The Seahawks owe Clark only $1.2 million for 2018 and frankly need the cap space, so they're probably better off waiting for next offseason, when they can franchise Clark in advance of an extension.
5. Acquire a tight end to replace Jimmy Graham. Graham had one of the weirder seasons you'll see in 2017, as the Pro Bowler was unstoppable in the red zone and was simultaneously otherwise anonymous within the Seattle offense. Once a devastating weapon going up the seam, Graham averaged 9.1 yards per reception and finished with 10 touchdowns. The touchdown rate is unlikely to recur, and Graham has lost a step or two of athleticism since tearing his patellar tendon in 2015.
Some team is going to pay a luxury price to bring in Graham, and truthfully, the Seahawks can't afford to get in that market. Backup Luke Willson is also a free agent, leaving the Seahawks down to 2016 third-rounder Nick Vannett as their primary option at tight end. The offense might shift some under new coordinator Brian Schottenheimer, but Seattle needs to add at least one tight end to its roster before the season.
The Seahawks are missing their second- and third-round picks as a result of the Richardson and Brown trades, although they do have three fifth-round selections to work with as part of any trade. They could use their first-round pick on a tight end, but I think Seattle will look for a veteran. I wonder if they'll take a flier on Tyler Eifert, who would represent a similar red zone threat as Graham, albeit with major questions about his availability.
Schneider is one of the most aggressive general managers in the league when it comes to trades, and I wonder if he could find a possible fit in Buccaneers tight end Cameron Brate, who is a restricted free agent this offseason and should cede more of his role to O.J. Howard in 2018. If the Seahawks can find a reasonable return -- perhaps defensive end Dion Jordan -- and sign Brate to an extension, the Harvard product could be Seattle's next tight end.
NFC South
Let's get to the NFC South (in alphabetical order), which was the only division in the league with three playoff teams last season. For these teams, it's really more about keeping their core around for years to come than stocking up on new additions:
---
Atlanta Falcons
1. Pick up Vic Beasley Jr.'s fifth-year option. The 2015 first-rounder saw his production drop off dramatically this season, thanks to a combination of injuries, regression toward the mean and an increase in coverage duties at outside linebacker. The positional concerns are perhaps overblown -- Beasley was technically moved to outside linebacker before his breakout 2016 season campaign and still got plenty of sacks as an edge rusher in Atlanta's sub packages -- but the Falcons seem dedicated to using Beasley exclusively as a defensive end in 2018. General manager Thomas Dimitroff can pick up Beasley's fifth-year option for 2019 and evaluate the former first-rounder in what should be his best role before deciding whether to make a serious long-term commitment.
2. Get Matt Ryan's extension done. The Falcons elected to wait until 2018 before handing the 2016 league MVP a new deal, which probably will end up costing them a pretty penny. This time last year, the going rate for a top-tier quarterback was less than $100 million over the first four years of a new deal. Then Matthew Stafford hit $108.5 million, and Jimmy Garoppolo raised the bar. As Ryan enters the final year of his extension, the Falcons are going to be shelling out $110 million over the first four seasons of his new deal, if not more.
3. And then extend Jake Matthews. I'm not sure Matthews has really ever turned into a top-tier left tackle, and the two penalties he took during Super Bowl LI are going to haunt Falcons fans for a long time. But Matthews is a durable, solid left tackle in a league in which coaches are reduced to tears by the state of offensive line play. (If only there was something they could do about it!) It wouldn't be a surprise to see the 26-year-old sign a five-year, $70 million extension.
4 ... then try to extend Grady Jarrett. There's a lot of work to be done keeping this team's core around! Jarrett had his breakout game against the Patriots during last year's Super Bowl, and while he racked up only four sacks and 13 quarterback knockdowns this season, he's more likely to contribute to this team's future success than fellow free agent Adrian Clayborn.
Jarrett's new deal could approach $10 million per year, which could force the Falcons to make tough decisions elsewhere. It's difficult to imagine the Falcons bringing back Tevin Coleman, having extended Devonta Freeman and with contracts for players such as Jarrett and Deion Jones coming up over the next two offseasons. It wouldn't be a surprise to see the Falcons cut tight end Levine Toilolo, given that the blocking tight end has a cap hit of $4.5 million this year. Derrick Shelby started for most of the season but played only 374 defensive snaps; he might be a cap casualty at $5.8 million.
5. Draft more help at defensive tackle. Jarrett might be the only interior defensive lineman of note on the roster heading into 2018, given that Dontari Poe and Ahtyba Rubin are both free agents and Jack Crawford will split time between defensive end and defensive tackle. Atlanta might sign a rotation free agent if the price is right, as was the case with Poe, but the biggest spot of weakness for a defense that ranked 22nd in defensive DVOA is up front.
---
Carolina Panthers
1. Right the ship. The Panthers are organizationally paralyzed right now. Owner Jerry Richardson is selling the team. Interim general manager Marty Hurney has been placed on leave after being accused of harassment by his ex-wife and is unlikely to return. Hiring a general manager isn't a decision any team should rush, but the Panthers also realistically need someone capable of making decisions and running operations as they head into the offseason.
2. Convince Julius Peppers to come back (and then re-sign him). The future Hall of Famer produced a stunning season in 2017, racking up 11 sacks despite playing about half of Carolina's defensive snaps. While the sack total might overstate Peppers' impact, the only other edge rushers to top Peppers' total during their respective age-37 seasons are Reggie White, Chris Doleman and Kevin Greene.
Peppers did this on a one-year, $3.5 million deal, which makes his production even more valuable. The Panthers were able to extract a discount from Peppers, who is from North Carolina, went to UNC and started his career with the Panthers, and they would be fools to pass up another season from the former second overall pick. The Panthers could double Peppers' salary to $7 million and still come away with a bargain.
3. Let Andrew Norwell and Star Lotulelei leave and receive draft-pick compensation. The Panthers already made their decisions along the line of scrimmage when they signed Kawann Short and Trai Turner to massive deals.
Carolina already has Turner and the Kalil brothers locked up to significant contracts along their offensive line, so while Ryan Kalil is expected to retire after this upcoming season, it's going to be tough to match the market for Norwell, who was a first-team All-Pro in 2017. The new GM could franchise Norwell and hope to re-sign him to an extension after the season, but the Panthers have needs elsewhere on the roster.
Likewise, Lotulelei hasn't developed into a fearsome pass-rusher, and Carolina likely expects to replace him with 2016 first-round pick Vernon Butler, who hasn't shown much over his first two seasons. Lotulelei could come back if his market doesn't develop and he has to settle for a one-year deal -- like Dontari Poe and Bennie Logan did a year ago -- but I would expect the former Utah star to find a multiyear deal elsewhere.
The Panthers should be in line to receive a third-round pick for Norwell and could end up grabbing a fifth-round pick for Lotulelei. With just $15.3 million in cap room and players to re-sign, Carolina would be smart to pocket the compensatory selections, target players who are released by their old teams and use the money they have to retain players at other positions.
4. Work on an extension for Devin Funchess. Part of the calculus in trading Kelvin Benjamin was to hand a bigger role to Funchess, who stepped in as the No. 1 receiver and delivered his most productive season. The Michigan product is still just 23 and raised his level of performance despite playing through hamstring, toe and shoulder injuries during the 2017 campaign.
As a second-round pick, the Panthers have no way to offer Funchess a fifth-year option at the end of his rookie deal, meaning that the 2015 draftee will become a free agent after the 2018 season. If coach Ron Rivera believes that Funchess is going to be Cam Newton's top target for years to come, now is the time to offer Funchess an extension. It wouldn't be surprising to see the 6-foot-5 dynamo top the five-year, $34 million deal Robert Woods picked up from the Rams in free agency last season.
5. Pick up Shaq Thompson's fifth-year option. The former Washington standout took another step forward in 2017, and with Thomas Davis announcing that he will retire after the 2018 season, Thompson should have a long future alongside Luke Kuechly at linebacker for Carolina. The Panthers can lock in Thompson through 2019 by picking up his option, and it wouldn't be a surprise to see the Panthers extend Thompson next offseason.
---
New Orleans Saints
1. Re-sign Drew Brees. Crazy, right? The Saints can't franchise Brees as per the terms of his most recent contract extension, so while there's really no likelihood of their franchise quarterback leaving this offseason, the organization can't just slap Brees with the franchise tag and call it a day.
Brees' last extension was listed as a one-year deal but was really a four-year contract with three voiding years. The move allowed the Saints to give Brees a $30 million signing bonus and spread it over five years, creating badly needed cap space. The move also means that if Brees had struggled or chosen to retire after the 2017 season, $18 million in dead money would have accelerated onto the Saints' cap for 2018.
The Saints will come to terms with Brees on a new deal before March 14, when his current contract voids, to ensure that the $18 million doesn't stack onto New Orleans' current cap. General manager Mickey Loomis has the team in much better cap shape than years past, but the Saints will probably hand Brees another one- or two-year deal masquerading as a five-year contract to push the cap pain down the road.
2. Designate Coby Fleener as a post-June 1 release. Fleener seemed destined for huge numbers after joining the Saints as a free agent before the 2016 season, but the former Colt never seemed to find a consistent rapport with Brees. The Saints pushed him down to third on the depth chart at times this season as part of their move toward a run-heavy attack, and the 29-year-old caught only 22 balls before hitting injured reserve with a concussion in November.
The concussion might have already impacted the Saints' plans as $3.4 million of Fleener's 2018 salary was guaranteed for injury and became fully guaranteed on Feb. 7, suggesting that the Saints either intend to keep Fleener around in 2018 or didn't think he was capable of passing a physical. It would now cost the Saints more to cut Fleener ($8.2 million) than keep him, although they can spread the cap hit over two seasons and save $3 million on their 2018 cap by designating Fleener as a post-June 1 release.
3. Retain Delvin Breaux. It's a surprise that the Saints were able to make a dramatic leap forward on defense without Breaux, who was their top cornerback in 2016 but missed all of 2017 with a fractured fibula. A misdiagnosis of Breaux's injury led the Saints to fire their team orthopedists and ended up costing the 28-year-old his entire campaign.
Marshon Lattimore and Ken Crawley emerged as an excellent one-two punch in Breaux's absence, but there isn't a team in the league that couldn't use an above-average cornerback like Breaux. Breaux also belongs in Louisiana, as he famously grew up in New Orleans and enrolled at LSU without playing football after fracturing vertebrae in a high school game. As a restricted free agent, the Saints can retain Breaux by tendering him at one of several levels. My guess is that they tender Breaux at the second-round level, which would cost New Orleans right around $3 million for 2018.
4. Find the next Alex Okafor. The Saints got an unexpected boost from Okafor, who had fallen out of the starting lineup in Arizona and delivered 4.5 sacks before tearing his Achilles. It wouldn't be crazy to see the Saints bring back Okafor on a one-year deal, but they should look for the next post-hype player in the free-agent market to suit up across from superstar defensive end Cameron Jordan.
Who could that be? I'd look at the 49ers' Aaron Lynch, who racked up 12.5 sacks over his first two seasons in San Francisco but lost his way over the ensuing two years. Lynch lost four games to a suspension in 2016 and then hit nearly 300 pounds during the 2017 offseason before eventually working his way into shape. A motivated Lynch could be a useful pass-rusher, and he should be motivated to turn things around given how his career has gone sideways.
5. Don't go all in. After several years in which every decision they made seemed to go wrong, the Saints had one of the best offseasons of any football organization in 2017. Their draft was a wild success. Free-agent additions such as Okafor and Larry Warford made instant impacts. New Orleans built a winner around Brees, and at 39, they might not have many more chances to surround their Hall of Fame quarterback with talent.
We saw the same argument from the Saints after the 2013 season, though, and the contracts they handed out over the ensuing three seasons were often disastrous. Free-agent additions such as Jairus Byrd and Brandon Browner were huge mistakes. Draft picks Stephone Anthony and Stanley Jean-Baptiste were busts of staggering proportion.
As tempting as it might be for New Orleans to go after a free agent at the top of the market, like Ezekiel Ansah or Lamarcus Joyner, the Saints can't approach 2018 like they're all in and one player away from a championship. New Orleans will thrive or die in 2018 by virtue of the young talent that is already on the roster and how the aging curve hits Brees, not by filling one spot in the starting lineup.
---
Tampa Bay Buccaneers
1. Pick up the fifth-year option for Jameis Winston. The former first overall pick posted the best numbers of his career in 2017, although he failed to make the enormous leap forward some expected after the Bucs signed DeSean Jackson and drafted O.J. Howard. If you're an optimistic sort, you might look at how Winston performed after returning in December: Over the final five weeks of the year, Winston finished seventh in the NFL in passer rating (99.2) and 11th in Total QBR (57.2).
The Bucs won't consider handing Winston a long-term extension until next offseason, at which point we should have more data on whether he's a quarterback worth getting excited about. At this point, he looks firmly in the camp of being too good to move on from and not good enough to call a true franchise quarterback, which presents problems in its own right. As much as general manager Jason Licht might want Winston to develop into a superstar, some clarity on which path Winston will head down might be even more valuable over the next 12 months.
2. Sign Mike Evans to a massive extension. As he enters the fifth year of his deal, Tampa's star receiver isn't going anywhere. The question is really about how much the Buccaneers are going to spend to get an Evans deal done. The Bucs don't really need cap room, given that they'll enter 2018 with $63.3 million to work with before making any moves, but Evans is currently accounting for a team-high cap hold of $13.3 million.
Evans will likely get a little more or a little less than 2014 classmate Odell Beckham Jr., depending on who signs first. Beckham also seems more concerned about getting record numbers for his deal, even if the actual terms of his contract don't guarantee him as much as the headlines indicate.
The baseline for both contracts will be DeAndre Hopkins, who just signed a five-year, $81 million extension entering the fifth year of his rookie deal, with $36.5 million guaranteed at signing and $49 million due over the first three years. Beckham has been more productive on a per-game basis than either Evans or Hopkins, averaging 94.1 receiving yards per game in his first four seasons to 75.1 for Evans and 70.1 for Hopkins over the same time frame. But Beckham also has struggled with injuries, missing time with a hamstring ailment during his rookie campaign and breaking his ankle in 2017.
My guess is that Evans signs his deal first and then Beckham tops his mark. As the most-productive rookie contract wideout of the past decade outside of A.J. Green, Evans is probably looking at a five-year extension worth between $85 million and $90 million, with $40 million guaranteed at signing and $55 million over the first three years.
3. Perform the annual spring culling of disappointing veterans. While the Buccaneers aren't hurting for cap space, they might want to clear out cash for more valuable players in free agency. It would be a shock to see Doug Martin return for a third season on this current deal, given that the Muscle Hamster has averaged just 2.9 yards per carry over the past two seasons, which is the lowest mark in the league among backs with 200 carries or more by more than a half-yard. No other regular back is below 3.6 yards per carry over that time frame. Dumping Martin would save $6.8 million.
The Bucs also might want to move on from William Gholston, who received a five-year, $27.5 million deal last offseason that really amounted to a one-year, $7 million deal with unguaranteed team options. Gholston responded by failing to produce a sack in 14 games, although the 26-year-old did suffer a nasty neck injury in midseason. Gholston recorded only one knockdown all season, and while he's not expected to be Von Miller on the edge, it's almost impossible for a defensive end to not run into the quarterback for at least one knockdown a month.
Cutting Gholston would free up another $6.5 million, taking the Bucs to $76.6 million in cap space without considering the Evans extension. Other players like Chris Baker (cap savings of $4.9 million) and J.R. Sweezy ($4 million) could be on the chopping block, although I suspect they'll both stick around for another year.
4. Work on a new deal for Ali Marpet. Tampa's offensive line is perennially a work in progress. Marpet broke out as a star guard in 2016, so the Bucs promptly moved him to center to get their best five linemen on the field in 2017. They subsequently spent the fall rotating Kevin Pamphile and former Packers center Evan Smith at guard before losing Marpet and Sweezy to injured reserve.
Marpet was fine as a center, but he's a Pro Bowl candidate at guard, where he belongs. The Bucs should look to make an upgrade at center this offseason -- possibly by signing Baltimore's Ryan Jensen -- and move Marpet back to guard, where he can replace the Pamphile/Smith rotation. They also should sign him to an extension, given that he's the best player among their front five. Marpet's deal should be in line with the six-year, $51.2 million extension Joel Bitonio signed with the Browns last offseason.
Left tackle Donovan Smith also is entering the final year of his rookie deal, but he has been inconsistent and didn't impress after what looked like a superior sophomore season. It's too early to give up on Smith, but the Bucs can't justify paying him like an upper-echelon left tackle, and there's nobody out there (besides Nate Solder) who would be an obvious upgrade on Smith. Tampa might go after a veteran if someone like Jason Peters gets released, but the best course of action with Smith for now seems to be to wait and see.
5. Draft Denzel Ward. The cornerback position continues to be a liability for the Buccaneers. Brent Grimes will turn 35 over the summer and is an unrestricted free agent, while 2016 first-rounder Vernon Hargreaves III has been disappointing and lost his job as a starter at one point before going on injured reserve with a hamstring injury. Ryan Smith, a 2016 fourth-round pick, wasn't much better.
To be fair, Tampa's cornerbacks didn't get any help from the defensive line, which produced a league-low sack rate (3.9 percent) and pressure rate (21.5 percent). Mike Smith's defense needs help up front and in the secondary, but in their draft spot (No. 7 overall), it seems more likely the Bucs will address the latter problem. Bradley Chubb probably isn't making it to No. 7, but if he does, the Bucs should write the best edge rusher in the draft on their draft card and hand it in within 30 seconds.
Assuming Chubb gets drafted by the Colts or Browns, Tampa should be able to grab a defensive back with its first selection. The Bucs could draft Alabama safety Minkah Fitzpatrick, who profiles as a lights-out athlete and playmaker across the field, but they just used a second-round pick on Justin Evans, a poor man's Fitzpatrick who probably profiles as a free safety in the long run. Ward makes more sense as a pure cornerback, and while the Bucs might be able to trade down and grab him later in the round, they desperately need to come away from this offseason with answers against the pass.
NFC North
Time to look at the NFC North (in alphabetical order), where we have two new head coaches, a new general manager, and a division champ with its entire quarterback depth chart about to hit free agency. The Vikings will likely bring back at least one of their free agents to come, unless they win the offseason's biggest lottery:
---
Chicago Bears
1. Cut Mike Glennon and a few others. Well, that didn't work. The Bears will save $13.5 million by releasing Glennon, and they could free up an additional $13.5 million by moving on from cornerback Marcus Cooper, linebacker Jerrell Freeman and wideout Markus Wheaton, which would get them to about $66 million in cap space.
2. Re-sign Kyle Fuller. After struggling so much, the Bears declined his fifth-year option heading into 2017 and signed a pair of veteran cornerbacks in Cooper and Prince Amukamara to replace him, Fuller suddenly broke out and lived up to his status as a former first-round pick last season. Fuller and Amukamara were a competent cornerback duo, but both are unrestricted free agents; nickel corner Bryce Callahan is a restricted free agent.
The Bears could choose to bring back Amukamara, 28, who seemed destined to bounce around the league as a useful cornerback on a series of one-year deals, but it makes more sense that they would commit to Fuller. I've seen speculation that Fuller might end up joining his brother in Kansas City, but the Chiefs don't really have the cap room to really make a significant offer to Fuller. The Bears can afford to sign Fuller, so while they weren't expecting this breakout 12 months ago, they might as well take advantage of it and bring Fuller back.
3. Decline the fifth-year option on Kevin White, but re-sign Cameron Meredith. White is officially a total mystery at this point of his career -- the West Virginia product has played just five games through three pro seasons because of injuries. To put this in context, the last top-10 draft pick to play no more than five games over the first three professional seasons of his career was Packers quarterback Rich Campbell, who was taken with the eighth overall pick in the 1981 draft and threw four interceptions in his first and only start as a rookie. He didn't see the field for three more years and finished with nine career picks on 68 pass attempts.
The Bears will decline White's fifth-year option and hope to get something out of him in his final year under contract. They'll also bring back Meredith, a restricted free agent who missed the entire 2017 season with a torn ACL. With everyone else on their wideout depth chart a free agent (assuming they cut Wheaton), the Bears probably will have to make an addition at wide receiver ...
4. Sign Jarvis Landry. We often think of tight ends as safety valves for young quarterbacks, and indeed, the Bears are going to hope that Adam Shaheen develops into a useful weapon for Mitchell Trubisky. Another way is to give him a slot receiver capable of creating easy completions and making guys miss after the catch. Landry is more than a slot target given his ability to make plays in the red zone, so while his touchdown rate from 2017 (nine on 112 catches) is out of line with the rest of his career (13 on 288 catches), the Bears have both the need at receiver and the cap space to justify an outlay of more than $10 million per season on Landry.
Elsewhere, the Bears could look toward Allen Robinson (Jacksonville) or Sammy Watkins (Rams) if either slips past the franchise tag. The unexciting option would be for new head coach Matt Nagy to look back to Kansas City and sign Albert Wilson, who had a big Week 17 with Patrick Mahomes but hasn't exactly struck fear into the hearts of Chiefs opponents as a starting wideout.
5. Add Muhammad Wilkerson. Although not technically a free agent, Wilkerson is expected to hit the market this offseason when the Jets cut their former first-round pick to shed his $20 million cap hit, which would be the largest for any defensive end in football. Wilkerson has been wildly disappointing over the past two seasons since signing the deal, and nobody's going to pay him that much.
On a lesser deal, though? There are plenty of teams that could use a defensive lineman with Wilkerson's track record of getting after the quarterback from the interior, and the Bears' front seven would look terrifying with a rejuvenated Wilkerson in the fold. They already have a pair of standouts up front in Akiem Hicks and Eddie Goldman, with Wilkerson slotting in ahead of 2016 third-rounder Jonathan Bullard and taking Mitch Unrein's spot in the rotation. If the Bears can get Wilkerson on a one-year, prove-it deal, he could represent a massive upgrade without much risk.
---
Detroit Lions
1. Sign Ezekiel Ansah to a long-term deal. There's no obviously correct thing to do here. Even if you think Anthony Zettel is a viable pass-rusher after his 6.5-sack, 16-knockdown season, he's still only part of the Lions' pass-rush puzzle. (Zettel also had eight of those 16 knockdowns in two games against the Vikings, which probably doesn't mean anything but does seem interesting.)
Ansah racked up 12 sacks with 17 knockdowns in his contract year, a ratio that suggests his sack total is likely to decline in 2018. (In 2016, Ansah's 15 knockdowns produced two sacks, which suggested the opposite.) The former No. 5 overall pick had three games with three sacks, two of which came against the Bengals and Giants, who were the league poster boys for offenses rendered impotent by useless offensive lines. Two of those games came during the final two weeks of the season. Ansah missed two games with injuries and wasn't 100 percent for long stretches of the year. He'll turn 29 before the season starts, leaving Ansah two years older than most of the players from his draft class. (He was 25 when he was drafted.)
At the same time, though, what else can the Lions do? This isn't a market full of pass-rushers. DeMarcus Lawrence is likely to be franchised. Julius Peppers is 38. Adrian Clayborn had one unreal game to pad his sack totals, and that game isn't likely to recur. Alex Okafor is coming off of a torn Achilles. Detroit could theoretically sign Sheldon Richardson as a replacement for Haloti Ngata and try to build its pass rush from the inside out, but Ansah is a better pure rusher. Even if the Lions draft a pass-rusher in the first round -- and Mel Kiper's most recent mock has them taking Ohio State end Sam Hubbard 20th -- they might very well want to rotate Ansah, Vettel and their new selection along the edge.
Detroit could franchise Ansah at a rate of $17.4 million, but that would basically lock up Ansah for one year before he would hit a relatively untenable tag of $20.9 million next year. The deals handed out to Jason Pierre-Paul and Melvin Ingram last year netted the franchise-tag recipients right around $50 million over the first three years of their respective deals, with $29 million (Pierre-Paul) and $34 million (Ingram) guaranteed at signing. The Lions can probably guarantee Ansah $35 million, which is less than the cost of those two franchise tags, and retain Ansah on a five-year extension. It might take a franchise tag to cut Ansah's leverage, but the most logical scenario for everyone involved is for Ansah to return.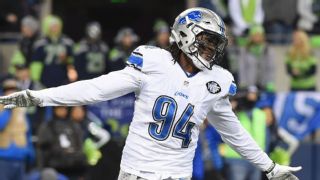 2. Re-sign Tahir Whitehead. The Patriots have long placed value on versatility under Bill Belichick, so it stands to reason that Matt Patricia will look for the same qualities in his players. Detroit has one rangy (if inexperienced) linebacker in 2017 first-rounder Jarrad Davis, but Whitehead's ability to play any linebacker spot should appeal to his new head coach. Whitehead is not a pass-rusher, so he won't attract a huge deal in free agency, but the Lions value his ability against the run and he should be back. Former Patriots safety Tavon Wilson is also likely to return in a reserve role.
3. Sign Tom Johnson. With Ngata hitting free agency, the Lions probably want to add a defensive tackle to play alongside nose tackle and pass-batting machine A'Shawn Robinson. Johnson slowed down a bit when moving into a starting role for the Vikings this year, but the 33-year-old has been the most underrated interior disruptor in football over the past few seasons, generating 65 quarterback knockdowns since signing with the Vikings in 2014. Even if Johnson isn't a long-term answer, a two-year deal in the $10 million range as the pass-rushing half of a defensive tackle rotation might be a useful investment for Detroit.
4. Move on from Eric Ebron. Lions fans have had a love-hate relationship with Ebron -- well, mostly hate. Ebron was an overdraft in 2014, when the Lions took him just ahead of Taylor Lewan, Aaron Donald and Odell Beckham Jr. with the 10th pick of the first round. He has posted the league's highest drop rate (7.3 percent) among players with 200 targets or more since. By midseason, Ebron had taken a backseat to Darren Fells as the team's receiving tight end.
And then, out of nowhere, Ebron had arguably the best half-season of his career. From Week 10 on, Ebron ranked third among tight ends in receptions (35) and fourth in receiving yards (379). He dropped just two passes on 49 targets. It looked like the North Carolina product was putting things together.
So, should the Lions keep Ebron around? I don't think so. Ebron is currently signed for 2018 under his fifth-year option for $8.3 million, which would make him the seventh-most expensive tight end in football. He's not a short-term bargain. We've seen little to think that Ebron is worth a long-term investment. Even that half-season would be good for only a 70-758-6 line over a full season. Detroit should think twice about bringing him back at that cap figure.
The Lions could give Ebron one more chance to develop into the all-around weapon they thought they were signing up for in 2014. It's also easy to imagine them putting that money to better use. They could look at a running back like Carlos Hyde as a replacement for another oft-tantalizing, rarely delivering player in Ameer Abdullah. Bob Quinn could invest in a better tight end, like Trey Burton or Jimmy Graham. Ebron could make the organization look foolish if he succeeds elsewhere, but at this point, bringing him back based on a decent second half might make the Lions look foolish themselves.
5. Sign Rex Burkhead. The Ameer Abdullah experiment just hasn't taken. Lions fans might still have fond memories of Abdullah's preseason exploits as a rookie, but the Nebraska product has only been healthy enough to carry the ball 326 times over three seasons, and he has averaged 3.8 yards per carry on those runs. Among backs with 300 carries or more over the past three years, Abdullah's 17.5 percent first-down rate (percentage of carries resulting in a first down) ranks 34th among 37 backs.
With the Lions hiring Patricia and assuming their new role as New England Midwest, there are a bevy of ex-Patriots running backs due to hit the market this offseason. I'm guessing Dion Lewis will return to New England. Given Theo Riddick's skill set, we can rule out Shane Vereen. Stevan Ridley is roster fodder. LeGarrette Blount played a meaningful role for most of the year in Philadelphia, but he probably would be strictly a short-yardage back here.
One back who does fit, though, is Rex Burkhead. The former Bengals backup didn't carve out a consistent role thanks to injuries, but the Patriots were able to both use Burkhead as a traditional running back and split him out against overmatched linebackers in coverage. The Lions already do that with Riddick. Burkhead would give Stafford another intermediate target and a back capable of running over defenders.
---
Green Bay Packers
1. Extend Aaron Rodgers' contract. Kirk Cousins' free-agent contract is going to reset the quarterback market, possibly in a drastic way. The Packers, who are going to re-sign Rodgers either this offseason or next, would be smart to get an extension done with their future Hall of Fame quarterback before Cousins signs his deal. Stafford pushed the three-year money bar from Andrew Luck's $75 million to $87 million, and then Jimmy Garoppolo bumped it up to $90 million last week. Cousins probably will hit $100 million. Rodgers will (and should) ask for more.
At the moment, Rodgers, 34, has two years and $41.7 million remaining on his deal. Rodgers' $20.6 million cap hit will rank somewhere between 12th and 14th once we get the details on the new deals for Garoppolo and Alex Smith, which seems shocking. This is probably the last big deal Rodgers will sign, and while there's no way he's leaving Green Bay, the Packers are going to pony up for the best quarterback in franchise history.
Rodgers could be looking at a five-year, $140 million extension, one that would temporarily take the (somewhat specious) title of highest-paid player in football away from Garoppolo. New general manager Brian Gutekunst doesn't need to structure the deal in a way to reduce Rodgers' cap hit, but with a larger signing bonus -- Rodgers got a $33.3 million signing bonus up front and a total of $59.1 million over the first two years of his current deal -- the Packers could even free up more cap room in the process.
2. Extend Jordy Nelson. Both sides should want the Nelson-Packers relationship to continue onward for a few more seasons. Nelson slipped badly last year without Rodgers in the lineup, which might dissuade the 32-year-old from looking elsewhere in free agency next season and encourage him to take yet another discounted offer. The Packers probably want to reduce Nelson's $12.5 million cap hit in the final year of his current extension, and giving the Kansas State grad a two-year extension would accomplish that while keeping Rodgers' favorite target around.
3. Ask Randall Cobb to take a pay cut and release him if he declines. If that happens, though, the Packers are probably going to be down a slot receiver. Cobb is entering the final year of his own extension, and while he's nearly five years younger than Nelson, the 27-year-old has failed to deliver on the 1,287-yard season he posted in advance of free agency in 2014. His yards per reception and receiving yards per game have dropped in each of the past three seasons.
The problem for Cobb is that he would be entering a market that may not be very excited to see him. The slot receiver market is flooded this year, given that we're likely to see Jarvis Landry, Tavon Austin, Danny Amendola, Jordan Matthews and Kendall Wright out there. Someone is going to want Cobb, but it might not be for more than a one-year deal. Given that possibility, Cobb might be better off taking a pay cut and playing his final year in Green Bay with Rodgers.
4. Add a tight end in free agency. Again. While just about everyone was in favor of the Packers signing Martellus Bennett last offseason, the well-traveled tight end lasted half a season in Green Bay before leaving under a cloud of injury-related controversy. Green Bay's leading receiver at tight end was Lance Kendricks, who had the second-highest drop rate in the league among tight ends with 30 targets or more. The position is still a hole for the Packers.
Let's try to address that this offseason. There are a bevy of useful tight ends in the marketplace. Selfishly, I'd like to see the Packers sign Tyler Eifert just to see if we can get 14 healthy games of Rodgers throwing to Eifert in the red zone. Jimmy Graham is available. Someone is going to give Trey Burton No. 1 tight end money after his success as the secondary tight end behind Zach Ertz in Philly. And hey, if Rodgers gets hurt again, we know Burton can pass ...
5. Upgrade at backup quarterback. In all seriousness, though, the Brett Hundley experience was not fun. McCarthy wasn't willing to overwrite his offense and play to Hundley's strengths, which led to weeks of checkdowns and punts. Rodgers probably isn't going to miss nine games again, but he's getting older and has missed at least one game in four of his 10 seasons as a starter.
The Packers aren't going to find anyone on earth who can do what Rodgers does, but someone they trust to throw the football would be nice. Mike Glennon didn't work as a starter in Chicago, but he's qualified to serve as a backup and had at least some modest success during stretches in both Chicago and Tampa Bay. I'm reaching, but Glennon getting $18.5 million in guarantees is a different proposition from Glennon getting $4 million as a backup.
---
Minnesota Vikings
1. Extend Case Keenum ... carefully. With the Vikings losing offensive coordinator Pat Shurmur to the Giants, new offensive coordinator John DeFilippo will inherit a quarterback coming off the season of his life. One thing is for sure: We know Keenum is going to get a raise on the $2 million salary he made in 2017. The Vikings could let Keenum move on, possibly also to New York, but giving Keenum away after a season where he might have been one of the best quarterbacks in football for a possible comp pick just seems shortsighted.
So, should the Vikings franchise him or lock him up to a long-term contract? Franchising Keenum allows the Vikings to get away if Keenum's 2017 was a mirage, but it also possibly locks the Vikings into the Cousins Cycle, where their quarterback (rightfully) feels disrespected and it ends up torpedoing the franchise. The Vikings also have plenty of cap space now, as they'll enter the offseason with $60 million in room after releasing Sharrif Floyd, but that room will disappear shortly once they start to re-sign the likes of Stefon Diggs and Danielle Hunter.
What I'd do is give Keenum a long-term contract similar to the initial Tyrod Taylor extension in Buffalo under Doug Whaley. That deal was essentially a one-year pact with the ability to trigger a multiyear extension after the initial campaign. That structure would allow the Vikes to hand Keenum a raise and set up a possible long-term commitment without locking them in if Keenum declines.
2. ... unless they hear they can get Kirk Cousins. If Cousins wants to win right away, there's no better landing spot for him on the free market than Minnesota. The Vikings have a perennially great defense and a running game that should be better next year with the return of a healthy Dalvin Cook. They're deep with weapons, and with Adam Thielen signed to a steal of a four-year deal, the biggest weapon isn't going anywhere.
As much as it would hurt to move on from Keenum, and as much as you'll hear about how Mike Zimmer wants to build around his defense, you don't pass up on Cousins. The former Washington quarterback would have to leave some money on the table versus the small countries he's likely to be offered by the Browns and Jets, but the Vikings could comfortably fit a five-year, $120 million deal for Cousins on their cap without having to shed talent in the short term.
3. Re-sign Anthony Barr. The Vikings can create more space in 2018 by signing Barr to an extension. The former No. 9 overall pick is entering the fifth-year option of his rookie deal, which is currently set to pay the UCLA product $12.3 million. GM Rick Spielman would likely bring that number down as part of an extension.
Valuing Barr will be tough. The 25-year-old made his third straight Pro Bowl this season, and his range as a thumping linebacker is unquestioned. At the same time, though, front-seven pieces get paid for their ability to rush the quarterback, and while Barr very famously ruined Aaron Rodgers' 2017 season, he's not really a pass-rusher. Barr finished with one sack and four quarterback knockdowns this year, and his sack totals have dropped in each of his four pro seasons. Mike Zimmer doesn't really use Barr as an edge rusher, so he might rack up better numbers on a different team, but the stats are the stats.
The Vikings could treat Barr like Lavonte David, a non-stats All-Star who signed a five-year, $50 million extension in Tampa, but one with just $5.7 million guaranteed at signing. If they give Barr a big deal, though, that probably means moving on from Eric Kendricks after 2018. With Kendricks, Diggs, Hunter, Barr and possibly Trae Waynes all due to become free agents next offseason, Minnesota will have to make some tough choices in the near future.
4. Sign Darren Sproles. While Sproles was expected to retire after the 2017 season, reports during Super Bowl week suggested that the 34-year-old wanted to come back and finish his career on his terms after missing most of the 2017 season with a torn ACL. The Eagles found a useful replacement for Sproles in Corey Clement, though, and it seems likely they won't bring back the pint-sized dynamo in 2018.
Enter the Vikings, who have a need for a receiving back behind Cook and Latavius Murray. Jerick McKinnon is a free agent and likely to receive a larger deal than the Vikings are going to offer for a strict third-down back, but Sproles would fit on a one-year deal.
5. Add defensive tackle depth in the draft. The Vikings are suddenly thin at defensive tackle. Sharrif Floyd is likely done playing because of a nerve issue in his knee, and the Vikings will likely waive him with an injury designation this offseason. Tom Johnson is a free agent and in line for a raise, while backup Shamar Stephen is also a free agent. Linval Joseph and 2017 fourth-rounder Jaleel Johnson are in the mix, but the Vikings should be looking at defensive tackles with their selections in the first two rounds of the draft.
NFC East
No team was more aggressive about acquiring talent in as many different ways over the last year than the Eagles. Even after moving up in the draft to grab Carson Wentz in 2016, Howie Roseman refused to stay put and continued to reshape the roster around Wentz. The Eagles added key free agents like Alshon Jeffery and LeGarrette Blount, made trades for the likes of Jay Ajayi and Tim Jernigan, and drafted contributors like Derek Barnett and Mack Hollins. You know what happened next.
In the end, Philadelphia's decision to move on from backup quarterback Chase Daniel and bring back former starter Nick Foles might have ended up as its most important call. It was Foles who got hot during the postseason and saved the Eagles after Wentz tore his ACL. A move that was an afterthought amid a busy offseason ended up helping the Eagles win their first Super Bowl.
Let's start this series with the home of the champions in the NFC East (in alphabetical order):
---
Dallas Cowboys
1. Extend Zack Martin. Dallas' star guard is entering the fifth and final year of his rookie deal, and the Cowboys will almost surely give the former Notre Dame star one of their patented eight-year contract extensions. Martin likely will become the highest-paid interior lineman in football when he signs his deal.
If the 27-year-old does sign an eight-year deal, it should top $90 million and pay Martin in excess of $40 million over its first three years. The length of the deal should allow the Cowboys to reduce Martin's cap charge from its current $9.3 million mark, even given the massive contract extension to come.
2. Restructure Travis Frederick's deal. The Cowboys might not be as aggressive to clear out cap space by restructuring Tyron Smith's deal, given that their star left tackle battled myriad injuries this season. Frederick is one of the best centers in the league and isn't going anywhere, so the Cowboys will be more comfortable clearing cap space with the Wisconsin product. Jerry Jones can convert $9 million or so of Frederick's salary to a signing bonus, freeing up $7.5 million in room.
3. Force Dez Bryant to take a pay cut or release the 29-year-old. While the Cowboys aren't in an onerous cap situation after moving on from Tony Romo (who will still cost Dallas $8.9 million in dead money this year), there's a huge gap between Bryant's $16.5 million cap hit and his recent production. While you might have blamed injuries for middling seasons from Bryant in 2015 and 2016, he played all 16 games this season and wasn't able to consistently change games. His 69-838-6 line wasn't dissimilar to the 65-810-5 line posted by Jermaine Kearse, who was essentially a throw-in for the Jets in the Sheldon Richardson trade.
At this point, the dynamic downfield receiver who terrified defensive backs from 2012 to '14 looks to have been replaced by a possession target who primarily leverages his size to win on slants. From 2012 to '14, Dez was 31st among wideouts in average yards after catch and caught 31 passes on throws more than 20 yards downfield, the sixth most in football. Bryant had just 11 such catches over the three ensuing seasons, including just four in 2017. He was 63rd in yards after catch over that time frame.
Bryant still has a role to play on this team, but he's years removed from performing like a No. 1 wideout. The Cowboys can't really restructure the five-year, $70 million extension Bryant signed before the 2015 season, given that it has only two years and $25 million remaining. The Cowboys would save $8.5 million by releasing Bryant, but it makes more sense to cut his $12.5 million base salary in half and allow Bryant to make some of it back with incentives. If the three-time Pro Bowler doesn't improve, though, this will be Dez's last year in Arlington.
4. Franchise DeMarcus Lawrence. The Cowboys can use the money they save from the previous deals to free up room to bring back their star defensive end. Dallas is entering the offseason with $20.6 million in cap space and will need more than $17 million to lock up their best pass rusher for another season.
Should the Cowboys sign Lawrence to a long-term deal now? It depends on the price. Lawrence took an enormous leap in 2017, racking up 14.5 sacks and 26 quarterback knockdowns. Over 25 games in 2015 and '16, Lawrence generated nine sacks on 18 hits. Lawrence hasn't shown enough to get paid like a guy who is perennially going to reach double-digit sack totals, but if he hit the free market, some organization would see a 25-year-old coming off a Pro Bowl season and back up the Brink's truck to sign him. The franchise tag keeps Lawrence off the market and gives the Cowboys leverage as they negotiate a new deal.
5. Pick up Byron Jones' fifth-year option and pick a place for him to play. This season was a step backward for the former first-round pick. Jones' versatility should be an asset, but defensive coordinator Rod Marinelli seemed to get frustrated with Jones' lack of consistency and eventually started taking him out of the lineup for 2016 sixth-rounder Kavon Frazier, who carved out a bigger role with some big hits as an in-the-box strong safety.
Jones was expected to be a project coming out of UConn, but Dallas hasn't helped his development by moving him from cornerback to safety. It seems pretty clear that Jones isn't a strong safety. He should have the athleticism to play center field as a free safety, but the Cowboys don't appear to love Jones in that role. Assuming that the Cowboys keep Xavier Woods in the slot (and move on from Orlando Scandrick), Jones could play ahead of Jeff Heath at free safety in 2018 if the Cowboys want to give him a shot there.
What about moving him back to cornerback and keeping him at his old position? New defensive backs coach Kris Richard had plenty of success working with big, physical cornerbacks during his time in Seattle, which should help the 6-foot-1, 196-pound Jones. Maybe Jones profiles as a guy who can play in coverage against the division's tight ends, a group that includes Zach Ertz, Evan Engram and Jordan Reed. Under any circumstance, the Cowboys need to find out what they have in Jones in 2018.
---

New York Giants
1. Announce that this will be Eli Manning's last season in a Giants uniform. When the Giants shockingly benched Manning in November, I rued the missed opportunity to treat their longtime starting quarterback with some class.
After firing virtually everyone involved with the decision short of ownership, they can get a redo here. Manning slipped badly between 2015 and 2016, although the success of the defense during a playoff year masked his decline. The Giants are probably committed to keeping Manning on the roster in 2018, but the $17 million they would save by moving on from the 38-year-old in 2019 is money they'll need for the roster moves to come. Manning has to leave the team eventually, but send him out in a way everyone will find satisfying. Treat it like a graduation. Ask Eli how he wants to handle things. Announce an Eli Manning Day for one of the home games in September or October and bring guys from the 2007 and 2011 teams back to celebrate. Have a Not Ben McAdoo Day later in the year. Just don't offer to string together a start streak for no reason.
2. Draft a quarterback with the second overall pick. The Giants have to replace Manning over the next two to three years. They hired Pat Shurmur in the hope that he was going to develop their next franchise quarterback. You only get a few chances at drafting or acquiring that guy, and while the Giants would probably rather have their pick of the draft crop at No. 1, their best shot at finding that star passer is going to be here with the second overall selection in a deep class for quarterbacks.
Whom should they take? It's still too early to say. Honestly, whom they take is probably less important than what they do to support their new passer. Shurmur helped mold Foles in Philadelphia and manufactured a career year from Case Keenum in Minnesota, so while he struggled with game management during his time as a coach with the Browns, his recent track record looks promising. If the Giants keep Manning, there will be no reason to rush their new pick into the lineup. They can play Manning if he plays well and the Giants stay competitive. If they struggle, there will be an opportunity to bring on their new quarterback later in the year, although I'd recommend they handle it with far more grace than the organization did this season.
3. Re-sign Odell Beckham Jr. Last year, the timing didn't make sense for the Giants to re-sign Beckham. He was too much of a bargain for too many years to come to rip up his deal and make him the highest-paid wideout in football, let alone give him the sort of quarterback money Beckham publicly sought.
As of last offseason, the Giants could have gone year to year with Beckham and paid him just $28.6 million over the next three years, which is Pierre Garcon money. Now that same figure would cost $48.8 million, which is in line with players like Antonio Brown and DeAndre Hopkins. Beckham's broken ankle basically cost him all of 2017, but it shouldn't impact the 25-year-old's long-term outlook. He's one of the best wideouts in the league and should be for the next several years.
It would be smart for the Giants to get ahead of the curve and sign Beckham to a new deal before the cost of signing wideouts goes up any further. Jarvis Landry is a free agent now, but Beckham's free-agent class next offseason would include the likes of Stefon Diggs and Mike Evans. Those guys likely aren't going to make it to free agency, but Beckham and Evans are going to reset the wideout market. If Beckham signs first, Evans will get slightly more, and vice versa. The Giants probably want to beat the Bucs to the punch.
What would get a deal done? Start with Hopkins, who signed a five-year, $81 million extension before starting his fifth-year option. The Texans star was coming off a down year thanks to the tyranny of Brock Osweiler, but Hopkins' deal included $36.5 million guaranteed at the time of signing and $49 million in practical guarantees, all over the first three years.
Beckham is going to top those both marks, but it's a question of how much he'll get on top of what Hopkins earned. The record for money guaranteed at signing to a wide receiver is $46.6 million, which Calvin Johnson got for his megadeal all the way back in 2012. It wouldn't surprise me if Beckham's representation tried to top that mark and get Beckham to $47 million guaranteed at signing with $55 million in practical guarantees. If Beckham goes for the biggest wide receiver deal in history, we would be looking at a seven-year, $115 million contract with a $40 million signing bonus, structured as follows:
The deal might be structured differently, but the general concept should be the same: Beckham will get a record deal for a wide receiver by one definition or another. The Giants will also need to sign Landon Collins, but it seems more likely that they franchise their star safety in 2019 before signing him to an extension next year.
4. Clear out cap space. The deal above would raise Beckham's cap hold by only $1.5 million, but the Giants need room to make improvements elsewhere. New general manager Dave Gettleman is used to this, having inherited a disastrous cap situation during his time in Carolina, so the $21.6 million the Giants currently have free for 2018 might seem like a relative luxury. He can get that figure closer to $35 million by releasing Dominique Rodgers-Cromartie, Brandon Marshall and Dwayne Harris.
5. Improve the offensive line. The Eagles just won their first Super Bowl with a dominant performance from their offensive line. The Giants have generated the league's third-worst rushing average and its worst first-down percentage on run plays thanks to a horrific offensive line. The Giants desperately need to protect whichever quarterback will be starting for this team in 2019 and beyond. They're not doing that with Ereck Flowers at left tackle.
Things need to change, and the Giants' two best offensive linemen -- center Weston Richburg and the versatile Justin Pugh, who has lined up at left guard, right tackle and even left tackle during his career -- are both unrestricted free agents. Starting right tackle Bobby Hart was waived by the team at the end of the season and wasn't claimed by any other teams, which should be telling. The Giants are returning Flowers, backup center Brett Jones and middling veteran guard John Jerry.
The obvious move would be for Gettleman to sign Panthers guard Andrew Norwell, who is likely to leave after Carolina locked up fellow guard Trai Turner with an extension. Norwell will be in line to get top-tier guard money, though, and the Giants are probably looking at a deal similar to the five-year, $60 million pact the Browns gave Kevin Zeitler this past offseason. Norwell should be in line to take home about $40 million over the next three years, which would limit what the Giants can do elsewhere.
The Giants desperately need to upgrade on Flowers, whose fifth-year option is likely to be declined. There's little guarantee Flowers will be better on the right side, but the Giants can't trust him to protect the blind side of their quarterbacks at this point. The problem is that there aren't many left tackles about to hit the market, and if the Giants spend $13 million per year on Norwell, they probably can't afford to commit another $10-plus million per year to Nate Solder. They can try to draft a left tackle with their second-round pick (or trade up into the first round), but the best solution might be to re-sign Pugh to play right tackle and use Rhett Ellison more frequently to give Flowers help on the left side.
---
Philadelphia Eagles
1. Decline Torrey Smith's option. The former Ravens standout had a frustrating debut season in Philadelphia, with rookie fourth-rounder Mack Hollins taking some of Smith's snaps as the season went along. The Eagles enter the offseason $4.6 million over the salary cap, so they'll need to clear out some cap space to sign their draft class and fill in their roster. Declining on another year with Smith and turning his job over to Hollins will free up $5 million in room.
2. Designate Jason Peters as a post-June 1 release. The Eagles need to clear out more room, though, and the vast majority of their roster consists of players coach Doug Pederson & Co. are locked into through 2018. Peters is one of the few exceptions, and Halapoulivaati Vaitai showed enough improvement during the season for the Eagles to turn a starting job at tackle over to their swing tackle.
The offseason might mark the moment when the Eagles finally move Lane Johnson to the left side, but regardless of how the Eagles line up Vaitai and Johnson, it would be difficult to bring back Peters at a cap hit of $11.7 million coming off a torn ACL. The best-case scenario for the Eagles would be for Peters to return after a pay cut, but if they designate the 36-year-old as a post-June 1 release, they can free up $8 million in cap room.
If they don't cut Peters, the Eagles will free up room by restructuring Fletcher Cox's deal and converting most of his $11.5 million base salary into a signing bonus, which would create $9.5 million or so in savings this year.
3. Explore the trade market for Nick Foles. I mentioned this in my Super Bowl recap, but the Eagles should operate from a position of strength with Foles given the uncertainty surrounding Carson Wentz's knee. The Eagles don't need to trade Foles, and if they don't get a great offer, they should hold on to him for another year.
If a team like the Bills or Jets offers the Eagles one of its second-round picks for Foles, it might be a good opportunity to sell high on a player who isn't going to supplant Wentz in the long term and will hit free agency in 2019. The Eagles could choose to replace Foles with a veteran like Josh McCown. It wouldn't be a surprise to see veterans who are chasing a ring like McCown head to Philadelphia for smaller-than-expected deals this offseason.
4. Wait out the market on Nigel Bradham. Bradham, nickel safety Corey Graham and slot cornerback Patrick Robinson are all free agents this offseason. Robinson played well enough to earn a deal Philadelphia can't match, and the Eagles seem heavily committed to cheap cornerback play given their investment along the defensive line and at safety. He's probably gone. Graham might be back.
Bradham will be an interesting situation. The Eagles used the former Bills linebacker and Mychal Kendricks as their every-down linebackers after Jordan Hicks tore his Achilles early in the season. Hicks will be back, and Kendricks -- whose four-year extension signed during the Chip Kelly GM days went south quickly -- is already in line for a cap hit of $7.6 million in 2018. Bradham is a better player than Kendricks, but the Eagles can't really commit another multiyear deal to a linebacker given how much they've spent elsewhere on their roster.
If a team gives Bradham the five-year, $26.5 million offer that the 49ers handed Malcolm Smith last offseason, his time in Philadelphia will probably come to a close. If the market for Bradham doesn't develop, though, it wouldn't be crazy to see the 28-year-old return to the Eagles on a short-term pact. Re-signing Bradham would probably bring Kendricks' time with the Eagles to a close.
5. Trade down on draft day. The Eagles are missing second- and third-round picks from various trades, and while they have an extra fourth-round selection, they'll need to replenish some of the missing depth from the Wentz trade and add cost-controlled talent to develop behind their core. Teams love trading up to the final few picks of the first round, since it allows them to acquire a possible fifth-year option for a player they were already planning on taking with one of the top few selections of the second round. Philadelphia has pick No. 32 in the first round.
---
Washington
1. Resist the urge to franchise Kirk Cousins. Trading for Alex Smith should have brought an end to the Cousins era in Washington, and while you can understand the organizational desire to get something back for their franchise quarterback, that ship sailed a year ago. We don't yet know the specifics of Smith's contract extension, but it's safe to assume that Washington's new quarterback will have a cap hit in excess of $15 million.
Washington currently has $36.2 million in cap room, and franchising Cousins for a third time would eat up $34.5 million of that space. Owner Daniel Snyder & Co. can't trade Cousins unless he signs the franchise tag, which he'll only do for a team of his choosing. Why would Cousins want Washington to narrow his options, and why would he want his new team to give up valuable draft picks as a thank-you to the franchise that is moving on from him?
Let's say Cousins wants to go to the Broncos. General manager Bruce Allen might very well go to Denver and threaten to franchise Cousins in the hopes of extracting a draft pick, but he has zero leverage. Cousins won't sign the tag, and Washington doesn't want to be stuck with two quarterbacks making a combined $50 million. Denver will happily wait for Cousins to eventually hit the market, which will happen after Washington releases Cousins. It's a desperate bluff from Washington.
Cousins is a sunk cost at this point. Washington can get a third-round compensatory selection in the 2019 draft when Cousins signs elsewhere, but the comp pick isn't guaranteed. Washington can nullify the selection by investing in free agency, either by going after a top-tier talent or a handful of cheaper players. The latter strategy will prevent the Bills from picking up a compensatory pick for Stephon Gilmore this year.
Obviously, compensatory picks can be valuable, and free agency can often be a fool's errand, especially for Snyder. What I don't like is the idea of sitting out free agency and ensuring a compensatory pick just so Washington can sit there and say it got something back for Cousins. That's a PR move, not a football decision. Those third-round compensatory picks also haven't delivered many stars in recent years. Here are the players drafted with third-round comp selections over the past 10 drafts:
2017: Cordrea Tankersley, Chad Williams, Rasul Douglas, Jonnu Smith, Brendan Langley, Nazair Jones, Trey Hendrickson, C.J. Beathard, James Conner, Amara Darboh, Kendell Beckwith

2016: Graham Glasgow, Vincent Valentine, Rees Odhiambo, Justin Simmons

2015: Geneo Grissom, Steven Nelson, Paul Dawson

2014: Dri Archer, Richard Rodgers, Crockett Gillmore, Brandon Thomas

2013: Sam Montgomery, Knile Davis, Zaviar Gooden

2012: Tony Bergstrom

2011: Sione Fua

2010: Brandon Ghee, Rennie Curran, Mike Johnson

2009: Tyrone McKenzie, Chase Coffman, Juaquin Iglesias, Travis Beckum

2008: Chad Rinehart, Andre Caldwell, Thomas DeCoud, Oniel Cousins
It's still too early to evaluate some of the more recent classes, but these guys combined for all of one Pro Bowl appearance, and that was from DeCoud, who was drafted a decade ago. Adding a compensatory pick is a smart move, but sitting out free agency specifically so Snyder can say five years from now that he got a second tight end or a subpar offensive lineman as compensation for Cousins isn't the right football decision for this franchise, especially after trading for a 33-year-old starting quarterback.
2. Re-sign Zach Brown and Spencer Long. Washington can start by bringing back two contributors. Brown was an astute low-cost signing last year when his market never developed after a breakout season in Buffalo. While inside linebackers rarely break the bank, Brown repeated his level of play with an excellent debut season in Washington. He's not in line for an enormous contract, but Brown should get more than the four-year, $24 million pact A.J. Klein signed with New Orleans last offseason.
Re-signing Long might depend on whether he thinks he can get an offer in excess of $8 million per year on what is going to be a very thin market for offensive linemen. Long started his Washington career as a guard before moving to center, but with Shawn Lauvao also a free agent, coach Jay Gruden would probably be slotting Long back at left guard in 2018. A reunion would make sense for both parties.
Bashaud Breeland is Washington's most notable other free agent, but it's difficult to imagine Allen committing nearly $14 million in cash to Josh Norman in 2018 and then throwing another $10 million per year Breeland's way. Having traded away Kendall Fuller in the Smith deal, it wouldn't shock me to see Washington go after Patrick Robinson at a price range closer to $7 million per year to give them a slot corner while drafting someone to develop on the outside.
3. Pick up Brandon Scherff's fifth-year option. Washington will be giving its star guard a contract extension next offseason.
4. Work on an extension for Preston Smith. Quietly, Greg Manusky's defense was fourth in the league in adjusted sack rate, taking down opposing quarterbacks on 8.0 percent of their dropbacks. Ryan Kerrigan was at the heart of that pressure, but Smith racked up eight sacks of his own to go along with a team-high 21 knockdowns. He now has 20.5 sacks through three seasons, and Washington can't append a fifth-year option to his rookie deal because he's a second-round pick.
Smith will be a free agent after the 2018 season, so now would be the time to lock him up. It's not going to be cheap -- a Smith extension would top $10 million per year -- but you would forgive Washington fans if they don't want to hear about the possibility of slapping Smith with the franchise tag next season.
5. Be selective with free agency investments. If Washington loses Breeland and Cousins in free agency, it should be able to recoup at least the third-round pick while signing one -- and maybe only one -- impact free-agent. That might be the aforementioned Patrick Robinson or another cornerback, but Washington shouldn't be trying to plug four or five roster spots with free agents.
I've suggested in the past that it could be the team that pays Le'Veon Bell $15 million per year, in part to give its fans something to focus their attention on after losing Cousins, but I suspect Pittsburgh will franchise its star running back. Maybe Washington will go for a wide receiver like Allen Robinson or Sammy Watkins to load up on weapons for Smith. Washington can also sign players who were released by their current teams without affecting the compensatory formula, so possible cap casualties like Dez Bryant and DeMarco Murray could figure in here.