University of Phoenix Stadium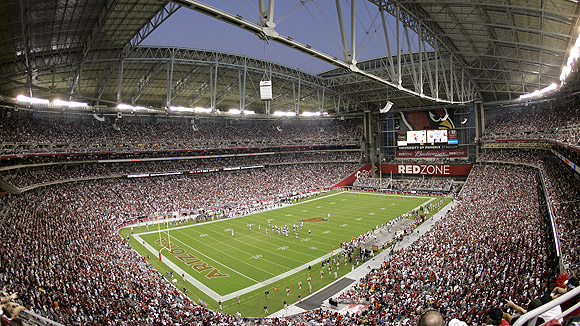 University of Phoenix Stadium

One Cardinals Drive
Glendale, AZ 85305

Capacity

63,400
HISTORY:
Architect Peter Eisenman designed the stadium using the inspiration of a barrel cactus. Pieces of the building fit together like cactus wedges, making efficient use of natural light. The result is a $450 million complex that opened in August 2006 on a 165-acre site in Glendale, less than 10 miles northwest of the Phoenix city center.
The stadium is the first sports venue in North America to feature both a retractable roof and retractable playing field, allowing the natural grass to soak up the sun during the day while fans situnder the stars at night. Situated to receive the maximum amount of sunlight throughout the day, the stadium's field remains outside except during games. The natural grass tray measures 234 feet by 403 feet and is 39 inches deep. The total trip (741 feet) to roll the grass tray to the field takes 65 minutes. The roof takes 10 minutes to close.
The facility, which opened in 2006, has already hosted a Super Bowl (XLII) and two BCS championship games. Entering the 2012 season, the Cardinals have sold out 63 games (including pre- and postseason games) compared to 12 sellouts in 18 seasons at their old home, Sun Devil Stadium. In 2009, Sports Illustrated named University of Phoenix Stadium the best new stadium in sports.
Outisde of the stadium, the Cardinals honor the memory of Pat Tillman with the Pat Tillman Freedom Plaza. Tillman is memorialized with an eight-foot tall sculpture of his likeness. There is a 60-foot pool and a grove with 40 oak trees symbolize Tillman's jersey number.
-- Information from the Arizona Cardinals media guide was used in this overview