Georgia Dome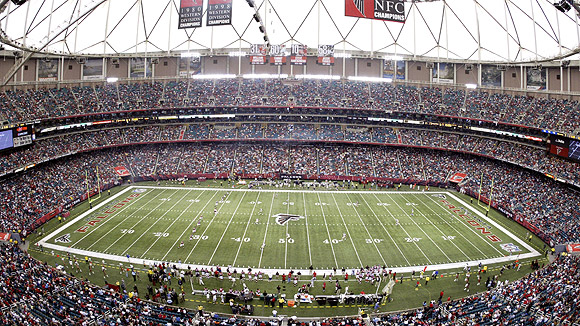 Georgia Dome

One Georgia Dome Drive N.W.
Atlanta, GA 30313

Capacity

71,250
HISTORY:
Civic leaders started working on securing funding for a new Atlanta stadium in 1984 and in spring of 1989 when Atlanta civic leaders gained approval for the $210 million Georgia Dome.
Groundbreaking ceremonies took place in November 1989 and construction began in earnest in March 1990. By 1992 the stadium became the city's NFL successor to Atlanta-Fulton County Stadium, which had hosted the Falcons for 26 years.
The Georgia Dome, which is the world's largest cable-supported domed stadium, hosted Super Bowl XXVIII in 1994 and Super Bowl XXXIV in 2000. The dome has also hosted the NCAA men's and women's Final Fours and events during the 1996 Olympics. Steve Bratkowski, Deion Sanders and Jessie Tuggle are a few of the names that have been placed in the Falcons' Ring of Honor at the Georgia Dome.
The 8,900 tons of steel weigh more than all the iron and steel in the Eiffel Towel, and the cable-supported roof features 130 Teflon-coated fiberglass panels.
-- Information from the Atlanta Falcons media guide and Georgia Dome website was used in this overview
WEATHER
Monday

Rain: 0%
52º - 72ºF

Tuesday

Rain: 65%
57º - 70ºF

Wednesday

Rain: 46%
56º - 68ºF

Thursday

Rain: 25%
56º - 74ºF

Friday

Rain: 25%
55º - 76ºF