M&T Bank Stadium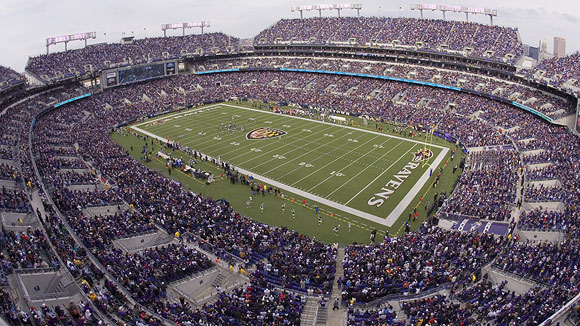 M&T Bank Stadium

1101 Russell St.
Baltimore, MD 21230

Capacity

71,008
HISTORY:
Besides hosting the Ravens, M&T Bank Stadium has featured numerous other notable sporting events, including Army-Navy games (2000, 2007), Navy vs. Notre Dame (2002, 2006 and 2008), Maryland vs. Georgia Tech (1998), Maryland vs. Navy (2005) and NCAA Lacrosse Championships (2003, 2004, 2007, 2010 and 2011).
Completed in 1998 at an estimated cost of $220 million, the stadium has 128 suites and 8,196 club seats. And it's been quite the homefield advantage. Entering the 2012 season, the Ravens have gone 73-23 at M&T Bank Stadium since they won Super Bowl XXXV. The stadium is nearly twice the size of its neighbor, Oriole Park at Camden Yards. M&T Bank and the Ravens entered a 15-year naming rights agreement in 2003
Its distinctive upper seating area includes open notches in each corner of the stadium, allowing scenic views of the city of Baltimore (and upper-level end-zone seating to be moved closer to the playing field). In 2010, the Ravens added new high-definition video screens, which are 24 feet high and 100 feet wide.
The Ring of Honor pays tribute to former Ravens and Colts. The outdoor plaza, located at Gate A, is named Unitas Plaza, and a bronze likeness of Johnny U (complete with his famous No. 19 and black high tops), depicts him dropping back to pass.
-- Information from the Baltimore Ravens media guide was used in this overview
WEATHER
Thursday

Rain: 18%
54º - 73ºF

Friday

Rain: 1%
56º - 79ºF

Saturday

Rain: 67%
39º - 65ºF

Sunday

Rain: 4%
38º - 49ºF

Monday

Rain: 12%
43º - 59ºF