Sports Authority Field at Mile High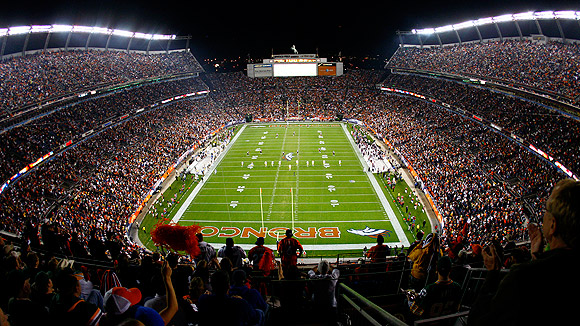 Sports Authority Field at Mile High

1701 Bryant St.
Denver, CO 80204

Capacity

76,125
HISTORY:
After 41 years at Mile High Stadium, the Broncos opened Sports Authority Field at Mile High, then known as Invesco Field at Mile High in 2001. SAF is nearly twice the size of old Mile High. In the first regular season NFL game played there, the Broncos beat the New York Giants, 31-20 on Sept. 10, 2001. Entering the 2014 season, the Broncos have a 65-31 record at their new place.
After spending one-quarter century atop Mile High Stadium, the statue of Bucky Bronco, which stands 27 feet tall and is made of fiberglass and steel weighing nearly a ton, was moved to the new stadium in 2001 and sits atop the south scoreboard. Bucky was modeled after Roy Rogers' famous horse, Trigger.
The Ring of Fame, honoring Denver greats including John Elway, Steve Atwater, Karl Mecklenburg and Tom Jackson, encircles the facade of Level 5 and is visible from every seat in the stadium.
SAFatMH also features many public works of art. Counties Gateway Plaza, located on the west side of the stadium, is a pedestrian walkway featuring personalized bricks, marble sculptures and six monuments that represent and fly the flags of the six counties in the Denver Metro area.
-- Information from the Denver Broncos media guide was used in this overview
WEATHER
Sunday

Rain: 70%
35º - 53ºF

Monday

Rain: 25%
38º - 62ºF

Tuesday

Rain: 76%
38º - 55ºF

Wednesday

Rain: 65%
35º - 47ºF

Thursday

Rain: 5%
39º - 61ºF