Lambeau Field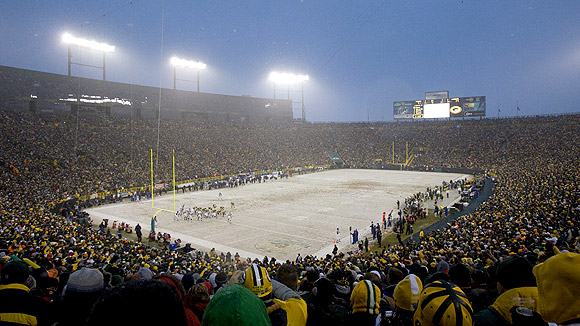 Lambeau Field

1265 Lombardi Ave.
Green Bay, WI

Capacity

80,750
HISTORY:
Like the city of Green Bay (just more than 100,000 residents -- 104,057 according to the 2010 U.S. Census), Lambeau Field appears too small to house so much historical significance. There are no towering upper decks, just the original seating bowl surrounded by the red-brick veneer of an exterior renovated in 2003. It doesn't seem possible that a stadium this intimate can hold nearly 80,000 fans, 13 NFL titles -- including four Super Bowl trophies -- and one of professional sports' most unique game-day experiences. A recent renovation was completed prior to the start of the 2013 season, adding approximately 6,600 seats.
Maybe that's why Lambeau Field's aura stretches far beyond the stadium's famous "frozen" tundra, to the myriad of tailgate parties and caravans that roll into town from across the state.
Its five-story atrium is home to the team's administrative and football operations offices, the 25,000-square-foot Packers Hall of Fame, the Packers Pro Shop team store, Curly's Pub (a restaurant, alehouse and game zone named after team founder Curly Lambeau) and four other eateries.
Opened in September 1957 -- and built at a an original cost of $960,000 -- Lambeau Field is the oldest NFL stadium and is third oldest -- behind Fenway Park and Wrigley Field -- of all major American professional sports' homes. It was host to one of the most famous contests in NFL history, the 1967 NFL championship game, also known as the "The Ice Bowl," where the kickoff temperature was minus-13 and the Packers defeated the Cowboys 21-17 on Bart Starr's quarterback sneak with 13 seconds left in the game.
Also see the SportsTravel Pilgrimage to Lambeau Field.
-- Information from the Green Bay Packers media guide was used in this overview
WEATHER
Saturday

Rain: 60%
21º - 28ºF

Sunday

Rain: 18%
23º - 39ºF

Monday

Rain: 3%
32º - 40ºF

Tuesday

Rain: 55%
29º - 45ºF

Wednesday

Rain: 25%
18º - 38ºF