Hard Rock Stadium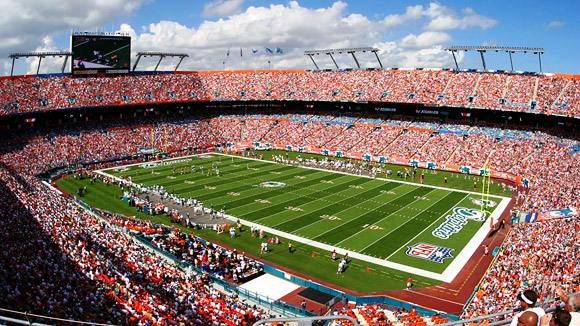 Hard Rock Stadium

347 Don Shula Drive
Miami Gardens, FL 33056

Capacity

65,326
HISTORY:
Hard Rock Stadium was completed in 1987 and constructed at a cost of $115 million in private funds, then was renovated in 2007 at a cost of $250 million. The stadium hosted the Super Bowl in 1989, 1995, 1999 and 2007 -- the first time the championship was played in a continuous rain -- and staged the big game again in 2010, with the Pro Bowl played a week earlier. From 1993 until 2011, the Dolphins shared Sun Life Stadium with the Miami (formerly Florida) Marlins, who won two World Series while playing there.
The stadium has also had several names over the years, including the initial name of Joe Robbie Stadium. It has also been Pro Player Stadium, Dolphins Stadium and Landshark Stadium.
On the club level of the stadium is the Gallery of Legends, which includes a history of the team, classic photos and the players inducted into the Dolphins Honor Roll.
The facility is also home to University of Miami football, the annual Orange Bowl game and is part of the Bowl Championship Series rotation, with the BCS National Championship Game slated to be held here in January 2013.
-- Information from the Miami Dolphins media guide was used in this overview
WEATHER
Wednesday

Rain: 1%
64º - 84ºF

Thursday

Rain: 60%
68º - 80ºF

Friday

Rain: 48%
70º - 79ºF

Saturday

Rain: 42%
69º - 81ºF

Sunday

Rain: 40%
69º - 82ºF