MetLife Stadium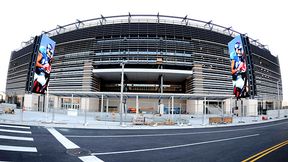 MetLife Stadium

102 Route 120
East Rutherford, NJ 07073

Capacity

82,500
HISTORY:
From the "Miracle at the Meadowlands" to the urban legend of Jimmy Hoffa's remains to the Bill Parcells years and Eli Manning's heroics during an improbable run to a Super Bowl victory in 2007, Giants Stadium was the centerpiece of the Meadowlands Sports Complex.
Opened in 1976, Giants Stadium was the first major sports venue in New Jersey and the only one to host two NFL teams (the Giants shared it with the Jets beginning in 1984). Instead of New Jersey residents always going into the city, the city would have to come to New Jersey and the Complex (with its racetrack and basketball/hockey arena), which made East Rutherford as important a destination as any in the country for sports fans.
Virtual tour

With the Giants and Jets enjoying their new home, let us take you on the virtual 360-degree tour of MetLife Stadium in New Jersey. Click here to begin »
But the Giants and Jets outgrew the old Giants Stadium and teamed up to help build a new facility, MetLife Stadium, which opened to both teams in 2010. With a construction price tag of $1.6 billion, MetLife Stadium is the league's most expensive. With an area of 2.1 million square feet, the stadium has more than two times the square footage of Giants Stadium. According to the New York Giants media guide, the first row of seats is just 46 feet away from the field.
All four corners of the new facility (built just yards away from Giants Stadium) feature 30-by-118-foot HD video boards, and there is a 350,000-square-foot outdoor plaza.
The stadium established a milestone even before its first event, when the NFL awarded it Super Bowl XLVIII, which was played in February 2014. MetLife Stadium became the first open-air stadium in a cold-weather city to host the Super Bowl.
-- Information from the New York Giants media guide was used in this description
WEATHER
Thursday

Rain: 4%
49º - 62ºF

Friday

Rain: 19%
52º - 67ºF

Saturday

Rain: 57%
34º - 65ºF

Sunday

Rain: 3%
30º - 45ºF

Monday

Rain: 25%
37º - 50ºF