MetLife Stadium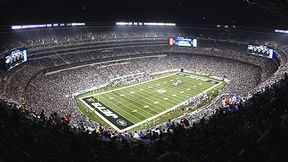 MetLife Stadium

102 Route 120
East Rutherford, NJ 07073

Capacity

82,500
HISTORY:
The Jets shared a home field with the Giants at Giants Stadium since the Jets moved into the building in 1984 after 20 seasons at Shea Stadium and four years at the Polo Grounds prior to playing at Shea.
Virtual tours

With the Jets and Giants enjoying their new home, let us take you on the virtual 360-degree tour of MetLife Stadium in New Jersey. Click here to begin »
After more than two decades of playing in Giants Stadium, the Jets teamed up with the Giants to build a new $1.6 billion stadium which serves the needs of both teams. The Jets and Giants each have their own spaces within MetLife Stadium. At 2.1 million square feet, it is more than twice the size of the old stadium.
MetLife Stadium made history when it hosted Super Bowl XLVIII. It was the first time the game was played in an open-air, cold-weather stadium.
Seats at MetLife Stadium have some of the best sightlines in the NFL, with the 50-yard-line seats just 46 feet from the field, the closest of any league venue.
-- Information from the New York Jets media guide was used in this overview
WEATHER
Saturday

Rain: 55%
43º - 61ºF

Sunday

Rain: 55%
42º - 45ºF

Monday

Rain: 73%
53º - 63ºF

Tuesday

Rain: 65%
50º - 71ºF

Wednesday

Rain: 4%
40º - 61ºF