Heinz Field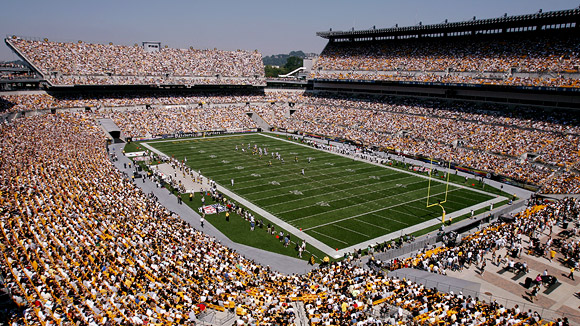 Heinz Field

100 Art Rooney Ave.
Pittsburgh, PA 15212

Capacity

65,500
HISTORY:
The Steelers have done a wonderful job displaying the history of western Pennsylvania football and creating an atmosphere fans relish. The two-storied Coca-Cola Great Hall, located by the east entrance, is the centerpiece and a great gathering spot at Heinz Field, which was opened in August 2001 and also hosts University of Pittsburgh home football games.
In addition to pregame and postgame entertainment, with TVs and concessions, the Coca-Cola Great Hall features six, huge Lombardi Trophy column displays devoted to the team's like-numbered Super Bowl titles, along with replicas of each trophy. There are a dozen graphic murals displaying Steelers, Pitt Panthers and other regional football history, complete with videos and music. Be sure to check out the seven interactive displays that feature trivia and other memorabilia.
The stadium also has two, giant faux Heinz ketchup bottles atop the Jumbotron scoreboard that tip and pour ketchup on the screen when the Steelers reach the Red Zone. (If the Heinz Ketchup bottles were filled with ketchup, they would contain 1,664,000 fluid ounces each, enough, if emptied, to cover the entire football field three-quarters of an inch deep.) The bottles, which each measure 35-feet by nine-feet, include 8,000 pounds of fiberglass, 375 feet of neon tubing and more than 20,000 LEDs.
Heinz Field also has been dubbed The Mustard Palace by locals because of its yellow seats.
-- Information from the Pittsburgh Steelers media guide was used in this overview