CenturyLink Field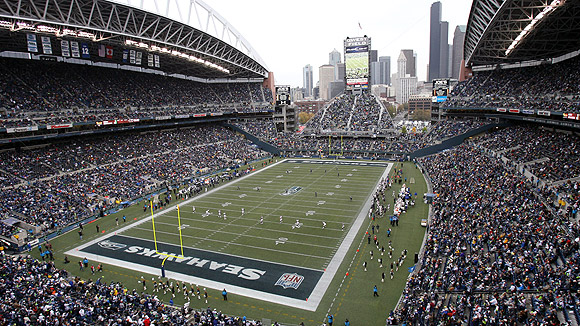 CenturyLink Field

800 Occidental Ave. S.
Seattle, WA 98134

Capacity

67,000
HISTORY:
The $430 million facility was funded by a private-public partnership and built atop the former site of the Kingdome. All of the concrete from the Kingdome was processed and recycled, and half of it was built into Seahawks Stadium (renamed Qwest Field in June 2004 before being changed to CenturyLink Field in June 2011).
A roof covers 70 percent of the seats, sideline seating is 52 feet from the playing field and end-zone seats are but 40 feet from the action. Fans also experience elements of diversity and culture through the Stadium Art Program, highlighted by nearly $2 million worth of art throughout the facility.
Wide concourses offer views of the Seattle skyline, Safeco Field and, when it's not raining or overcast, Mount Rainier and the Cascades range, Puget Sound and the Olympic Mountains. Before each game, the "12th man" flag is raised in the south end zone, usually by a current or former Seattle sports star and definitely igniting one of the league's most vocal crowds.
The State of Football monument in the stadium's plaza features more than 300 football helmets, representing each high school gridiron team in Washington. The facade of the stadium is emblazoned with the Seahawks' Ring of Honor, which includes the names of 'Hawks greats Steve Largent, Jim Zorn, Curt Warner, Cortez Kennedy and Dave Krieg.
For the stadium's 10th anniversary, new field turf and a new high definition Mitsubishi Diamond Vision board have been installed.
-- Information from the Seattle Seahawks media guide was used in this overview