Raymond James Stadium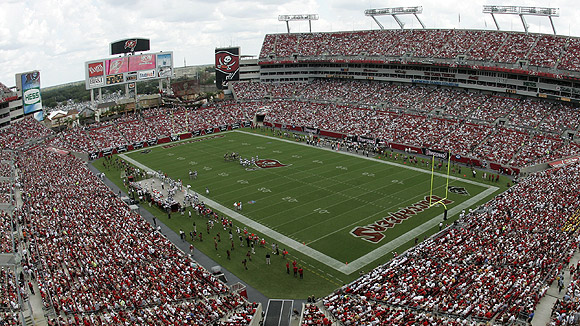 Raymond James Stadium

4201 N. Dale Mabry Highway
Tampa, FL 33607

Capacity

65,890
HISTORY:
The culmination of three years of development and construction, $168.5 million Raymond James Stadium opened in September 1998 to rave reviews for its groundbreaking innovations to improve the fan experience.
After 22 years of watching Buccaneers football from bench seating at The Big Sombrero -- officially Tampa Stadium, which was demolished in 1999 -- fans now enjoy individual seats, measuring 19 inches to 21 inches wide and with a minimum of 32 inches from one seat back to the next.
Also featured are 12,000 club seats, 195 suites, 20 escalators and more than 550 points of sale for food, beverages and merchandise (that's a ratio of one concession for every 120 seats). The stadium was financed by a combination of a half-cent sales tax for community investment purposes, a Florida sales tax rebate, a tourist development tax and funds provided by Buccaneers owner and president Malcolm Glazer.
One of the more famous landmarks of RJ Stadium is Bucaneer Cove, which features the 103-foot long pirate ship. It has eight cannons that herald player intros, forays into the red zone and Tampa Bay touchdowns. It is manned by a 30-person crew on game days. Raymond James Stadium played host to two (XXXV and XLIII) of the four Super Bowls staged in Tampa.
-- Information from the Tampa Bay Buccaneers media guide was used in this overview
WEATHER
Monday

Rain: 25%
61º - 85ºF

Tuesday

Rain: 0%
61º - 85ºF

Wednesday

Rain: 2%
61º - 86ºF

Thursday

Rain: 3%
66º - 87ºF

Friday

Rain: 25%
69º - 85ºF