FedExField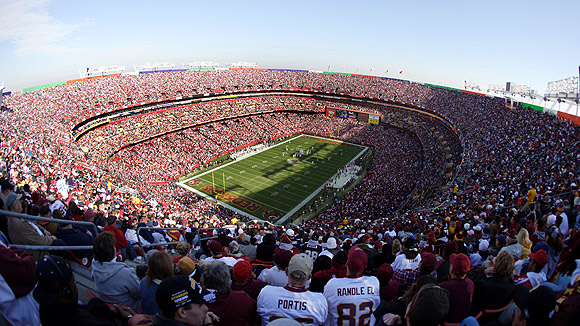 FedExField

1600 FedEx Way
Landover, MD 20785

Capacity

85,000
HISTORY:
Located on a 200-acre site, the stadium is the largest in the NFL.
Construction began on the privately financed, $250 million facility in March 1996; it was completed, according to the Redskins, in a record 17 months. The Redskins consecutive streak of home sellouts go back 44 seasons.
In 1997, $30 million was spent to create a 170,000 square-foot atrium encircling the entire stadium, making the Joe Gibbs Club Level a major addition. Since purchasing the team in July 1999, Daniel M. Snyder has doled out more than $100 million to enhance FedExField, including the addition of escalators, an Owner's Club Suite Level, a radiant heating system on the loge level and more seats on the upper, lower and loge levels. According to the Redskins, the franchise installed 8,000 solar panels and 10 electric vehicle charging stations after the 2010 season.
Located in the upper deck is the Redskins' Ring of Fame, with plaques honoring the team's greatest players and executives, including George Allen, Sammy Baugh, Joe Gibbs, Vince Lombardi, Sam Huff, Joe Jacoby, Sonny Jurgensen, Billy Kilmer, Doug Williams, Art Monk, John Riggins and Joe Theismann. The first national anthem at the facility was sung by Mary Chapin Carpenter.
-- Information from the Washington Redskins media guide was used in this overview
WEATHER
Tuesday

Rain: 47%
58º - 68ºF

Wednesday

Rain: 60%
47º - 78ºF

Thursday

Rain: 7%
36º - 52ºF

Friday

Rain: 57%
25º - 46ºF

Saturday

Rain: 0%
30º - 44ºF