Soldier Field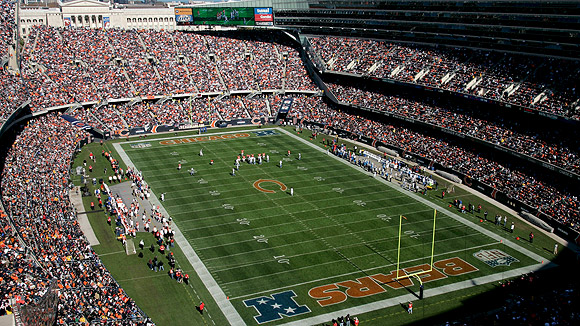 Soldier Field

1410 S. Museum
Campus Drive
Chicago, IL 60605

Capacity

61,500
HISTORY:
After taking a year to rebuild historic Soldier Field (during which time the team played home games at Memorial Stadium in Champaign, Ill.), the Bears christened the new stadium in September 2003.
After spending 50 seasons at Wrigley Field, the Bears' first season at the old Soldier Field on the shores of Lake Michigan was in 1971. The Bears played 31 seasons at old Soldier Field before the big overhaul.
Today there are 5,000-some fewer seats than in the Bears' old home, and with a capacity of 61,500 Soldier Field now is the league's smallest venue. Still, the refurbished Soldier Field won kudos. Midwest Construction magazine named Soldier Field the construction project of the year for 2003 and the New York Times tabbed it as the fourth best architectural project of 2003.
Soldier Field originally opened in 1924 as 45,000-seat Municipal Grant Park Stadium. (Extra points if you knew the first football game played on its field, in November 1924, featured Notre Dame and Northwestern. The Irish prevailed 13-6.) Three years later the all-time collegiate attendance record of 123,000 and change was established at the stadium, when Notre Dame beat Southern Cal in a 7-6 barnburner.
-- Information from the Chicago Bears media guide was used in this overview
WEATHER
Monday

Rain: 25%
44º - 51ºF

Tuesday

Rain: 55%
43º - 63ºF

Wednesday

Rain: 77%
31º - 45ºF

Thursday

Rain: 61%
23º - 36ºF

Friday

Rain: 3%
31º - 40ºF