Arrowhead Stadium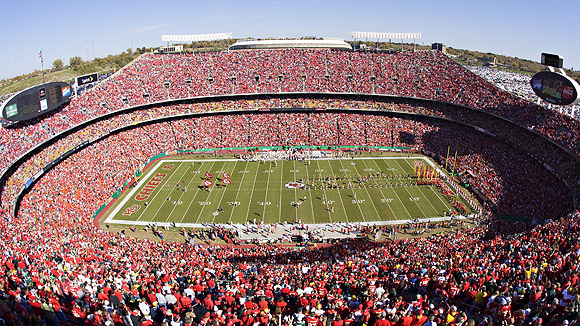 Arrowhead Stadium

One Arrowhead Drive
Kansas City, MO 64129

Capacity

79,541
HISTORY:
Arrowhead Stadium was ahead of its time when it opened in 1972. A $375-million renovation in 2010 insured that Arrowhead maintained its status as one of the NFL's best stadiums despite its tenure as one of the league's oldest.
Had it not been for construction cost overruns and project delays caused by a lengthy strike, the Truman Sports Complex, home to Arrowhead Stadium and its MLB counterpart Kauffman Stadium, may have had a rolling stadium roof that could cover either facility, as originally approved by voters in 1967.
Despite the design changes, Arrowhead was still over-the-top impressive enough when it opened in '72 that legendary Chicago Bears founder George Halas called it "the most revolutionary, futuristic, sports complex I have ever seen."
After the 2010 renovation, Arrowhead had a new enclosed area on the club area, wider and more expansive concourses on all levels, and an Horizon level with its own concession and bathrooms.
After 23 seasons of artificial turf, Arrowhead sported a grass playing surface for the first time in 1994. In 1999 all 33,975 seats in the upper level of the stadium were replaced, while all 35,277 lower-level seats and all 10,199 club level seats were replaced for the 2000 season.
-- Information from the Kansas City Chiefs media guide was used in this overview
WEATHER
Wednesday

Rain: 0%
47º - 79ºF

Thursday

Rain: 42%
47º - 69ºF

Friday

Rain: 13%
30º - 52ºF

Saturday

Rain: 8%
29º - 45ºF

Sunday

Rain: 25%
33º - 52ºF