Nissan Stadium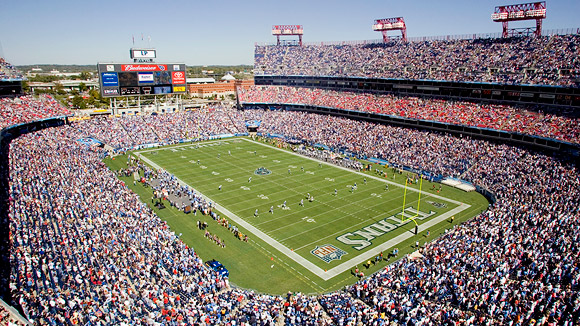 Nissan Stadium

One Titans Way
Nashville, TN 37213

Capacity

69,143
HISTORY:
Centrally located on 105 acres along the east bank of the Cumberland River and just across the water from the heart of downtown Nashville, Nissan Stadium opened its doors in August 1999.
In the stadium's most famous and controversial play, Kevin Dyson took a Frank Wycheck lateral on a kickoff return 75 yards in for a touchdown with 16 seconds left, lifting the Titans to a 22-16 victory in the AFC Wild Card playoff game against the Bills. The "Music City Miracle" vaulted the franchise to an appearance in Super Bowl XXXIV, where the Titans fell one-yard short of tying the game as time ran out, losing to the St. Louis Rams, 23-16.
Nissan Stadium is one of two open-air stadiums in the AFC South and it features 12,000 club seats and 175 private suites. A 10-year stadium-naming-rights agreement with Louisiana Pacific was announced in 2006. More than 2,000 trees were planted on stadium property. The facility also is the home football field for Tennessee State University.
-- Information from the Tennessee Titans stadium site was used in this overview
WEATHER
Monday

Rain: 70%
59º - 76ºF

Tuesday

Rain: 23%
52º - 71ºF

Wednesday

Rain: 12%
61º - 77ºF

Thursday

Rain: 65%
59º - 75ºF

Friday

Rain: 55%
51º - 69ºF