Cowboys Stadium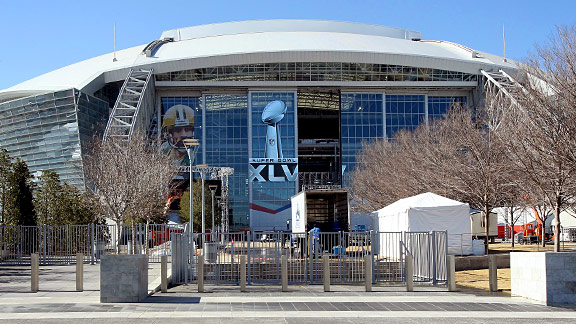 Cowboys Stadium is a multipurpose facility in Arlington, Texas, that is home to the Dallas Cowboys of the National Football League and hosts college football's Cotton Bowl each year.
Opened in 2009, the stadium is the largest venue in NFL history (at 3 million square feet) and features the world's longest single-span roof structure along with a pair of 160-by-72-foot video screens that contain 30 million light bulbs and weigh more than 1 million pounds -- the largest high-definition screens in the world.
Originally estimated to cost less than $700 million, the stadium's total amount for construction exceeded $1 billion. Designed by stadium architect HKS, Inc., the arena features a pair of 300-foot support arches that span the length of the dome, which houses a retractable roof. While the stadium seats 80,000, it can accommodate more than 100,000 for special events with additional seating and standing-room areas.
In its first 18 months of operation, Cowboys Stadium has played host to numerous concerts, the Big 12 championship game, title fights in boxing featuring Manny Pacquiao and the NBA All-Star Game in February 2010 -- that featured a record crowd for basketball of more than 108,000. On Feb. 6, the arena will be the site of Super Bowl XLV, while it will also host the opening match in soccer's 2011 CONCACAF Gold Cup and welcome the NCAA men's basketball Final Four in 2014.
AUDIO RESULTS FOR COWBOYS STADIUM