The Star Treatment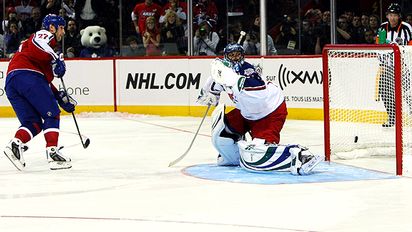 Bruce Bennett/Getty Images
The last time the NHL All-Star Game went into overtime was 2003.
Did you want a little more life in your NHL All-Star Game? Well, you got it Sunday in Montreal. Alexei Kovalev and Alex Ovechkin each scored in a shootout to give the East a 12-11 win over the West.
Story
Must Read
2009 NHL SUPERSKILLS COMPETITION -- Saturday, Jan. 24
Fastest Skater
Record holder: Mike Gartner (1996 -- 13.386 seconds)
Three skaters from each squad compete. Skaters are timed for the fastest circuit of the NHL-sized rink.
Fan Fav Breakaway Challenge
2008 winner: Alex Ovechkin
Taking advantage of the entire offensive zone, six skaters have one minute to perform as many attempts as possible before ending with a shot on goal. Fans will vote for the winner via text message.
NHL YoungStars Game
Complete roster
The YoungStars Game will feature 3-on-3 play, NHL sophomores versus rookies.
Accuracy shooting
Record: 4 hits in 4 shots (Roenick, '04; Messier, '96; Bourque, '92-93)
Two skaters feed pucks from the goal line as shooters try to hit four targets in each corner of the net.
Hardest shot
Record: Al Iafrate (1993 -- 105.2 mph)
Four players from each team have two attempts at the hardest shot.
Elimination Shootout
2008 winner: Dion Phaneuf
All players participate. Goalies will have a random draw to decide which six shooters they'll face in the first round. The shooters that score advance to the next round and the event continues until a round is completed where only one shooter scores.
More from ESPN.com
Weekend Schedule (all times ET)
Saturday
Board of Governors meeting
9 a.m.-noon
Saturday
YoungStars Game/SuperSkills
7 p.m.
Sunday
57th NHL All-Star Game
6 p.m. (Versus)
Your Take?

Pierre LeBrun is leaving the fate of the All-Star Game in your hands in his Question of the Week. What would you do to make it better?
Your answer?
Look Back: 2008 All-Star Game

For all the All-Star grumblings, fans got one exciting finish in Atlanta. The East scored with 20.9 seconds left to beat the West, 8-7.
2008