Category archive:

Dion Phaneuf
September, 14, 2010
09/14/10
2:06
PM ET
NEW YORK -- For one night and one night only, Dion Phaneuf wasn't on center stage.
Nope, he was just one of the thousands of fans jammed into a sold-out Yankee Stadium on Monday night to witness the new ballpark's first concert, a doozy headlined by hip-hop stars Eminem and Jay-Z.
"It was something to see," Phaneuf told ESPN.com on Tuesday. "Both those guys are icons in their own way, and for them to play that show -- it was the first concert ever held at Yankee Stadium -- it was pretty cool to be part of [the crowd] there. It was quite the show to experience and be part of, and it's one I'll never forget."
Phaneuf had some quality seats alongside the likes of Alex Ovechkin, Patrick Kane, Steven Stamkos and other NHL stars who were in town for an NHL preseason event.
On Tuesday, Phaneuf was back in the spotlight, taping interviews with several media outlets at the onset of arguably the biggest season in his NHL career. As the new captain of the Toronto Maple Leafs, he is the face of a rebuilding franchise desperate to shed a half-decade of misery. It's a lot of pressure, but as he sat down with ESPN.com, you wouldn't know it. Phaneuf appeared comfortable in his own skin, genuinely enthused about the challenge ahead and as though he was born to wear the famous Leafs uniform with a "C" on it.
"It was an exciting summer for me personally being named captain of such an historic franchise, not only in hockey but all of professional sports," Phaneuf said. "I'm really excited about the opportunity."
This is Phaneuf's chance to press the reset button on his young career. Just three years removed from a career-high 60 points in Calgary, things got off track with the Flames, enough for GM Darryl Sutter to do this past January what he publicly said he would never do -- trade Phaneuf.
"It was definitely something that was very unexpected," Phaneuf said. "There were rumors and talk of it, then Darryl put it all to bed by saying, 'We're not moving him.' A couple of weeks later, I got a call at 8 a.m. that I'd be traded. Suddenly your life is up in shambles, you've got a house in one city, you've got five hours to pack that up and be in another.
"But as soon as the initial shock went away, I was real excited about where I was going and the team that I was going to. It's been nothing but positive and it's been a great thing for my career."
Phil Kessel is perhaps the most controversial trade to date in Toronto for Brian Burke, but it's the Phaneuf deal that will be looked back on as the GM's signature move, the acquisition of a rugged and talented offensive blueliner who embodies all the qualities the fiery Burke adores.
Sink or swim, Phaneuf and Burke are tied at the hip in this Maple Leafs adventure.
"I think everyone is involved in the journey, not just the general manager, not just me," Phaneuf said. "The last five years are in the past. This is a new season, a new team. We made a lot of moves, and it's going to be an exciting season."
Not everyone shares Phaneuf's enthusiasm for the Leafs' chances. Kris Versteeg was an excellent acquisition, but this remains a club that -- on paper, at least -- will struggle mightily to score goals.
"Our goal is to make the playoffs," Phaneuf said. "We have a very young team. We made some really good moves over the summer. We're young, which gives us the opportunity to learn and grow together. As a group, we look forward to try and prove people wrong."
January, 31, 2010
01/31/10
5:34
PM ET
TORONTO -- People in these parts still remember where they were that day, 18 Januarys ago, when the Toronto Maple Leafs acquired Doug Gilmour from the Calgary Flames.
It was a franchise-altering blockbuster by former GM Cliff Fletcher that will go down as one of the greatest deals by the Leafs, a move that would pave the way for a pair of spring runs no one here will ever forget, either.
[+] Enlarge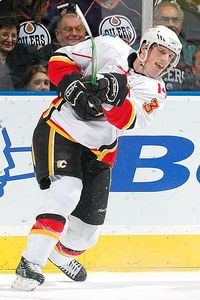 Andy Devlin/NHLI/Getty ImagesLeafs GM Brian Burke on Dion Phaneuf: "This is a guy that likes it crude and likes it black and blue, and that's how we want him to play."
On Sunday, it was current Leafs GM Brian Burke who pulled off the jaw-dropping trade, a seven-player deal with Calgary that has the potential to finally put this franchise back on the right track. Toronto acquired Dion Phaneuf, right winger Fredrik Sjostrom and defenseman Keith Aulie in exchange for defenseman Ian White, center Matt Stajan, left winger Niklas Hagman and right winger Jamal Mayers.
"Putting a seven-player deal together today is unbelievably difficult," Fletcher, now a senior adviser with the Leafs, told ESPN.com on Sunday. "Back when I did that deal with Calgary, there were no financial considerations at all. It was just players for players. This was so much difficult. But we think today we got a player we can really build around in Dion Phaneuf."
The Leafs' shakeup Sunday also included a deal with the Ducks, in which Toronto acquired goalie Jean-Sebastien Giguere for Jason Blake and Vesa Toskala.
But forget all the other players that changed teams in Calgary, Toronto and Anaheim -- this trade is really all about one player, Phaneuf.
"Phaneuf is a gamble, but if he hits, they will win this deal huge," a GM who requested anonymity told ESPN.com on Sunday.
"It's about getting an A-lister, and Burkie did that today," added another unnamed GM.
Now he's got two.
"In the last four months, we've added Phil Kessel, who is an elite player, and Dion Phaneuf, who I view as an elite player," Burke told a packed news conference at Air Canada Centre. "So I think it's a very important day for us."
Listen, Phaneuf doesn't arrive without question marks. He has yet to match the 20 goals from his rookie season in 2005-06 and his exit couldn't come fast enough for members of the Calgary media, who thought he was overrated. But a pair of 17-goal campaigns is a reminder that his potential hasn't gone away -- he's a bona fide offensive blueliner with a physical game that had Burke drooling from the first day he thought he might have a shot at him.
"This is a guy that likes it crude and likes it black and blue, and that's how we want him to play," said Burke.
At first, Burke's advances to Flames GM Darryl Sutter got the cold shoulder. Sutter, as he told me earlier this month, had no desire to move Phaneuf. But an ensuing nine-game winless streak changed all that. The pressure was on for Sutter to make a move, and Burke made sure to exploit that.
This is why Burke was brought in to run this sad-sack franchise -- because he had the reputation and acumen of a GM who could pull off these types of moves. Kessel was also a big acquisition, but a move that right now looks decidedly tilted in favor of the Bruins thanks to a pair of first-round picks going Boston's way, and the June 2010 pick looking like a top-three overall selection.
But there isn't a sense that Burke overpaid this time around. No offense to Stajan, Hagman, Mayers and White, but they are complementary players.
The kicker in all this is some people believe the prospect Toronto got in the deal, the 6-foot-6, 20-year-old defenseman Aulie, is headed for a good NHL career. "He's going to play 15 years in the NHL," said one NHL executive Sunday.
But again, this trade is about Phaneuf, and about Burke showing once again he loves stud blueliners. He added Mike Komisarek and Francois Beauchemin this past summer via free agency. Throw in incumbent Tomas Kaberle, and you've got an impressive top four. Remember Burke's blue line on the Cup-champion Anaheim squad from 2007: Scott Niedermayer, Chris Pronger and Beauchemin.
"My philosophy is building from the net out," said Burke. "It's like pitching in baseball. If you don't have good defensemen, you're not going to win, it doesn't matter how good your forwards are. And it's been a hallmark of all my teams. I try to build up the defense, and that's exactly what happened here today. We added an elite defenseman and a guy that plays our kind of hockey."
The second trade Sunday is of lesser importance, but it does shore up Toronto's goaltending for the next year and a half. Giguere, in my mind, remains a top-level netminder; he's 32, not 38. But his $7 million price tag for next season scared off everyone else in the NHL ever since the Ducks first made him available in June.
Give Ducks GM Bob Murray a ton of credit here; from what I'm told, he stayed on Toronto's tail all season long, urging them to give this some thought. The hook all along was Giguere would be reunited with goalie coach Francois Allaire here in Toronto and could provide Jonas Gustavsson excellent mentorship. After all, it worked in Anaheim with Jonas Hiller.
As I first speculated back in November, the plan was sound, but the Leafs balked at the $7 million salary for next season. Once Anaheim was willing to take back money, things changed. Toronto would have preferred to send Jeff Finger back in the deal along with Toskala, but the Ducks asked for Blake instead. Fair enough. Done deal.
Here's why the Giguere deal is also possibly a good thing for Toronto: The Leafs have no desire to be 29th in the standings again next season. They want Giguere to win games for them. The Bruins, after all, also have Toronto's first-round pick next season. Hence, Giguere has a useful short-term role here.
So, six players emptied their dressing room stalls at the Air Canada Centre on Sunday, and Burke is still working the phones.
"We're still open for business. We're not done," Burke said.
Suddenly hot winger Alexei Ponikarovsky is garnering more and more attention, and he's an unrestricted free agent July 1. He's a goner. So are a few more Leafs. Those deals, however, won't have the impact of Sunday's acquisition of Phaneuf.
This is a franchise that last hosted an NHL playoff game in April 2004. The playoff drought will be at least six seasons and counting. The Cup drought will be 43 years and counting.
On Sunday, what the die-hard members of Leaf Nation finally got for the first time in a long, long time, was hope.