Category archive:

David Backes
January, 15, 2010
01/15/10
2:23
PM ET
Attention Team Canada players: Please be aware there is a serial Team USA fighter on the loose, and he's stalking anyone slated to wear the Maple Leaf in Vancouver next month.
[+] Enlarge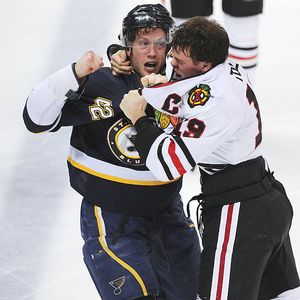 AP Photo/Bill BoyceBlues and Team USA member David Backes, left, took on Hawks and Team Canada star Jonathan Toews on Jan. 2.
"It may very well appear that way," David Backes said with a laugh.
The St. Louis Blues and Team USA forward was joking, of course, when we caught up with him this week. But there's no denying his last three fights have been with Canadian Olympians:
Jan. 2 versus Chicago: Jonathan Toews
Jan. 7 versus Anaheim: Corey Perry
Tuesday versus Columbus: Rick Nash
Backes didn't make the Team Canada connection until Blues color man Darren Pang brought it to his attention.
"I had a chuckle with him," Backes said. "Maybe we'll do a little intimidating before Vancouver."
Again, he's joking … we think.
"For me, they're all top-tier, all-world players," Backes said. "If I can get under their skin and exchange five minutes with them, it's well worth it."
The Team Canada fight spree started with Toews, a fight I think the Blackhawks star wished he hadn't gotten into.
"It was just a forecheck where I'm in on him, he's on the wing," Backes said. "I finished him in the wall and gave him a little extra shot with my stick. He slashed me. We stared at each other and dropped the gloves."
Five nights later, it was Perry, a decision I also give to Backes.
"We've played them a few times in my career, and he's a guy that's gotten under my skin a couple of times, and hopefully I've done the same to him," Backes said. "But we had two willing combatants that night in a game that was going back and forth, and we were trying to get something going for our teams. A good fight, I thought."
Finally, there was Nash on Tuesday night; in my mind, it was a pretty even affair, a good one.
"We were on the power play, and we had a delayed penalty," Backes said. "They were ragging the puck a little bit so they could extend their power play once the 4-on-4 was over. Nash was holding on to the puck, and it was getting under my skin a little bit. So I took a run at him; he tried to reverse-shoulder me. We kind of stared at each other, I dropped my gloves and he dropped his. It was a little bit wild after that."
According to our crack ESPN research guru Vincent Masi, the Team USA forward has six games left before the Olympic break that feature Team Canada players:
Jan. 18 at Blue Jackets: Nash
Jan. 23 versus Ducks: Perry, Ryan Getzlaf
Jan. 25 at Flames: Jarome Iginla
Jan. 27 at Canucks: Roberto Luongo (OK, not going to happen)
Jan. 30 versus Blue Jackets: Nash
Feb. 3 at Blackhawks: Toews, Duncan Keith, Brent Seabrook
Hmm, the Calgary game sounds interesting. Iginla loves to drop 'em. Circle that one on your calendar, David?
"I don't think he would lose much sleep over me," Backes said. "If something happens, it happens."