September, 16, 2010
09/16/10
2:19
PM ET
If you're Patrice Bergeron, the 2009-10 season will forever be memorable for all kinds of reasons.
A mixed bag, really.
On the one hand, there's the image of him setting up the winning goal in the Winter Classic at Fenway Park, a moment that underlined his full-circle comeback from a career-threatening concussion two years before. And there's the memory he cares about most -- standing on the ice at GM Place in Vancouver and belting out the words to "O Canada" in late February.
And yet, Bergeron can't pick and choose his 2009-10 memories. He can't forget the second-round playoff collapse against the Philadelphia Flyers; the Bruins became the first team in 35 years to blow a 3-0 series lead.
Quite the season for the 25-year-old Boston Bruins center.
"Obviously, I was honored and happy with the Olympics. To have a chance to win a gold medal in Canada, that will be something I will never forget, that's for sure," Bergeron told ESPN.com this week. "But at the same time, with the Bruins, it didn't finish like we wanted. So it was a weird season, I guess."
The talented Bergeron is a character player and, along with captain Zdeno Chara and the other leaders on the B's, he'll need to make sure his dressing room has healed and turned the page on last spring's sickening turn of events.
"Looking back at it, it was tough to swallow," said Bergeron. "It took me a while to get past that, but we have to move forward. We're a great team. We showed that last year. We didn't get the result against Philly, but at the same time, there's 29 teams that are not satisfied with last year. It's only Chicago that won the Cup."
Well put.
So what exactly do we have in these Bruins this season? To me, they are the real X factor in the Eastern Conference. I suspect you'll see prognosticators vary wildly as they size them up. Some will see them as the club that won the Eastern Conference two years ago; others will view them as the team that struggled at times last season and folded so badly against the Flyers.
Can they re-establish themselves as a legitimate contender along with the Eastern powerhouses in Philly, Pittsburgh, Washington and New Jersey?
"I think we have the team to do that," Bergeron said. "I think we can do some good things."
The Bruins begin the regular season in Prague on Oct. 9-10 with weekend games against the Phoenix Coyotes. The trip will be kicked off with an exhibition matchup against the Belfast Giants in Ireland on Oct. 2.
The league's annual trek to Europe, in its fourth year now, can be seen as a distraction by some players, but Bergeron is stressing the positive.
"I'm looking forward to it," said Bergeron, who totaled 52 points (19-33) in 73 regular-season games last season. "I actually have family roots in Ireland, so it should be a lot of fun. Obviously, being on the road in Europe will create a bond and good chemistry for the team right away. That's a good thing."
And it won't be his first time in Prague. I was there myself in the spring of 2004 when a young Bergeron helped Canada capture the men's world championship, a team coached by Mike Babcock and also featuring the likes of Scott Niedermayer, Roberto Luongo, Danny Briere and Jay Bouwmeester.
"I was 18 years old and we won gold," Bergeron said. "The city is beautiful and I really look forward to being there again."
And he looks forward to turning the page on last season.
September, 15, 2010
09/15/10
1:05
PM ET
Talk about hockey lineage.
When the Shattuck-St. Mary's School girls' prep hockey team opens its season this weekend, there will be a Lemieux and a Crosby on the ice -- Stephanie Lemieux, the 15-year-old daughter of Penguins owner Mario Lemieux, and Taylor Crosby, the 14-year-old sister of Pittsburgh captain Sidney Crosby.
"They're just regular teenage girls. They're hard working and dedicated," Shattuck coach Dan Koch said Wednesday. "They just go about their business like any other kids here. They're very focused in both hockey and academics."
Of course, Taylor isn't the first Crosby to lace 'em up at the prestigious school in Minnesota. No. 87 spent a season there in 2002-03, scoring 72 goals and 162 points in 57 games. Now, Taylor is following in his footsteps, although she's a netminder, not a center.
Sidney told ESPN.com on Wednesday that he had mixed feelings about Taylor's move to Shattuck.
"I'm really happy for her, but I'm also sad to see her leave home," said big brother. "She's young, she's my little sister, so to see her leaving home, it's probably hit me a little more. She's really grown up. But I'm happy for her. She's really happy at the school. I had a great experience there and she's enjoyed herself from the start, both in school and hockey-wise. It's a nice opportunity for her."
Parents Trina and Troy Crosby are now empty-nesters at the family home in Cole Harbour, Nova Scotia.
"We took Taylor down to Shattuck in late August," Troy told ESPN.com Wednesday. "Just being back there again after taking Sidney there eight years ago, it brought back lots of good memories. It's a great environment for kids to go to school and play sports there. It's a proud moment for me to see her there. It's hard to say goodbye, but I'm proud of her."
Troy was also a goalie, drafted by the Montreal Canadiens in 1984. So Taylor has a good mentor in net. It also doesn't hurt to have a superstar NHLer to practice with.
"I actually shot on her this summer for the first time," said Sidney. "We had never done that before. She's good, she's really good. I wasn't afraid to let a couple go and she stood in there pretty good. It was a lot of fun."
September, 14, 2010
09/14/10
2:06
PM ET
NEW YORK -- For one night and one night only, Dion Phaneuf wasn't on center stage.
Nope, he was just one of the thousands of fans jammed into a sold-out Yankee Stadium on Monday night to witness the new ballpark's first concert, a doozy headlined by hip-hop stars Eminem and Jay-Z.
"It was something to see," Phaneuf told ESPN.com on Tuesday. "Both those guys are icons in their own way, and for them to play that show -- it was the first concert ever held at Yankee Stadium -- it was pretty cool to be part of [the crowd] there. It was quite the show to experience and be part of, and it's one I'll never forget."
Phaneuf had some quality seats alongside the likes of Alex Ovechkin, Patrick Kane, Steven Stamkos and other NHL stars who were in town for an NHL preseason event.
On Tuesday, Phaneuf was back in the spotlight, taping interviews with several media outlets at the onset of arguably the biggest season in his NHL career. As the new captain of the Toronto Maple Leafs, he is the face of a rebuilding franchise desperate to shed a half-decade of misery. It's a lot of pressure, but as he sat down with ESPN.com, you wouldn't know it. Phaneuf appeared comfortable in his own skin, genuinely enthused about the challenge ahead and as though he was born to wear the famous Leafs uniform with a "C" on it.
"It was an exciting summer for me personally being named captain of such an historic franchise, not only in hockey but all of professional sports," Phaneuf said. "I'm really excited about the opportunity."
This is Phaneuf's chance to press the reset button on his young career. Just three years removed from a career-high 60 points in Calgary, things got off track with the Flames, enough for GM Darryl Sutter to do this past January what he publicly said he would never do -- trade Phaneuf.
"It was definitely something that was very unexpected," Phaneuf said. "There were rumors and talk of it, then Darryl put it all to bed by saying, 'We're not moving him.' A couple of weeks later, I got a call at 8 a.m. that I'd be traded. Suddenly your life is up in shambles, you've got a house in one city, you've got five hours to pack that up and be in another.
"But as soon as the initial shock went away, I was real excited about where I was going and the team that I was going to. It's been nothing but positive and it's been a great thing for my career."
Phil Kessel is perhaps the most controversial trade to date in Toronto for Brian Burke, but it's the Phaneuf deal that will be looked back on as the GM's signature move, the acquisition of a rugged and talented offensive blueliner who embodies all the qualities the fiery Burke adores.
Sink or swim, Phaneuf and Burke are tied at the hip in this Maple Leafs adventure.
"I think everyone is involved in the journey, not just the general manager, not just me," Phaneuf said. "The last five years are in the past. This is a new season, a new team. We made a lot of moves, and it's going to be an exciting season."
Not everyone shares Phaneuf's enthusiasm for the Leafs' chances. Kris Versteeg was an excellent acquisition, but this remains a club that -- on paper, at least -- will struggle mightily to score goals.
"Our goal is to make the playoffs," Phaneuf said. "We have a very young team. We made some really good moves over the summer. We're young, which gives us the opportunity to learn and grow together. As a group, we look forward to try and prove people wrong."
September, 13, 2010
09/13/10
1:42
PM ET
Training camps open around the NHL later this week and some burning questions come to mind.
Among them has to be one about David Booth, the Florida Panthers star winger who was limited to 28 games last season after suffering a pair of concussions. How is he faring now?
"He's healthy as a horse," Panthers GM Dale Tallon told ESPN.com on Monday morning. "We'll keep our fingers crossed. We need him to be healthy. It's exciting, though. He's good to go."
Booth was last seen on NHL ice in late March, needing help to get to his feet after a clean hit from Montreal's Jaroslav Spacek, which you can see here. Booth suffered his second concussion on the hit and his season was over. He had already missed 45 games after getting drilled by Mike Richards of the Flyers in October, a hit that would now be deemed illegal under the new NHL blindside rule.
But so far so good for Booth, who is in terrific shape.
"The reports are all great in his regard," Tallon said. "Every conversation I've had with him has been nothing but positive."
Goals won't come easily for the rebuilding Panthers this season, so getting Booth back on track will be paramount. He scored a career-high 31 goals in 2008-09 and appeared to be on the verge of taking his game to the next level before the Richards hit. Here's hoping the best for him.
Other burning questions as camps approach:
• Will the remaining restricted free agents get signed this week before camp? Niclas Bergfors agreed to a one-year deal worth $900,000 on Monday, leaving Bobby Ryan in Anaheim, James Neal and Matt Niskanen in Dallas and Marc Staal in New York (Rangers) as the most noteworthy unsigned RFAs. A source close to the Staal talks said both sides were fairly close, but still not quite there as of 11 a.m. ET on Monday.
"The negotiations with James Neal are getting to a critical stage for both sides," Neal's agent, Pat Morris of Newport Sports, told ESPN.com on Monday. "There is always that time for "the fork in the road" where a deal can be done or won't be done for a long period. James hopes to become a contracted member of the Stars once again very soon. Both sides will have to be flexible."
On the Bergfors front, while Atlanta got him back cheap this season, it risks paying big money next summer when he's eligible for salary arbitration. Look for a motivated Bergfors this season.
• How will it all play out in Calgary this season? Some people were surprised to see Flames GM Darryl Sutter keep his job after his team missed the playoffs. Even more people were dumbfounded when he brought back Olli Jokinen and Alex Tanguay on July 1. Will Sutter get the last laugh?
• How will the goalie battle play out in San Jose? Antero Niittymaki went from surefire No. 1 goalie in July to a Finnish duel in early September after the surprise signing of Antti Niemi. I have a feeling you'll hear Sharks coach Todd McLellan talk about riding the "hot hand" all season long. Don't overlook Niittymaki just because Niemi is the Cup-winning goalie. Legendary coach Scotty Bowman told us last June that he believed Niittymaki was one of the real underrated free agents on the market.
• Goalie talk, Part II: How will veteran Marty Turco fare in replacing Niemi in Chicago? Just fine, thank you, is my prediction. The Hawks get a hungry and motivated Turco. Look for a big year from the 35-year-old netminder.
• Goalie talk, Part III: Does any goalie have more pressure on him than Carey Price in hockey-mad Montreal? He won't have a short leash with the passionate fans of Le Bleu, Blanc, Rouge after playoff hero Jaroslav Halak was dealt away in a move not at all welcomed by the ticket buyers. What's easy to forget is Price just turned 23; plenty of upside here. But a fast start in October is a must for him, otherwise the unraveling may come fast.
September, 10, 2010
09/10/10
12:13
PM ET
Of the many training camp subplots around the NHL this month, Jonathan Cheechoo's arrival in Dallas is intriguing to say the least.
Just five years removed from a Rocket Richard Trophy as the NHL's top goal-scorer, Cheechoo arrives at Stars camp next week, hat in hand, on an NHL tryout.
Has there been a more dramatic fall from grace this decade? After scoring 56 goals in 82 games with the San Jose Sharks in 2005-06, Cheechoo tallied 77 goals over his next 272 regular-season games.
[+] Enlarge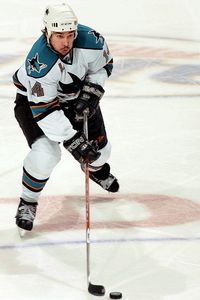 Debora Robinson/NHLI/Getty ImagesJonathan Cheechoo led the league with 56 goals as a member of the San Jose Sharks in 2005-06.
"You don't score 56 goals in this league and not have something to your game," Stars GM Joe Nieuwendyk told ESPN.com on Thursday. "I do know he's a real competitor. I know he's a high-character guy. He's had a few injuries, but he's not that old. He's been through a lot the last couple of seasons. To me it's a no-brainer. We get to look at Jonathan over the next three weeks and make a determination on him."
The 30-year-old native of Moose Factory, Ontario, isn't trying to make the team as a checker. The Stars will take a look at him on the wing with Mike Ribeiro and Brenden Morrow. Talk about a carrot.
"For a goal scorer, you have to get an opportunity," Stars coach Marc Crawford told ESPN.com. "We think we've got an opportunity here to give him a real good look in the preseason and see if he can find some chemistry between him and Ribeiro and Morrow. They need a shooter on that line and he is a shooter. He finds open spots and Ribeiro finds open people. Morrow goes hard to the net and is a hard, hard guy.
"It is a great opportunity, and who knows how it's going to turn out. That'll be determined by Jonathan. I'm hoping that we get a surprise and he's able to make our club and be a contributing guy for us."
It's not a coincidence Crawford is giving Cheechoo the chance.
"I'm pretty familiar with Jonathan," said Crawford, who reached out to a few Senators players this summer to talk about Cheechoo. "My dad was the guy that drafted him in junior in Belleville [OHL]. My brother coached him in Belleville. I would often take the opportunity to say hello to him when we were playing against his teams. When I worked for CBC, I did a playoff series between San Jose and Anaheim two years ago and I thought he was one of the better players for San Jose in that series. He's a competitive guy. So much of every person's ability comes from feeling good about yourself. I know I talked to my brother, especially, and he said that when Jonathan was feeling good, there was a marked difference in how he played."
The Ottawa Senators soured on Cheechoo so much last season, they demoted him to the AHL and then bought out his contract after the season. His downfall in the past five years has largely been pinpointed to a series of injuries. There were also whispers out of Ottawa that Cheechoo could have been in better physical shape.
The Stars, though, should see a motivated Cheechoo, given his career is on the line. And really, what's there to lose for Dallas? If he doesn't have a good camp/preseason, the Stars cut their ties and don't spend a dime on him.
"I think he has some intangibles that really give him an opportunity," said Nieuwendyk. "No. 1, we don't have a ton of right shots in our lineup. It was really evident last year on numerous occasions on the power play, and that's where Jonathan has really thrived over the course of his career. There's going to be an opportunity for him."
If the experiment doesn't pan out, the Stars have plenty of depth up front.
"We're not putting all our eggs in one basket," said Crawford. "We know we've got the fallback plan that Jamie Benn can move in there [alongside Ribeiro and Morrow]. It allows us, though, to keep Jamie at center in preseason, where we'd really love to have him."
The Stars, still in ownership limbo, don't have a lot of money to spend (Nieuwendyk confirmed they'll stick to a $45 million payroll this season), so they have to take gambles like this one.
September, 9, 2010
09/09/10
1:09
PM ET
It was just over a year ago that Wayne Gretzky stepped down as coach of the Phoenix Coyotes, the game's greatest player exiting the NHL in a hiatus that is entering a second season.
The game isn't the same without him, but his return doesn't sound imminent.
"I'm enjoying being on the sidelines right now," Gretzky told ESPN.com on Wednesday. "I really don't see myself, in the next little while, coming back. It's just one of those things where I love what I'm doing.
"I still watch a lot of hockey," he added. "But I'm happy to be doing the things I'm doing."
The Great One has kept busy. Between his numerous charitable and promotional commitments, Gretzky still has a full calendar. In the past few months, he has signed new endorsement deals with EA Sports, Breitling, TD Bank and Skechers, and is on the cover of EA's 2011 Wii hockey game. Not bad for a guy who hasn't played in more than a decade.
Gretzky also said spending more time with his family has been a blast. On deck is another high school football season for his quarterback son, Trevor. The kid is a stud in both baseball and football and will need to pick a sport and a college at some point over the next year. Dad will come in handy when it comes to career advice.
"I really don't know what he's going to do," Gretzky said. "He's pretty quiet. He's being pretty sensible about it and just taking his time with it. … He's like any typical 17-year-old. When it's football season, he loves football, and when it's baseball season, he loves baseball. But it's been fun. He's a great kid."
Our conversation shifted back to hockey, and I had to ask Gretzky about the Coyotes. A year after he left, the team still doesn't have an owner in place.
"Yeah, it's a little bit surprising, especially [with] the year they had," Gretzky said. "They won a lot of individual awards and what the job management did in putting their team together and staying within a reasonable budget, and how good of a job their coaching staff did -- truly one of the best jobs I've ever seen. It was just a sensational year for them. But these things [ownership changes] take time. It doesn't happen overnight. I'm sure [NHL commissioner] Gary [Bettman] and [NHL deputy commissioner] Bill [Daly] have a plan in place, and hopefully by this time next year, they'll have everything rectified."
Last week, my ESPN.com colleague Scott Burnside broke the story that PEAK6 Investments CEO Matthew Hulsizer was interested in buying the Coyotes. The NHL will update owners on the Coyotes' situation at a board of governors meeting in New York on Tuesday.
In any case, it's not Gretzky's problem anymore. He no longer has ownership/coaching stress hanging over him.
"I love the game," Gretzky said. "I say all the time that if it wasn't for hockey, I wouldn't have anything in my life. I'm very grateful for it. Right now, I just enjoy watching the games as a fan. The players seem to be getting better every year. The game is great. It's more exciting every year."
He cited the Philadelphia Flyers' thrilling journey to the Stanley Cup finals last spring.
"They get into the playoffs on the last day of the season by winning a shootout. Then they come back from 3-0 down [against Boston] and eventually get to the Stanley Cup finals -- I mean, those are great stories," Gretzky said. "That's what makes our game so great -- there's always a new chapter written each year. Just when we think 'What could happen next?' something positive happens for the game. You look at Stevie [Yzerman] going to Tampa Bay [as GM], that's going to be nothing but positive for our game. Those are the kinds of things I watch now and enjoy. I'm enjoying being a fan."
September, 8, 2010
09/08/10
11:48
AM ET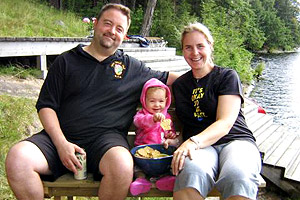 Pierre LeBrunMe, Melanie and Stacy at the cottage.
Fully recharged, your humble hockey hack is back at work after an enriching summer vacation.
I would like to thank the NHL, the NHL Players' Association, the New Jersey Devils and agent Jay Grossman for dutifully wrapping up the Ilya Kovalchuk saga right before my return. Honestly, I am thrilled. I had no desire to jump back on that beat after following the Russian sniper's topsy-turvy dance with Los Angeles and New Jersey during the first two weeks of July.
In the midst of the Kovalchuk drama, I was able to travel way up Northern Ontario to Hearst (hometown of Flyers sniper Claude Giroux), where I spent part of my youth. Hadn't been there in 13 years. The long drive with my father up Highway 11 was part of the highlight (thanks for coming, Dad), along with the chance to reconnect with people I hadn't seen in two decades. I have to thank my good pal Claude Breton for organizing my visit to the blue-collar town of 5,000 people, the place where my passion for hockey was born. The trip was a worthwhile reminder of my humble roots.
Early August featured a guys' trip to New York City with a couple of Blue Jays-Yankees games as the main attraction. For my pals Steve, Paul, Michael, James and Declan, the trip will forever be remembered for the night they met Jays ace Ricky Romero after his gem of a performance. The boys also met Miss USA. Witnessing A-Rod's 600th home run in the day game wasn't too shabby, either.
[+] Enlarge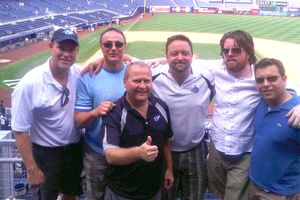 Pierre LeBrunThe boys take in a little baseball at Yankee Stadium.
Then, in late August, there was a trip to Prince Edward Island, where The Boss and I celebrated our 10-year wedding anniversary with some close friends and family. The golf, as is always the case in PEI, was superb, highlighted by the 82 my friend Michael Maillet shot at Glasgow Hills. That was mighty impressive, Mike.
In between, little Melanie and I spent many days at our cottage in Muskoka, where turning off the BlackBerry is no hard chore.
But now, the NHL season is around the corner and it's time to get back to work. I leave you today with five early thoughts:
1. Mike Comrie could be one of the best under-the-radar signings of the summer. For $500,000? He may perhaps be the best bang for the buck, as well. He's a smart player and will find a way to make plays with No. 87 if that's the way the Penguins choose to deploy the wing/center.
2. Absolutely love what new GM Steve Yzerman is doing in Tampa Bay. The Lightning will make the playoffs in the East this season (I'll also predict a 90-point season for Vincent Lecavalier).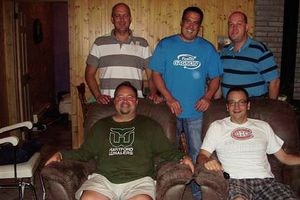 Pierre LeBrunThe reunion in Hearst, Ontario.
3. I believe the St. Louis Blues will bounce back this season; whether that's good enough in the tough Western Conference, who knows. This is the season T.J. Oshie, Erik Johnson, David Perron and the rest of the young core take ownership of the team.
4. Drew Doughty, Duncan Keith and, yes, Nicklas Lidstrom will be nominees for the Norris Trophy. After what I witnessed from him with my own eyes last spring, ol' Nick is going to deliver a gem of a season in Detroit despite his age.
5. The Vancouver Canucks are serious Cup contenders.
"They're the team to beat in the West in my mind," an NHL GM requesting anonymity told ESPN.com on Tuesday.
We agree. Detroit, San Jose and Chicago (maybe Los Angeles, too?) will have a huge say, but the additions of Dan Hamhuis and Keith Ballard on the Canucks' blue line addressed the one area that needed addressing. Veteran center Manny Malhotra was a sneaky signing, as well. Just have a hunch about Vancouver this season.
July, 16, 2010
07/16/10
8:39
PM ET
Summer at last. Can you believe I haven't picked up a golf club yet?
I've been too busy chasing down the latest in the Ilya Kovalchuk sweepstakes. Well, when he finally signs, it won't be on my watch. All yours, Scott Burnside and E.J. Hradek.
Yes, folks -- vacation time is here. Time to turn off the BlackBerry. Oh, I might post the odd tweet here and there, but it'll be to tell you where the LeBrun family is vacationing, not to post hockey updates!
But before I leave, here are some humble suggestions for the NHL and NHL Players' Association to make this great product even better. Feel free to add your own ideas in the comments section, puckheads. Not that I'll be reading them, though.
1. Change the start date of free agency: July 1 is a Canadian national holiday, while July 4 is Uncle Sam's big party. It's so stupid that some of the NHL's biggest storylines are played out on those days when people aren't paying attention. I know the league has asked the players' union to change the date in recent years (move it to later in July) and the players balked because they didn't want to shorten the free-agent period (the players have a valid point, there). Let's back it up, then? More on that next.
2. No hockey past May 31: This is hardly a new suggestion; it might be the oldest one from longtime hockey scribes. But it ties in to other issues, including free agency. So, first of all, let's start the regular season in late September. The kids are in school, the leaves are turning and the Detroit Lions have already given up on their NFL season. The hockey community is ready for the puck to drop!
The NHL has always been loath to compete with baseball pennant races and the start of the NFL season, but it's always going to compete against something. This year's Cup finals, a terrific one, went head-to-head with Celtics-Lakers series in the NBA finals. Drop the puck and let your product do the work. Don't worry about other sports or TV Sweeps Week in late May or anything else.
By starting next season earlier -- let's say, for argument's sake, on Thursday Sept. 23, instead of Thursday, Oct. 7 -- it advances the schedule by two weeks' time. The 2011 playoffs, which are scheduled to begin April 13, would instead get going on March 30 under our plan. End result? No Stanley Cup finals in June.
Another important byproduct is it would advance the NHL's offseason dates, as well. The awards, NHL draft and start of free agency would all be moved up by two weeks. So, the usual July 1 start becomes June 17. Has a nice ring to it, right? By the time the national holidays on both sides of the border roll around, most of the big free-agency news should be done. Unless, of course, Kovalchuk is a free agent again.
3. Ban the All-Star Game: It's a joke. I get sick just thinking about covering one more of them. By now, anyone who listened to NHL commissioner Gary Bettman's state-of-the-union news conference at the Stanley Cup finals knows I hate the All-Star Game (I asked him what the league had in store to spice up "a stale event").
The commish wasn't pleased with my question, but one very important figure in the league's offices wants to cancel the whole thing altogether. Another equally important figure wants to desperately change the look of the All-Star Game to salvage it.
Let's kill this baby. It's done. The players don't care. I know young hockey fans still do, and you can't discount that, but if the players have stopped caring, it's a dud. For years, the league's response was the All-Star Game took care of its corporate sponsors and that was a legitimate point. But now, the immensely successful Winter Classic more than takes care of sponsorship relations. There are no more valid reasons to have an All-Star Game other than it's an event for some markets to showcase the game (i.e., Carolina next season). Sorry, that's what the draft is for. (Maybe make the Toronto-based draft combines each spring a showcase event that rolls around the league? Just a thought.)
I would just scrap the All-Star Game and not replace it at all. But if the league insists on having something for those three days, my solution for a while now has been this: bring on Europe's best. Bring on the best players from Alexander Medvedev's KHL, plus the top skaters from the leagues in Switzerland, Sweden, Germany and Finland -- an IIHF All-Star team -- and take on the NHL's finest. The winning team gets a $1 million share per player. Between Medvedev, the IIHF, NHL and NHLPA, you can easily dig up the cash. Now you've got a midseason hockey game that matters.
4. Hold the NHL awards and draft in the same town: It was pretty close this year with Las Vegas once again hosting the awards (best show in years, by the way) and Los Angeles holding the draft. It was either a short hop on a plane or car (Mr. Burnside and I did the latter) between both events. Now, I know the NHL is contractually obligated to host at least one more awards show in Las Vegas, and next year's draft has already been awarded to the Minnesota Wild. But after that, let's hold both events in the same city. It just makes sense. The league did just that in June 2006 in Vancouver, and I thought it was terrific. Many people in the hockey industry, as well as fans, go to both events, so this would make things easier from a logistical point of view. It doesn't mean Vegas should be ruled out long-term. Heck, hold the draft in Vegas.
5. Commit to the Olympics and bring back the World Cup of Hockey for the two-year interval between Games: Listen, the league's concerns with Olympic participation are fully accurate and legitimate. It's an absolute shame the way the IOC steals the world's best hockey players for two weeks and doesn't pay a dime to the NHL or NHLPA. It doesn't make anyone from those organizations feel welcome to the party. (Can we start by allowing the NHL Network to air highlights from these hockey games during the Olympics?)
Having said all that, the players must remain in the Olympics. Hockey has found a home in the Games like no other professional sport (yes, even better than basketball); it's best-on-best and players are leaving it all on the ice. Only a Canada-United States matchup will drive up the TV ratings in North America; but I found the 2006 Sweden-Finland gold-medal game equally enthralling. This is a great international sport, and despite all the major issues (travel, stopping the NHL schedule for two weeks in midseason, etc.), there is only one answer: stay in the Games, starting with 2014 in Sochi, Russia.
In the meantime, the NHL and NHLPA (with the IIHF's blessing) must bring back the World Cup of Hockey in September 2016. The old Canada Cup has produced some of the greatest hockey memories I know. But it's a farce to have the event held in such an irregular fashion. Bring it back and give it a permanent home in non-Olympic years.
OK, folks -- that's my two (Canadian) cents. Enjoy the rest of the summer and keep reading ESPN.com!
July, 16, 2010
07/16/10
10:35
AM ET
While a star player like Ilya Kovalchuk remains unsigned 15 days into unrestricted free agency, perhaps lost is the fact that the second top goal scorer on the market also remains without a team.
Lee Stempniak's 28 goals in 2009-10 were second only to Kovalchuk's 41 among UFA forwards still on the market. What gives?
"I mean, I'm certainly surprised," Stempniak told ESPN.com on Thursday. "And not just with me, but with all the players that are out there right now, especially forwards. There's a lot of very, very good forwards that are still out there on the market. I'm just surprised by how slow it's been."
Stempniak and veteran agent Bob Murray just keep working away at it.
"At this point, Bob and I have had discussions with teams and it's ongoing," said Stempniak. "We just need to let it play itself out."
Well, that's easier said than done. This has been a summer like no other in recent NHL free-agent history. So many names still out there, so few teams with cap room. It seems all those long-term contracts signed in the first five years of this CBA are coming home to roost.
"You have to understand the situation, a lot of things can happen and affect the market," said Stempniak. "I'd like it to be resolved as soon as possible and know where I'm going to be playing in seven weeks or so [training camp]. I'd like to move on and get settled that way. But the big thing is to stay patient and let the process play out, let things unfold and make sure you find the right fit and explore all the options."
One has to think a team can use a player with Stempniak's offensive ability, especially a player who is only 27 years old. Of course, teams may be wondering which Stempniak will show up next season: the one who struggled at times in Toronto while scoring 14 goals in 62 games or the one that torched the opposition with 14 goals in only 18 games later in the season with Phoenix.
"It was a great change of scenery for me to go to Phoenix at the trade deadline," said Stempniak. "It was a team that was already winning and they were trying to add a few pieces. My role changed a little bit when I got there and I was put in a more offensive role. The big thing is that they really believed in me and the first thing [coach] Dave Tippett said to me was, 'We've got a good team and we just don't score enough goals and that's why we brought you and [Wojtek] Wolski in, is to try and create offense and score goals. We're going to try and put you in a position to succeed.'
"As a player, that's what you want to hear. You want a coach and a GM that believe in you. I was fortunate with how well it went right away. It was a great fit for me."
So, why leave? Well, by now, everyone knows the Coyotes don't have a lot of money to spend, hence the free-agent defections of top players such as Zbynek Michalek and Matthew Lombardi. Still, Stempniak has remained in contact with the Coyotes.
"We're still in discussions with Phoenix and I think we will continue to talk to them and see what happens," said Stempniak.
"We continue to have interest in Lee," Coyotes GM Don Maloney told ESPN.com via e-mail Thursday. "He played well for us and, at the right price, we would love to have him back."
While the free-agent business has been a drag, Stempniak's personal life certainly hasn't. He got married June 26 and followed the wedding with a honeymoon in Italy, a 10-day jaunt smack in the middle of the first two weeks of free agency.
"Obviously I didn't miss anything, and the trip was an unforgettable experience," he said. "That alone ensures it's been a great summer, getting married and going on our honeymoon. It's an exciting time in my life right now."
July, 15, 2010
07/15/10
11:51
AM ET
Mike Modano is 40 years old and his best hockey is behind him, but his All-Star career keeps him at the forefront of fans' interests.
I can't tell you how many times a day readers ask about the "latest on Modano." ESPN.com reached out to him Thursday after hearing a website rumor linking him to Chicago.
"Haven't talked to them at all," Modano told ESPN.com via text message.
Modano added that the same three teams remain in the mix: Detroit, Minnesota and San Jose. He was set to tee it up in the Tahoe Celebrity Golf event later in the day. Good luck, Mike!
Elsewhere on Thursday:
• Speaking of veteran free-agent forwards, a source told ESPN.com on Thursday that
Pavol Demitra
was close to signing a deal with a KHL club in Russia. Named to the Olympic All-Star team this past February, Demitra struggled with the Canucks and was in and out of coach Alain Vigneault's doghouse.
[Update from LeBrun (3:46 p.m. ET): Later on Thursday, Demitra signed a one-year contract with Yaroslavl of KHL.]
• Another free agent still out there is Denis Grebeshkov, a Russian blueliner some people don't realize is actually an unrestricted free agent. He was supposed to be an RFA this summer, but the Nashville Predators didn't tender him a qualifying offer. The frugal Preds had hoped to re-sign him at a discount on his $3.15 million qualifying offer, but talks broke down and he walked. Two weeks into unrestricted free agency, the Russian defenseman remains unsigned.
"There's some interest, but nothing concrete," Grebeshkov's agent, Todd Diamond, told ESPN.com on Thursday. "We've spoken to a lot of teams, but I think the problem is that we're in the fifth and sixth cycle of this CBA, and from my standpoint, the system is clogged with teams having contracts they don't want."
Grebeshkov is only 26 years old and just two years removed from a 39-point campaign in Edmonton. This past season, he slumped to 21 points while battling injuries.
"If you look at the Chicago Blackhawks winning the Cup and the style of defense their team played, that's what Denis is, a great puck-mover," said Diamond. "The guy has unlimited ability, in my opinion."
There is interest from the KHL, but Grebeshkov hopes to remain in the NHL at this point. If I'm the San Jose Sharks, and the price for Tomas Kaberle is too high, I would look at Grebeshkov as a possible option -- if the price is right.