March, 2, 2010
03/02/10
1:49
PM ET
TORONTO -- I am stuck here at home after my flight to Connecticut got cancelled today. Thank you, Air Canada.
My ESPN.com colleagues Scott Burnside and Joy Russo are also here in Toronto. Trade deadline Toronto 2010 it is!
You can check out our trade deadline blog from today, but I also wanted to talk about a noteworthy signing from early Tuesday afternoon, as future Hall of Famer Chris Chelios signed with the Atlanta Thrashers for the remainder of the season. The 48-year-old was playing under an independent minor-league deal for Atlanta's AHL farm team in Chicago. And that's exactly where he'll stay if he clears NHL waivers Wednesday at noon ET. The Thrashers signed him for depth.
"Chris has been tremendous for us in Chicago in this year, especially with our young players," Thrashers GM Don Waddell told ESPN.com Tuesday. "As we enter this March drive toward to the playoffs, you can never have enough depth at defenseman, especially with the experience Chelly brings to the table. Our plan is that if he clears waivers, we'll leave him in Chicago. If we run into injuries or if we need a change, he's available to us."
Chelios signed a two-way deal paying him a $700,000 salary in the NHL and $105,000 in the minors. The Thrashers needed to sign him by noon ET on Tuesday in order to put him on 24-hour waivers and have him be eligible for their roster before Wednesday's trade deadline roster cutoff.
February, 17, 2010
02/17/10
2:40
PM ET
Hey, puckheads. Hope you're enjoying the Olympics Games so far.
I am in Vancouver with my colleagues Scott Burnside and E.J. Hradek, so be sure to check out all of our coverage in ESPN.com's Olympics blog. You can also check our NHL index for the latest updates and news.
My blog will be alive and kicking again on Feb. 28 as we get ready for the March 3 trade deadline.
February, 15, 2010
02/15/10
11:14
PM ET
VANCOUVER, British Columbia -- It struck me on Monday seeing the enjoyment these two old goats were having out there in practice with their respective teams at Canada Hockey Place.
[+] Enlarge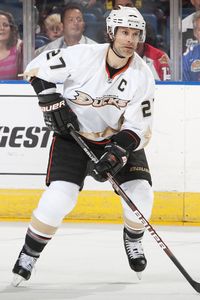 Scott Audette/NHLI/Getty ImagesScott Niedermayer is enjoying his Olympic experience.
Sergei Fedorov and Scott Niedermayer, one with thinning hair, the other graying, but both re-energized by this two-week trip down memory lane. One last kick of the Olympic can for two future Hockey Hall of Famers.
"It's going to be a great time," Niedermayer, 36, told ESPN.com after Team Canada's practice.
"It's a big event for so many people and athletes. So to be part of that, it's a lot of fun."
The 40-year-old Fedorov smiled ear to ear as he described what lay ahead here. He's surrounded by young star teammates and they're making him feel young again.
"I'm just delighted to be around those guys and have fun," said Fedorov. "If you want to be part of the group, you have to goof off too sometimes."
Both Niedermayer and Fedorov were feeling a little nostalgic Monday. They both promise to soak it all in this time in their third and final Olympics.
"That's what happens when you get older," laughed Niedermayer. "But yeah, the fact that you've been here before, at times you relax a bit more and try to really enjoy it. I'm going to try to do that for sure. It's a fun time to be part of this."
Niedermayer has the added bonus of playing in his native province of British Columbia. Quite frankly, even if he won't admit it, I truly believe the only reason he came back for another NHL season is for these two weeks.
Both veterans will be counted on to help alleviate the immense pressure on their respective countries to deliver a gold medal. Russia, despite its huge talent, has not won a gold medal in the three Olympics with NHL players (its best showing was silver in '98). How much is that weighing on the Russians?
"I don't think anybody on the team thinks about when we won last time Olympics and stuff because we're having too much fun," said Fedorov. "Just hanging out together and practicing together and hopefully playing well together."
Over on the Canadian side, let's not explain yet again just how much pressure there is on the host country. But Niedermayer, who wouldn't get frazzled in the middle of a tsunami, sees the bright side of the Canadian obsession, er, I mean passion.
"I think people here love hockey, it's as simple as that," said the Ducks captain. "There are many, many people in Canada that love the game. They love playing it, they love watching it, they love cheering their team on -- we're happy to be part of that. Playing hockey in Canada is a huge thrill."
And I think he actually means that. He's loving hockey for the first time in a long time. His Russian counterpart? He sees the exit door soon approaching. These Olympics could be a heck of a final chapter.
"I always say that in my entire career I'd like to [go] out with a bang I guess," said Fedorov. "I've got one more year in Russia [KHL] after this Olympics and I'd like to just try to touch that style of player I used to have when I was 25 years old.
"So if I can do that just a touch, not necessarily stay on it, that would be great for me."
VANCOUVER, British Columbia -- As I arrived in Vancouver on Sunday, I am genuinely excited, like I haven't been for anything I've covered as a sportswriter in years. The 2010 Olympic men's hockey tournament has the potential to provide us with the most thrilling moments this sport has seen in decades.
For starters, the tournament is on the sport's home soil. We will be reminded of this too often, that Canada invented this game. And an American-like jingoism will build among Canadian fans already as the men's tournament begins Tuesday. But it is indeed a fact: This is a sport brought to the rest of the world by tiny little Canada, just like the NHL was also a Canuck creation.
Sure, Canada hosted a Winter Games before in 1988, but Wayne Gretzky and the boys were busy playing three games in four nights in the NHL while amateurs did their best at the brand-new Saddledome.
In case anyone doubts how crazy Canada is getting for this tournament, consider that I was asked the following by four complete strangers between check-in and boarding my flight out of Toronto today:
"Why didn't Stamkos make this team?"
"Is Getzlaf going to play?"
"Please tell me we're going to beat the Russians, eh?"
"Are we going to win gold?"
No, the quality of this tournament and its importance has no precedent in Canada. I know, I know, the 1972 Summit Series will never be topped. But there was no Olympic gold medal on the line, it was just us against them.
If you want to talk about the most exciting international hockey played by pros in this country, I challenge anyone to tell me it wasn't the 1987 Canada Cup. Larry Murphy as the wheel man as Gretzky drops it to Super Mario. Cue the Copps Coliseum meltdown.
And don't even bother with the 2004 World Cup of Hockey. It was excellent hockey, but Shane Doan's winner at the Air Canada Centre was overshadowed in the same week by the NHL's closing its doors for a season. The impending lockout cast a huge shadow over that tournament, the last best-on-best event held in Canada.
So, here we are, the 2010 Winter Olympics, and a hockey tournament that has me salivating. The timing of it is simply brilliant when you account for the young stars that have taken over this game: Alex Ovechkin, Sidney Crosby, Nicklas Backstrom, Drew Doughty, Patrick Kane, Zach Parise, Mikko Koivu, Jonas Hiller ... the game hasn't been this blessed in talent since Nos. 99 and 66 took turns swapping NHL scoring titles.
The home team, well, it's pretty darn good. But the pressure on Canada will be unheard of, the kind of pressure a Canadian hockey player hasn't felt since Game 8 in Moscow over 37 years ago.
Oh, and by the way, the Russians are the two-time defending world champions, something that seems to get overlooked, although Team Canada boss Steve Yzerman made sure to mention it Saturday. The Russians, also led by Pavel Datsyuk, Ilya Kovalchuk and Andrei Markov, have elevated their country's game to its highest level since the Iron Curtain came down two decades ago.
The Swedes? Gee, must be tough having Henrik Zetterberg as your possible third-line center behind Backstrom and Henrik Sedin. Oh, and they are defending Olympic champs, you know.
Finland? No one ever talks about the Finns. But in the three NHL Olympics, they've won a silver and a bronze.
The Czechs don't have Dominik Hasek anymore, but have a red-hot Tomas Vokoun and a re-energized Jaromir Jagr, who is hungry to prove he wasn't put out to pasture in the KHL.
The Slovaks can always score goals, and will do so again with Marian Gaborik and Marian Hossa leading the way, but now they finally have a goalie in Jaroslav Halak. Watch out.
And finally, we have the young bucks from the United States. No one is going to bet a dime on them in Vegas ... OK, you've heard that line a million times from GM Brian Burke. But there's something about these American kids that makes me think they might have a surprise or two in store for us. Ruin Canada's party? It certainly would be sweet for them.
If there's one thing about a minority of Canadian hockey fans that bothers me, it's their general lack of understanding of international hockey. You see, some of them believe that because Canada wins the world juniors almost every year, the same should happen at the Olympics. But that's apples and oranges.
First, by limiting the age group in the world juniors, Canada gains a huge advantage by being able to pick their teens from a bigger talent pool. The ageless talent pool in the Olympics helps the other countries make up the difference among their elite skaters. Second, the fact Canada basically hosts the world juniors every other year gives it an unfair advantage.
No, if there's a better comparison to what Canada is up for here at the Olympics, it's the World Championships held annually in Europe. There, in a tournament the European countries take much more seriously than the world juniors, Canada has had a much tougher time.
Case in point: Over the past 15 men's World Championships from 1995-2009, Canada won four gold medals (1997, 2003, 2004, 2007); over the same time span at the word juniors, the Canadians won eight gold medals.
I'm not trying to spoil the party for my fellow Canadians; I did after all pick the host country to win gold. But what I'm saying is, it's far from a guarantee Canada will win it all, but that shouldn't take away from what will be a great tournament no matter who wins.
February, 11, 2010
02/11/10
4:13
PM ET
On the eve of the Winter Olympics, Team USA's coach is getting the trash talk from some of his Canadian neighbors.
Ron Wilson, who doubles as Toronto Maple Leafs coach, said Wednesday the banter has picked up of late in these parts.
"People say, 'Good luck, you'll enjoy your silver medal,"' Wilson told ESPN.com, while laughing. "And I say, `Yeah, it's going to be awful if the Russians beat us and they get the gold.' Obviously people here are passionately rooting for Canada. With all the stuff you see on TV every day, it's getting pretty exciting. It's going to be fun."
The Olympics are really here (I get into Vancouver on Sunday). Team USA opens its men's hockey tournament Tuesday against Jonas Hiller and Switzerland at noon PT/3 p.m. ET.
Now, it's cramming time. Wilson has sent weekly e-mails to his Team USA players all season long and sent the last one Tuesday night.
"It was just about telling them what to expect over the first few days once we get in," said Wilson. "You have to come in and immediately shift your mind to the Olympics and trust that organizers are going to have their families and everything else taking care of. ... We've really got to manage our time well in the first couple of days. It's critical."
As it is, the U.S. team will get in only one on-ice session before its first game, a practice scheduled Monday evening at 6 p.m. local/9 p.m. ET.
A key right off the hop will be focusing on the power play. Wilson said the forwards in line for power-play time included Paul Stastny, Zach Parise, Patrick Kane, Phil Kessel, Joe Pavelski, Dustin Brown and Bobby Ryan.
"Those are primarily the guys for the power play," said Wilson. "It's going to be hard because there's not a lot of chemistry coming in. For example, Team Canada has a huge advantage with the fact four guys from their power-play unit, one of the best power plays in the league from San Jose, are coming in [Joe Thornton, Dan Boyle, Dany Heatley and Patrick Marleau]. They're going to have instant chemistry and use the San Jose power play.
"We're just going to have to work hard in practice the first day and hopefully get the job done against Switzerland as we try to figure out what the best power play for us is going to be."
At least on the penalty kill, Wilson said there's some built-in chemistry.
"Chris Drury and Ryan Callahan, they do a great job with the Rangers, so there's some chemistry there," said Wilson.
Nabby's take
I had a chance to chat with Russian goalie Evgeni Nabokov on Tuesday. The San Jose Sharks star understands why everybody is talking about a Canada-Russia gold-medal game, but said it won't be that simple.
"Everybody is hoping for the dream final, but we'll have to put a lot of work into it to make it happen," said Nabokov. "It's not going to be easy, because I can guarantee you a couple of countries will have something to say about it -- Sweden, the Finns, the Czechs and even the Americans I think will be a dangerous team. It's such a quick tournament; one mistake, one injury, one game can decide what's going to happen."
January, 15, 2010
01/15/10
2:23
PM ET
Attention Team Canada players: Please be aware there is a serial Team USA fighter on the loose, and he's stalking anyone slated to wear the Maple Leaf in Vancouver next month.
[+] Enlarge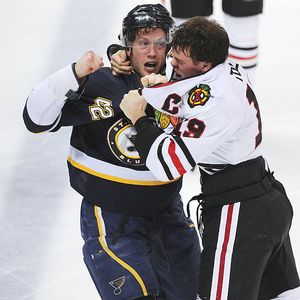 AP Photo/Bill BoyceBlues and Team USA member David Backes, left, took on Hawks and Team Canada star Jonathan Toews on Jan. 2.
"It may very well appear that way," David Backes said with a laugh.
The St. Louis Blues and Team USA forward was joking, of course, when we caught up with him this week. But there's no denying his last three fights have been with Canadian Olympians:
Jan. 2 versus Chicago: Jonathan Toews
Jan. 7 versus Anaheim: Corey Perry
Tuesday versus Columbus: Rick Nash
Backes didn't make the Team Canada connection until Blues color man Darren Pang brought it to his attention.
"I had a chuckle with him," Backes said. "Maybe we'll do a little intimidating before Vancouver."
Again, he's joking … we think.
"For me, they're all top-tier, all-world players," Backes said. "If I can get under their skin and exchange five minutes with them, it's well worth it."
The Team Canada fight spree started with Toews, a fight I think the Blackhawks star wished he hadn't gotten into.
"It was just a forecheck where I'm in on him, he's on the wing," Backes said. "I finished him in the wall and gave him a little extra shot with my stick. He slashed me. We stared at each other and dropped the gloves."
Five nights later, it was Perry, a decision I also give to Backes.
"We've played them a few times in my career, and he's a guy that's gotten under my skin a couple of times, and hopefully I've done the same to him," Backes said. "But we had two willing combatants that night in a game that was going back and forth, and we were trying to get something going for our teams. A good fight, I thought."
Finally, there was Nash on Tuesday night; in my mind, it was a pretty even affair, a good one.
"We were on the power play, and we had a delayed penalty," Backes said. "They were ragging the puck a little bit so they could extend their power play once the 4-on-4 was over. Nash was holding on to the puck, and it was getting under my skin a little bit. So I took a run at him; he tried to reverse-shoulder me. We kind of stared at each other, I dropped my gloves and he dropped his. It was a little bit wild after that."
According to our crack ESPN research guru Vincent Masi, the Team USA forward has six games left before the Olympic break that feature Team Canada players:
Jan. 18 at Blue Jackets: Nash
Jan. 23 versus Ducks: Perry, Ryan Getzlaf
Jan. 25 at Flames: Jarome Iginla
Jan. 27 at Canucks: Roberto Luongo (OK, not going to happen)
Jan. 30 versus Blue Jackets: Nash
Feb. 3 at Blackhawks: Toews, Duncan Keith, Brent Seabrook
Hmm, the Calgary game sounds interesting. Iginla loves to drop 'em. Circle that one on your calendar, David?
"I don't think he would lose much sleep over me," Backes said. "If something happens, it happens."