Category archive:

Montreal Canadiens
April, 5, 2010
04/05/10
11:23
AM ET
Hello, puckheads. The big man is back at work. One week left in the regular season and then I'm on the playoff trail for two months. Giddy-up!
But first, some random thoughts after spending a week in Florida:
1. The Calder debate
Let me preface this thought by saying I believe Jimmy Howard should be nominated for the Vezina Trophy; his season has been that outstanding. But I do not believe the Detroit Red Wings goalie should win the Calder Trophy. Confused? Don't be. Howard is 26 years old, four years older than Sidney Crosby, who is in his fifth NHL season. Howard is five years older than Patrick Kane, the Calder Trophy winner from two seasons ago.
I understand Howard is eligible for the award (he just slipped under the age cutoff) and he will be among my five choices in my official NHL awards ballot when I fill it out this week, but he won't be my first choice.
Tyler Myers turned 20 this past February. What he's done patrolling the blue line for the Buffalo Sabres has been truly outstanding. Among all his defensive talents, he's third in rookie scoring, trailing only forwards Matt Duchene and John Tavares. The fact he's six years younger than Howard is a big difference in my book. A month ago, I gave Duchene the nod in an early look at the awards, but I've shifted back to Myers.
2. The Montreal net
In the dramatic and pressure-packed market that is Montreal, the goalie story has had incredible legs this season. And it only went up a notch last week. Some Bell Centre fans booed Carey Price last Wednesday after he was named third star in a 2-1 loss to Carolina. Tough crowd, indeed. And those fans are idiots for booing him. The kid has had no offensive support this season. Price's .912 save percentage is better than the likes of Pekka Rinne, Jonathan Quick and Marc-Andre Fleury, a fact that no doubt surprises many of you.
The problem is, the other guy sharing the net with him in Montreal this season happens to have the third-best save percentage in the entire NHL at .927. Jaroslav Halak also doubles Price in the most important stat of all: wins. That's why the Slovak has won out in the season-long battle and will be the starter come playoff time. But what do you do this summer if you're GM Pierre Gauthier?
Both goalies are restricted free agents. There's no room for both to return; neither goalie wants to share the No. 1 job again and, more importantly, the Habs have cap issues and need to re-sign UFA center Tomas Plekanec. So Price or Halak will almost surely be dealt.
Which one do you deal? Halak will turn 25 next month, while Price will be 23 in August. As one NHL scout told me this season, Halak is the better goalie right now, but you can't discount the upside with Price. Tough call for Gauthier. Either way, he needs to recoup some offense in return. And regardless of which netminder the Habs choose to keep, both goalies are No. 1 material for years to come.
3. Which team comes out of the West?
Before I went on vacation, I tweeted that Washington-Vancouver was my choice for a Cup finals matchup at that point. I still like the Caps coming out of the East, but now I have some doubts with the Canucks. And it's not just Roberto Luongo's struggles, but also the defensive-zone mistakes by the blue-line corps in front of him. The Canucks would have benefited greatly from picking up a top-four blueliner at the March 3 trade deadline, but I understand those players don't grow on trees and GM Mike Gillis has made it his mantra that he doesn't like paying for rentals.
I may still stick with the Canucks next week when I am pressed for my official Cup finals prediction, but right now I'm on the fence. The question is, if not Vancouver, then who?
San Jose has played better of late after breaking out of a March swoon that had Sharks fans feeling nervous. Still, the ghosts of playoffs past always give you reason for pause, not to mention the visions of Evgeni Nabokov in the Olympic quarterfinals.
The Blackhawks? There's the team I'd personally love to see in the finals just for esthetic reasons. I mean, can you imagine the roar at the United Center? The league would drool at the chance to get the long-suffering Original Six club in the finals with Jonathan Toews and Patrick Kane taking on either Washington's Alex Ovechkin or Pittsburgh's Crosby. For that league dream to become reality, however, Antti Niemi or Cristobal Huet must turn in two months of hockey not too many people think they have in them. Niemi was solid Sunday against Calgary, but ...
The top three Western powerhouse teams have questions marks ... which has already led several of my media colleagues to jump on the comfortable Hockeytown, USA bandwagon. I mean, why not? The Red Wings are healthy, they're rolling and know what it takes once the calendar flips from April to May. Then, there's Phoenix. Is a trip to the Cup finals that much of a stretch? A bigger stretch than 102 points in the standings when everyone had them in the basement last fall?
I'll take seven more days to dwell on my Western pick, but I'll be doing it without much confidence. Never before has the West been so wide open, and that's great for fans of this game. We're in store for one heck of a postseason.
March, 11, 2010
03/11/10
11:39
AM ET
Many of us media types have left the Montreal Canadiens for dead many times this season.
Like the time when their best player, defenseman Andrei Markov, ripped his Achilles tendon in the 2009-10 opener and was lost for half the season. "See ya later, Montreal," many thought. Or at least I did.
Or when the Canadiens got waxed 7-1 in Vancouver early in the season. Or won only four of 13 games in January. And when the Philadelphia Flyers swept a home-and-home with the Habs before the Olympic break.
And yet, just like they have each and every time after those pitfalls, the Canadiens have again come back from the dead.
[+] Enlarge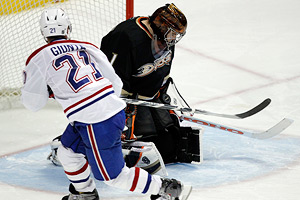 AP Photo/Alex GallardoBrian Gionta has 20 goals and 36 points in 47 games this season for Montreal.
The Jekyll-and-Hyde Habs have picked up eight of a possible 10 points coming out of the Olympic break and carry a five-point cushion atop the danger zone entering Thursday night's home date with the Edmonton Oilers.
It's been quite the roller-coaster season.
"Obviously, we've had injuries, although that's not much of an excuse," Canadiens sniper Brian Gionta told ESPN.com on Wednesday. "I think our inconsistency is what has hurt us all year. We're very good at times and we're not a very good team at other times."
Right now, they're darn good, helped in part by the NHL's second-rated power play. Montreal is playing the best hockey among the group fighting for the final two spots in the East: Boston, the New York Rangers, Atlanta, Tampa Bay and Florida.
"It's desperate times," said Gionta, who has 36 points (20-16) in 47 games this season, his first since leaving New Jersey for Montreal via free agency this past offseason. "There's only 14 games left. Points are real important, and the races are real tight. Every game is basically a playoff game right now."
A road trip out of the break to Boston, San Jose, Los Angeles and Anaheim produced three wins, and the lone loss (against the Sharks) came after a late-game collapse. Then, the Habs went home and easily handled the Tampa Bay Lightning on Tuesday night.
"I think that trip added a lot of confidence in our room," Gionta said. "We came out of the break with four straight road games and we really could have got all eight points out of that trip. But getting the six points was good at this time of year, and it really carried over to last night's game."
Gionta's line with Scott Gomez and Benoit Pouliot has been on fire of late, producing a combined 18 points in the five games since the Olympics.
"I think it's just a matter of everybody playing well and playing desperate and knowing what's on the line right now," Gionta said. "This time of year, we need to make an impact in order to help the team win."
Star winger Mike Cammalleri, out since Jan. 30 with a knee injury, is expected back within the next two weeks. Once he rejoins Tomas Plekanec and Andrei Kostitsyn, the Canadiens will have two pretty dangerous scoring lines.
But the real story all season has been in net. Jaroslav Halak has been excellent, Carey Price has been good and the two have combined to give the Habs one of the best one-two punches in the NHL.
"Both of them have played extremely well for us," Gionta said. "I think they've pushed each other."
All the while, the Canadiens are buoyed by the NHL's most vibrant crowd. The players honestly feed off it, Gionta said.
"Oh absolutely, it's been that way since the beginning of the year," he said. "It's one of the loudest and best buildings to play in in the league. You might have a game where you come out flat, but the crowd gets you into it. It just carries you; it's nice to have them behind you.
"And when you're winning, they're extremely loud and intimidating to the other team."
Right now, it's shaping up like a first-round playoff series with the powerhouse Washington Capitals or the reigning Stanley Cup champion Pittsburgh Penguins. I don't like Montreal's chances against those two teams, but counting them out is just what the Habs want us to do.
Canucks finally go home
Hats off to the
Vancouver Canucks
, who not only survived their record 14-game road trip, but also posted an 8-5-1 record and gathered 17 of a possible 28 points. They return home with a five-point lead atop the Northwest Division.
"I knew we were a good road team," Canucks coach Alain Vigneault told The Vancouver Sun. "I knew this was going to be a challenge, but our guys would be able to step up and get it done. Everything considered, we did a pretty good job."