Category archive:

Ottawa Senators
June, 23, 2010
06/23/10
9:36
PM ET
LAS VEGAS -- You can forget all those Internet-fueled Boston Bruins-Toronto Maple Leafs trade rumors involving either Tomas Kaberle or Marc Savard.
"There's no truth to it," Leafs GM Brian Burke told ESPN.com on Wednesday.
That's not to say Kaberle can't end up a Bruin one day, but it won't be for Savard. Kaberle is on the trade market; Burke has been up front about that all along. But the Bruins haven't moved into the picture at this point. Burke took the time to fully update the Kaberle situation for us:
"First off, before people get too worked up, Tomas Kaberle's no-trade clause does not go away until the draft commences," Burke said. "So, this notion that he's been moved or a deal has been arranged is absurd. Two, we have not had meaningful discussions with the Boston Bruins about any one trade option.
"Three, if and when we do get to a point where we see a deal that makes sense, we're going to try to move Tomas somewhere where he wants to go, and that's if we get that far. Right now, if I had to handicap this thing, I'd say he's not going anywhere, and the draft is not a meaningful time frame for us. There's no pressure to trade him while we're there."
In a perfect world, the Leafs would like to trade Kaberle in return for a bona-fide top-six forward, but they're not going to deal him for the sake of dealing him. They're not giving one of the game's top puck movers away (Kaberle has one year left on his deal at $4.25 million).
Latest out of Ottawa
I checked in with Senators GM Bryan Murray on the
Jason Spezza
front. Nothing new there, and that's not surprising. As one NHL GM from a Western Conference club told ESPN.com this week, "I wouldn't get interested until after that bonus payment is made."
Spezza is due to receive a $4 million bonus payment July 1, just like Dany Heatley a year ago. But this time around, the Senators have no plans to pay the bonus and still make the trade.
"I guarantee you this: This situation is not what happened last year," Murray told ESPN.com on Wednesday from Los Angeles. "If we pay the money, then he's going to be playing for us for the year. We can't do that again. We just can't do that."
Spezza's no-trade clause also kicks in July 1, so clearly the clock is ticking for the talented center. He opened up this can of worms in his player exit meeting by saying he didn't like the way the fans got on him this season and would be open to a move.
"There's nothing at this point," Murray said. "I have talked to a couple of teams to see if there's anybody out there. Jason is not demanding a trade, but he said he wouldn't object to one if something happened. And that's where it is. There's nothing more to it at this point."
And finally ...
• Expect Drew Doughty's agent, Don Meehan, to chat with Kings GM Dean Lombardi over the next few days in Los Angeles. Doughty has one more year left on his entry-level deal, but Lombardi wants to lock him up long-term this summer. We'll see if both sides find a fit.
"Obviously, I would love for that to happen. I would love to sign a deal in L.A. again," Doughty told ESPN.com on Wednesday. "I love playing in L.A., but nothing has happened yet and I'm just waiting in the weeds and seeing what happens."
• There have been questions surrounding Niki Filatov's future after he left the Columbus Blue Jackets, with their consent, to go play in Russia this past season. Will he return to the Jackets for 2010-11? "Yes," Jackets GM Scott Howson texted to us Wednesday.
February, 12, 2010
02/12/10
7:23
PM ET
The Chicago Blackhawks made their much-anticipated move for a blueliner before Friday's 3 p.m. ET Olympic trade freeze, but nobody was busier than Bryan Murray.
[+] Enlarge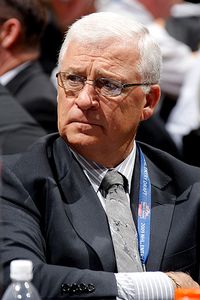 Dave Sandford/NHLI via Getty Images Bryan Murray had a big day Friday, earning a contract extension and making personnel moves.
The veteran Ottawa Senators GM got more job security, made a trade, revealed he made a contract offer to his most important pending free agent, and put another player on waivers.
Murray was rewarded for a surprising season by his Northeast Division-leading Senators with a one-year contract extension and then promptly improved his playoff-bound club with the acquisition of veteran center Matt Cullen from the Carolina Hurricanes.
"I've known Matt since my Anaheim days, and I really felt that he would fit into the room and the chemistry of our team," Murray told ESPN.com. "If he plays with the right people, he should be real productive for us."
The 33-year-old Cullen, who is slated to be an unrestricted free agent July 1, has 40 points (12-28) in 60 games and is actually on pace to eclipse his career high of 49 points. So this might be a sneaky pickup by the red-hot Sens, who have usurped the slumping Buffalo atop the Northeast Division.
The Blackhawks, meanwhile, believe they made a move Friday that helps them this year in their Stanley Cup bid and next year with their salary cap issues. They acquired veteran blueliner Kim Johnsson from the Minnesota Wild as well as prospect Nick Leddy in exchange for defenseman Cam Barker.
Johnsson, 33, will be an unrestricted free agent July 1 and has a $4.85 million salary-cap hit this season. Barker has two more years left on his deal after this season at a $3.08-million cap hit. The Blackhawks need to shed some serious payroll in the offseason to accommodate new contract extensions that kick in next season for Jonathan Toews, Patrick Kane and Duncan Keith. So with Johnsson off the books July 1, they'll save a bit of money there. It's a start. But they'll need to shave off more payroll this summer, around $7 million.
That's what the Hurricanes were doing Friday, shedding more payroll. Cullen, earning $2.8 million this season, is UFA July 1, which put him on Jim Rutherford's hit list. The Hurricanes GM moved Niclas Wallin to San Jose on Sunday and is not done dumping UFAs from his rebuilding squad. Rutherford did a nice job Friday getting a second-round pick in 2010 in exchange for Cullen plus blueliner Alexandre Picard.
Once Dominic Moore went to Montreal on Thursday night for a second-rounder (albeit in 2011), that certainly helped set the market for what Rutherford could get for Cullen, who is also a veteran center and potential UFA.
For Ottawa, the one fly in the ointment in a terrific season to this point has been a 27th-ranked power play. Cullen can help, and even play on the point. Murray figured head coach Cory Clouston wouldn't waste any time using his new toy on the power play.
"We're at the point where our power play hasn't been something that we're really excited about every night and he brings something there," Murray said. "Because of his quickness and intelligence and the fact he sees the ice well, I think Cory will surely try him out there at the point."
Ottawa may not be done ahead of the March 3 NHL trade deadline.
"We're now going to have to look around and talk about a defenseman," Murray said.
The Senators also put Jonathan Cheechoo on waivers Friday. The disappointing winger has another year on his deal at $3.5 million for next season, so I'd be shocked if anyone claimed him. Murray told ESPN.com that Cheechoo would go to AHL Binghamton if he cleared waivers.
And finally, Murray announced he had extended a contract offer to key defenseman Anton Volchenkov, who is slated for unrestricted free agency July 1. Volchenkov's agent Jay Grossman confirmed to ESPN.com that he had received the offer from the Senators and "will be reviewing with Anton soon," he wrote in an e-mail.
Elsewhere, the New York Rangers acquired tough guy Jody Shelley from the San Jose Sharks in exchange for a conditional draft pick. The Rangers had waived tough guy Donald Brashear the previous day.
Also put on waivers Friday was winger Jamie Lundmark by the Calgary Flames and rugged, veteran winger Brad May by the Detroit Red Wings. The Wings eventually need to clear cap space in order to be able to activate defenseman Andreas Lilja and fit his $1.25 million salary under the salary cap, although at this point doctors still haven't cleared Lilja, GM Ken Holland told ESPN.com.
"We're also not sure what's going to happen with Kirk Maltby," Holland added. "He's played through a chronic shoulder injury all season long, and doctors say he'll need surgery if he wants to play next season. But the question is, does he have surgery now or after the season? We are still determining that."
Bottom line, there are possibly more roster moves coming from Detroit depending on what happens with Maltby and Lilja.
The Florida Panthers were working the phones Friday, a day after shipping out Moore. More players may likely move before the March 3 trade deadline, likely including UFAs-to-be Jordan Leopold and Dennis Seidenberg, both blueliners. Forward Rostislav Olesz is also available, although he has four more years on his deal with a $3.125 million cap hit.
Alexei Ponikarovsky remained a Toronto Maple Leaf on Friday, although a Leafs front-office source told ESPN.com that "interest was building" for the winger, a UFA July 1. But it will wait until March 1 at the earliest. He is earning $2.5 million this season, although his salary cap hit is $2.1 million. The 29-year-old Ukrainian had 41 points (19-22) and a plus-5 rating in 60 games with the Leafs this season.
Ray Whitney did not move Friday and that's not that surprising. Rutherford told ESPN.com Friday morning that he was pretty sure the 37-year-old winger, UFA July 1, would be a post-Olympic move. My sense is that will allow more teams that are tight against the salary cap to get into the action, which brings to mind the Pittsburgh Penguins. Whitney, as previously reported, nixed a trade to Los Angeles two weeks ago when he tried to coax a three-year contract extension out of the Kings. He could do that because any move needs his consent via his no-trade clause.
Whitney has 45 points (17-28) and a minus-1 rating in 58 games with the Hurricanes this season, and is a valuable and versatile player who can play the point on the power play. He's earning $3.55 million this season. He's actually a player the Senators had on their radar before moving on to Cullen.
"I did inquire about Ray, but at the end of the day, being a center and the versatility with Cullen certainly fits with us right now," Murray said.
Another player who did not move Friday was Marty Turco. Again, not very surprising. A Stars front-office source told ESPN.com that the team was getting "no traction" on the trade market. That's because of his $5.4 million salary. The veteran goalie will be UFA July 1, and he showed again Thursday night in Calgary that he remains an elite No. 1 goalie. It also showed he's letting neither the Kari Lehtonen acquisition nor the trade rumors affect him.
"I'm coping just fine," Turco told ESPN.com on Friday. "I want to win. Period. So we'll just see what happens."
We'll also see how the Philadelphia Flyers feel about Ray Emery's rested hip in two weeks' time and whether they believe they can make a playoff push with Michael Leighton as their possible starter.
Another goalie named Marty stayed put as well. Martin Biron has been looking for a move ever since Rick DiPietro returned to give the Islanders a crowded crease. Biron, UFA July 1 and earning $1.4 million this season, recently went on a conditioning stint in the AHL as he awaited a possible trade. But it'll have to wait until March 1 at the earliest.
"I have been feeling good after playing a couple of games in Bridgeport," Biron told ESPN.com. "Got back into action against Nashville [a 4-3 win Tuesday night], and that was good. So I know I can come in and help a team down the stretch."
Friday's mini-trade deadline wasn't full of activity. More bodies will be on the move around the NHL when the trade freeze thaws March 1.
January, 25, 2010
01/25/10
3:31
PM ET
I explained to Bryan Murray that it was time for ESPN.com to give his Ottawa Senators some love, and the veteran GM, perhaps with a hint of sarcasm, welcomed the phone call Monday.
"We don't get much, so that'd be good," Murray said.
No, the Sens don't get a lot of attention, not with the Toronto Maple Leafs (no matter how bad they are) dwarfing them in their own province and the Montreal Canadiens imposing a huge shadow just two hours east. It was never going to be easy competing with those two Original Six brothers.
But the Sens clearly are playing the best hockey of the three teams, a six-game winning streak vaulting them into fifth place in the Eastern Conference with a five-point cushion over the cluster beneath them.
"We lost five in a row before that," Murray said. "That's the NHL today. You can go on streaks either way. As you look around the league, it's very hard if you're losing three or four key people in particular, and we were at seven guys out at one point. We've still got two, three guys out, but obviously getting our first-line players back, and Daniel Alfredsson in particular, has made a big difference."
Both Alfredsson and Jason Spezza, Ottawa's two offensive catalysts, are now back. Starting goalie Pascal Leclaire (concussion) remains out; so is shut-down defenseman Anton Volchenkov (upper body). The Sens will try to extend their streak to seven -- and they'll earn it if they do -- against the powerhouse New Jersey Devils in Ottawa on Tuesday night.
Just two weeks ago, the Sens hit the low point of the season with back-to-back losses on Jan. 10 and 12, when they lost by a combined 10-2 score in Carolina and Atlanta. That's when Murray and coach Cory Clouston chatted.
"We played terrible in Carolina and Atlanta," Murray said. "We had lots of discussion at that time, Cory and I did. We let Eli Wilson go as the goaltending coach; we didn't think our goaltending was where it could be or should be. Then we went into New York with a real good effort [a 2-0 win Jan. 14]. Then Alfie came back, and from then on we started getting players back."
Alfredsson has nine points (5-4) in the five games since his return, reminding all of us yet again that even at age 37, he is the straw that stirs the drink in Canada's capital. He still leads the team in scoring with 40 points (14-26) in 42 games despite missing 11 contests with a shoulder injury.
But there's another man who deserves credit as well: Clouston. It was almost a year ago, on Feb. 2, that Murray elevated the little-known native of Viking, Alberta, from the AHL ranks to replace Craig Hartsburg behind the Ottawa bench. Like almost everyone in the NHL media world, my reaction was: Cory who? Nobody knew anything about him. The immediate reaction among many was the Sens were going on the cheap and that's why they promoted a guy from within the organization.
I remember asking Murray that very question last February, and the Sens' GM set me straight: He believed Clouston was his guy, no matter what anybody else thought. He's been proven right, and then some. Clouston's NHL coaching record now stands at 47-32-8 in the 87 games since he's taken over, good for a .586 win percentage.
"He's very disciplined, very structured," Murray said of his 40-year-old coach. "He runs a practice with lots of repetition. He spends a lot of time in game preparation. He's a good presenter to the players. He's not afraid to ruffle feathers if he has to. He's very strong in his convictions of how the team has to play."
Considering the massive injury list the Sens have been faced with this season, not to mention the forced departure of 50-goal man Dany Heatley this past summer, I'm not sure many people would have handed Ottawa a playoff spot. But if the season ended today, the Sens would open up the playoffs against the defending Stanley Cup champion Pittsburgh Penguins in the 4-5 matchup.
What strikes me about this edition of the Sens is the team concept is very strong. For a long time over the past decade, this team had oodles of talent, but I always believed it was top-heavy in terms of relying on certain players. Clouston has given more people roles, and I think that's a big reason the Sens have survived an injury-riddled season; the team's success isn't reliant on a handful of players like in the past. It's truly a team.
"I think that's where the whole program has been with Cory," Murray said. "Today in the league, you have your stars, but you have lots of guys that have to play a particular way to contribute. And Cory has been able to do that. Now we feel we have four lines up front, six defensemen that can all play the right way every night. I think that gives us a chance every night. That's a big reason we are able to compete with everybody."
January, 16, 2010
01/16/10
11:34
PM ET
We all knew Vancouver would generate headlines this season, with the Olympics being there and all. But this past week's entertainment was something else.
First, a fan uses a laser to try to blind Calgary Flames goalie Miikka Kiprusoff on Jan. 9 in Vancouver. Bizarre, to say the least. Then we've got the Stephane Auger/Alexandre Burrows brouhaha Monday night. And finally, Wednesday night's third-period fisticuffs in Minnesota, where Canucks tough guy Darcy Hordichuk reportedly told Wild enforcer Derek Boogaard that Vancouver coach Alain Vigneault told them to go out and fight. Later in the period, Vancouver's Alexandre Bolduc invited Minnesota goon John Scott to a fight that I thought would end the Canucks player's career it was so violently one-sided.
In any case, the allegation that the Canucks coach would have ordered some of his players to fight (denied by all involved in the following days) certainly touches a universal nerve given Vancouver's history with the Steve Moore incident less than six years ago.
A source told ESPN.com on Saturday that league disciplinarian Colin Campbell did phone Vigneault in the aftermath of those allegations. He got the obvious denial, and without any corroborating evidence, what else can the league do?
Meanwhile, on the Auger/Burrows front, Canucks fans won't see the veteran referee anytime soon. It just so happens the schedule didn't have Auger doing a Canucks game during the next two months (the schedule was already drawn up before the incident). But when the league draws up the schedule for the rest of the season, you can bet Auger won't be doing any Canucks games. It's called common sense.
And finally, NHL director of officiating Terry Gregson, who sends out a memo to his on-ice officials every Friday and Monday, had a timely message in Friday's e-mail. I'm told the theme was "communication," and essentially having a sense of the proper etiquette to deal with players and coaches, etc. You can read between the lines on that one.
Selling Souray
In the aftermath of Sheldon Souray's announcing that he would waive his no-trade clause if it helped the Edmonton Oilers and was a move that he could live with, the obvious question is, as one NHL GM told me this week, "But which team can afford him?"
The 33-year-old blueliner entered the weekend with 12 points (3-9) and a minus-14 rating in 30 games this season, not the kind of return you'd expect for a $5.4 million cap hit. On the other hand, he's surrounded by the 2009-10 Oilers, not the 1986-87 Oilers. A change of scenery could very well bring out the old Souray, not to mention the fact his actual salary goes down to $4.5 million for the last two years of his deal (starting next season).
One NHL team I believe has interest is the New York Rangers, a club that could certainly use his offensive touch from the back end. I also think Souray would welcome a move to New York. But to make it happen, the Rangers would need to create cap room by shedding the contracts of either Michal Rozsival ($5 million cap hit; will earn $4 million next season and $3 million in last year in 2011-12) or Wade Redden ($6.5 million cap hit; four more years left after this season at $6.5 million for 2010-11 and 2011-12 and $5 million per year in 2012-13 and 2013-14).
The only real option on Redden is to send him to the AHL and eat his contract. A buyout next summer doesn't solve anything because the Rangers would still carry a $2 million cap hit from him for the next eight years.
I guess if you're New York, there's also the hope that when the next collective-bargaining agreement is negotiated, whether that's after next season or the season after that (the NHL Players' Association has the option of extending it a seventh year), teams will once again get a one-time shot at buying out their worst contract without cap implications, which was the case in August 2005, when the last CBA started. That would be an opportune time for the Rangers to deal with Redden.
Pens update
Contract negotiations have recently resumed between the Pittsburgh Penguins and representatives for defensemen Kris Letang and Sergei Gonchar.
The team isn't close to a deal on either front at this point, but that can change in a heartbeat. Letang will be a restricted free agent July 1, while Gonchar will be unrestricted.
"We met with Kris and his agent [Kent Hughes] recently," Penguins GM Ray Shero told ESPN.com on Friday. "They know where we stand. Kris is a guy obviously we want to re-sign, but we're not there right now."
Gonchar turns 36 in April, so no matter what contract he signs, the entirety of it will count against the salary cap even if he retires before the end of it (according to the 35-and-over rule in the CBA). This makes the term the most significant item on that docket. Shero met with Gonchar's agent, J.P. Barry, over the past week in Calgary.
"We'll just keep the dialogue going," said Shero. "We just need to find a way to get it done hopefully."
There's going to have to be some give from these two players for the Pens to be able to keep both. Interesting situation to say the least.
As for the March 3 trade deadline, the Penguins have their pro scouting meetings this upcoming week. That conversation, along with thoughts from the coaching staff, will help crystallize Shero's deadline game plan. The Pens don't have too much cap room, so Pittsburgh fans shouldn't expect a huge addition.
Preds goalies
So, you're the Nashville Predators and you're having a terrific season as young players step into the lineup again and produce (can this team draft or what?). But you've got a major issue: the two people who wear a goalie mask on your team.
Pekka Rinne and Dan Ellis are both slated for unrestricted free agency.
"I'm going to talk to all our unrestricted guys during the Olympic break," Preds GM David Poile told ESPN.com on Friday. "Both are goaltenders who have been real good for us this year. We've been rotating them pretty much."
But in my mind, you won't see both back next season. The frugal Preds can only afford to keep one of them; and frankly, I don't think these two guys want to share the net again next season. They're both No. 1 material. The question is, will both still be with the team past the March 3 trade deadline? I think that's a question Poile himself hasn't answered yet in his own mind.
If he's able to re-sign one of the two goalies before March 3, then maybe he dangles the other in exchange for some offensive help. But if he's unable to get either one signed to an extension before then, he'd be wise to keep them both past March 3 and give himself time to talk contract with them right up to June 30 at midnight, when he still owns their rights.
Meanwhile, Poile confirmed what John Glennon first reported in The Tennessean on Friday: Coach Barry Trotz had his contract extended through next season.
Senators stuff
Somewhat under the radar is the fact that shutdown blueliner Anton Volchenkov is slated for unrestricted free agency. The Ottawa Senators can't afford to lose him, but contract talks haven't gone anywhere yet.
"I'm hoping this week to have some concrete discussions in that regard," Sens GM Bryan Murray told ESPN.com on Saturday.
Volchenkov, who is represented by Jay Grossman, is earning $3.2 million this season, but his cap number is $2.5 million. He's getting a raise, whether it's in Ottawa or elsewhere.
I've also noticed a few of my media colleagues suggested over the past few weeks that it might be time to look at moving Alexei Kovalev. But Murray told me that was a no-go.
"He's not going anywhere, Alex is a real good player for us," said Murray. "He's a talented player. That's why we signed him. He gives that dimension on the second line that we were looking for."
Kovalev has another year on his deal at $5 million for next season.
Stars goalies
Marty Turco will almost certainly be available come the trade deadline, as my colleague E.J. Hradek also speculated in his Friday blog. The veteran netminder is UFA July 1 and it's probable the Stars, as they continue to get younger, will go in a different direction in goal.
It'll be interesting to see what kind of traction the Stars get on Turco close to the deadline. His cap number is $5.7 million, which is a little rich even with that number being smaller come March 3, with just over a month left in the regular season. But on the flip side, this is a goalie who can bring it when he's dialed in, and he could be a great pickup in the right situation.
Meanwhile, who will play goal for Dallas next season? That will be GM Joe Nieuwendyk's top priority between now and July, to find his next goalie(s). I'm told the Stars did chat with Montreal earlier this season about Jaroslav Halak, but the price has gone up big time now with the Habs netminder putting together a great season. I'm not even sure why the Canadiens would want to move him anymore.
If I was the Stars GM, the goalie I'd look at is the oft-injured but talented Kari Lehtonen in Atlanta. He's a restricted free agent July 1 and he may have maximized the Thrashers' patience. He could be the ideal buy-low gamble for the Stars. Lehtonen (back) has been out pretty much all season, but he may return next weekend on a conditioning assignment with the AHL's Chicago Wolves.
Video review
In the wake of the Pittsburgh TV replay scandal, which cost Philadelphia a goal in a Jan. 7 game and resulted in the suspension of an FSN Pittsburgh producer, the NHL sent out this memo late in the week to all 30 markets:
To All Rightsholders:

The NHL's Video Review process was established to assist in determining the validity of all potential goals. In establishing this process, the Member Clubs have given their support and resources to the League's Hockey Operations Department to ensure that all goals are properly reviewed.

One of the primary resources in the review process is the game telecast. In support of the mandate from the Clubs for video review, it is required that replays from all camera angles be shown in a timely sequence so as to provide the Hockey Operations Department with the best opportunity to review the situation and make a ruling.

In the case of video review, producers and their crews have an obligation to the game, the teams and our fans to provide any and all replays of the play in question. Obviously, under no circumstances should a replay be withheld as to be selective with any sense of prejudice toward one outcome or another.

As television rightsholders to the NHL and its Member Clubs, your understanding of this responsibility is imperative. We appreciate your continued partnership."