Category archive:

Pittsburgh Penguins
September, 15, 2010
09/15/10
1:05
PM ET
Talk about hockey lineage.
When the Shattuck-St. Mary's School girls' prep hockey team opens its season this weekend, there will be a Lemieux and a Crosby on the ice -- Stephanie Lemieux, the 15-year-old daughter of Penguins owner Mario Lemieux, and Taylor Crosby, the 14-year-old sister of Pittsburgh captain Sidney Crosby.
"They're just regular teenage girls. They're hard working and dedicated," Shattuck coach Dan Koch said Wednesday. "They just go about their business like any other kids here. They're very focused in both hockey and academics."
Of course, Taylor isn't the first Crosby to lace 'em up at the prestigious school in Minnesota. No. 87 spent a season there in 2002-03, scoring 72 goals and 162 points in 57 games. Now, Taylor is following in his footsteps, although she's a netminder, not a center.
Sidney told ESPN.com on Wednesday that he had mixed feelings about Taylor's move to Shattuck.
"I'm really happy for her, but I'm also sad to see her leave home," said big brother. "She's young, she's my little sister, so to see her leaving home, it's probably hit me a little more. She's really grown up. But I'm happy for her. She's really happy at the school. I had a great experience there and she's enjoyed herself from the start, both in school and hockey-wise. It's a nice opportunity for her."
Parents Trina and Troy Crosby are now empty-nesters at the family home in Cole Harbour, Nova Scotia.
"We took Taylor down to Shattuck in late August," Troy told ESPN.com Wednesday. "Just being back there again after taking Sidney there eight years ago, it brought back lots of good memories. It's a great environment for kids to go to school and play sports there. It's a proud moment for me to see her there. It's hard to say goodbye, but I'm proud of her."
Troy was also a goalie, drafted by the Montreal Canadiens in 1984. So Taylor has a good mentor in net. It also doesn't hurt to have a superstar NHLer to practice with.
"I actually shot on her this summer for the first time," said Sidney. "We had never done that before. She's good, she's really good. I wasn't afraid to let a couple go and she stood in there pretty good. It was a lot of fun."
April, 6, 2010
04/06/10
12:04
PM ET
The regular-season finale for the NHL's best rivalry takes place tonight in what is hopefully just the appetizer and not the dessert this season.
Please, please, give us more of this when it really counts. In the meantime, we'll settle for the fourth and final regular-season meeting between NHL-leading Washington and reigning Stanley Cup champion Pittsburgh.
"The Washington games always seem to bring out the best in both teams," Penguins GM Ray Shero told ESPN.com on Monday evening. "There's a lot more intensity, emotion and urgency in everyone's game. You have to be real good against a team like Washington just to have a chance to win."
The Penguins, despite solid efforts in their past two encounters against the Caps, are looking to break that ugly goose egg in the win column against their rivals.
"We're definitely looking for that," Penguins veteran winger Bill Guerin told ESPN.com on Monday night. "They've played well against us this year. The last two games have been good games. One thing about them is that I think they bring out the best in us and we do the same for them."
The Caps needed overtime and then a shootout to win the past two games against Pittsburgh; but, nevertheless, it still goes in the books as a perfect 3-0-0 record for Washington, which can sweep the season series over their former Patrick Division rivals for the first time in team history (Caps senior PR man Nate Ewell tells me their previous best was 6-0-1 in 1984-85).
Beating Pittsburgh in the regular season is nothing new of late. Since Bruce Boudreau took over behind the Caps' bench during the 2007-08 season, Washington has a 7-1-2 record against Pittsburgh. Of course, the Pens got it done when it mattered in last spring's memorable seven-game series, which spurred Pittsburgh on to its Cup triumph. In other words, what happens in the regular season may not necessarily translate in the playoffs, even if the Pens are winless in nine games this season against New Jersey and Washington combined.
"It's not really on my radar right now because we're not playing any of these two teams in the first round," said Shero, referring to the 0-7-2 mark against the Devils/Caps this season. "The playoffs will be the start of a new season for 16 teams. What's done or what you think you might do doesn't mean a darn thing. ... Some teams will be shocked, some team will be happy, some will be sad. That's the new season."
But first is the rest of the regular season. The Caps are in Pittsburgh with the Presidents' Trophy already in tow, an offensive machine running away with the goals lead in the NHL and making it look like it's the 1980s all over again. They've got plenty of respect in the Penguins' dressing room.
"I think they're a deeper team this year," said Guerin. "They're so powerful offensively. It's unbelievable. I haven't seen too many teams like that."
There's more than pride on the line tonight for Pittsburgh. The Pens are tied for the Atlantic Division lead with New Jersey (amazingly enough despite the 0-6-0 mark against the Devils) and want to grab that divisional title in order to place second or third in the conference, not to mention avoid a possible matchup with the Caps in the second round.
"It's important to us," said Guerin. "You want to solidify the highest seed possible in your conference, and for us that's the second seed, and for that we have to win our division. That's definitely a goal of ours.''
Whether it's the division battle with New Jersey or the mental battle with Washington, Pittsburgh clearly needs this one tonight. It could make it that much sweeter for the Caps if they make it a perfect 4-0-0.
March, 24, 2010
03/24/10
10:36
PM ET
Usually unflappable Marc-Andre Fleury swung his stick at his right post in disgust after giving up the shootout winner to Mike Knuble on Wednesday night, an act of frustration that might as well have been on behalf of his entire team.
The Pittsburgh Penguins are winless in nine games this season versus the two Eastern Conference teams they have to worry about most come playoff time, the New Jersey Devils (0-6-0) and Washington Capitals (0-1-2).
The reigning Cup champions have one such game left in the regular season, an April 6 meeting against the Caps in Pittsburgh, to restore some measure of confidence. I know they have the Cup rings from nine months ago, but you can't tell me having lost all 10 games to Washington and New Jersey could not play on their minds entering the playoffs. It will. So circle April 6 on your calendars, Pens fans; your team badly needs a victory that night.
To be fair, the Pens were missing defenseman Sergei Gonchar and star center Evgeni Malkin on Wednesday and still managed to outshoot the Caps 42-32, but they fell short yet again.
Looking at the big picture, Wednesday night was another reminder of why we want these two teams to meet again in the playoffs, whether it's in the second round or the third.
Washington's 4-3 shootout win was another entertaining affair. The Pens scored late to tie it on Jordan Staal's wicked wrister, then the game's two superstars, Sidney Crosby and Alex Ovechkin, traded back-to-back shootout beauties before Knuble eventually decided it, to the delight of a frenzied Verizon Center crowd. The shootout, with Washington erasing a 2-0 deficit, was superb.
On a night when the NHL and the NHL Players' Association released more statements to update their bizarre power play over a new head-shot rule (not to mention the continued concern in Phoenix over the off-ice future of the Coyotes), the NHL once again doled out its hottest commodity, one that fans and media cannot get enough of. Yes, I can take more Pens-Caps this spring, no question.
All of which is why I'm pretty sure you'll hear an official announcement from the NHL at some point soon that next season's Winter Classic on Jan. 1 will feature these two teams. It's a no-brainer. It's the NHL's best rivalry right now with the game's two biggest stars.
No matter how many people fill the ESPN.com message boards complaining that Crosby and Ovechkin have reached the saturation point in their exposure, the reality is completely the opposite.
There's plenty more the league can do with these two captains and these two teams, and it certainly hopes to do just that.
March, 23, 2010
03/23/10
10:20
PM ET
Round 3 of the NHL's glitziest rivalry comes Wednesday night in Washington with the NHL-leading Capitals frothing at the mouth as they host the reigning Stanley Cup champion Pittsburgh Penguins.
OK, I made up the part about the Caps frothing at the mouth. But the chance to go up 3-0-0 in the season series against the rival Penguins is an attractive possibility for the run-and-gun Caps. There's no love lost for the team that knocked Washington out of the playoffs last season in a series that brought this rivalry to new heights.
Try being Mike Knuble. He got the double whammy. First, Sidney Crosby's team knocked him out of the playoffs two seasons in a row when he was still with the Philadelphia Flyers. Now, he's with the team whose Cup hopes were crushed by the Pens last spring. Forgive Knuble for having Pittsburgh, Pittsburgh, Pittsburgh on the mind!
[+] Enlarge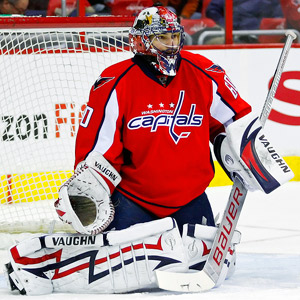 Geoff Burke/US PresswireJose Theodore has posted a 16-0-2 record in his past 18 games for the Capitals.
"Pittsburgh just seems to get the upper hand on everybody," Knuble told ESPN.com on Tuesday after practice. "Even from my time in Philly, they seemed to get the upper hand on us then and everybody last year. They're the ones everybody wants to be like. That probably means there's a bit of a bull's-eye on them."
It seems that way, although the defending Cup champs haven't had an easy time with the two other chief contenders in the Eastern Conference. The Pens are winless in eight games versus the Caps (0-1-1) and New Jersey Devils (0-6-0).
Knuble, meanwhile, has switched from one heated rivalry to another.
"I think there's a Bermuda Triangle between Philly, Washington and Pittsburgh," said Knuble, who scored the overtime winner Feb. 7 against Pittsburgh. "They're all pretty competitive games, but obviously with [Crosby and Alex Ovechkin] you've got two big headliners. They get a lot of the attention, so everybody wants to see a good game out of those guys, some excitement, see them get a couple goals apiece. But they're pretty good games. I'm sure we're all going to see each other in the playoffs."
Ah, yes … the playoffs. There's nothing else the Caps can possibly achieve in the regular season that would impress anyone anymore. From wire to wire, they've been the most impressive team in the NHL this season, scoring goals like it's 1984 and doing it with style.
But that will mean nothing three months from now unless they're in the Stanley Cup finals. Maybe that's a little harsh, but it's the truth. The proof will be in the playoffs for the Caps. It doesn't matter whether they beat the Penguins on Wednesday night. Can they do it when it really counts?
Caps GM George McPhee has been a busy man since that Game 7 loss to the Pens in the second round last season. Knuble and fellow veteran forward Brendan Morrison were added in the offseason. Other veterans followed during the season via trades: forwards Jason Chimera, Scott Walker and Eric Belanger as well as defenseman Joe Corvo.
Knuble was an especially inspired addition, a cerebral and character player who just gets the job done; a "glue" guy, if you will.
"It's been a pretty good fit, and obviously we've won a ton of games and that makes things easier," said Knuble, fourth on the Caps with 25 goals in 60 games. "Personally, I got off to a bit of a slow start and [coach] Bruce [Boudreau] was mixing things up and then I missed a dozen games with a broken finger. Next thing you know, it's around Christmas and you felt like you haven't really started your season yet.
"But from the absolute first game of the season, the team has been playing well and just winning a ton of games. So for me, it was just a matter of time and getting comfortable. There were a lot of good pieces and good players here already. I was just trying to fit in."
This team is still about Ovechkin, Mike Green and Nicklas Backstrom, but now the Capitals have some veterans to help ease the burden.
"Leaving Philadelphia last summer, you knew what this team had," said Knuble, who signed a two-year, $5.6 million deal. "You knew it was a young group that has got a lot of playoff experience the last two years, lost to Philly in seven games [in 2008] and made a good run last year. George has done a good job of getting his core group and letting them mature."
The Achilles' heel of this incredibly talented Caps team, real or perceived, has always been goaltending. To be fair, that conclusion wasn't too far off halfway through the season when the team still wasn't sure who would be their No. 1 goalie, Semyon Varlamov or Jose Theodore. But the second half has produced a victor: veteran Theodore, who has somewhat quietly posted a 16-0-2 record in his past 18 games while allowing more than three goals in only three of those starts.
At some point, you have to say, what else can the former Hart and Vezina trophy winner do to convince his critics?
"If he perceives there's a lack of respect, that could be a great motivator for Jose," Knuble said. "But it's not on our goalies, Varlamov or Jose. We've got the numbers; maybe people don't like the way we've achieved those numbers. You figure Theo is 16-0-2 and people still have a problem with it. I guess people don't like the way we've achieved it sometimes. But Theo has played very well. He deserves to have a record like that."
No point arguing about it. The playoffs will settle the matter. Not just for Theodore but for all the Caps.
Bring it on.
March, 18, 2010
03/18/10
10:21
PM ET
The night began with Matt Cooke getting booed every time he was on the ice. It ended with boos directed at any Bruin on the ice.
If one game can sum up Boston's miserable season, this was it.
The "big rematch" is over. Cooke is still alive. No Bruin was stupid enough to try to take Sidney Crosby's head off as some in New England had hoped to see. And yes, Cooke paid for his sins.
Just 1:58 into this much-ballyhooed game, the Pittsburgh Penguins winger accepted an invitation from dance partner Shawn Thornton of the Bruins … an unfair matchup given the size difference, but hey, Cooke should have thought of that before he ended Marc Savard's season March 7.
Given the difference in weight classes, I give Cooke credit. He manned up big time and accepted his medicine, a one-sided tilt won easily by Thornton.
The question after that fight was whether it would be enough. Six years ago in Vancouver, when Cooke was beat up by Steve Moore, it certainly was not. The Canucks were so incensed that Moore had forgotten to lose the fight that they got back at him for it. But let's not revisit that sordid evening.
Thank goodness, however, Cooke didn't somehow manage to win his fight with the bigger Thornton. That would have been bedlam. Such is life in this sport I love so much yet which leaves me scratching my head sometimes … the code, the rules, etc. Had Cooke won his fight with Thornton, we would've been looking at an ugly mess Thursday night. Thankfully, he didn't, and the licking from Thornton pretty much defused the situation.
Sure, Zdeno Chara and Mike Rupp also dropped the gloves halfway through the second period. This fight, in my mind, had nothing to do with avenging anything from March 7; this was the captain trying to wake up his slumbering team. It didn't work.
The Bruins lost 3-0 to the Penguins as their post-Olympic funk continued; Boston is 4-5-1 since the break and is lucky as heck the teams chasing it for the eighth and final playoff spot in the East have been just as mediocre. Case in point, after the New York Rangers' 4-3 home loss against the St. Louis Blues and the Atlanta Thrashers' 6-3 win over the Ottawa Senators, Atlanta is now ninth, tied with the Rangers with 71 points (but with a game in hand) and three points behind Boston for eighth. No one deserves the eighth seed in the East!
The theory heading into Thursday's rematch was that perhaps some sort of wild night of fights might bring this Bruins team together and galvanize the moribund club just in time for a playoff push. It was a nice thought, but there was no way flying fists were going to fix the fact this team hasn't been able to score all season and even less so with its top center out of the lineup.
Remember the Montreal Canadiens' tumble from Eastern Conference champions in 2007-08 to embarrassing first-round fodder one season later? That's the same script these Bruins are following. Will they make the playoffs? Perhaps, but only to extend their season by one week. This is a season to forget in Beantown, and no amount of bloodletting Thursday night was going to alleviate the inevitable.
The show's over, folks. Move on.
More on Wisniewski
I was on Bob Murray's media call Thursday night (in fact, he was talking to us while Cooke and Thornton were dropping 'em), and thought the
Anaheim Ducks
GM had some great insight on his player
James Wisniewski
's suspension.
He's all for the NHL and league disciplinarian Colin Campbell coming down hard on head shots. But let's have justice across the board. Well said, Mr. Murray.
"[Wisniewski] crossed the line, he's got to get whacked, I have no problem with that, I support Colie," Murray said . "His job is a tough job, it's not easy, but let's make it equal across the board. Whether it's a fourth-line player or first-line player, whether the player plays on the East Coast or the West Coast. Don't forget, what's the last suspension of eight games or more here, guys? Chris Pronger here in Anaheim. Let's just get it all across the board and make sure it's even."
I also chuckled when Murray responded to the comments from Chicago Blackhawks coach Joel Quenneville, who on Wednesday night called the hit one of the most dangerous in league history.
"I played in Chicago for a long time, I lived in the city of Chicago. It used to be a black-and-blue town; it didn't have whiners," the Ducks GM said. "I strongly suggest Joel worries about his goaltending and stops trying to run the National Hockey League. He should worry about coaching."
Zing!
March, 17, 2010
03/17/10
11:10
AM ET
It almost defies logic, but somehow the Pittsburgh Penguins are first in the Atlantic Division, two points ahead of New Jersey, despite losing all five games to the Devils this season.
The teams' season series finale is tonight in Newark, and this is a game that has all kinds of meaning for both teams.
The Devils, with a game in hand, can tie the Pens for the division lead and head into the playoffs with the confidence of a 6-0-0 sweep of the reigning Cup champs. (Put that card in the deck and pull it out later in the spring, if you know what I mean.)
The Pens need a win to put a little space between first and second place in the Atlantic and, perhaps more important, know they can finally beat Martin Brodeur and his team this season.
"Our players know exactly the situation and where we're at," Penguins coach Dan Bylsma told ESPN.com on Tuesday before the team's flight got off the tarmac in Pittsburgh. "We know what this game is for, what's at stake and how close they are. This game will be real important as to where we end up."
And winning the division also hands that team the likely second seed in the East for the playoffs, whereas the Atlantic Division runner-up likely gets the fourth seed. Perhaps I'm looking too far ahead, but barring any upsets (I know, I know), that means the Atlantic Division winner avoids Washington until the conference finals.
But back to tonight's game. The X factor is whether star Penguins center Evgeni Malkin (leg) plays. He did not skate Tuesday.
"We'll see [Wednesday] morning how he's doing," Bylsma said. "Day to day, even in our ambiguous world, is pretty accurate. I'm still kind of hoping for [Wednesday]. There's still a chance."
With or without Malkin (he has no points in four games against the Devils this season), the Pens will again have their hands full. Here's a recap of the season series:
Oct. 24 at Pittsburgh: 4-1 Devils
Nov. 12 at Pittsburgh: 4-1 Devils
Dec. 21 at Pittsburgh: 4-0 Devils
Dec. 30 at New Jersey: 2-0 Devils
Friday at New Jersey: 3-1 Devils
"I think the common theme so far is that we've had a difficult time maintaining our focus on playing our game," Bylsma said. "Especially the first four -- they got leads, they got a power-play goal, and we weren't generating the kind of space and room and offensive-zone time that we like. We get a little frustrated and we don't stay with the plan. That's really been the common theme in the games against them and that'll be the challenge when we face them again [Wednesday]: How long can we play our game and stick with our game?"
More on the season series from our friends at the Elias Sports Bureau:
• Pittsburgh had the shot edge in four of the five games (33-26, 26-25, 35-30, 32-33, 35-32).
• The Penguins have gone 0-18 on the power play, the Devils 3-16.
• The Devils are just the third team in NHL history to win their first five games against the defending Stanley Cup champion in one season. The other teams to do that were the 1938-39 Bruins, who won all eight games against the Blackhawks (1938 Cup winners), and the 1943-44 Canadiens, who won the first six games they played the Red Wings (1943 Cup winners).
• Brodeur is 5-0-0 with a 0.60 goals-against average and a .981 save percentage (three goals against on 161 shots); Marc-Andre Fleury has played and lost four games (4.04, .857, 14 goals against on 98 shots).
As Rob Rossi of the Pittsburgh Tribune-Review told me Tuesday, the story in this season series has been Brodeur.
Much has been made this season of Brodeur's apparent second-half slump and his big-stage demotion at the Olympics, but don't tell the Penguins that. All they see is the game's all-time winningest goalie shutting the door on them.
"Well, we're not questioning him," Bylsma said with a laugh. "His numbers are unbelievable. What he's done in his career is close to mind-boggling. He's always been able to elevate his game. And certainly, we've seen that from him this year. He's been very good. I think he's been the same ol' Marty for us."
March, 14, 2010
03/14/10
1:58
AM ET
The tension is building ahead of Thursday's rematch between the Bruins and Penguins in Boston, but it's the kind of buzz the NHL doesn't enjoy too much.
Bruins star center Marc Savard is likely done for the season, and the player who decked him, the Penguins' Matt Cooke, escaped suspension.
Just what are we in store for Thursday night? One Bruins source e-mailed me Friday and said given the ongoing legal issues still associated with the Todd Bertuzzi/Steve Moore incident six years ago, he wanted no part of that kind of situation. And that's exactly the message NHL disciplinarian Colin Campbell will have for both teams when he talks with them this week ahead of the game, reminding them of that Vancouver-Colorado incident and the ensuing mess.
Campbell, by the way, will be on hand in Boston on Thursday, along with Terry Gregson, the NHL's director of officiating. As of Saturday, it wasn't clear whether NHL commissioner Gary Bettman would be there or not.
Cooke himself phoned Campbell on Friday, wanting clarification on just what exactly is a legal hit. I'm told Campbell warned Cooke that he's got a very short leash going forward.
As for Savard's status, it doesn't sound good.
"No improvement," Bruins GM Peter Chiarelli told ESPN.com on Saturday.
Savard is still sensitive to light and has pounding headaches -- classic symptoms of a long and serious concussion. Chiarelli reiterated Savard is likely done for the season.
By the way, Pittsburgh and Boston could easily meet in a 2-versus-7 playoff matchup. How dramatic would that be?
But it's because of that very playoff race I suspect Bruins players will have to control themselves in some fashion Thursday night. They need the two points.
The future of the All-Star Game
The NHL is thinking long and hard about coming up with a better concept for the mundane All-Star Game, which we were spared this season thanks to the Olympics.
One idea floating around in the NHL head office is to somehow give an international hockey feel to feed off the Vancouver experience, possibly staging some form of a mini World Cup. I stress this is very conceptual at this point, but still interesting nonetheless.
Speaking of international hockey, I'm told the Russians have recently approached Hockey Canada about staging a Summit Series in 2012 to commemorate the 40th anniversary of the '72 classic. The Russians also want it to be best on best, so it would be Sidney Crosby & Co. versus Alex Ovechkin & Co. Of course, the NHL and NHL Players' Association would have to sign off on it, and I'm not sure there's an appetite for it at this point.
What about USA Hockey and Hockey Canada getting together with the NHL and NHLPA to do some form of series with top players? Given the recent gold-medal game in Vancouver, why not capitalize on the burgeoning rivalry between Team USA and Team Canada? Food for thought.
Plekanec and the Habs
The Habs and Tomas Plekanec's agent, Rick Curran, continue to talk, and all signs point to the Czech center likely staying put instead of hitting the unrestricted free-agent market July 1.
"We continue to have positive conversations ... not likely to finalize any agreement until after the season has completed," Curran told ESPN.com via e-mail Saturday.
I suspect the Habs need to create some cap space after the season before fitting in any new deal for Plekanec, but it does sound like the Canadiens will likely retain him.
The competition committee
There will be changes on the NHL side of the competition committee.
Kevin Lowe
and Bob Gainey, both no longer GMs, will be formally replaced in time for the group's next meeting in June, an NHL source told ESPN.com on Saturday.
Lowe actually hasn't taken part for a year, as Devils GM Lou Lamoriello sat in for him a few times last season. But now, the league will make official changes after Gainey stepped down as Montreal GM. However, Thrashers GM Don Waddell and Predators GM David Poile will be kept on for another year, the source said. The replacements for Lowe and Gainey have not yet been determined, but one will be a Western Conference GM and the other an Eastern Conference GM.
February, 12, 2010
02/12/10
7:23
PM ET
The Chicago Blackhawks made their much-anticipated move for a blueliner before Friday's 3 p.m. ET Olympic trade freeze, but nobody was busier than Bryan Murray.
[+] Enlarge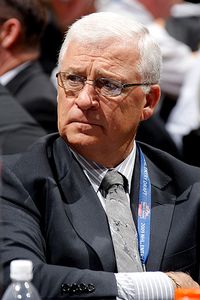 Dave Sandford/NHLI via Getty Images Bryan Murray had a big day Friday, earning a contract extension and making personnel moves.
The veteran Ottawa Senators GM got more job security, made a trade, revealed he made a contract offer to his most important pending free agent, and put another player on waivers.
Murray was rewarded for a surprising season by his Northeast Division-leading Senators with a one-year contract extension and then promptly improved his playoff-bound club with the acquisition of veteran center Matt Cullen from the Carolina Hurricanes.
"I've known Matt since my Anaheim days, and I really felt that he would fit into the room and the chemistry of our team," Murray told ESPN.com. "If he plays with the right people, he should be real productive for us."
The 33-year-old Cullen, who is slated to be an unrestricted free agent July 1, has 40 points (12-28) in 60 games and is actually on pace to eclipse his career high of 49 points. So this might be a sneaky pickup by the red-hot Sens, who have usurped the slumping Buffalo atop the Northeast Division.
The Blackhawks, meanwhile, believe they made a move Friday that helps them this year in their Stanley Cup bid and next year with their salary cap issues. They acquired veteran blueliner Kim Johnsson from the Minnesota Wild as well as prospect Nick Leddy in exchange for defenseman Cam Barker.
Johnsson, 33, will be an unrestricted free agent July 1 and has a $4.85 million salary-cap hit this season. Barker has two more years left on his deal after this season at a $3.08-million cap hit. The Blackhawks need to shed some serious payroll in the offseason to accommodate new contract extensions that kick in next season for Jonathan Toews, Patrick Kane and Duncan Keith. So with Johnsson off the books July 1, they'll save a bit of money there. It's a start. But they'll need to shave off more payroll this summer, around $7 million.
That's what the Hurricanes were doing Friday, shedding more payroll. Cullen, earning $2.8 million this season, is UFA July 1, which put him on Jim Rutherford's hit list. The Hurricanes GM moved Niclas Wallin to San Jose on Sunday and is not done dumping UFAs from his rebuilding squad. Rutherford did a nice job Friday getting a second-round pick in 2010 in exchange for Cullen plus blueliner Alexandre Picard.
Once Dominic Moore went to Montreal on Thursday night for a second-rounder (albeit in 2011), that certainly helped set the market for what Rutherford could get for Cullen, who is also a veteran center and potential UFA.
For Ottawa, the one fly in the ointment in a terrific season to this point has been a 27th-ranked power play. Cullen can help, and even play on the point. Murray figured head coach Cory Clouston wouldn't waste any time using his new toy on the power play.
"We're at the point where our power play hasn't been something that we're really excited about every night and he brings something there," Murray said. "Because of his quickness and intelligence and the fact he sees the ice well, I think Cory will surely try him out there at the point."
Ottawa may not be done ahead of the March 3 NHL trade deadline.
"We're now going to have to look around and talk about a defenseman," Murray said.
The Senators also put Jonathan Cheechoo on waivers Friday. The disappointing winger has another year on his deal at $3.5 million for next season, so I'd be shocked if anyone claimed him. Murray told ESPN.com that Cheechoo would go to AHL Binghamton if he cleared waivers.
And finally, Murray announced he had extended a contract offer to key defenseman Anton Volchenkov, who is slated for unrestricted free agency July 1. Volchenkov's agent Jay Grossman confirmed to ESPN.com that he had received the offer from the Senators and "will be reviewing with Anton soon," he wrote in an e-mail.
Elsewhere, the New York Rangers acquired tough guy Jody Shelley from the San Jose Sharks in exchange for a conditional draft pick. The Rangers had waived tough guy Donald Brashear the previous day.
Also put on waivers Friday was winger Jamie Lundmark by the Calgary Flames and rugged, veteran winger Brad May by the Detroit Red Wings. The Wings eventually need to clear cap space in order to be able to activate defenseman Andreas Lilja and fit his $1.25 million salary under the salary cap, although at this point doctors still haven't cleared Lilja, GM Ken Holland told ESPN.com.
"We're also not sure what's going to happen with Kirk Maltby," Holland added. "He's played through a chronic shoulder injury all season long, and doctors say he'll need surgery if he wants to play next season. But the question is, does he have surgery now or after the season? We are still determining that."
Bottom line, there are possibly more roster moves coming from Detroit depending on what happens with Maltby and Lilja.
The Florida Panthers were working the phones Friday, a day after shipping out Moore. More players may likely move before the March 3 trade deadline, likely including UFAs-to-be Jordan Leopold and Dennis Seidenberg, both blueliners. Forward Rostislav Olesz is also available, although he has four more years on his deal with a $3.125 million cap hit.
Alexei Ponikarovsky remained a Toronto Maple Leaf on Friday, although a Leafs front-office source told ESPN.com that "interest was building" for the winger, a UFA July 1. But it will wait until March 1 at the earliest. He is earning $2.5 million this season, although his salary cap hit is $2.1 million. The 29-year-old Ukrainian had 41 points (19-22) and a plus-5 rating in 60 games with the Leafs this season.
Ray Whitney did not move Friday and that's not that surprising. Rutherford told ESPN.com Friday morning that he was pretty sure the 37-year-old winger, UFA July 1, would be a post-Olympic move. My sense is that will allow more teams that are tight against the salary cap to get into the action, which brings to mind the Pittsburgh Penguins. Whitney, as previously reported, nixed a trade to Los Angeles two weeks ago when he tried to coax a three-year contract extension out of the Kings. He could do that because any move needs his consent via his no-trade clause.
Whitney has 45 points (17-28) and a minus-1 rating in 58 games with the Hurricanes this season, and is a valuable and versatile player who can play the point on the power play. He's earning $3.55 million this season. He's actually a player the Senators had on their radar before moving on to Cullen.
"I did inquire about Ray, but at the end of the day, being a center and the versatility with Cullen certainly fits with us right now," Murray said.
Another player who did not move Friday was Marty Turco. Again, not very surprising. A Stars front-office source told ESPN.com that the team was getting "no traction" on the trade market. That's because of his $5.4 million salary. The veteran goalie will be UFA July 1, and he showed again Thursday night in Calgary that he remains an elite No. 1 goalie. It also showed he's letting neither the Kari Lehtonen acquisition nor the trade rumors affect him.
"I'm coping just fine," Turco told ESPN.com on Friday. "I want to win. Period. So we'll just see what happens."
We'll also see how the Philadelphia Flyers feel about Ray Emery's rested hip in two weeks' time and whether they believe they can make a playoff push with Michael Leighton as their possible starter.
Another goalie named Marty stayed put as well. Martin Biron has been looking for a move ever since Rick DiPietro returned to give the Islanders a crowded crease. Biron, UFA July 1 and earning $1.4 million this season, recently went on a conditioning stint in the AHL as he awaited a possible trade. But it'll have to wait until March 1 at the earliest.
"I have been feeling good after playing a couple of games in Bridgeport," Biron told ESPN.com. "Got back into action against Nashville [a 4-3 win Tuesday night], and that was good. So I know I can come in and help a team down the stretch."
Friday's mini-trade deadline wasn't full of activity. More bodies will be on the move around the NHL when the trade freeze thaws March 1.
February, 6, 2010
02/06/10
11:06
PM ET
Before all was said and done Thursday, there were two other teams in the running with New Jersey for Ilya Kovalchuk: the St. Louis Blues and the Philadelphia Flyers. Is it just me, or isn't it surprising the Blues were in it? Jeremy Rutherford had the details in Friday's St. Louis Post-Dispatch.
"We were in on it, but they were asking too much," Blues president John Davidson told ESPN.com on Saturday. "[Thrashers GM] Donnie [Waddell] was driving a real tough bargain."
The Blues are no guarantee to make the playoffs this season, so on the surface, it's kind of surprising to see them go after such a high-profile rental. But the hope was if the Blues got him, he would fall in love with the city like so many other players have over the years and they'd be able to sign him to an extension.
"We have 55 NHL alumni in this city," said Davidson. "Players love it here."
But the price was too high. I'm told the Thrashers wanted T.J. Oshie as part of their package.
The Flyers were in it almost to the end, and that's no surprise at all. They were rumored to be in it all along. There's a lot of pressure on the Flyers to go for it this season; after all, they gave up two first-round picks in the trade that brought in star blueliner Chris Pronger last June, so there's no point turning back now.
But in the end, the Flyers decided Atlanta's price was too high and the Devils were victorious. I believe the Thrashers wanted either rookie forward James van Riemsdyk or impressive young forward Claude Giroux as part of the return package. In both cases, the Flyers balked.
The interesting part? The Flyers have come oh-so-close on a major rental pickup for the second straight year. Last March at the trade deadline, the Flyers came within inches of picking up Jay Bouwmeester before the Florida Panthers decided to keep him through the end of the season. But it went right down to the wire.
One last note on the Kovalchuk saga: Devils GM Lou Lamoriello made a classy move Thursday night, jumping on a private plane and flying to Washington to personally pick up his newly acquired star, along with his agent Jay Grossman and defenseman Anssi Salmela, and bring them back to New Jersey.
Whitney and Wallin updates
If all had gone according to plan, Ray Whitney would have been a Los Angeles King by now and Niclas Wallin would be headed to San Jose.
Instead, they're both still in Carolina. Sources told me on Saturday that both trades were scuttled, as each player used their respective no-trade clauses to try to extract contract extensions from their suitors. (Both players are set to become unrestricted free agents July 1.)
Hey, it's totally within their rights to exercise the no-trade clauses, but you can imagine the frustration of Canes GM Jim Rutherford, who would have had a few assets in his hands had those deals gone through.
So, now what? Let's focus on Whitney, the most valuable rental forward left on the NHL trade market now that Kovalchuk has been moved. Whitney, via his agent J.P. Barry, tried to extract a three-year contract extension from the Kings last week. Given his age (37), the Kings had reservations. Officially, Barry and Kings GM Dean Lombardi haven't spoken since last weekend, although Lombardi ran into Barry's partner at CAA Sports, Pat Brisson, at Thursday night's Ducks-Kings game and I'm told the Whitney conversation was picked up again. Maybe a two-year extension will cut it down the middle?
Whitney has not tailed off in his late 30s; he remains a consistent point producer. My suspicion here is Whitney would likely rather stay somewhere closer to the East. He's got three kids at home, so who can blame the guy? Pittsburgh and Philadelphia certainly fit the bill. The Penguins are in need of a winger. I'm sure Whitney would love a chance to play with Sidney Crosby. But the Pens likely can't afford Whitney's $3.55 million salary under their cap until the last minute, the March 3 trade deadline.
The Flyers? Well, they struck out on Kovalchuk. And it just so happens Flyers coach Peter Laviolette knows very well what Whitney brings to the table from their days together in Carolina.
But if Rutherford doesn't get the deal he wants because he believes his hands were tied, he may just not deal Whitney.
Panthers scuttlebutt
At this point, the Florida Panthers really don't know whether they are buyers or sellers given their bubble position in the playoff race. The remaining games before the Olympics will have a big bearing on that. If they fall back in the race, UFAs-to-be Dennis Seidenberg and Jordan Leopold could both be made available as rentals.
But win or lose over the next week heading into Friday's Olympic roster freeze (the trade deadline before the March 3 deadline), I'm told two players are available from the Panthers no matter the circumstances: forwards Rostislav Olesz and Kamil Kreps. Olesz, who has played well at times this season, has four more years on his deal at a $3.125 million cap hit, while Kreps is set to become a restricted free agent July 1.
I'm told star goalie Tomas Vokoun, who has one year left on his deal at $6.3 million, will not be made available before March 3 regardless of where the Panthers are in the standings. That's a situation the team will revisit come June.
Sid versus Ovi, Part II
Weather permitting, the NHL's best rivalry resumes Sunday afternoon in Washington, where the Capitals host the Pittsburgh Penguins.
A massive snowstorm blanketed the D.C. area Saturday and there was concern about the Penguins getting from Montreal to Washington on Saturday evening after their afternoon game with the Canadiens. The latest itinerary: Pittsburgh was set to fly into Newark, N.J., and then take a four-hour bus ride to D.C.
Assuming there are no other weather delays, let's focus on the second game of the season between the rivals (the Caps won the first meeting 6-3 on Jan. 21). It's a rivalry players and coaches and, yes, GMs, from both teams have genuinely bought into.
"I think so," said Shero. "Obviously, there's Sid and Ovechkin, that's a great rivalry on its own, and I think there's more hype now because we played last year in a seven-game playoff series. Now, Washington has won 13 games in a row and they're probably the best team in the league. So it should be an exciting game."
What makes this rivalry so compelling is the way both franchises have mirrored each other on so many levels, from bottom-feeders to the drafting of great young players to the gradual ascension up the NHL ladder. The Penguins got over the hump first with a trip to the Cup finals in 2008 and a Stanley Cup title in 2009. This season, the Caps seem to have responded to that challenge, putting together the most impressive season in the Eastern Conference and arguably the entire NHL.
"The Caps are an exciting team to watch," said Shero. "They seem to have taken a next step. It makes the rivalry even better between Pittsburgh and Washington and makes for great games. It's all good."
It's also why a league source reiterated Saturday that the Caps-Pens matchup remains the favorite at this point for next season's Winter Classic, although no final decision has been made.
Gretzky's trip
Wayne Gretzky and Mark Messier didn't just drop the puck last weekend in Minsk, Belarus, for the KHL All-Star Game. The two legends also donned the old skates, too. Gretzky and Messier played in a pick-up game with the president of Belarus and some former pro players.
"Yeah, that was neat," Gretzky told ESPN.com this week. "We had a great time. They just built a brand-new rink there in Minsk. It's beautiful. The people of Belarus really treated us like royalty. It was truly an honor to be a guest of the president."
Gretzky also took the time to have breakfast with KHL president Alexander Medvedev.
"He came to my fantasy camp a few years ago, so I had already met him," said Gretzky. "He's an interesting guy. We talked about the growth of the KHL to date and where he sees it going in the future."
The Great One, as most people know, has family roots in Belarus. His ancestors moved from there to Canada. Gretzky was approached by a person in Minsk who had researched the Gretzky family tree. Turns out Gretzky has relatives who live 250 kilometers from Minsk. Gretzky met a woman who was a cousin, his grandfather's niece.
"That was really something," said Gretzky. "My father was so happy to hear that I met some of our relatives. That by itself was worth the trip."
Gretzky also had dinner with former NHL stars Sergei Fedorov, Alexei Yashin and Sergei Zubov, while also taking the time to catch up with Russian greats Slava Fetisov and Vladislav Tretiak.
Quite the trip!
Red Wings
Needing desperately to clear salary cap space, the Red Wings dealt Ville Leino to the Flyers in exchange for defenseman Ole-Kristian Tollefsen and a fifth-round pick in the 2011 draft on Saturday.
But the Wings then immediately put Tollefsen on NHL waivers. If he clears Monday at noon ET, I suspect he'll be sent to the AHL. The sole purpose of the move was to shed Leino's $800,000 cap hit in order to pave the way for the return of star winger Johan Franzen, who has been out four months with a knee injury.
Even with the move, the Wings will still be right up against the cap once Franzen returns. So, if and when defenseman Andreas Lilja is ready to return to the Wings' lineup, Holland will have to shed more salary. Lilja has been out nearly a calendar year with a concussion, but he's playing a couple of games with the AHL's Grand Rapids Griffins.
Detroit's cap issues mean it'll make things more interesting for the Wings in terms of the March 3 trade deadline. The Wings won't have much room to add.
Avs and Svatos
A source told me Saturday that Colorado is shopping around winger Marek Svatos, an unrestricted free agent July 1. His cap hit is $2.05 million. He only has six goals this season, but he's a former 32-goal scorer. He could be a nice consolation prize for teams who lose out on Whitney.
Flyers and Emery
As I reported earlier this season, the Flyers are hoping to reach an extension with goalie Ray Emery before the end of the regular season. Because Emery signed a one-year deal this past summer, the team wasn't allowed to approach his agent until January. That happened in Calgary last week, when Flyers GM Paul Holmgren and Emery's agent, J.P. Barry, chatted briefly and only agreed they would commence preliminary talks after the Olympics. Emery is earning $1.5 million this season, so he'd be looking for a raise.
A final note
I want to send out my heartfelt condolences to Toronto Maple Leafs GM Brian Burke and his family. I've been a parent now for 13 months, and I could not even imagine dealing with the shattering news of losing one's child. We get so caught up in this business with wins and losses and trades and rumors, we often lose sight of what really matters.
I feel absolutely horrible about Friday's tragic death of Brendan Burke. Let's all hope the Burke family can find the strength to get through this.
January, 21, 2010
01/21/10
6:38
PM ET
PITTSBURGH -- With the Vancouver Games just around the corner, the talk in both the Capitals and Penguins' dressing rooms is beginning to pick up on the Olympic front. There are five Olympians on each roster.
"We were in Vancouver last week, so you were able to take in some things," said Pens captain Sidney Crosby, who will spearhead Team Canada's offensive attack.
"You're always trying to anticipate and think what things are going to look like, but I was there. It was good mentally to see that and prepare. But for me, the most important thing is that I'm playing as well as possible going into that. That's really been my focus. When time permits, you kind of let yourself think about it."
Penguins defenseman Brooks Orpik will have to try and shut down his buddies Crosby and Evgeni Malkin when Team USA plays Canada and Russia, respectively.
"You do have to go against them both in practice every day. Geno probably doesn't go 100 percent every day, but Sid obviously does," Orpik said with a smile today. "So you get a little taste of it. Those are guys you want on your side, not playing against. It's definitely a unique thing. You invest so much time here with them and then you go up against them in a tournament ... you can't let up on them, though. They'll make you look stupid. They certainly won't let up on you."
Just as long as everybody gets along after the Olympics, right?
"You definitely think, `What if I injure one of those guys? What's the backlash?' But you can't think that way," said Orpik.
Linemates Alex Ovechkin and Nicklas Backstrom have been a dynamic duo for the Caps for a few years now, but come Vancouver, they'll need to postpone their friendship.
"It's going to be different, but I mean, it's the Olympics," said Backstrom. "We're not friends on the ice there."
The natural rivalry, of course, would be Ovechkin versus Crosby in a gold-medal game, but the Caps superstar wanted none of that talk Wednesday night.
"Why does everyone think Russia and Canada will be in the gold-medal [game]?," said Ovechkin. "I think lots of good teams will be in the tournament. You never know who's going to be the winner over there. Today, [Sweden is] still defending Olympic champions."
Good point, Alex. I asked Backstrom today if he took offense to the fact everyone is talking about a Canada-Russia gold-medal game even though his country is the reigning Olympic champion.
"I think that's good," said Backstrom. "You guys keep talking about Canada and Russia and maybe we can surprise people."
Caps forward Tomas Fleischmann made the Czech Olympic team and likes his team's chances.
"I think everybody is expecting Russia or Canada to win the gold, but I think we have a good chance to fight for the gold," he said. "Our team is really strong. So we'll see."
Of course, not everyone is going to Vancouver. Mike Green was passed over by Team Canada, a tough decision by executive director Steve Yzerman, who went with super sophomore Drew Doughty instead. Green was crushed.
"I'm sort of over it now," said Green. "Obviously I was disappointed at the time, but it is what it is. My main focus this year is the Stanley Cup."
Capitals coach, Bruce Boudreau still can't believe Green wasn't taken.
"He should have been there," said Boudreau. "I don't know what else can be said about him. We all look at Mike Green's faults and everybody jumps on the Duncan Keith bandwagon this year, whereas last year, it was the [Zdeno] Chara bandwagon. But we're in first place mainly because of Mike Green and Alex Ovechkin."
Green leads all NHL blueliners with 50 points (12-38); but most impressive perhaps is his plus-19 rating given the criticism of his defensive play. I think it's clear no matter what he did this season, the Team Canada brain trust wasn't going to forget his lackluster playoff performance last spring.
"That's his only negative thing, is that he didn't have a great playoff, so everybody wants to focus on that," fumed Boudreau. "He's having a tremendous year."
On the Pittsburgh side, Jordan Staal was the big omission. I had him among my Team Canada picks. When Brendan Morrow (upper body) was injured last Saturday, some people wondered if that might open the door for Staal; but it turns out the injury is not serious.
"Coming around good," Morrow told me via text message today. "Plan is best-case Sunday in Denver, if not Wednesday at home against Calgary."