Category archive:

Anaheim Ducks
June, 17, 2010
06/17/10
1:44
PM ET
Two Pacific Division clubs have a lot of balls up in the air these days.
The Anaheim Ducks are awaiting Scott Niedermayer's decision next week, which will have a huge impact on how they proceed this offseason. They're also waiting on Teemu Selanne. The Phoenix Coyotes, meanwhile, have about a dozen free agents to attend to and not a huge budget to work with.
The Ducks
The Ducks have patiently waited for their captain to decide whether he's coming back for another season. That's certainly not a first.
"We'll probably talk on Monday, and we should have a decision by then, hopefully," Ducks GM Bob Murray told ESPN.com on Wednesday.
Murray also spoke with Selanne earlier this week, and the Ducks await a decision on his return for the 2010-11 campaign.
"He's still undecided," Murray said. "We'll talk again early next week."
While no one involved wants to say it, my guess is Selanne will base his decision largely on what Niedermayer does. Both are unrestricted free agents, and despite being linked to other teams in cyberspace rumors, it would appear it's the Ducks or retirement for both players.
"It's probably Anaheim or nothing," Niedermayer's agent, Kevin Epp of Titan Sports Management, told ESPN.com. "Anaheim is where he calls home now, and that's where his family is comfortable."
Murray has a Plan A and Plan B depending on Niedermayer's decision, but obviously Plan A is more appealing.
"He's still one of the best players in the game, and he showed that in the Olympics and he showed that at the end of the year with our hockey team," Murray said of Niedermayer, who turns 37 on Aug. 31. "But besides that, when you're bringing younger players in your organization, there are fewer greater role models in the game than Scotty."
Just like Nicklas Lidstrom and the way he fosters a certain culture and work ethic in Detroit, that's what Niedermayer brings to Anaheim. It's hard to replace a player like that.
Saku Koivu, Selanne's good friend, also is UFA. The Ducks have spoken to his agent, Don Baizley (who also represents Selanne), but there is nothing concrete at this point.
"He had a real good second half for us," Murray said of Koivu. "He's another good role model for the young guys, but we'll see what happens."
In the meantime, Murray said he continues to negotiate with Don Meehan and his Newport Sports firm regarding star top-six winger Bobby Ryan, a restricted free agent. That negotiation doesn't appear to be close to concluding at this point, although neither side would confirm that this week.
"The negotiations continue," Meehan told ESPN.com on Wednesday night, not wanting to say more. Keep an eye on that one.
The Coyotes
The Coyotes, who were the NHL's feel-good story in 2009-10, now need to work if there's going to be any sequel.
Phoenix has about half its roster eligible for free agency. The UFAs include top-four defenseman Zbynek Michalek and top-six forward Matthew Lombardi, as well as veteran blueliners Adrian Aucoin, Derek Morris and Mathieu Schneider, and forwards Lee Stempniak, Taylor Pyatt, Robert Lang and Joel Perrault. The RFAs include top-six forwards Martin Hanzal and Wojtek Wolski, as well as forward Daniel Winnik and defenseman Sami Lepisto.
[Updated: Aucoin signed a two-year, $4 million deal with the Coyotes late Thursday.]
Time to earn that GM award, right, Don Maloney?
"Literally, I've got seven or eight conversations going at once right now," Maloney told ESPN.com on Wednesday.
Maloney is doing this while still working without an owner, but the uncertainty is old hat for him at this point. For now, the NHL still has to green-light Maloney's financial decisions.
"I worked out a budget with [NHL deputy commissioner] Bill Daly, I want to say about 10 days ago," Maloney said.
Neither Maloney nor Daly would tell us what that figure was, but one can guess it's nowhere close to whatever the salary-cap limit will be. Money will be tight again this season, and you can forget the Coyotes being big players come July 1 because of it.
"It's a little better than last year," Maloney said of his budget. "It's enough to put a team on the ice that can win and get to the playoffs. … "It's no different from the other 29 teams; now it's working within that budget to put a winner on the ice. That's the challenge. We had relative success last season, and now it's paying for that success and re-signing the players we'd like to re-sign. It's no different than most teams."
While appreciating their contributions, Maloney said Lang and Schneider will not return. There's interest in the rest of the free-agent gang, but Maloney won't be able to bring them all back.
"We're just getting a sense of where they're at and see what we have to spend and see how many we can re-sign," Maloney said. "We'd like to re-sign most, but in all candor, we won't be able to do that."
So far, he's re-signed top-six forward Scottie Upshall, who was RFA, to a one-year deal worth $2.25 million. In my mind, that's a bargain for a player who led the team in goals before he got hurt this past season. Maloney also re-signed checker Ryan Hollweg, really just a depth move since it was a two-way deal.
There's lot of work to be done with the clock ticking toward July 1, when his free agents will be able to explore other avenues.
"The way the mix and chemistry was on this team, in large part thanks to [coach] Dave Tippett, everyone wants to return," Maloney said. "But what kind of discount can we get? For example, we won't be able to pay Michalek what he can get on the open market, without a question. So what would he take to stay here? And certainly Lombardi is in the same boat.
"I've acknowledged that with them -- 'I know there's more available if you go that route [free agency]. However, you're in a great spot with a great coaching staff; what can we do.' So that's really been the dance the last 10 days or so to try and really come down to a number that makes sense."
When I was in Phoenix during the first round of the playoffs, many players told me how much they loved being in Phoenix and enjoyed each other's company in that dressing room. It was a tight-knit team. But how much is that worth in terms of leaving money on the table?
"We're not going to be able to pay market for most of these players; that's the bottom line," Maloney said. "But there's an attraction to playing here. The players enjoyed it here, I think. We'll find out how much, I guess. Everybody likes to get paid, you know."
We'll find out over the next few weeks just how similar or different the Cinderella Coyotes of 2009-10 will look next season.
March, 22, 2010
03/22/10
4:23
PM ET
One major milestone down, one more to go.
Reaching the 600-goal plateau was one thing. But if Teemu Selanne scores two more goals in the 11 games left on the Anaheim Ducks' regular-season schedule, he will pass Jari Kurri for the most NHL goals ever scored by a Finnish player.
"I know, that will be a huge honor if it's going to happen," Selanne told ESPN.com on Monday. "I had his picture on my wall when I was younger. Now he's a really good friend of mine. It would really be an honor."
Kurri, the clutch triggerman for Wayne Gretzky in Edmonton during the 1980s, knew Selanne would pass him one day.
[+] Enlarge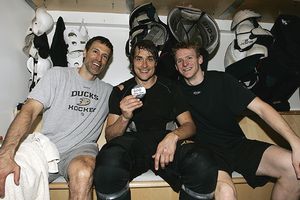 Debora Robinson/NHLI/Getty ImagesScott Niedermayer, left, and Corey Perry, right, both set up Teemu Selanne's historic goal Sunday.
"I accepted that a long time ago already," Kurri, with a chuckle, told me Monday from Helsinki.
From one Finnish hockey legend to another, Kurri was thrilled to wake up Monday and hear his countryman had scored No. 600.
"It's great to see; what a great career," the Hockey Hall of Famer said. "He's been such a great sniper. He loves to score goals. He enjoys that part of the game so much. He's kept himself in great shape. To reach that milestone, not many have done it, and he's a very unique player."
So, the greatest Finnish player ever is … Kurri or Selanne? Surely the 600-goal club puts Selanne into the discussion.
"For sure he should be [in the discussion]," Kurri said, chuckling. "I'm obviously not the guy to answer that question, but he's in that debate for sure. It's up to you guys to answer that. But it doesn't really matter to both of us. I'm just happy for him. He's had tough times in his career with injuries, but he's come back with heart."
Knee problems almost derailed Selanne's career a half decade ago, as his 16-goal campaign in 2003-04 in Colorado was marred by aching knees. But surgery during the 2004-05 lockout gave him a second lease on his career, not to mention 158 more goals.
"The Colorado year, when I was struggling with my knees, I couldn't really play at my level, and it was really hard," Selanne said. "After the knee surgery, when I realized I could use the same speed and play normally, it was an unbelievable feeling. After that, after the lockout, I really have enjoyed this game more than ever. Everything else is just a bonus. When you're driving to the rink with a smile on your face, it's fun."
I can't remember ever seeing Selanne without a smile. There are few players more fun to be around than he.
"He's just a great person," Keith Tkachuk, his teammate in Winnipeg almost two decades ago, told ESPN.com on Monday. "The way he treats people, whether it's guys on his team or fans or people he's met for the first time, he leaves a special feeling with you when you meet him. He was phenomenal to be around."
"Off the ice, he's done a lot for the community and charities and stuff like that," Kurri said. "He always finds the time for fans. Not too many superstars spend so much time with fans like he does."
Selanne and his warm smile arrived in North America 18 years ago, and it didn't take long before the "Finnish Flash" was a sensation in Winnipeg.
"I saw him score 76 goals in a season," said Tkachuk, a fellow rookie on the Jets in 1992-93. "What he did that year was amazing. He caught the league by surprise with his speed. I don't see how it's changed since the time he was 21 to right now. It seems like he hasn't lost a step. He always has found the net in stride, which you only see in the National Hockey League from a few players."
Former standout NHL defenseman Phil Housley racked up 79 assists that season in Winnipeg. You can guess why.
"The Housley-to-Selanne connection happened at least 25 times that year on breakaways alone," Tkachuk said. "It didn't take long for people to figure it out, and they still couldn't stop him, he was so fast. Phil had such great vision, and Teemu would always find an opening. The finish [no pun intended] Teemu had was amazing. It was fun to watch. It was something special."
Selanne fondly remembers that rookie season in Winnipeg.
"You know what, we had an unbelievable line with [Alexei] Zhamnov and Tkachuk, and we had Housley [on defense]," Selanne said. "Hockey was so much fun and so wide-open. I remember [there were] two or three breakaways every game, and I knew if I got open, there were guys that could feed me, and Housley was a huge part of that.
"Over the years, I've been so lucky to have played with so many great players. That made my job so much easier."
How fitting indeed that a fellow legend in Scott Niedermayer got the primary assist on Selanne's 600th goal Sunday night. The two are both headed to the Hockey Hall of Fame one day and, who knows, maybe at the same time if they both retire this summer. Selanne told people around him before this season that this was likely his last, but he's kept a small window open just in case.
"I'm going to decide that after the season," the 39-year-old forward said. "When I have been healthy, I still enjoy every moment. But this year has been tough with all these strange injuries that I've had. It's just unbelievable. It has been tough. I still look at this [season] as my last one, but I think my final decision is going to come a couple of weeks after the season when you just feel normal and you have a better, bigger picture of the whole thing. But in my mind, I had decided earlier that this would be my last year, and I still think the same way."
Tkachuk's future
Because I had Keith Tkachuk on the phone Monday, I made sure to ask him about his own future. Has he made his decision?
"Not yet," the St. Louis Blues forward said. "We're in a crucial run right now, and I don't want any distractions. We'll see what happens after the season."
But it'll be a quick decision right after the season.
"Yes, either way," he said. "We'll see. I'm hoping we're in the playoffs."
March, 18, 2010
03/18/10
11:02
AM ET
The Anaheim Ducks have awoken from their prolonged Olympic break with big wins over a pair of contenders in the San Jose Sharks and Chicago Blackhawks.
Now, the bad news: Anaheim is probably five games and two weeks too late.
The team that beat the top two clubs in the Western Conference this week was nowhere to be found when the NHL season resumed March 1, as the Ducks slumbered to a 0-4-1 record after the Olympic break and, realistically, more than likely killing their postseason chances.
The team that was only two points out of a playoff spot at the break is now eight points out of the final spot in the West and must leapfrog four teams to get there. I figure the Ducks need at least 10 or 11 wins in their final 13 games to have any chance.
How did it get this dire? What happened to the team that entered the break on a 6-2-0 run?
"Well, that's a great question," Ducks GM Bob Murray told ESPN.com on Wednesday. "We came back from the break, and some people were missing for a while. We looked like we did at the start of the season; it was like we never played together before. No team chemistry. And so … why? I have to figure that out."
When Murray says "missing," he doesn't mean injured or scratched, he means players dressed in equipment who are not very effective on the ice. There's a lot of blame to go around on that front, starting with the top line of Ryan Getzlaf, Corey Perry and Bobby Ryan, the three Olympians coming back from Vancouver not equipped with their A-game.
"Scotty Niedermayer was able to come back from the Olympics and raise his level even higher," Murray. said. "Where the heck was everyone else? But it's not only the Olympians; several other veterans have also not picked it up."
I thought Perry and Ryan were much better in Wednesday night's 4-2 win over the Blackhawks, while Getzlaf sat out after banging up his ankle again.
Still, where was this hockey two weeks ago? So sure was Murray (and quite frankly, myself as well) that the Ducks had turned around their season before the break, the Ducks GM had an aggressive trade deadline and added top-4 blueliner Lubomir Visnovsky (who is signed for three more seasons) and veteran defenseman Aaron Ward (UFA July 1).
"As hockey ops go, we think we improved our team," Murray said.
But then … nothing. Losses followed to Colorado, Phoenix, Montreal (shootout), Columbus and Nashville. See you later, boys.
"We just have too many dead, flat games," Murray said. "That game against Columbus? I mean, c'mon. I'm sitting around with 14 other GMs in Florida watching that game [a 5-2 loss] and that was just disgusting."
Two nights earlier, the Ducks were up 3-0 on Montreal before losing 4-3 in a shootout, as the Canadiens scored twice in the third period to tie it.
"There, we looked like we were OK," Murray said. "We had a great first period, we started to see things that we thought we'd see from this team, and then we just start giving the puck away. You would not have wanted to be around me after that Montreal game."
Unless there's a miracle run here, Murray has to sit down after the season and reconsider this roster, one that many thought had been good enough to contend this season. The additions of Saku Koivu and Joffrey Lupul before this season never produced secondary scoring as hoped. (Lupul has been injured for most of the season.) The blue-line corps isn't up to snuff, although Visnovsky was a great pickup. Ryan (RFA July 1) needs a new contract and big raise, while veterans Scott Niedermayer and Teemu Selanne, both UFAs, will once again consider retirement.
There are big decisions looming this summer.
"Yeah, I've got to search for why some of these things happened," Murray said. "I've got to evaluate the whole thing, from top to bottom. There's responsibility everywhere, from my department in hockey ops all the way down."
Having said all that, Murray would be more than happy to eat his words if the Ducks pulled it off over the next three-plus weeks and make the playoffs. It's a long shot, and it's all they've got left.
January, 31, 2010
01/31/10
5:34
PM ET
TORONTO -- People in these parts still remember where they were that day, 18 Januarys ago, when the Toronto Maple Leafs acquired Doug Gilmour from the Calgary Flames.
It was a franchise-altering blockbuster by former GM Cliff Fletcher that will go down as one of the greatest deals by the Leafs, a move that would pave the way for a pair of spring runs no one here will ever forget, either.
[+] Enlarge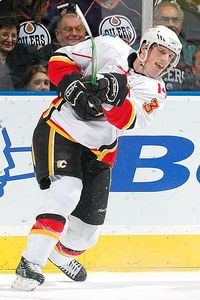 Andy Devlin/NHLI/Getty ImagesLeafs GM Brian Burke on Dion Phaneuf: "This is a guy that likes it crude and likes it black and blue, and that's how we want him to play."
On Sunday, it was current Leafs GM Brian Burke who pulled off the jaw-dropping trade, a seven-player deal with Calgary that has the potential to finally put this franchise back on the right track. Toronto acquired Dion Phaneuf, right winger Fredrik Sjostrom and defenseman Keith Aulie in exchange for defenseman Ian White, center Matt Stajan, left winger Niklas Hagman and right winger Jamal Mayers.
"Putting a seven-player deal together today is unbelievably difficult," Fletcher, now a senior adviser with the Leafs, told ESPN.com on Sunday. "Back when I did that deal with Calgary, there were no financial considerations at all. It was just players for players. This was so much difficult. But we think today we got a player we can really build around in Dion Phaneuf."
The Leafs' shakeup Sunday also included a deal with the Ducks, in which Toronto acquired goalie Jean-Sebastien Giguere for Jason Blake and Vesa Toskala.
But forget all the other players that changed teams in Calgary, Toronto and Anaheim -- this trade is really all about one player, Phaneuf.
"Phaneuf is a gamble, but if he hits, they will win this deal huge," a GM who requested anonymity told ESPN.com on Sunday.
"It's about getting an A-lister, and Burkie did that today," added another unnamed GM.
Now he's got two.
"In the last four months, we've added Phil Kessel, who is an elite player, and Dion Phaneuf, who I view as an elite player," Burke told a packed news conference at Air Canada Centre. "So I think it's a very important day for us."
Listen, Phaneuf doesn't arrive without question marks. He has yet to match the 20 goals from his rookie season in 2005-06 and his exit couldn't come fast enough for members of the Calgary media, who thought he was overrated. But a pair of 17-goal campaigns is a reminder that his potential hasn't gone away -- he's a bona fide offensive blueliner with a physical game that had Burke drooling from the first day he thought he might have a shot at him.
"This is a guy that likes it crude and likes it black and blue, and that's how we want him to play," said Burke.
At first, Burke's advances to Flames GM Darryl Sutter got the cold shoulder. Sutter, as he told me earlier this month, had no desire to move Phaneuf. But an ensuing nine-game winless streak changed all that. The pressure was on for Sutter to make a move, and Burke made sure to exploit that.
This is why Burke was brought in to run this sad-sack franchise -- because he had the reputation and acumen of a GM who could pull off these types of moves. Kessel was also a big acquisition, but a move that right now looks decidedly tilted in favor of the Bruins thanks to a pair of first-round picks going Boston's way, and the June 2010 pick looking like a top-three overall selection.
But there isn't a sense that Burke overpaid this time around. No offense to Stajan, Hagman, Mayers and White, but they are complementary players.
The kicker in all this is some people believe the prospect Toronto got in the deal, the 6-foot-6, 20-year-old defenseman Aulie, is headed for a good NHL career. "He's going to play 15 years in the NHL," said one NHL executive Sunday.
But again, this trade is about Phaneuf, and about Burke showing once again he loves stud blueliners. He added Mike Komisarek and Francois Beauchemin this past summer via free agency. Throw in incumbent Tomas Kaberle, and you've got an impressive top four. Remember Burke's blue line on the Cup-champion Anaheim squad from 2007: Scott Niedermayer, Chris Pronger and Beauchemin.
"My philosophy is building from the net out," said Burke. "It's like pitching in baseball. If you don't have good defensemen, you're not going to win, it doesn't matter how good your forwards are. And it's been a hallmark of all my teams. I try to build up the defense, and that's exactly what happened here today. We added an elite defenseman and a guy that plays our kind of hockey."
The second trade Sunday is of lesser importance, but it does shore up Toronto's goaltending for the next year and a half. Giguere, in my mind, remains a top-level netminder; he's 32, not 38. But his $7 million price tag for next season scared off everyone else in the NHL ever since the Ducks first made him available in June.
Give Ducks GM Bob Murray a ton of credit here; from what I'm told, he stayed on Toronto's tail all season long, urging them to give this some thought. The hook all along was Giguere would be reunited with goalie coach Francois Allaire here in Toronto and could provide Jonas Gustavsson excellent mentorship. After all, it worked in Anaheim with Jonas Hiller.
As I first speculated back in November, the plan was sound, but the Leafs balked at the $7 million salary for next season. Once Anaheim was willing to take back money, things changed. Toronto would have preferred to send Jeff Finger back in the deal along with Toskala, but the Ducks asked for Blake instead. Fair enough. Done deal.
Here's why the Giguere deal is also possibly a good thing for Toronto: The Leafs have no desire to be 29th in the standings again next season. They want Giguere to win games for them. The Bruins, after all, also have Toronto's first-round pick next season. Hence, Giguere has a useful short-term role here.
So, six players emptied their dressing room stalls at the Air Canada Centre on Sunday, and Burke is still working the phones.
"We're still open for business. We're not done," Burke said.
Suddenly hot winger Alexei Ponikarovsky is garnering more and more attention, and he's an unrestricted free agent July 1. He's a goner. So are a few more Leafs. Those deals, however, won't have the impact of Sunday's acquisition of Phaneuf.
This is a franchise that last hosted an NHL playoff game in April 2004. The playoff drought will be at least six seasons and counting. The Cup drought will be 43 years and counting.
On Sunday, what the die-hard members of Leaf Nation finally got for the first time in a long, long time, was hope.
January, 29, 2010
01/29/10
3:14
PM ET
The rumor mill has begun to quietly churn out Bobby Ryan's name because the Anaheim Ducks star winger hasn't signed a contract extension.
So I figured I'd get myself an answer on that one. I did. Ducks GM Bob Murray vehemently quashed that baby.
"Unequivocally, I'm not trading him," Murray told ESPN.com on Friday. "My plan is to get him signed."
The Ducks, via senior vice president of hockey operations David McNab, talked contract with Ryan's veteran agent, Don Meehan of Newport Sports, in November. After about a week of conversations, both sides amicably agreed they would wait until after the season to pick it up again so it wouldn't be a distraction for the 22-year-old Ryan.
"We both agreed to wait, to watch him play and at the appropriate time we'll sit down and have further discussions," Meehan told ESPN.com Friday.
Ryan, who will skate for Team USA in Vancouver next month, leads the Ducks with 24 goals and is third with 43 points (24-19) in 54 games. He is coming out of his entry-level deal and will be a restricted free agent July 1.