Category archive:

Florida Panthers
April, 9, 2010
04/09/10
3:39
PM ET
Much of our focus will be on the playoffs during the next two months, but let's take a look at the teams that were eliminated from postseason play (as of Friday) and the work that lies ahead of them.
We'll catch up with them again at the NHL draft in June, when there could be fireworks involving these very teams. Here are the Eastern Conference nonplayoff teams. I'll be back with the West later today.

Toronto Maple Leafs: Let's get the ugly stuff out of the way so we can move on to more interesting matters. Yes, a 29th-place finish is a PR nightmare; this year's first-round pick was one of two shipped to the Boston Bruins for dynamic winger Phil Kessel this past September. The Bruins have a 67 percent chance of ending up with either Taylor Hall or Tyler Seguin depending on Tuesday's draft lottery.
"I would do it [the trade] again tomorrow," Leafs general manager Brian Burke told ESPN.com on Thursday.
In the meantime, Burke's rebuilding squad took some strides this season despite its finish. The massive turnover, which is far from over, has revealed some promising young building blocks in the likes of center Tyler Bozak, forward Nikolai Kulemin, forward Christian Hanson, goalie Jonas Gustavsson, forward Viktor Stalberg and defenseman Carl Gunnarsson. Sophomore blueliner Luke Schenn recovered from a shaky first half with a solid ending, and highly touted junior forward Nazem Kadri is on the way next season.
The trade for Dion Phaneuf remains a coup for Burke, who solidified his blue line moving forward. But the offense remains a major issue. Kessel needs help, and that's the priority this offseason.
"Our draft is July 1. We're going to go after a free agent, we're going to try and land a top-six forward," Burke said. "We might also do it in advance of July 1 through a trade."
That trade would no doubt involve veteran blueliner Tomas Kaberle, who has one year left on his deal at $4.25 million, a cheap salary for a player of his caliber. Kaberle's no-trade clause will drop this summer, so although Burke says he's not shopping him, the fact that he'll once again have a window with the no-trade clause gone compels him to at least see what is out there.
"We're going to listen," Burke said. "He's a good guy, a good player, and he's at a good number. Those are three good reasons to keep him. But I have to listen [to offers]. We're not going to shop him, but we're going to listen."
The Leafs have about 16 players returning for next season, so there's not actually that much cap room to play with. But just like that, a guy like Jeff Finger (two more years at $3.5 million per) could be dumped in the minors to create cap space. Burke understandably is taking heat for the Kessel deal, but I don't think you can say his team isn't headed in the right direction. Leafs fans certainly hope so. This is Toronto's fifth straight season without a trip to the postseason.

Florida Panthers: Nine straight seasons out of the playoffs. Believe me when I say GM Randy Sexton is on a mission. There will be changes this summer.
Although Sexton would not comment when I asked him about goalie Tomas Vokoun, other league sources believe the Czech goalie will not be back in Florida next season. Vokoun has one year left on his deal at a $5.7 million cap hit. He also has a no-movement clause, but it's expected he will waive it for a chance to win elsewhere. His trade this summer will open up room for highly touted Swedish goalie Jacob Markstrom, the 31st overall pick in the 2008 draft. If he's not ready for the NHL next season, my guess is the Panthers will have Scott Clemmensen share the net with a veteran stopgap like Manny Legace or someone of that nature while they await Markstrom's debut.
Although Sexton didn't want to speculate on his goaltending situation, he did address his problems up front; as of Friday, the team was ranked 28th overall in goals per game.
"We need more consistent scoring," Sexton told ESPN.com on Thursday. "[Stephen] Weiss could end up with 30 goals this year, [Nathan] Horton has scored 30 in the past and [David] Booth has scored 30, so we think all things being equal, those guys come back and give us a solid first line. But we need to add some scoring on our second line. We don't score goals easily."
Booth has been hit hard by two concussions this season, and that has to be a question mark moving forward. Let's hope he can fully recover.
My take? The goal in Florida is to get younger, bigger, more physical and faster. Easier said than done, but that's the goal.

Carolina Hurricanes: The season was lost in a hurry by a brutal start, but the second half of the season revealed what most of us suspected: This was a much better squad than what it showed in October and November.
All it did was make GM Jim Rutherford begin the youth movement a few months earlier, and that will remain the goal during the offseason.
"We'll continue our transition into a younger team," Rutherford told ESPN.com on Thursday. "We have a lot of good young players, and we had planned on doing it this fall regardless of how this season ended up. We started the transition a little earlier than we expected halfway through the year, but in some ways, it's been good for us because we've gotten a look at some of the young players, and they've done real well."
Rutherford moved out several veteran faces before the trade deadline but retained winger Ray Whitney, who is set to become an unrestricted free agent July 1.
"He's been a great player for us for a long time," Rutherford said. "We'll have to take a good look at that in the offseason and see what he wants to do. I still feel he's a good player, so we'll have that meeting sometime in the next few weeks."
In the meantime, the Hurricanes will hope for some luck in Tuesday's draft lottery.
"I'm pretty comfortable anywhere in the top eight," Rutherford said. "We'll get a good player whether we pick anywhere from one to eight."
This team is going young but with good players. Be excited if you're a Hurricanes fan.

Atlanta Thrashers: One playoff berth in 10 seasons is a tough sell on even the most loyal fan. But I truly believe the Thrashers are on the right track with the young players they are building this version of the team around, most notably Evander Kane, Ondrej Pavelec, Niclas Bergfors, Zach Bogosian and Bryan Little.
"The one thing we really like is the direction we're going with the youth of our team, and we're going to continue that," Thrashers GM Don Waddell told ESPN.com on Thursday. "We've got six guys under the age of 24 and another seven guys under the age of 29. We have other young guys who are close and who will compete for jobs next year. We're going to hang in there with those guys and let them grow together here."
Waddell did the best he could with a brutal situation: star winger Ilya Kovalchuk refusing to sign an extension that could have afforded him enough money to buy a small island. So, Waddell got the best possible deal out of New Jersey, and Atlanta actually rallied after Kovalchuk's departure to fall just short of a playoff spot.
Waddell also has four key UFAs to address: defenseman Pavel Kubina and forwards Maxim Afinogenov, Colby Armstrong and Jim Slater.
"The hope would be to sit down and talk with them over the next few weeks," Waddell said. "If there's something that makes some sense, we'd like to bring them back."

Tampa Bay Lightning: I didn't think it was wise to reach out to Bolts GM Brian Lawton because who knows whether he'll be back next season under new owner Jeff Vinik.
This team is enigmatic. Despite having big-time offensive contributors in Steven Stamkos, Martin St. Louis, Vincent Lecavalier and Steve Downie, the Bolts ranked 23rd in NHL offense as of Friday. Bizarre. What's not surprising is where they ranked defensively: 28th in goals against per game. The blue line and goaltending aren't up to snuff, and no matter who is the GM, that's where you start.
But first, Lawton's future.
"Speculation has been rampant since new owner Jeff Vinik took over that general manager Brian Lawton will not be back next season," Tampa Tribune hockey writer Erik Erlendsson wrote to me via e-mail Friday. "Lawton's contract expires on June 1, and by virtue of the fact he has not been given a contract extension, at this point it's not a question of if, but when he will officially be let go. In his two years at the helm of the Lightning, Lawton has found some success with the likes of Downie, Antero Niittymaki and Kurtis Foster.
"But when he's missed, it's been a Reggie Jackson-esque spinning whiff with the acquisition of Andrej Meszaros for Filip Kuba, Alexandre Picard and the first-round pick previously acquired from San Jose for Dan Boyle. And it's difficult not to point at the oustings of Jussi Jokinen (30 goals for Carolina this season), Radim Vrbata (20-goal scorer for Phoenix) and the buyout of Vinny Prospal, who will count against the Lightning salary cap for five more years following a season in which a lack of secondary scoring was a season-long issue."
Coach Rick Tocchet has one year left on his deal and would be in limbo if Lawton is gone. A new GM usually wants his own man.
Downie has had a breakout season and is the key restricted free agent who needs a new deal along with Foster. Niittymaki, who outplayed Mike Smith in net this season, will be a UFA. Meanwhile, my colleague Erlendsson believes that whoever is in charge of the Lightning needs to also look ahead to two players who are one year away from free agency.
"Tampa Bay would be wise to begin extension talks for both Marty St. Louis (unrestricted) and Steven Stamkos (restricted) and not let either of those players go through the season without a contract beyond next season," he said. "St. Louis, in particular, while still productive at age 34 with the third 90-point season of his career, continues to be the heart and soul of the team and a real driving force, not only on the ice but in the locker room."
No shortage of work this offseason in Tampa.

New York Islanders: For the fourth time in five postlockout seasons, the Islanders failed to reach the postseason. It wasn't a surprise this season, as the team focused on a youth movement that has showed signs of promise.
Star rookie John Tavares had a solid first campaign, and his supporting cast is building in strength, led by Kyle Okposo, Matt Moulson, Frans Nielsen, Blake Comeau, Josh Bailey, Jack Hillen, Trevor Gillies and more to come up from the farm system. This on top of a possible good draft pick in June depending on Tuesday's draft lottery.
The key question for the Isles is in goal. Martin Biron will be an unrestricted free agent, Dwayne Roloson has another year left but will be 41 in October and Rick DiPietro played just eight games this season, once again felled by injury (knee). This is GM Garth Snow's biggest offseason decision: who plays goal for him next season and beyond. (Snow did not immediately return a call from ESPN.com.)
Otherwise, believe it or not, Isles fans, the future looks bright (wherever the team ends up playing).
February, 12, 2010
02/12/10
7:23
PM ET
The Chicago Blackhawks made their much-anticipated move for a blueliner before Friday's 3 p.m. ET Olympic trade freeze, but nobody was busier than Bryan Murray.
[+] Enlarge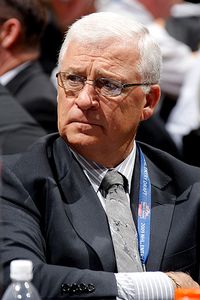 Dave Sandford/NHLI via Getty Images Bryan Murray had a big day Friday, earning a contract extension and making personnel moves.
The veteran Ottawa Senators GM got more job security, made a trade, revealed he made a contract offer to his most important pending free agent, and put another player on waivers.
Murray was rewarded for a surprising season by his Northeast Division-leading Senators with a one-year contract extension and then promptly improved his playoff-bound club with the acquisition of veteran center Matt Cullen from the Carolina Hurricanes.
"I've known Matt since my Anaheim days, and I really felt that he would fit into the room and the chemistry of our team," Murray told ESPN.com. "If he plays with the right people, he should be real productive for us."
The 33-year-old Cullen, who is slated to be an unrestricted free agent July 1, has 40 points (12-28) in 60 games and is actually on pace to eclipse his career high of 49 points. So this might be a sneaky pickup by the red-hot Sens, who have usurped the slumping Buffalo atop the Northeast Division.
The Blackhawks, meanwhile, believe they made a move Friday that helps them this year in their Stanley Cup bid and next year with their salary cap issues. They acquired veteran blueliner Kim Johnsson from the Minnesota Wild as well as prospect Nick Leddy in exchange for defenseman Cam Barker.
Johnsson, 33, will be an unrestricted free agent July 1 and has a $4.85 million salary-cap hit this season. Barker has two more years left on his deal after this season at a $3.08-million cap hit. The Blackhawks need to shed some serious payroll in the offseason to accommodate new contract extensions that kick in next season for Jonathan Toews, Patrick Kane and Duncan Keith. So with Johnsson off the books July 1, they'll save a bit of money there. It's a start. But they'll need to shave off more payroll this summer, around $7 million.
That's what the Hurricanes were doing Friday, shedding more payroll. Cullen, earning $2.8 million this season, is UFA July 1, which put him on Jim Rutherford's hit list. The Hurricanes GM moved Niclas Wallin to San Jose on Sunday and is not done dumping UFAs from his rebuilding squad. Rutherford did a nice job Friday getting a second-round pick in 2010 in exchange for Cullen plus blueliner Alexandre Picard.
Once Dominic Moore went to Montreal on Thursday night for a second-rounder (albeit in 2011), that certainly helped set the market for what Rutherford could get for Cullen, who is also a veteran center and potential UFA.
For Ottawa, the one fly in the ointment in a terrific season to this point has been a 27th-ranked power play. Cullen can help, and even play on the point. Murray figured head coach Cory Clouston wouldn't waste any time using his new toy on the power play.
"We're at the point where our power play hasn't been something that we're really excited about every night and he brings something there," Murray said. "Because of his quickness and intelligence and the fact he sees the ice well, I think Cory will surely try him out there at the point."
Ottawa may not be done ahead of the March 3 NHL trade deadline.
"We're now going to have to look around and talk about a defenseman," Murray said.
The Senators also put Jonathan Cheechoo on waivers Friday. The disappointing winger has another year on his deal at $3.5 million for next season, so I'd be shocked if anyone claimed him. Murray told ESPN.com that Cheechoo would go to AHL Binghamton if he cleared waivers.
And finally, Murray announced he had extended a contract offer to key defenseman Anton Volchenkov, who is slated for unrestricted free agency July 1. Volchenkov's agent Jay Grossman confirmed to ESPN.com that he had received the offer from the Senators and "will be reviewing with Anton soon," he wrote in an e-mail.
Elsewhere, the New York Rangers acquired tough guy Jody Shelley from the San Jose Sharks in exchange for a conditional draft pick. The Rangers had waived tough guy Donald Brashear the previous day.
Also put on waivers Friday was winger Jamie Lundmark by the Calgary Flames and rugged, veteran winger Brad May by the Detroit Red Wings. The Wings eventually need to clear cap space in order to be able to activate defenseman Andreas Lilja and fit his $1.25 million salary under the salary cap, although at this point doctors still haven't cleared Lilja, GM Ken Holland told ESPN.com.
"We're also not sure what's going to happen with Kirk Maltby," Holland added. "He's played through a chronic shoulder injury all season long, and doctors say he'll need surgery if he wants to play next season. But the question is, does he have surgery now or after the season? We are still determining that."
Bottom line, there are possibly more roster moves coming from Detroit depending on what happens with Maltby and Lilja.
The Florida Panthers were working the phones Friday, a day after shipping out Moore. More players may likely move before the March 3 trade deadline, likely including UFAs-to-be Jordan Leopold and Dennis Seidenberg, both blueliners. Forward Rostislav Olesz is also available, although he has four more years on his deal with a $3.125 million cap hit.
Alexei Ponikarovsky remained a Toronto Maple Leaf on Friday, although a Leafs front-office source told ESPN.com that "interest was building" for the winger, a UFA July 1. But it will wait until March 1 at the earliest. He is earning $2.5 million this season, although his salary cap hit is $2.1 million. The 29-year-old Ukrainian had 41 points (19-22) and a plus-5 rating in 60 games with the Leafs this season.
Ray Whitney did not move Friday and that's not that surprising. Rutherford told ESPN.com Friday morning that he was pretty sure the 37-year-old winger, UFA July 1, would be a post-Olympic move. My sense is that will allow more teams that are tight against the salary cap to get into the action, which brings to mind the Pittsburgh Penguins. Whitney, as previously reported, nixed a trade to Los Angeles two weeks ago when he tried to coax a three-year contract extension out of the Kings. He could do that because any move needs his consent via his no-trade clause.
Whitney has 45 points (17-28) and a minus-1 rating in 58 games with the Hurricanes this season, and is a valuable and versatile player who can play the point on the power play. He's earning $3.55 million this season. He's actually a player the Senators had on their radar before moving on to Cullen.
"I did inquire about Ray, but at the end of the day, being a center and the versatility with Cullen certainly fits with us right now," Murray said.
Another player who did not move Friday was Marty Turco. Again, not very surprising. A Stars front-office source told ESPN.com that the team was getting "no traction" on the trade market. That's because of his $5.4 million salary. The veteran goalie will be UFA July 1, and he showed again Thursday night in Calgary that he remains an elite No. 1 goalie. It also showed he's letting neither the Kari Lehtonen acquisition nor the trade rumors affect him.
"I'm coping just fine," Turco told ESPN.com on Friday. "I want to win. Period. So we'll just see what happens."
We'll also see how the Philadelphia Flyers feel about Ray Emery's rested hip in two weeks' time and whether they believe they can make a playoff push with Michael Leighton as their possible starter.
Another goalie named Marty stayed put as well. Martin Biron has been looking for a move ever since Rick DiPietro returned to give the Islanders a crowded crease. Biron, UFA July 1 and earning $1.4 million this season, recently went on a conditioning stint in the AHL as he awaited a possible trade. But it'll have to wait until March 1 at the earliest.
"I have been feeling good after playing a couple of games in Bridgeport," Biron told ESPN.com. "Got back into action against Nashville [a 4-3 win Tuesday night], and that was good. So I know I can come in and help a team down the stretch."
Friday's mini-trade deadline wasn't full of activity. More bodies will be on the move around the NHL when the trade freeze thaws March 1.