Category archive:

Calgary Flames
January, 31, 2010
01/31/10
5:34
PM ET
TORONTO -- People in these parts still remember where they were that day, 18 Januarys ago, when the Toronto Maple Leafs acquired Doug Gilmour from the Calgary Flames.
It was a franchise-altering blockbuster by former GM Cliff Fletcher that will go down as one of the greatest deals by the Leafs, a move that would pave the way for a pair of spring runs no one here will ever forget, either.
[+] Enlarge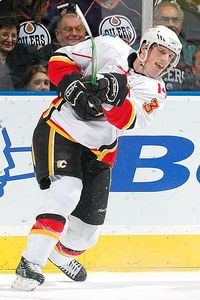 Andy Devlin/NHLI/Getty ImagesLeafs GM Brian Burke on Dion Phaneuf: "This is a guy that likes it crude and likes it black and blue, and that's how we want him to play."
On Sunday, it was current Leafs GM Brian Burke who pulled off the jaw-dropping trade, a seven-player deal with Calgary that has the potential to finally put this franchise back on the right track. Toronto acquired Dion Phaneuf, right winger Fredrik Sjostrom and defenseman Keith Aulie in exchange for defenseman Ian White, center Matt Stajan, left winger Niklas Hagman and right winger Jamal Mayers.
"Putting a seven-player deal together today is unbelievably difficult," Fletcher, now a senior adviser with the Leafs, told ESPN.com on Sunday. "Back when I did that deal with Calgary, there were no financial considerations at all. It was just players for players. This was so much difficult. But we think today we got a player we can really build around in Dion Phaneuf."
The Leafs' shakeup Sunday also included a deal with the Ducks, in which Toronto acquired goalie Jean-Sebastien Giguere for Jason Blake and Vesa Toskala.
But forget all the other players that changed teams in Calgary, Toronto and Anaheim -- this trade is really all about one player, Phaneuf.
"Phaneuf is a gamble, but if he hits, they will win this deal huge," a GM who requested anonymity told ESPN.com on Sunday.
"It's about getting an A-lister, and Burkie did that today," added another unnamed GM.
Now he's got two.
"In the last four months, we've added Phil Kessel, who is an elite player, and Dion Phaneuf, who I view as an elite player," Burke told a packed news conference at Air Canada Centre. "So I think it's a very important day for us."
Listen, Phaneuf doesn't arrive without question marks. He has yet to match the 20 goals from his rookie season in 2005-06 and his exit couldn't come fast enough for members of the Calgary media, who thought he was overrated. But a pair of 17-goal campaigns is a reminder that his potential hasn't gone away -- he's a bona fide offensive blueliner with a physical game that had Burke drooling from the first day he thought he might have a shot at him.
"This is a guy that likes it crude and likes it black and blue, and that's how we want him to play," said Burke.
At first, Burke's advances to Flames GM Darryl Sutter got the cold shoulder. Sutter, as he told me earlier this month, had no desire to move Phaneuf. But an ensuing nine-game winless streak changed all that. The pressure was on for Sutter to make a move, and Burke made sure to exploit that.
This is why Burke was brought in to run this sad-sack franchise -- because he had the reputation and acumen of a GM who could pull off these types of moves. Kessel was also a big acquisition, but a move that right now looks decidedly tilted in favor of the Bruins thanks to a pair of first-round picks going Boston's way, and the June 2010 pick looking like a top-three overall selection.
But there isn't a sense that Burke overpaid this time around. No offense to Stajan, Hagman, Mayers and White, but they are complementary players.
The kicker in all this is some people believe the prospect Toronto got in the deal, the 6-foot-6, 20-year-old defenseman Aulie, is headed for a good NHL career. "He's going to play 15 years in the NHL," said one NHL executive Sunday.
But again, this trade is about Phaneuf, and about Burke showing once again he loves stud blueliners. He added Mike Komisarek and Francois Beauchemin this past summer via free agency. Throw in incumbent Tomas Kaberle, and you've got an impressive top four. Remember Burke's blue line on the Cup-champion Anaheim squad from 2007: Scott Niedermayer, Chris Pronger and Beauchemin.
"My philosophy is building from the net out," said Burke. "It's like pitching in baseball. If you don't have good defensemen, you're not going to win, it doesn't matter how good your forwards are. And it's been a hallmark of all my teams. I try to build up the defense, and that's exactly what happened here today. We added an elite defenseman and a guy that plays our kind of hockey."
The second trade Sunday is of lesser importance, but it does shore up Toronto's goaltending for the next year and a half. Giguere, in my mind, remains a top-level netminder; he's 32, not 38. But his $7 million price tag for next season scared off everyone else in the NHL ever since the Ducks first made him available in June.
Give Ducks GM Bob Murray a ton of credit here; from what I'm told, he stayed on Toronto's tail all season long, urging them to give this some thought. The hook all along was Giguere would be reunited with goalie coach Francois Allaire here in Toronto and could provide Jonas Gustavsson excellent mentorship. After all, it worked in Anaheim with Jonas Hiller.
As I first speculated back in November, the plan was sound, but the Leafs balked at the $7 million salary for next season. Once Anaheim was willing to take back money, things changed. Toronto would have preferred to send Jeff Finger back in the deal along with Toskala, but the Ducks asked for Blake instead. Fair enough. Done deal.
Here's why the Giguere deal is also possibly a good thing for Toronto: The Leafs have no desire to be 29th in the standings again next season. They want Giguere to win games for them. The Bruins, after all, also have Toronto's first-round pick next season. Hence, Giguere has a useful short-term role here.
So, six players emptied their dressing room stalls at the Air Canada Centre on Sunday, and Burke is still working the phones.
"We're still open for business. We're not done," Burke said.
Suddenly hot winger Alexei Ponikarovsky is garnering more and more attention, and he's an unrestricted free agent July 1. He's a goner. So are a few more Leafs. Those deals, however, won't have the impact of Sunday's acquisition of Phaneuf.
This is a franchise that last hosted an NHL playoff game in April 2004. The playoff drought will be at least six seasons and counting. The Cup drought will be 43 years and counting.
On Sunday, what the die-hard members of Leaf Nation finally got for the first time in a long, long time, was hope.
January, 19, 2010
01/19/10
5:30
PM ET
My weekly rant blog seems to bring out the best (worst?) in you puckheads. This week, we even got a ranting poem. Nice!
permster:
Roses are Red
Violets are Blue
I am a Flames fan
And I don't know what to do
One week they dominate
The next week they [expletive]
I find myself sitting around
Thinking what the ...
The three Flames defensemen
Who didn't make Canada's team
Need to look in the mirror
And start playing with a bit of steam
I am writing this in a poem
Because I am depressed
Us blue-collar Albertans
Expect them to play at their best
My take: This is as good as it gets. Great job, permster. And this was written before the 9-1 drubbing in San Jose! This team was rolling a few weeks ago; then, suddenly, it fell into this slump. The problem has been scoring goals. When the team scored four goals Sunday in the loss at Anaheim, it was the first time the Flames scored that many goals in 12 games. Overall, they're ranked 24th in the NHL in offense and 28th on the power play.
You are right to point out the big three on defense. More was expected from Jay Bouwmeester given the contract he received this past summer, more than the two goals and 16 assists he has through 50 games. Dion Phaneuf hasn't been much better (19 points) and Robyn Regehr, though not counted on for offense, has struggled overall.
Up front, Jarome Iginla has been hot and cold, and Olli Jokinen mostly cold. Then, there's a player like David Moss. It was hoped his breakthrough, 20-goal season in 2008-09 would propel him to better things this season, but he has only seven goals. Hey, the talent is here, as shown for most of the season when the Flames were rolling. They'll rebound. But if I were GM Darryl Sutter, I would give the Carolina Hurricanes a call about rental player Ray Whitney, a dependable winger with point-a-game talent who can also spark a power play.
Ludlumtc: Pierre, I was there Saturday in Dallas. How in the heck was that a goal? From every replay I have seen, there is no way that was a goal. The head linesman waved it wasn't a goal initially. The puck appeared like it didn't cross the line entirely. How much longer is the NHL going to continue to not get it right?
My take: I exchanged text messages with both Red Wings coach Mike Babcock and GM Ken Holland on Saturday evening, and they were obviously hot under the collar. Their main frustration is how it got called a goal despite inconclusive video and the fact the referee right beside the net waved it off. They can't believe the referee who was 30 feet away called it a goal and the on-ice call stood.
To be clear, the video guys in Toronto can only overrule the call on the ice if there's conclusive video, and there wasn't, either way. So the guys in Toronto can't be blamed. The mistake, in my mind, was made in making the on-ice call a goal, although NHL Director of Hockey Operations Colin Campbell disagreed with me when we spoke Monday.
"The back ref and the linesman, who probably had the best view of all, made the call," Campbell told me. "The ref near the net didn't have a clear view of it at the end, so that's why he didn't have it as a goal. That linesman had a view of it all the way. And from our end in Toronto, we just didn't have a conclusive picture of the puck crossing the line, therefore, the call on the ice stands as it is. When the officials on the ice make a decision about a goal, we in Toronto have to have conclusive evidence to the contrary if we overturn it."
The bottom line? With the technology we have, you wouldn't think there would be any controversy at all. I suspect the Red Wings will make sure this is on the agenda for the March GMs meeting, although Campbell usually has this on the agenda every year as a general update.
jacketsbearsbucks: What happened to the Jackets? They started off the season right where they left off. Then ... something happened. I really like the Hitch, but something happened to get in their heads, and I can't help but wonder that it's the coaching. This team should have loads of young talent for years to come. And letting Filatov get away ... grrr! Is it true the Hitch can't coach young talent?
My take: No, it is not true. I'm pretty sure there were young players on the team last season when the Jackets surprised everyone in hockey and clinched their first playoff berth in franchise history. The man didn't get stupid overnight. First of all, I think this team overachieved last season, making this season's expectations a dangerous target.
Secondly, and I hate to single out one player in a team sport, but goalie Steve Mason is redefining "sophomore slump." His .889 save percentage is 46th out of 47 NHL goalies and his 3.33 goals-against average is 45th. Listen, I love the kid and he's only 21, but he's clearly the biggest reason for the problems this season. You can't win a game without goaltending. And backup Mathieu Garon is just that, a backup. I think Mason will be fine next season and have the kind of bounce-back campaign Carey Price is having this season in Montreal. Until there's any sign of a turnaround in net, it doesn't matter what the coach does. You can't win in this league without a puck stopper.
Wingsfan4013: OK Pierre, I'm gonna be bouncing all over the place today.
1. Dallas goal against Detroit? Need I explain why this was garbage. Just curious how the ref on the net can say no goal and the guys from Toronto said no conclusive evidence. Yet the play is somehow reversible, and from a referee who was a good distance from the net. When you're 10-20 feet away from the net you CANNOT make a call on a line judgment. Ridiculous. Your opinion?
2. Why no love for Howard in the Vezina talks? I understand he isn't gonna win; it already seems like Miller has staked his claim on the trophy, and rightfully so. Still, Jimmy is a top 5 goalie right now and doesn't even get honorable mention. Is it the lack of games played?
3. Chicago vs. Detroit yesterday. Didn't like the outcome of course, and I think Kronwall, Franzen and Homer would've made a difference, but still a great game. Game of the year maybe. ... but what's your opinion on the rest of the game?
My take: I already dealt with No. 1 above and I missed Sunday's Wings-Hawks game (was too busy watching my Cowboys get their butts handed to them by the Vikings), so I can't comment on No. 3. But let's delve into your second point.
As for Howard and the Vezina, there's no chance. Here's why:
GMs vote for the Vezina. Traditionally, aside from the odd Jim Carey hiccup, the GMs are very conservative with this vote. They largely stick with a senior guy who has done it year after year. That's why Patrick Roy, Dominik Hasek and Martin Brodeur have combined for 13 of the past 20 Vezina Trophies. That, and the fact they're the best three goalies of the modern era. But the point is, even in years where Brodeur might have had inferior numbers to a Roberto Luongo, the GMs almost always vote on seniority. In their eyes, you have to really lose the belt before they award a new heavyweight champion. The tie goes to the reigning champ. Last season was interesting because the long-term injuries to Brodeur and Luongo opened up the race and Tim Thomas deservedly won.
What will truly be interesting this season is if the GMs decide Ryan Miller deserves to take the belt away from Brodeur. Miller is my Vezina front-runner right now, but will the GMs see it the same way? We'll see in June. As for Howard, let's focus on the Calder race, where he's got a shot.
RonjoninMelbourne: Have a vent about Chicago. Obviously they are really good, and will lose many players due to cap issues next year. Why wouldn't they trade some of their soon-to-be pricey assets (Sharp, etc.) for a whole lot of relatively spaced-out draft picks in future years? Yes, they want to win the Cup now, but letting their "other" talent walk for nothing (via UFA) would be a huge mistake. Instead of loading up for this year, Chicago could make a dynasty ... any team with Keith, Seabrook, Kane, Toews and Hossa has the potential to be a Cup contender especially when supplemented with the young talent from additional draft picks. This team could be very good for a very long time.
My take: Ron from Melbourne, I don't blame the Hawks one bit if they decide to wait until the summer to address their cap issues. Because in this CBA, as I wrote in a column last week, your window to win it all may not be that long. The system doesn't allow teams to horde too much talent. So when you have a situation like Chicago this season, where the CBA clock hasn't struck midnight yet, you go for it and live for today because you don't know when you'll be able to assemble this much talent under one roof again. That's why I applauded Penguins GM Ray Shero for acquiring rental player Marian Hossa in March 2008, even if Pittsburgh didn't win the Cup with him. You go for it when your window is there and worry about the future later.
Dutchmoe48: There are more than two teams in N.Y., ESPN. Not so much the Islanders, but everything is about the Rangers with you guys. Is Sheldon Souray a good fit with the Rangers? What about the Sabres? Hello, they are in first place in their division. Lindy Ruff has done a remarkable job in changing the team's makeup. From offensive juggernauts to defensive masters after being purged by free agency. Souray would fit in nicely with the Sabres as a power-play Q.B. More defensemen need to get involved with the offensive rush and Souray does this well. Anyway, I'm not trying to be a homer but check out the other end of the state once in awhile; you might like what you see.
My take: I haven't written a single story on the Rangers this season, but I've done several on the Sabres, including a big feature on Tyler Myers last month. So, you're barking up the wrong tree with me when it comes to the Sabres. The only reason I linked Souray to the Rangers in my weekend blog is because the Rangers are the team my NHL source said was interested in him. Now, move on and enjoy the Sabres' run this season. Could be a fun spring for your team.
deltronamation: LeBrunski, plain and simple, what is the media's problem with neglecting the Western Conference and its obvious dominance? My main point is that nobody thinks Marleau will win the Rocket Richard. The guy is on a torrid pace and is on EASILY the best line in hockey. Does he need to distance himself by 14 goals just to get some recognition? Not recognition for losing the captaincy and playing well either that's cheep. How about he is one of the BEST all around players in hockey right now NO QUESTIONS ASKED. Where would you rank him among forwards THIS YEAR for overall contribution to the game?
My take: I like my new Russian name, cool. There's no question the West will always get less coverage than the East; that's life, not just in sports, but in politics and news in general. It's called population base and media centers. You can't change geography, my friend. Having said that, I try very hard to balance my coverage. You may have noticed I had nine of the top 13 teams from the Western Conference in this week's Power Rankings. You may have also noticed I spent the second and third round of the playoffs last season in Detroit and Chicago. And you may have also noticed this story I wrote on Patrick Marleau last month.
fluxzito: A photo of Kyle Brodziak for the vent page today surely means you will finally talk about the Minnesota Wild, because you really never do ... We hear all about the Hurricanes, Ducks and Oilers for some reason, but nothing on the Wild front. What about the addition of Latendresse, anything to say about that? Will the Wild make any trades, possibly Sykora or Harding? And do you see them sneaking into that 8th spot in the West?
My take: Fluxzito, you are quite right, I haven't done enough on the Wild this season, other than a story on the day of the Guillaume Latendresse- Benoit Pouliot trade. Speaking of which, my good friend and colleague Scott Burnside must have heard your rant from miles away since a big chunk of his Monday column was devoted to analyzing how well that trade has worked out for both clubs. So there you go!
bigt151dw: I have been a die-hard new york islanders fan my entire life, and of course that will never change. I think Garth Snow finally has us headed in the right direction. The youth movement was a solid thing to go with, and i hope it stays that way. I felt a little uneasy though after espn insider said that the islanders are now involved in trade talks with kovalchuk. Now as much as i would love to have ilya on my team (how could any one not want any one of his caliber on your team), i believe garth snow would end up giving away so much of our youth that it some how would come back to bite us. I mean look at the trades former GM Mike Milbury did years ago (acquiring Yashin in exchange for Chara and eventually Spezza, giving away luongo, bertuzzi), i mean the list goes on and on. I think the islanders should just stay put and only shop Marty Biron because that is a very difficult situation for him. Thoughts?
My take: How about those Islanders, eh? Monday's big win over the Devils puts them only two points from fifth in the Eastern Conference. Someone pinch me, it's 1993 all over again! But regarding your Kovalchuk question, I e-mailed someone who would have a pretty big say in whether or not there would be trade talks between Atlanta and the Islanders, and his answer was, "No chance." This source has always done right by me, so I think you can take that to the bank. The big move for the Islanders is to try to turn Martin Biron into a forward, but the Isles may have to settle for a draft pick.
kevrich88: What is with the Marty Turco fire sale? In a recent article, you suggested the Stars should/will move Turco in exchange for youth. If the motive for doing this is because you and others feel he is slipping, I think you would be incorrect. It is the team in front of him, not the goalie, who is getting worse. Last season, Turco faced 1900-plus shots, 300 more than any other season. And with this season a little more than half way through, he is on pace to match that same number. Even with the sharp increase in shots, he still has a sub-3.00 GAA. The Stars should be using Turco as a rock to lean on as they try to rebuild the program. He still has 3-5 good years left.
My take: I don't think Turco's play is slipping. I'm a big fan of the goalie, and Marty and I regularly stay in contact with each other. I'm just reporting what I know, and the Stars have decided they are likely going to get younger in goal moving forward (whether that means Turco is dealt before March 3 or he simply walks away as an unrestricted free agent July 1). I wish nothing but the best for him and agree he has lots of hockey left in him.
SamRum555: Do you think that the Leafs trade for Phil Kessel is going to be worth it in the long run? I mean right now they are bound to be a lottery draft team and they don't even have a pick! Do you think it would have been a better move to keep the draft picks and try and build through young prospects such as Taylor Hall, which the Boston Bruins could easily end up getting with that draft pick? Or maybe Kessel will be a great move in the long run?
My take: Sam, it's pretty simple for me. I do believe Kessel is worth one lottery pick, but not two. The onus is on the Leafs to be a better club next season, and believe me, GM Brian Burke is not done changing this lineup. But if the Leafs somehow stumble next season and Boston gets a pair of top-five picks, then the Bruins win the deal hands-down. We'll see in 18 months or so.
thebearneccesities: As a Canucks fan I have to be disappointed with our consistency. We have a world class goalie, the top scorer in the league (Hank Sedin), an emerging finisher in Burrows, and some solid D from guys like Erhoff and Big Stick Willie Mitchell. We are finally a strong offense yet it seems like we still lack something. Last year we were on the verge of taking a 3-1 lead against the Hawks but we gave up a tight game in Chicago and just imploded. This team is consistent in its lack of consistency and we never seem like a serious threat in the playoffs. Maybe I am just not taking into account our slow start but what can we do to finally take the next step and become a legitimate cup contender? We are on a bit of a hot streak but we were going into the playoffs last year too and we fizzled fast. I like to think that we are a strong team but are we among the best in the conference?
My take: I love the way the Canucks are playing this season and I think they are very much a legitimate Cup contender. Henrik Sedin has been out of this world, and if he played in New York, you'd be hearing much more about him. The Canucks still have cap room to make an impact acquisition at the trade deadline, and I wouldn't be surprised if GM Mike Gillis at the very least inquired to see what the price is for Ilya Kovalchuk. My only concern with the Canucks is something they have no control over -- the schedule. That monster road trip from Jan. 30 to March 10 will be the mother of all tests, even if it is broken in half by the Olympic break. If they can recover from that trip, they'll be a dangerous foe come springtime.
brinnjob: I'm a long time Devils fan, and Patrik Elias fan, and I was sitting right in that section that Elias got hit Saturday at the Pepsi Center. When it happened, I was ready to drop the gloves with Wilson myself. People around me were saying that he hit Elias into the corner of the bench and a million other cheap things. Pepsi Center didn't show any replays, and it happened so fast I had no idea. Later I saw it was a clean hit, an unfortunate one for Elias, but just a solid shoulder check on a skater with his head down.
There's been a lot of talk of cheap hits and getting them out of hockey, so I just assumed that's what happened. This is dangerous, I can only imagine that someone is going to complain about how vicious this hit was, but I want to preemptively answer that it is hits like these that make me love this sport. The medical staff took all sorts of huge precautions, which is certainly good, but made the situation look far more serious. Officially they're not even allowing the word concussion to be used, and while I think Elias will get some much needed rest, he'll be back to help his team continue their bid for the president's trophy. Keep hockey, hockey, I think Elias would agree.
My take: Brinnjob, very nice posting. And good on you for seeing the hit for what it was. Unfortunately, even clean hits can be damaging. I remember how sick I felt when Eric Lindros was drilled by Scott Stevens in Game 7 of the 2000 Eastern Conference finals. Lindros had just returned from another bout with concussion issues before the hit, so I was wondering if his career was done. But you couldn't fault Stevens; it was clean and thunderous hit. It's part of the game.
punwalla: My beef is with the media/fans in other markets. It is clear that Vancouver (I am a Canucks fan) and Burrows are not well-liked by many teams in the NHL nor by a lot of media, but the overall reaction to this incident has been disgusting. We have been called whiners/tattle-tales when we know that other fans would be irate if this had happened to their team. Moreover, the calls for us to shut up and stop whining purposely ignore the evidence in the case in order to satisfy some petty grudge against our team. Most importantly, these desultory insults undermine the legitimate concerns we, as hockey fans, have about the league and the game that we love so much.
I understand that a lot of the media, especially those who are in close contact with the league, would like nothing more than to sweep the incident under the rug and pretend that there is nothing wrong here. But denial over this particular issue will not solve the secrecy, lack of accountability, and inconsistency of the NHL higher-ups that should be a concern for us all. Despite what other fans and media think about Burrows or the Canucks, they should, as fans of the game, take the incident seriously and not be so quick to dismiss our concerns as mere bellyaching. By the way, I am not trying to say that the NHL is wholly corrupt or somehow broken, but rather that there are problems and concerns that if addressed could make the game and the league even better.
My take: Which is why I stick with my take on it from last week. I believe both Burrows and Auger were guilty on some level, and it was not a black-and-white incident at all. There was a lot of gray in this thing, and no one should be fully siding with anyone.