Category archive:

Minnesota Wild
February, 12, 2010
02/12/10
7:23
PM ET
The Chicago Blackhawks made their much-anticipated move for a blueliner before Friday's 3 p.m. ET Olympic trade freeze, but nobody was busier than Bryan Murray.
[+] Enlarge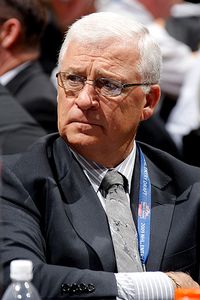 Dave Sandford/NHLI via Getty Images Bryan Murray had a big day Friday, earning a contract extension and making personnel moves.
The veteran Ottawa Senators GM got more job security, made a trade, revealed he made a contract offer to his most important pending free agent, and put another player on waivers.
Murray was rewarded for a surprising season by his Northeast Division-leading Senators with a one-year contract extension and then promptly improved his playoff-bound club with the acquisition of veteran center Matt Cullen from the Carolina Hurricanes.
"I've known Matt since my Anaheim days, and I really felt that he would fit into the room and the chemistry of our team," Murray told ESPN.com. "If he plays with the right people, he should be real productive for us."
The 33-year-old Cullen, who is slated to be an unrestricted free agent July 1, has 40 points (12-28) in 60 games and is actually on pace to eclipse his career high of 49 points. So this might be a sneaky pickup by the red-hot Sens, who have usurped the slumping Buffalo atop the Northeast Division.
The Blackhawks, meanwhile, believe they made a move Friday that helps them this year in their Stanley Cup bid and next year with their salary cap issues. They acquired veteran blueliner Kim Johnsson from the Minnesota Wild as well as prospect Nick Leddy in exchange for defenseman Cam Barker.
Johnsson, 33, will be an unrestricted free agent July 1 and has a $4.85 million salary-cap hit this season. Barker has two more years left on his deal after this season at a $3.08-million cap hit. The Blackhawks need to shed some serious payroll in the offseason to accommodate new contract extensions that kick in next season for Jonathan Toews, Patrick Kane and Duncan Keith. So with Johnsson off the books July 1, they'll save a bit of money there. It's a start. But they'll need to shave off more payroll this summer, around $7 million.
That's what the Hurricanes were doing Friday, shedding more payroll. Cullen, earning $2.8 million this season, is UFA July 1, which put him on Jim Rutherford's hit list. The Hurricanes GM moved Niclas Wallin to San Jose on Sunday and is not done dumping UFAs from his rebuilding squad. Rutherford did a nice job Friday getting a second-round pick in 2010 in exchange for Cullen plus blueliner Alexandre Picard.
Once Dominic Moore went to Montreal on Thursday night for a second-rounder (albeit in 2011), that certainly helped set the market for what Rutherford could get for Cullen, who is also a veteran center and potential UFA.
For Ottawa, the one fly in the ointment in a terrific season to this point has been a 27th-ranked power play. Cullen can help, and even play on the point. Murray figured head coach Cory Clouston wouldn't waste any time using his new toy on the power play.
"We're at the point where our power play hasn't been something that we're really excited about every night and he brings something there," Murray said. "Because of his quickness and intelligence and the fact he sees the ice well, I think Cory will surely try him out there at the point."
Ottawa may not be done ahead of the March 3 NHL trade deadline.
"We're now going to have to look around and talk about a defenseman," Murray said.
The Senators also put Jonathan Cheechoo on waivers Friday. The disappointing winger has another year on his deal at $3.5 million for next season, so I'd be shocked if anyone claimed him. Murray told ESPN.com that Cheechoo would go to AHL Binghamton if he cleared waivers.
And finally, Murray announced he had extended a contract offer to key defenseman Anton Volchenkov, who is slated for unrestricted free agency July 1. Volchenkov's agent Jay Grossman confirmed to ESPN.com that he had received the offer from the Senators and "will be reviewing with Anton soon," he wrote in an e-mail.
Elsewhere, the New York Rangers acquired tough guy Jody Shelley from the San Jose Sharks in exchange for a conditional draft pick. The Rangers had waived tough guy Donald Brashear the previous day.
Also put on waivers Friday was winger Jamie Lundmark by the Calgary Flames and rugged, veteran winger Brad May by the Detroit Red Wings. The Wings eventually need to clear cap space in order to be able to activate defenseman Andreas Lilja and fit his $1.25 million salary under the salary cap, although at this point doctors still haven't cleared Lilja, GM Ken Holland told ESPN.com.
"We're also not sure what's going to happen with Kirk Maltby," Holland added. "He's played through a chronic shoulder injury all season long, and doctors say he'll need surgery if he wants to play next season. But the question is, does he have surgery now or after the season? We are still determining that."
Bottom line, there are possibly more roster moves coming from Detroit depending on what happens with Maltby and Lilja.
The Florida Panthers were working the phones Friday, a day after shipping out Moore. More players may likely move before the March 3 trade deadline, likely including UFAs-to-be Jordan Leopold and Dennis Seidenberg, both blueliners. Forward Rostislav Olesz is also available, although he has four more years on his deal with a $3.125 million cap hit.
Alexei Ponikarovsky remained a Toronto Maple Leaf on Friday, although a Leafs front-office source told ESPN.com that "interest was building" for the winger, a UFA July 1. But it will wait until March 1 at the earliest. He is earning $2.5 million this season, although his salary cap hit is $2.1 million. The 29-year-old Ukrainian had 41 points (19-22) and a plus-5 rating in 60 games with the Leafs this season.
Ray Whitney did not move Friday and that's not that surprising. Rutherford told ESPN.com Friday morning that he was pretty sure the 37-year-old winger, UFA July 1, would be a post-Olympic move. My sense is that will allow more teams that are tight against the salary cap to get into the action, which brings to mind the Pittsburgh Penguins. Whitney, as previously reported, nixed a trade to Los Angeles two weeks ago when he tried to coax a three-year contract extension out of the Kings. He could do that because any move needs his consent via his no-trade clause.
Whitney has 45 points (17-28) and a minus-1 rating in 58 games with the Hurricanes this season, and is a valuable and versatile player who can play the point on the power play. He's earning $3.55 million this season. He's actually a player the Senators had on their radar before moving on to Cullen.
"I did inquire about Ray, but at the end of the day, being a center and the versatility with Cullen certainly fits with us right now," Murray said.
Another player who did not move Friday was Marty Turco. Again, not very surprising. A Stars front-office source told ESPN.com that the team was getting "no traction" on the trade market. That's because of his $5.4 million salary. The veteran goalie will be UFA July 1, and he showed again Thursday night in Calgary that he remains an elite No. 1 goalie. It also showed he's letting neither the Kari Lehtonen acquisition nor the trade rumors affect him.
"I'm coping just fine," Turco told ESPN.com on Friday. "I want to win. Period. So we'll just see what happens."
We'll also see how the Philadelphia Flyers feel about Ray Emery's rested hip in two weeks' time and whether they believe they can make a playoff push with Michael Leighton as their possible starter.
Another goalie named Marty stayed put as well. Martin Biron has been looking for a move ever since Rick DiPietro returned to give the Islanders a crowded crease. Biron, UFA July 1 and earning $1.4 million this season, recently went on a conditioning stint in the AHL as he awaited a possible trade. But it'll have to wait until March 1 at the earliest.
"I have been feeling good after playing a couple of games in Bridgeport," Biron told ESPN.com. "Got back into action against Nashville [a 4-3 win Tuesday night], and that was good. So I know I can come in and help a team down the stretch."
Friday's mini-trade deadline wasn't full of activity. More bodies will be on the move around the NHL when the trade freeze thaws March 1.