Category archive:

Detroit Red Wings
April, 5, 2010
04/05/10
11:23
AM ET
Hello, puckheads. The big man is back at work. One week left in the regular season and then I'm on the playoff trail for two months. Giddy-up!
But first, some random thoughts after spending a week in Florida:
1. The Calder debate
Let me preface this thought by saying I believe Jimmy Howard should be nominated for the Vezina Trophy; his season has been that outstanding. But I do not believe the Detroit Red Wings goalie should win the Calder Trophy. Confused? Don't be. Howard is 26 years old, four years older than Sidney Crosby, who is in his fifth NHL season. Howard is five years older than Patrick Kane, the Calder Trophy winner from two seasons ago.
I understand Howard is eligible for the award (he just slipped under the age cutoff) and he will be among my five choices in my official NHL awards ballot when I fill it out this week, but he won't be my first choice.
Tyler Myers turned 20 this past February. What he's done patrolling the blue line for the Buffalo Sabres has been truly outstanding. Among all his defensive talents, he's third in rookie scoring, trailing only forwards Matt Duchene and John Tavares. The fact he's six years younger than Howard is a big difference in my book. A month ago, I gave Duchene the nod in an early look at the awards, but I've shifted back to Myers.
2. The Montreal net
In the dramatic and pressure-packed market that is Montreal, the goalie story has had incredible legs this season. And it only went up a notch last week. Some Bell Centre fans booed Carey Price last Wednesday after he was named third star in a 2-1 loss to Carolina. Tough crowd, indeed. And those fans are idiots for booing him. The kid has had no offensive support this season. Price's .912 save percentage is better than the likes of Pekka Rinne, Jonathan Quick and Marc-Andre Fleury, a fact that no doubt surprises many of you.
The problem is, the other guy sharing the net with him in Montreal this season happens to have the third-best save percentage in the entire NHL at .927. Jaroslav Halak also doubles Price in the most important stat of all: wins. That's why the Slovak has won out in the season-long battle and will be the starter come playoff time. But what do you do this summer if you're GM Pierre Gauthier?
Both goalies are restricted free agents. There's no room for both to return; neither goalie wants to share the No. 1 job again and, more importantly, the Habs have cap issues and need to re-sign UFA center Tomas Plekanec. So Price or Halak will almost surely be dealt.
Which one do you deal? Halak will turn 25 next month, while Price will be 23 in August. As one NHL scout told me this season, Halak is the better goalie right now, but you can't discount the upside with Price. Tough call for Gauthier. Either way, he needs to recoup some offense in return. And regardless of which netminder the Habs choose to keep, both goalies are No. 1 material for years to come.
3. Which team comes out of the West?
Before I went on vacation, I tweeted that Washington-Vancouver was my choice for a Cup finals matchup at that point. I still like the Caps coming out of the East, but now I have some doubts with the Canucks. And it's not just Roberto Luongo's struggles, but also the defensive-zone mistakes by the blue-line corps in front of him. The Canucks would have benefited greatly from picking up a top-four blueliner at the March 3 trade deadline, but I understand those players don't grow on trees and GM Mike Gillis has made it his mantra that he doesn't like paying for rentals.
I may still stick with the Canucks next week when I am pressed for my official Cup finals prediction, but right now I'm on the fence. The question is, if not Vancouver, then who?
San Jose has played better of late after breaking out of a March swoon that had Sharks fans feeling nervous. Still, the ghosts of playoffs past always give you reason for pause, not to mention the visions of Evgeni Nabokov in the Olympic quarterfinals.
The Blackhawks? There's the team I'd personally love to see in the finals just for esthetic reasons. I mean, can you imagine the roar at the United Center? The league would drool at the chance to get the long-suffering Original Six club in the finals with Jonathan Toews and Patrick Kane taking on either Washington's Alex Ovechkin or Pittsburgh's Crosby. For that league dream to become reality, however, Antti Niemi or Cristobal Huet must turn in two months of hockey not too many people think they have in them. Niemi was solid Sunday against Calgary, but ...
The top three Western powerhouse teams have questions marks ... which has already led several of my media colleagues to jump on the comfortable Hockeytown, USA bandwagon. I mean, why not? The Red Wings are healthy, they're rolling and know what it takes once the calendar flips from April to May. Then, there's Phoenix. Is a trip to the Cup finals that much of a stretch? A bigger stretch than 102 points in the standings when everyone had them in the basement last fall?
I'll take seven more days to dwell on my Western pick, but I'll be doing it without much confidence. Never before has the West been so wide open, and that's great for fans of this game. We're in store for one heck of a postseason.
Nine games in the NHL on Tuesday night, but here are two that really grab my attention: Vancouver at Colorado and Calgary at Detroit.
We've got two Western Conference tilts with playoff implications. I love this time of year.
In Detroit, the Red Wings are coming off huge wins over two Central Division foes, the Nashville Predators and Chicago Blackhawks, and are hanging on to the eighth and final playoff spot in the West by one point ahead of the Flames.
"We just won four out of five," Red Wings coach Mike Babcock told ESPN.com on Monday. "And now, let's be honest, we need to win four out of five again."
Another stretch of games like that and the Wings will leave the eighth spot behind them.
"Nashville came in [Friday]; if they beat us they were going to be seven points up," Babcock said. "I looked today and they were one point up, so suddenly they're in the mix with us. Our job is to get as many teams in the mix ahead of us as much as we can."
After playing more of the season with a lineup absolutely devastated by injuries, with Babcock doing some of the best coaching of his career, now the veteran Wings are healthy and ready for a run. If I were the Coyotes, Kings, Avalanche and Predators, I'd be looking in my rearview mirror.
"We're trying to reel them in, that's what we're trying to do," Babcock said. "In saying all that, are we the team that just won four out of five, or are we the team that was winning one and losing one? I'm not trying to be hard on us one bit, we've been hurt all year long, but our lineup is good enough to play hard every night now."
This is new territory for the Wings. During the past decade, March usually means finding a way to stay focused and not getting too bored with a big lead in their division as they await the playoffs in April. This season, every game in the stretch run will have meaning.
"You're under the gun way more," Babcock said. "And yet what I'd say to you is that I believe in our experience, I believe in us knowing how to play, I believe in the level we can get our game to -- we should be fine. But you and I are both going to watch and find out."
Who's kidding whom? The Wings are going to make the playoffs, and it's likely not going to be as the last seed.
Only two points separate the second-place Colorado Avalanche from the first-place Vancouver Canucks atop the Northwest Division, and we all know how important that division title is with a guaranteed No. 3 seed in the Western Conference playoffs.
For the Avs, a loss in regulation would drop them four back of the Canucks with road-weary Vancouver getting to play 10 of its final 15 games at GM Place. It won't be easy to make up points on the Canucks late in the season, although the two clubs play again on April 6 at Vancouver.
I think this is also a statement game of sorts for the baby-face Avs of Chris Stewart, Matt Duchene and Ryan O'Reilly. Most people right now are handing this division to Vancouver despite such a close race with Colorado. Five months after a surprise start to the season, the youthful Avs still aren't getting genuine respect by everyone around the league. I think Tuesday's game is very meaningful from that standpoint alone.
Drop the puck!
February, 12, 2010
02/12/10
7:23
PM ET
The Chicago Blackhawks made their much-anticipated move for a blueliner before Friday's 3 p.m. ET Olympic trade freeze, but nobody was busier than Bryan Murray.
[+] Enlarge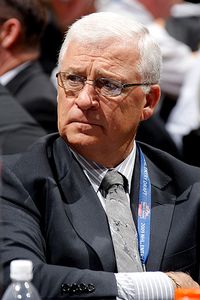 Dave Sandford/NHLI via Getty Images Bryan Murray had a big day Friday, earning a contract extension and making personnel moves.
The veteran Ottawa Senators GM got more job security, made a trade, revealed he made a contract offer to his most important pending free agent, and put another player on waivers.
Murray was rewarded for a surprising season by his Northeast Division-leading Senators with a one-year contract extension and then promptly improved his playoff-bound club with the acquisition of veteran center Matt Cullen from the Carolina Hurricanes.
"I've known Matt since my Anaheim days, and I really felt that he would fit into the room and the chemistry of our team," Murray told ESPN.com. "If he plays with the right people, he should be real productive for us."
The 33-year-old Cullen, who is slated to be an unrestricted free agent July 1, has 40 points (12-28) in 60 games and is actually on pace to eclipse his career high of 49 points. So this might be a sneaky pickup by the red-hot Sens, who have usurped the slumping Buffalo atop the Northeast Division.
The Blackhawks, meanwhile, believe they made a move Friday that helps them this year in their Stanley Cup bid and next year with their salary cap issues. They acquired veteran blueliner Kim Johnsson from the Minnesota Wild as well as prospect Nick Leddy in exchange for defenseman Cam Barker.
Johnsson, 33, will be an unrestricted free agent July 1 and has a $4.85 million salary-cap hit this season. Barker has two more years left on his deal after this season at a $3.08-million cap hit. The Blackhawks need to shed some serious payroll in the offseason to accommodate new contract extensions that kick in next season for Jonathan Toews, Patrick Kane and Duncan Keith. So with Johnsson off the books July 1, they'll save a bit of money there. It's a start. But they'll need to shave off more payroll this summer, around $7 million.
That's what the Hurricanes were doing Friday, shedding more payroll. Cullen, earning $2.8 million this season, is UFA July 1, which put him on Jim Rutherford's hit list. The Hurricanes GM moved Niclas Wallin to San Jose on Sunday and is not done dumping UFAs from his rebuilding squad. Rutherford did a nice job Friday getting a second-round pick in 2010 in exchange for Cullen plus blueliner Alexandre Picard.
Once Dominic Moore went to Montreal on Thursday night for a second-rounder (albeit in 2011), that certainly helped set the market for what Rutherford could get for Cullen, who is also a veteran center and potential UFA.
For Ottawa, the one fly in the ointment in a terrific season to this point has been a 27th-ranked power play. Cullen can help, and even play on the point. Murray figured head coach Cory Clouston wouldn't waste any time using his new toy on the power play.
"We're at the point where our power play hasn't been something that we're really excited about every night and he brings something there," Murray said. "Because of his quickness and intelligence and the fact he sees the ice well, I think Cory will surely try him out there at the point."
Ottawa may not be done ahead of the March 3 NHL trade deadline.
"We're now going to have to look around and talk about a defenseman," Murray said.
The Senators also put Jonathan Cheechoo on waivers Friday. The disappointing winger has another year on his deal at $3.5 million for next season, so I'd be shocked if anyone claimed him. Murray told ESPN.com that Cheechoo would go to AHL Binghamton if he cleared waivers.
And finally, Murray announced he had extended a contract offer to key defenseman Anton Volchenkov, who is slated for unrestricted free agency July 1. Volchenkov's agent Jay Grossman confirmed to ESPN.com that he had received the offer from the Senators and "will be reviewing with Anton soon," he wrote in an e-mail.
Elsewhere, the New York Rangers acquired tough guy Jody Shelley from the San Jose Sharks in exchange for a conditional draft pick. The Rangers had waived tough guy Donald Brashear the previous day.
Also put on waivers Friday was winger Jamie Lundmark by the Calgary Flames and rugged, veteran winger Brad May by the Detroit Red Wings. The Wings eventually need to clear cap space in order to be able to activate defenseman Andreas Lilja and fit his $1.25 million salary under the salary cap, although at this point doctors still haven't cleared Lilja, GM Ken Holland told ESPN.com.
"We're also not sure what's going to happen with Kirk Maltby," Holland added. "He's played through a chronic shoulder injury all season long, and doctors say he'll need surgery if he wants to play next season. But the question is, does he have surgery now or after the season? We are still determining that."
Bottom line, there are possibly more roster moves coming from Detroit depending on what happens with Maltby and Lilja.
The Florida Panthers were working the phones Friday, a day after shipping out Moore. More players may likely move before the March 3 trade deadline, likely including UFAs-to-be Jordan Leopold and Dennis Seidenberg, both blueliners. Forward Rostislav Olesz is also available, although he has four more years on his deal with a $3.125 million cap hit.
Alexei Ponikarovsky remained a Toronto Maple Leaf on Friday, although a Leafs front-office source told ESPN.com that "interest was building" for the winger, a UFA July 1. But it will wait until March 1 at the earliest. He is earning $2.5 million this season, although his salary cap hit is $2.1 million. The 29-year-old Ukrainian had 41 points (19-22) and a plus-5 rating in 60 games with the Leafs this season.
Ray Whitney did not move Friday and that's not that surprising. Rutherford told ESPN.com Friday morning that he was pretty sure the 37-year-old winger, UFA July 1, would be a post-Olympic move. My sense is that will allow more teams that are tight against the salary cap to get into the action, which brings to mind the Pittsburgh Penguins. Whitney, as previously reported, nixed a trade to Los Angeles two weeks ago when he tried to coax a three-year contract extension out of the Kings. He could do that because any move needs his consent via his no-trade clause.
Whitney has 45 points (17-28) and a minus-1 rating in 58 games with the Hurricanes this season, and is a valuable and versatile player who can play the point on the power play. He's earning $3.55 million this season. He's actually a player the Senators had on their radar before moving on to Cullen.
"I did inquire about Ray, but at the end of the day, being a center and the versatility with Cullen certainly fits with us right now," Murray said.
Another player who did not move Friday was Marty Turco. Again, not very surprising. A Stars front-office source told ESPN.com that the team was getting "no traction" on the trade market. That's because of his $5.4 million salary. The veteran goalie will be UFA July 1, and he showed again Thursday night in Calgary that he remains an elite No. 1 goalie. It also showed he's letting neither the Kari Lehtonen acquisition nor the trade rumors affect him.
"I'm coping just fine," Turco told ESPN.com on Friday. "I want to win. Period. So we'll just see what happens."
We'll also see how the Philadelphia Flyers feel about Ray Emery's rested hip in two weeks' time and whether they believe they can make a playoff push with Michael Leighton as their possible starter.
Another goalie named Marty stayed put as well. Martin Biron has been looking for a move ever since Rick DiPietro returned to give the Islanders a crowded crease. Biron, UFA July 1 and earning $1.4 million this season, recently went on a conditioning stint in the AHL as he awaited a possible trade. But it'll have to wait until March 1 at the earliest.
"I have been feeling good after playing a couple of games in Bridgeport," Biron told ESPN.com. "Got back into action against Nashville [a 4-3 win Tuesday night], and that was good. So I know I can come in and help a team down the stretch."
Friday's mini-trade deadline wasn't full of activity. More bodies will be on the move around the NHL when the trade freeze thaws March 1.
February, 6, 2010
02/06/10
11:06
PM ET
Before all was said and done Thursday, there were two other teams in the running with New Jersey for Ilya Kovalchuk: the St. Louis Blues and the Philadelphia Flyers. Is it just me, or isn't it surprising the Blues were in it? Jeremy Rutherford had the details in Friday's St. Louis Post-Dispatch.
"We were in on it, but they were asking too much," Blues president John Davidson told ESPN.com on Saturday. "[Thrashers GM] Donnie [Waddell] was driving a real tough bargain."
The Blues are no guarantee to make the playoffs this season, so on the surface, it's kind of surprising to see them go after such a high-profile rental. But the hope was if the Blues got him, he would fall in love with the city like so many other players have over the years and they'd be able to sign him to an extension.
"We have 55 NHL alumni in this city," said Davidson. "Players love it here."
But the price was too high. I'm told the Thrashers wanted T.J. Oshie as part of their package.
The Flyers were in it almost to the end, and that's no surprise at all. They were rumored to be in it all along. There's a lot of pressure on the Flyers to go for it this season; after all, they gave up two first-round picks in the trade that brought in star blueliner Chris Pronger last June, so there's no point turning back now.
But in the end, the Flyers decided Atlanta's price was too high and the Devils were victorious. I believe the Thrashers wanted either rookie forward James van Riemsdyk or impressive young forward Claude Giroux as part of the return package. In both cases, the Flyers balked.
The interesting part? The Flyers have come oh-so-close on a major rental pickup for the second straight year. Last March at the trade deadline, the Flyers came within inches of picking up Jay Bouwmeester before the Florida Panthers decided to keep him through the end of the season. But it went right down to the wire.
One last note on the Kovalchuk saga: Devils GM Lou Lamoriello made a classy move Thursday night, jumping on a private plane and flying to Washington to personally pick up his newly acquired star, along with his agent Jay Grossman and defenseman Anssi Salmela, and bring them back to New Jersey.
Whitney and Wallin updates
If all had gone according to plan, Ray Whitney would have been a Los Angeles King by now and Niclas Wallin would be headed to San Jose.
Instead, they're both still in Carolina. Sources told me on Saturday that both trades were scuttled, as each player used their respective no-trade clauses to try to extract contract extensions from their suitors. (Both players are set to become unrestricted free agents July 1.)
Hey, it's totally within their rights to exercise the no-trade clauses, but you can imagine the frustration of Canes GM Jim Rutherford, who would have had a few assets in his hands had those deals gone through.
So, now what? Let's focus on Whitney, the most valuable rental forward left on the NHL trade market now that Kovalchuk has been moved. Whitney, via his agent J.P. Barry, tried to extract a three-year contract extension from the Kings last week. Given his age (37), the Kings had reservations. Officially, Barry and Kings GM Dean Lombardi haven't spoken since last weekend, although Lombardi ran into Barry's partner at CAA Sports, Pat Brisson, at Thursday night's Ducks-Kings game and I'm told the Whitney conversation was picked up again. Maybe a two-year extension will cut it down the middle?
Whitney has not tailed off in his late 30s; he remains a consistent point producer. My suspicion here is Whitney would likely rather stay somewhere closer to the East. He's got three kids at home, so who can blame the guy? Pittsburgh and Philadelphia certainly fit the bill. The Penguins are in need of a winger. I'm sure Whitney would love a chance to play with Sidney Crosby. But the Pens likely can't afford Whitney's $3.55 million salary under their cap until the last minute, the March 3 trade deadline.
The Flyers? Well, they struck out on Kovalchuk. And it just so happens Flyers coach Peter Laviolette knows very well what Whitney brings to the table from their days together in Carolina.
But if Rutherford doesn't get the deal he wants because he believes his hands were tied, he may just not deal Whitney.
Panthers scuttlebutt
At this point, the Florida Panthers really don't know whether they are buyers or sellers given their bubble position in the playoff race. The remaining games before the Olympics will have a big bearing on that. If they fall back in the race, UFAs-to-be Dennis Seidenberg and Jordan Leopold could both be made available as rentals.
But win or lose over the next week heading into Friday's Olympic roster freeze (the trade deadline before the March 3 deadline), I'm told two players are available from the Panthers no matter the circumstances: forwards Rostislav Olesz and Kamil Kreps. Olesz, who has played well at times this season, has four more years on his deal at a $3.125 million cap hit, while Kreps is set to become a restricted free agent July 1.
I'm told star goalie Tomas Vokoun, who has one year left on his deal at $6.3 million, will not be made available before March 3 regardless of where the Panthers are in the standings. That's a situation the team will revisit come June.
Sid versus Ovi, Part II
Weather permitting, the NHL's best rivalry resumes Sunday afternoon in Washington, where the Capitals host the Pittsburgh Penguins.
A massive snowstorm blanketed the D.C. area Saturday and there was concern about the Penguins getting from Montreal to Washington on Saturday evening after their afternoon game with the Canadiens. The latest itinerary: Pittsburgh was set to fly into Newark, N.J., and then take a four-hour bus ride to D.C.
Assuming there are no other weather delays, let's focus on the second game of the season between the rivals (the Caps won the first meeting 6-3 on Jan. 21). It's a rivalry players and coaches and, yes, GMs, from both teams have genuinely bought into.
"I think so," said Shero. "Obviously, there's Sid and Ovechkin, that's a great rivalry on its own, and I think there's more hype now because we played last year in a seven-game playoff series. Now, Washington has won 13 games in a row and they're probably the best team in the league. So it should be an exciting game."
What makes this rivalry so compelling is the way both franchises have mirrored each other on so many levels, from bottom-feeders to the drafting of great young players to the gradual ascension up the NHL ladder. The Penguins got over the hump first with a trip to the Cup finals in 2008 and a Stanley Cup title in 2009. This season, the Caps seem to have responded to that challenge, putting together the most impressive season in the Eastern Conference and arguably the entire NHL.
"The Caps are an exciting team to watch," said Shero. "They seem to have taken a next step. It makes the rivalry even better between Pittsburgh and Washington and makes for great games. It's all good."
It's also why a league source reiterated Saturday that the Caps-Pens matchup remains the favorite at this point for next season's Winter Classic, although no final decision has been made.
Gretzky's trip
Wayne Gretzky and Mark Messier didn't just drop the puck last weekend in Minsk, Belarus, for the KHL All-Star Game. The two legends also donned the old skates, too. Gretzky and Messier played in a pick-up game with the president of Belarus and some former pro players.
"Yeah, that was neat," Gretzky told ESPN.com this week. "We had a great time. They just built a brand-new rink there in Minsk. It's beautiful. The people of Belarus really treated us like royalty. It was truly an honor to be a guest of the president."
Gretzky also took the time to have breakfast with KHL president Alexander Medvedev.
"He came to my fantasy camp a few years ago, so I had already met him," said Gretzky. "He's an interesting guy. We talked about the growth of the KHL to date and where he sees it going in the future."
The Great One, as most people know, has family roots in Belarus. His ancestors moved from there to Canada. Gretzky was approached by a person in Minsk who had researched the Gretzky family tree. Turns out Gretzky has relatives who live 250 kilometers from Minsk. Gretzky met a woman who was a cousin, his grandfather's niece.
"That was really something," said Gretzky. "My father was so happy to hear that I met some of our relatives. That by itself was worth the trip."
Gretzky also had dinner with former NHL stars Sergei Fedorov, Alexei Yashin and Sergei Zubov, while also taking the time to catch up with Russian greats Slava Fetisov and Vladislav Tretiak.
Quite the trip!
Red Wings
Needing desperately to clear salary cap space, the Red Wings dealt Ville Leino to the Flyers in exchange for defenseman Ole-Kristian Tollefsen and a fifth-round pick in the 2011 draft on Saturday.
But the Wings then immediately put Tollefsen on NHL waivers. If he clears Monday at noon ET, I suspect he'll be sent to the AHL. The sole purpose of the move was to shed Leino's $800,000 cap hit in order to pave the way for the return of star winger Johan Franzen, who has been out four months with a knee injury.
Even with the move, the Wings will still be right up against the cap once Franzen returns. So, if and when defenseman Andreas Lilja is ready to return to the Wings' lineup, Holland will have to shed more salary. Lilja has been out nearly a calendar year with a concussion, but he's playing a couple of games with the AHL's Grand Rapids Griffins.
Detroit's cap issues mean it'll make things more interesting for the Wings in terms of the March 3 trade deadline. The Wings won't have much room to add.
Avs and Svatos
A source told me Saturday that Colorado is shopping around winger Marek Svatos, an unrestricted free agent July 1. His cap hit is $2.05 million. He only has six goals this season, but he's a former 32-goal scorer. He could be a nice consolation prize for teams who lose out on Whitney.
Flyers and Emery
As I reported earlier this season, the Flyers are hoping to reach an extension with goalie Ray Emery before the end of the regular season. Because Emery signed a one-year deal this past summer, the team wasn't allowed to approach his agent until January. That happened in Calgary last week, when Flyers GM Paul Holmgren and Emery's agent, J.P. Barry, chatted briefly and only agreed they would commence preliminary talks after the Olympics. Emery is earning $1.5 million this season, so he'd be looking for a raise.
A final note
I want to send out my heartfelt condolences to Toronto Maple Leafs GM Brian Burke and his family. I've been a parent now for 13 months, and I could not even imagine dealing with the shattering news of losing one's child. We get so caught up in this business with wins and losses and trades and rumors, we often lose sight of what really matters.
I feel absolutely horrible about Friday's tragic death of Brendan Burke. Let's all hope the Burke family can find the strength to get through this.