Category archive:

Dallas Stars
September, 10, 2010
09/10/10
12:13
PM ET
Of the many training camp subplots around the NHL this month, Jonathan Cheechoo's arrival in Dallas is intriguing to say the least.
Just five years removed from a Rocket Richard Trophy as the NHL's top goal-scorer, Cheechoo arrives at Stars camp next week, hat in hand, on an NHL tryout.
Has there been a more dramatic fall from grace this decade? After scoring 56 goals in 82 games with the San Jose Sharks in 2005-06, Cheechoo tallied 77 goals over his next 272 regular-season games.
[+] Enlarge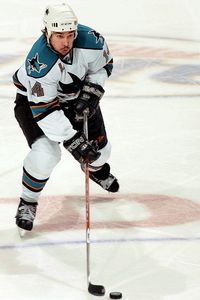 Debora Robinson/NHLI/Getty ImagesJonathan Cheechoo led the league with 56 goals as a member of the San Jose Sharks in 2005-06.
"You don't score 56 goals in this league and not have something to your game," Stars GM Joe Nieuwendyk told ESPN.com on Thursday. "I do know he's a real competitor. I know he's a high-character guy. He's had a few injuries, but he's not that old. He's been through a lot the last couple of seasons. To me it's a no-brainer. We get to look at Jonathan over the next three weeks and make a determination on him."
The 30-year-old native of Moose Factory, Ontario, isn't trying to make the team as a checker. The Stars will take a look at him on the wing with Mike Ribeiro and Brenden Morrow. Talk about a carrot.
"For a goal scorer, you have to get an opportunity," Stars coach Marc Crawford told ESPN.com. "We think we've got an opportunity here to give him a real good look in the preseason and see if he can find some chemistry between him and Ribeiro and Morrow. They need a shooter on that line and he is a shooter. He finds open spots and Ribeiro finds open people. Morrow goes hard to the net and is a hard, hard guy.
"It is a great opportunity, and who knows how it's going to turn out. That'll be determined by Jonathan. I'm hoping that we get a surprise and he's able to make our club and be a contributing guy for us."
It's not a coincidence Crawford is giving Cheechoo the chance.
"I'm pretty familiar with Jonathan," said Crawford, who reached out to a few Senators players this summer to talk about Cheechoo. "My dad was the guy that drafted him in junior in Belleville [OHL]. My brother coached him in Belleville. I would often take the opportunity to say hello to him when we were playing against his teams. When I worked for CBC, I did a playoff series between San Jose and Anaheim two years ago and I thought he was one of the better players for San Jose in that series. He's a competitive guy. So much of every person's ability comes from feeling good about yourself. I know I talked to my brother, especially, and he said that when Jonathan was feeling good, there was a marked difference in how he played."
The Ottawa Senators soured on Cheechoo so much last season, they demoted him to the AHL and then bought out his contract after the season. His downfall in the past five years has largely been pinpointed to a series of injuries. There were also whispers out of Ottawa that Cheechoo could have been in better physical shape.
The Stars, though, should see a motivated Cheechoo, given his career is on the line. And really, what's there to lose for Dallas? If he doesn't have a good camp/preseason, the Stars cut their ties and don't spend a dime on him.
"I think he has some intangibles that really give him an opportunity," said Nieuwendyk. "No. 1, we don't have a ton of right shots in our lineup. It was really evident last year on numerous occasions on the power play, and that's where Jonathan has really thrived over the course of his career. There's going to be an opportunity for him."
If the experiment doesn't pan out, the Stars have plenty of depth up front.
"We're not putting all our eggs in one basket," said Crawford. "We know we've got the fallback plan that Jamie Benn can move in there [alongside Ribeiro and Morrow]. It allows us, though, to keep Jamie at center in preseason, where we'd really love to have him."
The Stars, still in ownership limbo, don't have a lot of money to spend (Nieuwendyk confirmed they'll stick to a $45 million payroll this season), so they have to take gambles like this one.
January, 16, 2010
01/16/10
11:34
PM ET
We all knew Vancouver would generate headlines this season, with the Olympics being there and all. But this past week's entertainment was something else.
First, a fan uses a laser to try to blind Calgary Flames goalie Miikka Kiprusoff on Jan. 9 in Vancouver. Bizarre, to say the least. Then we've got the Stephane Auger/Alexandre Burrows brouhaha Monday night. And finally, Wednesday night's third-period fisticuffs in Minnesota, where Canucks tough guy Darcy Hordichuk reportedly told Wild enforcer Derek Boogaard that Vancouver coach Alain Vigneault told them to go out and fight. Later in the period, Vancouver's Alexandre Bolduc invited Minnesota goon John Scott to a fight that I thought would end the Canucks player's career it was so violently one-sided.
In any case, the allegation that the Canucks coach would have ordered some of his players to fight (denied by all involved in the following days) certainly touches a universal nerve given Vancouver's history with the Steve Moore incident less than six years ago.
A source told ESPN.com on Saturday that league disciplinarian Colin Campbell did phone Vigneault in the aftermath of those allegations. He got the obvious denial, and without any corroborating evidence, what else can the league do?
Meanwhile, on the Auger/Burrows front, Canucks fans won't see the veteran referee anytime soon. It just so happens the schedule didn't have Auger doing a Canucks game during the next two months (the schedule was already drawn up before the incident). But when the league draws up the schedule for the rest of the season, you can bet Auger won't be doing any Canucks games. It's called common sense.
And finally, NHL director of officiating Terry Gregson, who sends out a memo to his on-ice officials every Friday and Monday, had a timely message in Friday's e-mail. I'm told the theme was "communication," and essentially having a sense of the proper etiquette to deal with players and coaches, etc. You can read between the lines on that one.
Selling Souray
In the aftermath of Sheldon Souray's announcing that he would waive his no-trade clause if it helped the Edmonton Oilers and was a move that he could live with, the obvious question is, as one NHL GM told me this week, "But which team can afford him?"
The 33-year-old blueliner entered the weekend with 12 points (3-9) and a minus-14 rating in 30 games this season, not the kind of return you'd expect for a $5.4 million cap hit. On the other hand, he's surrounded by the 2009-10 Oilers, not the 1986-87 Oilers. A change of scenery could very well bring out the old Souray, not to mention the fact his actual salary goes down to $4.5 million for the last two years of his deal (starting next season).
One NHL team I believe has interest is the New York Rangers, a club that could certainly use his offensive touch from the back end. I also think Souray would welcome a move to New York. But to make it happen, the Rangers would need to create cap room by shedding the contracts of either Michal Rozsival ($5 million cap hit; will earn $4 million next season and $3 million in last year in 2011-12) or Wade Redden ($6.5 million cap hit; four more years left after this season at $6.5 million for 2010-11 and 2011-12 and $5 million per year in 2012-13 and 2013-14).
The only real option on Redden is to send him to the AHL and eat his contract. A buyout next summer doesn't solve anything because the Rangers would still carry a $2 million cap hit from him for the next eight years.
I guess if you're New York, there's also the hope that when the next collective-bargaining agreement is negotiated, whether that's after next season or the season after that (the NHL Players' Association has the option of extending it a seventh year), teams will once again get a one-time shot at buying out their worst contract without cap implications, which was the case in August 2005, when the last CBA started. That would be an opportune time for the Rangers to deal with Redden.
Pens update
Contract negotiations have recently resumed between the Pittsburgh Penguins and representatives for defensemen Kris Letang and Sergei Gonchar.
The team isn't close to a deal on either front at this point, but that can change in a heartbeat. Letang will be a restricted free agent July 1, while Gonchar will be unrestricted.
"We met with Kris and his agent [Kent Hughes] recently," Penguins GM Ray Shero told ESPN.com on Friday. "They know where we stand. Kris is a guy obviously we want to re-sign, but we're not there right now."
Gonchar turns 36 in April, so no matter what contract he signs, the entirety of it will count against the salary cap even if he retires before the end of it (according to the 35-and-over rule in the CBA). This makes the term the most significant item on that docket. Shero met with Gonchar's agent, J.P. Barry, over the past week in Calgary.
"We'll just keep the dialogue going," said Shero. "We just need to find a way to get it done hopefully."
There's going to have to be some give from these two players for the Pens to be able to keep both. Interesting situation to say the least.
As for the March 3 trade deadline, the Penguins have their pro scouting meetings this upcoming week. That conversation, along with thoughts from the coaching staff, will help crystallize Shero's deadline game plan. The Pens don't have too much cap room, so Pittsburgh fans shouldn't expect a huge addition.
Preds goalies
So, you're the Nashville Predators and you're having a terrific season as young players step into the lineup again and produce (can this team draft or what?). But you've got a major issue: the two people who wear a goalie mask on your team.
Pekka Rinne and Dan Ellis are both slated for unrestricted free agency.
"I'm going to talk to all our unrestricted guys during the Olympic break," Preds GM David Poile told ESPN.com on Friday. "Both are goaltenders who have been real good for us this year. We've been rotating them pretty much."
But in my mind, you won't see both back next season. The frugal Preds can only afford to keep one of them; and frankly, I don't think these two guys want to share the net again next season. They're both No. 1 material. The question is, will both still be with the team past the March 3 trade deadline? I think that's a question Poile himself hasn't answered yet in his own mind.
If he's able to re-sign one of the two goalies before March 3, then maybe he dangles the other in exchange for some offensive help. But if he's unable to get either one signed to an extension before then, he'd be wise to keep them both past March 3 and give himself time to talk contract with them right up to June 30 at midnight, when he still owns their rights.
Meanwhile, Poile confirmed what John Glennon first reported in The Tennessean on Friday: Coach Barry Trotz had his contract extended through next season.
Senators stuff
Somewhat under the radar is the fact that shutdown blueliner Anton Volchenkov is slated for unrestricted free agency. The Ottawa Senators can't afford to lose him, but contract talks haven't gone anywhere yet.
"I'm hoping this week to have some concrete discussions in that regard," Sens GM Bryan Murray told ESPN.com on Saturday.
Volchenkov, who is represented by Jay Grossman, is earning $3.2 million this season, but his cap number is $2.5 million. He's getting a raise, whether it's in Ottawa or elsewhere.
I've also noticed a few of my media colleagues suggested over the past few weeks that it might be time to look at moving Alexei Kovalev. But Murray told me that was a no-go.
"He's not going anywhere, Alex is a real good player for us," said Murray. "He's a talented player. That's why we signed him. He gives that dimension on the second line that we were looking for."
Kovalev has another year on his deal at $5 million for next season.
Stars goalies
Marty Turco will almost certainly be available come the trade deadline, as my colleague E.J. Hradek also speculated in his Friday blog. The veteran netminder is UFA July 1 and it's probable the Stars, as they continue to get younger, will go in a different direction in goal.
It'll be interesting to see what kind of traction the Stars get on Turco close to the deadline. His cap number is $5.7 million, which is a little rich even with that number being smaller come March 3, with just over a month left in the regular season. But on the flip side, this is a goalie who can bring it when he's dialed in, and he could be a great pickup in the right situation.
Meanwhile, who will play goal for Dallas next season? That will be GM Joe Nieuwendyk's top priority between now and July, to find his next goalie(s). I'm told the Stars did chat with Montreal earlier this season about Jaroslav Halak, but the price has gone up big time now with the Habs netminder putting together a great season. I'm not even sure why the Canadiens would want to move him anymore.
If I was the Stars GM, the goalie I'd look at is the oft-injured but talented Kari Lehtonen in Atlanta. He's a restricted free agent July 1 and he may have maximized the Thrashers' patience. He could be the ideal buy-low gamble for the Stars. Lehtonen (back) has been out pretty much all season, but he may return next weekend on a conditioning assignment with the AHL's Chicago Wolves.
Video review
In the wake of the Pittsburgh TV replay scandal, which cost Philadelphia a goal in a Jan. 7 game and resulted in the suspension of an FSN Pittsburgh producer, the NHL sent out this memo late in the week to all 30 markets:
To All Rightsholders:

The NHL's Video Review process was established to assist in determining the validity of all potential goals. In establishing this process, the Member Clubs have given their support and resources to the League's Hockey Operations Department to ensure that all goals are properly reviewed.

One of the primary resources in the review process is the game telecast. In support of the mandate from the Clubs for video review, it is required that replays from all camera angles be shown in a timely sequence so as to provide the Hockey Operations Department with the best opportunity to review the situation and make a ruling.

In the case of video review, producers and their crews have an obligation to the game, the teams and our fans to provide any and all replays of the play in question. Obviously, under no circumstances should a replay be withheld as to be selective with any sense of prejudice toward one outcome or another.

As television rightsholders to the NHL and its Member Clubs, your understanding of this responsibility is imperative. We appreciate your continued partnership."