Briere doesn't expect another 'funk' in 2008-09
September, 15, 2008
09/15/08
9:49
AM ET
I had a chance to catch up with Flyers center
Daniel Briere
over the weekend. I let him know I had joined ESPN.com. Then, he asked me what everyone does these days: "Do you know if NHL games will be back on ESPN?"
[+] Enlarge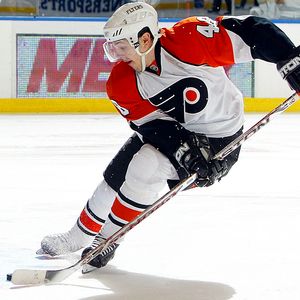 Jim McIsaac/Getty ImagesLast season, Daniel Briere and the Flyers made it to the East finals before falling to the Pens in five games.
We can only hope Danny!
Briere, meanwhile, talked about how different he feels going into this season, knowing fully what to expect with his team. He put so much pressure on himself last season after signing that big contract with Philadelphia. He put up 72 points in 76 regular-season games -- not bad, but down from the 95 he had in Buffalo the previous season. He was tremendous in the playoffs with 16 points, including nine goals, in 17 games as the Flyers surprised many en route to the Eastern Conference finals.
"I think a little bit what happened last year, there were so many things going on and I kind of hit the wall about midway through the season," Briere said. "I got into a funk and it took me a while to get out of it. But the positive is the way I was able to finish, both myself and the team as well, the way we were able to play in the playoffs.
"I'm definitely excited and I think I'll be much better prepared coming into this season, knowing the guys, knowing the coaching staff and just having a chance to already be in place."
Briere started last season playing center alongside star winger Simon Gagne. The two hit if off, but then, as we all know, Gagne suffered his third concussion of last season in February and missed the end of the campaign. If Gagne can return to full health this season, Briere will benefit greatly. (As Gagne works his way back, he was set to take part in an on-ice practice later today with members of the Ed Snider Youth Hockey Foundation.)
"That's the goal," Briere said of reconnecting on the ice with Gagne this season. "Last year, Mike Richards got that instant chemistry with Scott Hartnell and Joffrey Lupul, and Jeff Carter started playing really well with Mike Knuble. So, you don't want to break things that are working.
"So, when Simon went down, I just wasn't able to find any chemistry with anybody else until Vinny Prospal came over [in a trade from Tampa; he's now back in Tampa]. I know it started really well with Simon last year, so I'm not worried about that. I know the chemistry is there and it's just a matter of Simon and I getting back on the ice together again. I know the chemistry will still be there."
My fantasy flop
I'll be back later today with another posting, but I must confess to having the Monday morning blues. As a fantasy football owner of LaDainian Tomlinson (I blew nearly half my budget on him in our auction draft), I can tell you Week 2 was a complete flop in my pool thanks to his injured big toe. I'm just hoping this isn't going to nag him all season long. That would make me quite cranky.