The ultimate hockey fantasy ...
September, 18, 2008
09/18/08
4:01
PM ET
Now that fantasy football drafts have come and gone, it's hockey's turn.
And Ottawa Senators star center Jason Spezza is hearing it from buddies back in his native Toronto. They want the inside scoop.
[+] Enlarge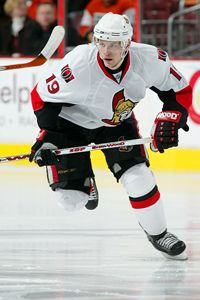 Len Redkoles/NHLI via Getty ImagesMessage to Jason Spezza's buddies: The Sens forward is ranked 50th overall in ESPN.com's Fantasy projections.
"This time of year, you get a lot of hockey pool calls," Spezza laughingly told ESPN.com. "You know, 'Who's looking good? Who's playing on your wing? What's going on?' Everybody is always looking for that edge.
"Now that I've signed here for a long time, they've given up on the thought of me being a Leaf," Spezza added with a chuckle "That's good I got that out of my hair. Now all they worry about is fantasy stuff."
And his advice to buddies?
"Well I said, 'Me and Heater [star winger Dany Heatley] are playing together and they've got [Jesse] Winchester with us right now. So he could be your sleeper.' But, basically, I tell them to go with the safe bets in hockey pools. Pick the Joe Thorntons -- the guys who are consistent every year."
Mr. Spezza, still only 25, is being a little humble. He's put up 90, 87 and 92 points, respectively, in the last three seasons. He'll go high in many pools, I would dare say. In my case, I run a pool of hockey media only -- it's called the Toronto Media Hacks Hockey Pool -- with the emphasis on hacks.
They're pretty much all Toronto-based guys, which makes it easier for draft night, although fellow ESPN.com hockey writer Scott Burnside is in despite his Atlanta residence. He recruited Chris Johnston of The Canadian Press as his partner so draft night isn't an issue.
Fantasy Hockey -- Join Now!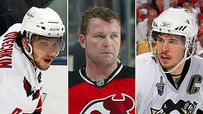 Fantasy hockey gets a face-lift on ESPN.com this season, and we've got all the strategy, analysis and projections you need to make this your most successful season ever. 2008 Draft Kit | Sign up!
The other poolies: Elliotte Friedman (CBC's "Hockey Night In Canada"), Scott Morrison (HNIC/CBC.ca), Al Strachan (The Score TV network/HNIC), Tim Wharnsby (The Globe and Mail), Brian Spear (HNIC), David Shoalts (The Globe and Mail), Chad Walker (The Score), Brian Duff (NHL Network), Matt Runge (Leafs TV), Paul Hunter (Toronto Star), Kevin McGran (Toronto Star) and Mike Zeisberger (Toronto Sun).
Partners Duff and Runge are the defending champs, barely edging yours truly last season on a painful final weekend of the regular season. Zeisberger and Strachan/Morrison tied for the title in 2006-07 and, strangely enough, I won it all in the inaugural season, 2005-06.
It's tons of fun and, needless to say, the ego bashing and message-board hammering is non-stop.
Would I draft Spezza this season? You better believe it. He's going to have a monster year.