Sometimes, an older captain is just as good a choice
October, 9, 2008
10/09/08
10:53
AM ET
Off to Joe Louis Arena this morning to check in with the Cup champs. Hockey's back, puckheads!
But first, I'd like to take the time to applaud the Buffalo Sabres.
One, because they finally named a permanent captain Wednesday and ended their rotating captaincy plan (not a big fan of that).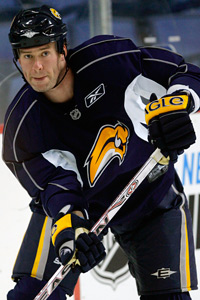 AP Photo/David DupreyThis summer, Craig Rivet was traded to Buffalo from San Jose for a pair of second-round draft picks.
Two, because naming a veteran player like Craig Rivet is a bit of throwback move. I've got nothing against some of the young captains in the league, and certainly Mike Richards and Sidney Crosby are no-brainers to wear the "C" on their teams. But almost every team is doing that now, the Los Angeles Kings being the latest when 23-year-old forward Dustin Brown (heck of a player) got the nod Wednesday.
"It seems like every team is going through the same route and somewhat picking the best player on the team and the youngest guy at that," Rivet told ESPN.com. "For me, all I can say is that I learned from older players. I've learned from guys in the past and that's why I'm at the stage I'm at now."
Rivet, 34, wasn't criticizing the younger captains around the league, but merely pointing out that, in his case, he would not have been ready in his early 20s to take on that challenge. Now, he's a seasoned veteran who can pass on that experience to his younger teammates in Buffalo.
"I think you have to go through your ups and downs and deal with different situations and learn from older players. In today's game, it seems like teams are going in a different route."
Meanwhile, it seems the Sabres players, like me, were somewhat tired of the rotating "C."
"It wasn't really an issue, but I think it was something the players wanted to address," said Rivet. "I think they were looking for a permanent captain. I think for a number of years, [Sabres coach Lindy Ruff] has had a system where he's been rotating it for each month to different players and I think the guys were looking for one guy.
"Lindy had a discussion with everyone and said, 'This year, we'll have one captain and I'd like you guys to vote on it because you guys need to feel comfortable with who you have as captain.' We all voted on it and the next day we found out the guys had chosen me."
Which, on the surface, is interesting for a player who was just acquired in July from San Jose.
"Obviously, my first reaction was that I was a little surprised, with me not being here too long," said Rivet. "But it feels great to represent these guys and the team."
I think Rivet is going to be just fine as captain. One of his best friends in the game has the worn the "C" for a long time in a market where it means a ton -- Saku Koivu of the Montreal Canadiens. The two captains will face off Friday night at Buffalo in their season opener.
"First of all, he's not my friend, he'll be my friend after the game on Friday," Rivet, a longtime Habs blueliner, said with a chuckle. "But yes, I will talk to Saku. Obviously, we're great friends. The two of us have a job right now and we're going to focus on that."