Ray Scapinello, the Cal Ripken of NHL on-ice officials
November, 10, 2008
11/10/08
5:19
PM ET
I don't think Ray Scapinello has stopped smiling since the day he found out he was going into the Hockey Fall of Fame in June.
There he was again today at the Hall, with a wide smile and warm handshake for everyone. Induction Day has arrived.
No linesman has ever worked more games in the history of the NHL -- 2,508 regular season and 426 playoffs. Even more remarkable is that Scapinello never missed an assignment. Not one single game. He's the Cal Ripken of on-ice officials.
[+] Enlarge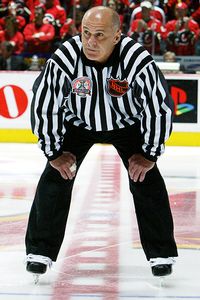 Dave Sandford/Getty ImagesRay Scapinello was inducted into the Hockey Hall with Igor Larionov, Glenn Anderson and Ed Chynoweth.
"I mean, I've done countless games where I got drilled with the puck," Scapinello said today. "I worked a game in Toronto where I picked up 14 stitches. I pulled some groins over the years, but I was fortunate enough to recover on time for the next game.
"My dad was 87 years old and never missed a day's work, so it was in the genes."
Scapinello almost missed one. He can't remember the year, but says one year, bad weather forced his New York-bound flight back to Toronto on a game day when he was scheduled to be on Long Island. He eventually made it, but not in time for the puck drop.
"It was into the first period," Scapinello said. "Richard Trottier was in the area, so he went on the ice for me. I dressed too quickly, [so] when I finally got there, I don't think I even put my shin pads on. Believe it or not, the faceoff was in the corner where the visitors go off on Long Island. I banged on the glass. He looked back at me, dropped the puck, I opened the door, he stepped off, I moved down the ice and threw my arm up for icing. That was the closest I ever came to missing a game."
I wasn't surprised when Scapinello told us who badgered him the most during games over his 33-year career. "Pat Quinn," he said, without hesitation.
Quinn was notorious for hammering away at the officials during games.
"And don't get me wrong; I love Pat Quinn. I put him in the same [elite coaching] category as Scotty Bowman," Scapinello said. "But Pat would start on me from the start of the game until it was over. And he never, ever, ever crossed the line. One night during a TV commercial, he comes down and he's just giving it to me. I looked at him and I said, 'Pat, you are beating me down. I used to think I was a good linesman until I ran into you.' He put his hand into his pocket, started walking away down the bench and then looked back and said, 'Ah, you're a pretty good linesman.'"
Another tough customer was Bob Clarke, when he starred in Philadelphia. Many players liked to banter with the linesmen, but not him.
"Bob Clarke was all business," Scapinello said. "He didn't want me to ask him how his family was. 'You do your job and I'll do my job.' I threw him out of a faceoff one night in Philadelphia and he looked up at me and said, 'Why don't you just drop the puck, nobody came to watch you.' I said, 'Maybe nobody came to watch me, but you're not taking this faceoff.' But what a competitor that man was."
Clarke's Flyers teams of the 1970s kept "Scampy" busy, brawl after brawl after brawl whenever the Broad St. Bullies took to the ice.
"This was prior to the bench-clearing brawls rules," Scapinello said. "Every time there was a whistle, they would mug somebody. They would get into a guy's face.
"When a fight started, you'd look over your shoulder and they all came."
One of his very best career highlights?
"Doing Game 7 of the '94 Cup final at Madison Square Garden," he said.
And it's not just the players that get hyped up for games like that. As an on-ice official, you don't want to make a mistake in such a big game.
"Oh, the pressure leading up to it," Scapinello said. "We went into New York the day before, obviously, and it's just running in your mind. Nobody has to tell you what's at stake. You're nervous all day. You don't sleep and you don't eat very well. But after the anthem is over, you're on automatic pilot."
The stories are endless with Scapinello. He tells many good ones in his book, "Between The Lines: Not-So-Tall Tales From Ray 'Scampy' Scapinello's Four Decades in the NHL."
Nice to see a good man get some deserved recognition.
Honoring Neil Stevens
Speaking of which, I was absolutely honored today to introduce the 2008 winner of the Elmer Ferguson Memorial Award, which is "in recognition of distinguished members of the newspaper profession whose words have brought honor to journalism and to hockey."
Neil Stevens was a truly fantastic choice for the Hockey Hall of Fame honor. My mentor from our years together at The Canadian Press national news agency, Stevens was a vastly talented hockey writer who did it all during his 30-plus years in the business. From covering Bob Gainey as a junior player in Peterborough in the 1970s to the Canada Cups, Olympics, World Championships and Stanley Cup finals, Neil brought his own unique style when he put pen to paper. Shy and humble, he stayed away from the spotlight. He loved his craft and the game of hockey, but didn't care for any kind of attention. That's certainly a rarity in our business.
He had superstar talent without the superstar ego, which makes him a wonderful choice for the award this year.
Veteran play-by-play man Mike Emrick was also honored at the same luncheon today, recipient of this year's Foster Hewitt Memorial Award. Talk about a total no-brainer of a choice. Doc is the voice of hockey in the United States, and a classy guy at that.
Today is the kind of day when you remember why you're in this line of work. Hockey is a great game with many great characters.