Roy ceremony and Grey Cup: Party time in Montreal!
November, 21, 2008
11/21/08
5:00
PM ET
[+] Enlarge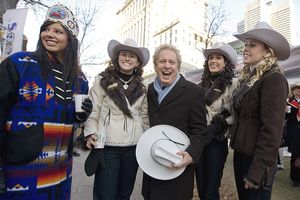 AP Photo/The Canadian Press, Peter McCabeQuebec Liberal leader Jean Charest, center, plus Calgary Stampede Queen Kerri Williamson, far right, and her princesses all turned out for the Grey Cup fun this weekend in Montreal.
We're in Montreal for
Patrick Roy
's big weekend, but is it really the biggest game in town? The Grey Cup, the CFL's championship game, between the host Alouettes and visiting Calgary Stampeders, goes down here Sunday evening. (Did I hear a giggle from my American friends?)
Needless to say, the city is buzzing in more ways than one. Grey Cup week means party, party, party. Add that to the fact that the Habs play the rival Boston Bruins on Saturday night and will honor perhaps their greatest goaltender ever, and you've got a big-time weekend here.
The CFL and the Alouettes, however, were less than impressed that the Canadiens chose this weekend to honor Roy. It obviously takes away from some of the coverage of the big football game. Indeed, the Bruins-Habs game is one of the hottest tickets of the season.
More on St. Patrick
We had a chance to chat with Roy this week for our piece that was posted today. There were two items we ended up not using in the story but thought we should share with our puckheads.
One is that Roy was stunned when I pointed out to him that not a single Canadian NHL team has won the Stanley Cup since he led the Habs to the 1993 title.
"I didn't know that. I'm extremely surprised by that," Roy said. "But I'm sure that will change. There's some good teams in Canada right now, and Montreal is one of them."
Item No. 2 is his own future in coaching. For a few years now, Roy has been behind the bench of the Quebec Remparts, the team he partly owns in the Quebec Major Junior Hockey League. His former teammate Guy Carbonneau is coaching the Canadiens, and we wondered whether the idea to take the next step one day crossed Roy's mind.
"I guess we should never say never, but as we speak, I'm very happy at the junior level," Roy said. "I'm learning a lot. It's a great challenge working with players from [ages] 16 to 20. It's also great giving back to the game. Maybe one day, if I'm ready for a new challenge … but as we speak, I'm happy with what I'm doing."
Prediction? Roy will coach in the NHL one day.
Komisarek out … Bouwmeester, anyone?
It wasn't only Mike Komisarek's pride that got hurt in a fight with Boston's Milan Lucic last week. The Canadiens announced Friday that their star defenseman will be out another four to five weeks with an upper-body injury (read: shoulder).
To me, the Habs already were thin on the blue line, and this really will underline that reality over the next few weeks. As much as Mats Sundin would be a huge bonus to Montreal, even if GM Bob Gainey were able to beat out 10 other teams for the forward's services, Gainey really should focus his efforts on the blue line. Jay Bouwmeester, anyone? We suspect the Panthers might wait until closer to the trade deadline if they're going to move their pending unrestricted free agent, but Gainey should at least inquire.
In the meantime, look for Habs tough guy Georges Laraque to go after Lucic on Saturday night. Whether or not the Bruins sophomore will accept the dance invitation is another matter. He's probably smart not to.