Checking in with the champion Swedes
February, 12, 2009
02/12/09
5:03
PM ET
[+] Enlarge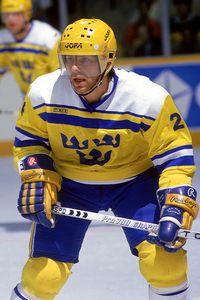 Bruce Bennett Studios/Getty ImagesJust for you, Pierre ... a picture of Mats Naslund (circa 1987).
Russia is the team to beat in Vancouver, according the GM of the defending Olympic hockey champions.
"I think the Russians, in my opinion, are fairly heavy favorites," Swedish Olympic team GM Mats Naslund told ESPN.com this week. "But otherwise, I think Canada, the Czechs and Sweden can win it. It's a tough tournament to pick the winner.
"It's always very close," Naslund added. "You need that extra luck that we had in Torino. There's probably three or four teams that can win it."
We tracked down the former NHL star in his home of Malmo, Sweden. (I had a Mats Naslund poster in my bedroom as a boy in the mid-1980s. I know, TMI …)
We figured it was only fair to have the Swedes heard as part of our Olympic hockey package that was posted today on ESPN.com. It's only natural for us on this continent to be consumed more by Team USA and Team Canada, but let's not forget who won the darn thing in Torino!
The defending Olympic hockey champions head to Vancouver a year from now with the same GM and head coach. Sound familiar?
Hopefully for Sweden, it works out better for them in February 2010 than it did for Team Canada in 2006, when Wayne Gretzky and Pat Quinn saw their squad deliver a disappointing performance four years after winning Olympic gold in Salt Lake City.
Naslund and head coach Bengt Gustafsson are still at the helm after their Torino glory. They also brought home a World Championship gold medal at Riga, Latvia, in 2006.
The question is, how many players will return from the Torino squad? Nicklas Lidstrom, Mats Sundin, Daniel Alfredsson and Peter Forsberg have been the heart of the Tre Kronor for many years and savored Olympic glory in 2006. Will they all be back?
"We do have a couple of guys that have a couple of years more on them," Naslund said. "But hopefully Lidstrom and some of those guys will play next year. Especially Nicklas."
Barring an injury, we don't see why Lidstrom, who turns 39 in April, wouldn't be there. He's got another year left on his contract with the Detroit Red Wings.
"Maybe Forsberg won't be there this time, and maybe Mats Sundin …" Naslund said, his voice trailing off.
Yes, Sundin -- tough to know what to make of him. He turns 38 on Friday and is lately showing signs of hitting his stride after some early struggles in Vancouver. His two-goal game Tuesday night in St. Louis was his best performance yet. But he's an unrestricted free agent again July 1 and hasn't told anybody whether he's playing next season, including Naslund.
"It's tough to look ahead one year from now and know what Mats is going to do," Naslund said. "I don't know what his plans are. I would guess if he struggles, he might retire. But if he ends up having a good season, it might be good for us in terms of the Olympics. We don't know yet."
Things are definitely bleaker for Forsberg, an absolute hero in his native country. His winning shootout goal at the 1994 Lillehammer Olympics against Canada in the gold-medal game remains the stuff of legend in Sweden. But Foppa has been hammered by foot and ankle problems over the last few years. He returned to the ice Thursday night, scoring the opening goal in a 4-1 win for hometown club Modo against Skelleftea in the Swedish elite league, but his Olympic future is very much in doubt.
"It's very hard to say," Naslund said. "He wasn't in top shape in the 2006 Olympics, either. Hopefully he can play here in Sweden this season and then maybe move back to the NHL next year if everything works out for him. But with him, nobody knows."
With or without Forsberg and Sundin, this remains a team that can very much challenge fellow powerhouses Russia and Canada.
[+] Enlarge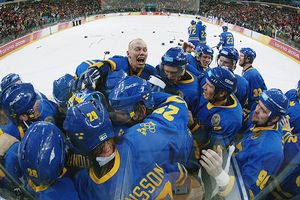 AP Photo/Julie JacobsonSweden beat Finland 3-2 to win the gold medal at the 2006 Olympics in Torino.
"Henrik Zetterberg is probably the best Swedish player right now, and we'll have him," Naslund said. "We have some younger guys like Nicklas Backstrom and Tobias Enstrom, we have some young guys coming up, and so we're looking forward to the Olympics."
Another youngster who could make his Olympic debut along with Backstrom and Enstrom is Dallas Stars winger Loui Eriksson, who is having a breakthrough season.
"Loui Eriksson, we're real anxious to see him on the national team," Naslund said. "Maybe if we're lucky he can come and play in the World Championship this year [in Switzerland]. Otherwise, he hasn't played on the national team that much. … But I would not be surprised if he played in the Olympics. He's probably the most improved youngster we have."
While Atlanta's Enstrom seems to have Naslund's eye for Vancouver 2010, Canucks blueliner Alexander Edler needs to show a little more.
"We've seen a few games, and he played well the last time we saw him," Naslund said. "We wouldn't mind if Vancouver missed the playoffs so we could take a look at him in the World Championship again. … He has a little more to prove to make the Olympic team. But he's a talented player, and if he keeps improving over the next year, maybe he'll be there."
One player who wasn't in Torino but almost surely will be in Vancouver is Detroit Red Wings star Johan Franzen. "The Mule" really didn't break through until last season.
"Yes, especially the playoffs last year," Naslund said. "He played in the World Championship we won in Riga [in 2006], so we're certainly counting on him, too."
In goal, there's no change. New York Rangers star Henrik Lundqvist, who helped deliver the gold in Torino, will be the man again in Vancouver.
"We're not concerned about our goaltending. We think we're in good shape," Naslund said.
Mikael Tellqvist and Stefan Liv were the backups in Torino, but Naslund points to Johan Holmqvist (a former Tampa goalie) as a possible backup to Lundqvist.
"My guess right now is probably Holmqvist," Naslund said. "He's playing in Gothenburg in Sweden this season. He had a real good tournament for us recently. I would think if he had a real good World Championship, he would move back to the NHL next year."
Can the Swedes repeat? Yes. But keep in mind we've had three NHL Olympics with three different winners.