Torts' fiery nature should inject life into Rangers; but what about Avery?
February, 23, 2009
02/23/09
8:25
PM ET
At least John Tortorella won't have to worry about one thing in his return to behind an NHL bench -- no need to throw his goalie under the bus through the media every night.
He inherits one of the best in Henrik Lundqvist after melting down on several occasions over the series of vagabond replacements the Tampa Bay Lightning found for departed Nikolai Khabibulin after the 2004-05 lockout.
"That's one of the great parts of all this, I think Torts will be thrilled because that's a goaltender that he respects a great deal," Jay Feaster, Tortorella's former GM in Tampa Bay, told ESPN.com on Monday. "And he knows the kind of competitor he is. So that position, which John has always said is the most important position, they're in pretty shape right there."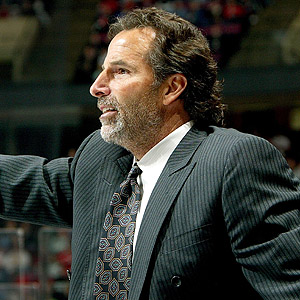 Scott Audette/Getty ImagesJohn Tortorella returns to the NHL after being fired by the Tampa Bay Lightning this past offseason.
Feaster also figures that if Lundqvist has the odd off night, Tortorella will be a little gentler this time around.
"With Torts, it's all about accountability and he holds the goaltenders as accountable as anybody else," Feaster said. "I think it's just a recognition that some of those guys are little bit different and maybe need to be handled differently."
In his time in Tampa Bay, Tortorella succeeded at getting the most out of his star players, such as Vincent Lecavalier, Martin St. Louis, Brad Richards and Dan Boyle. Now, his challenge will be to do the same with Scott Gomez, Chris Drury, Markus Naslund, Wade Redden and Michal Rozsival. Because, so far this season, that expensive core group has not delivered on a consistent basis.
"I know that Scott Gomez and he have a good relationship," Feaster said. "He is the kind of guy that, as a player, if you're not willing to commit to it and do it the way he wants it done, you simply won't play. And I don't care what your pedigree is and how many zeros are at the end of your contract; it doesn't matter who drafted you or signed you, you're not going to play if you don't do it the way he wants it done.
"Everything about John Tortorella is team first. He'll preach team concept from the second he gets in there."
Feaster was not surprised Tortorella is back in the game.
"There's no doubt in my mind that he was going to get another opportunity to coach in the league," said Feaster, who won a Cup with Torts in Tampa in 2004. "I think he's just an outstanding coach. I think it's a great opportunity with the New York Rangers, in a lot of ways, from the standpoint of what this team needs, what the organization expects, being able to deal with the expectations in New York, being able to deal with the New York media. Torts is a home run as far as I'm concerned."
We won't disagree. Torts' fiery disposition should inject some life into a Rangers team that has had no pulse this season.
But although the Rangers hired a good coach Monday, they also fired a good one.
We made our feelings clear on this a few weeks ago, when we could see the writing on the wall for Renney. It bears repeating. This is a good NHL coach. Sure, he deserves some blame for no longer finding ways to get his key guys going, but don't forget what he accomplished in the Big Apple.
For starters, he's the only coach in the Eastern Conference to get his team into the playoffs all three seasons after the lockout (I'm not counting Bryan Murray because he started last season as GM before taking over for fired John Paddock).
That's no small feat in his parity-filled league. Renney not only coached the Blueshirts to their first postseason appearance in 10 years after the lockout but even made it to the second round all three seasons. On a team rich in history, he leaves ranking fourth in all-time Rangers coaching victories (164).
Renney declined an interview Monday, but told ESPN.com via text message that he was OK and that "things will work out."
His dismissal was the easiest form of shock treatment for a Rangers team with some untradable assets. Funny thing is, if Sean Avery does make his way to New York in the next week or so, he won't have the coach behind the bench who got the most out of him in his first stint with the Rangers. Go figure.
While doing work with TSN in Canada this season, Tortorella had been critical of Avery and his antics. But Sather clearly made it sound as if Avery was still in the cards for his team.
"I think over time [Tortorella will] learn to love him just like I have," Sather said on a conference call.
Avery remains property of the Dallas Stars, although he has resumed his hockey career with Hartford of the AHL, New York's affiliate. Avery must become property of the Rangers before the March 4 trade deadline next week to be eligible for the playoffs.
"Sean has not played many games in Hartford," Sather said. "He's worked hard, his attitude has been great. He's done what the coaching staff has asked him to do there. He's been a good contributor. I think the team has won three out of four games. He's got one assist in those four games. Although it's the American League, the NHL is a lot different. But he's coming along, he's got a great attitude and we'll deal with that within the next week, I'm sure."
In December, when the NHL suspended Avery for his comments about other hockey players' dating his former girlfriends, Tortorella said this on TSN:
"The league stepped up here and I think they did the right thing. Enough is enough. He's embarrassed himself, he's embarrassed the organization, he's embarrassed the league and he's embarrassed his teammates, who have to look out for him. Send him home. He doesn't belong in the league."
Torts and Avery? Should be fun, folks.