Tkachuk on move? Thanks to Blues' success, it might not be such a given
February, 27, 2009
02/27/09
12:26
PM ET
Imagine for a second if someone would have told you more than a month ago that the St. Louis Blues would have to seriously consider not dumping Keith Tkachuk at the trade deadline, because, ahem, they were still in the playoff race.
Well, guess what? Thanks to only three regulation losses during a 19-game stretch since Jan. 15, the Blues -- somewhat amazingly -- are three points out of playoff spot and the trade deadline is around the corner.
Who's kidding whom? St. Louis might very well move Tkachuk, an unrestricted free agent July 1, but maybe, just maybe, they might also have to tell him, "Sorry, Keith. Unpack your bags; we're still in it!"
[+] Enlarge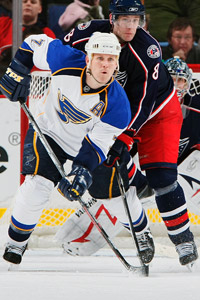 Jamie Sabau/NHLI/Getty ImagesKeith Tkachuk has 35 points in 59 games this season for the Blues.
"Well, that's the idea," Blues president John Davidson told ESPN.com on Thursday night after his team won 3-1 in Dallas. "We'll see what happens."
The Blues' front office recently had talks with Tkachuk's agent, Bob Murray, covering all their bases in either scenario. Since he has a no-trade clause, Tkachuk is very much in the driver's seat.
"We all know where everybody stands," Davidson said. "We're all going to be big boys, and if something happens, so be it. But if it doesn't, we'll keep marching."
What's most interesting is, long ago, most media around the continent wrote off the Blues and had them selling assets by Wednesday's trade deadline. But St. Louis kept winning games and picking up points and winning games … and now, suddenly, an 11-3-5 stretch has St. Louis among a seven-team pack separated by four points and battling for the final two playoff spots in the Western Conference.
"They persevered, they stared down adversity," Davidson said of his players. "Good for them. I'm proud of them."
Proud, because the Blues have been a medical encyclopedia this season. Davidson deserves an honorary M.D. for the medical terms he's learned this year. From the golf cart accident in September that wrecked Erik Johnson's knee to a pair of hip surgeries for Paul Kariya, the Blues have suffered a litany of injuries.
But they're still in it. And it's Feb. 27.
"The market's been revived here, and it's been really satisfying to see the way people have paid attention to us," Davidson said. "And that's very important. You're trying to go in the right direction as a group, and you've got to have the fans' support. You just have to."
On the ice, playing meaningful games entering March is a critical development for the growth of the Blues' young players. Thursday night in Dallas, while veteran goalie Chris Mason was again terrific (as he has been of late), it was rookies T.J. Oshie and Patrik Berglund with the big goals in the third period to win it.
"We're in a race. It's not the playoffs, but it's almost like the playoffs," Davidson said. "And our team is getting invaluable experience with every one of these games because these kids are going through it.
"We're not going to get better as a franchise unless our kids battle through these types of scenarios. You need pressure games; otherwise you'll always wonder what it's like."
Three weeks ago, your humble ESPN.com hockey writer texted a member of the Blues' front office and asked whether they had talked to Tkachuk about a trade. The response was: "No, we haven't. Not ready to give up yet."
Apparently, that's still the case.