Peter DeBoer's first NHL season has been anything but boring
April, 2, 2009
04/02/09
5:32
PM ET
Peter DeBoer's first year behind an NHL bench has been far from boring, his Florida Panthers living life on the playoff bubble for most of the season.
[+] Enlarge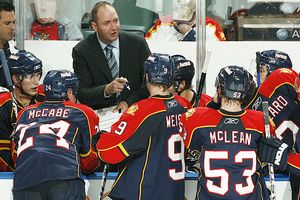 Eliot J. Schechter/NHLI/Getty ImagesPeter DeBoer is in his first season as an NHL coach.
The rookie head coach also showed his moxie by benching No. 1 goalie Tomas Vokoun last week at the most important time of the season and putting his faith in backup Craig Anderson.
Three wins later, it looks like a stroke of genius, as the Panthers' playoff hopes are still alive.
"You know what, it wasn't an easy decision," DeBoer told ESPN.com. "The bottom line was that we had won one of seven [games] at a critical time in the season and we needed to make a change. At that point, you got to go with your gut, and thankfully Craig Anderson has responded like he did earlier in the year when we put him in the same spot."
DeBoer confirmed to us that Anderson would get a fourth straight start Friday night against Atlanta. At this point, it's clear the veteran backup is in until he loses. It's a compelling story.
"Yes, especially when one goalie makes $5.5 million and one makes $550,000," DeBoer said. "It's quite a discrepancy, but we've relied on both of them for extended periods. Without Craig Anderson and the run he went on in November when we were sitting in 29th or 30th place, we would not have survived that stretch. Then Tomas ran with it from the New Year on, and now Andy again at the end. With wins being critical, we've had to rely on him. They've complemented each other nicely."
On the surface, a home date with the eliminated Thrashers on Friday night seems like the perfect tonic, but these are the games that make DeBoer the most nervous. Florida beat an Ottawa team Tuesday night that had been rolling of late and the Thrashers have also put together some wins recently. The teams playing pressure-free hockey are sometimes the most dangerous to play against at this time of year.
"These are scary games to coach," DeBoer said. "Because you get so emotionally charged for the head-to-head games against teams you're directly competing with, the tendency on the players' part is to relax and take a deep breath when you get to a game like this. That's the worst mistake you can make at this time of year. The records of teams like Ottawa and Atlanta indicate that. A key part for us is to play Atlanta the same way we play Philly or the Rangers or Montreal."
After Atlanta, Florida hosts Pittsburgh on Sunday, plays at Philadelphia on April 7 and at Atlanta on April 9 before the season capper against the visiting Caps on April 11. Before we hung up on the phone with DeBoer, we told him we were planning on covering his season finale against Washington.
"Well, hopefully it'll mean something," he said.