What I'll remember most about Joe Sakic
July, 9, 2009
07/09/09
4:15
PM ET
Joe Sakic will be a slam-dunk, first-ballot Hall of Famer in 2012. His accomplishments are too many to list here, his résumé impeccable, his classiness unwavering.
But it's a moment in February 2006 that I want to bring to your attention.
[+] Enlarge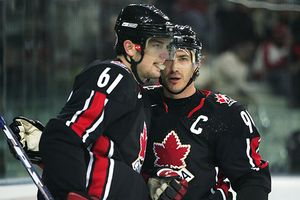 Robert Laberge/Getty ImagesAlthough Team Canada didn't make it past the quarterfinals of the 2006 Olympics, Joe Sakic was a role model for younger players on the team.
It certainly isn't among his career highlights, but it's a snapshot that speaks volumes of the man behind the uniform. Team Canada had just lost in the quarterfinals of the Winter Olympics in Torino, Italy, capping a disappointing, if not embarrassing, tournament that sent the country which invented hockey into total recoil.
But Sakic, the team's captain, spent what must have been more than an hour afterward with the media, trying to answer 100 different versions of the same question: What happened?
Sakic had no real answers; he was in just as much shock as any Canadian hockey fan. The team had simply not come together, but people wanted more than that. He stood there, never once losing his cool, and answered every single question. At the end of it all, I even remember him asking us if we were sure there was nothing else we needed.
You see, the great ones aren't solely judged on their accomplishments and how they are when things go well. I'm always intrigued by how they are during the lowest of lows. Just like Jean Beliveau, Gordie Howe and Wayne Gretzky, Sakic was pure class, win or lose, at all times.
Four years earlier, the same Sakic was central in Canada's most important achievement on the international hockey scene since the 1972 Summit Series. Funny how the memory is selective in what it wants to remember. Ask most hockey fans about the 2002 Salt Lake City Games, when Canada ended its 50-year gold-medal drought, and most people will bring up Mario Lemieux's last hurrah, Steve Yzerman's courageous play on essentially one leg, Martin Brodeur's play in goal or young Jarome Iginla's clutch performance.
But it was Sakic who was named tournament MVP after leading the event with seven points. In the gold-medal win over the host United States, Sakic was tremendous in a two-goal, two-assist performance under the kind of pressure few Canadian players will ever have to face.
"The big thing I remember was his leadership," Pat Quinn, head coach of that Olympic team, told ESPN.com on Thursday. "That was really the key to our gold medal. Even though he was there again in 2006, we didn't have enough Joe Sakics to be strong enough and come together as a team. But his leadership in 2002, along with Yzerman and Lemieux, they really pulled that team together, especially when it came to issues like ice time.
"We had some young stars on that team that figured they could play their own way. Joe was a guy willing to make his commitment to the team; he didn't insist on being a star. He wanted to win and that's all that mattered to him."
Quinn remembers switching lines after Canada's slow start in Salt Lake and Sakic's reaction.
"I put Simon Gagne and Jarome Iginla with him," recalled Quinn. "At practice, he came to me and said, 'Thank you, these kids are awesome.' And they became our best line."
Personally, I'll never forget Sakic's goal with less than two minutes remaining in the game, a breakaway effort on Mike Richter that slammed the door shut. My media seat was just a few rows up from the ice at the E-Center and you could hear Sakic's emotional outburst after scoring the goal. Won't soon forget that one.
After the game? All I can remember was Sakic talking about other players on the team.
"He's one of those leaders that doesn't need to be the big shot, and yet, he is because of the way he conducts himself," Quinn said. "He's got tremendous humility. He really cares about his team and his teammates."
An Olympic champion, a two-time Stanley Cup winner and a role model for young stars in all sports to follow.
We'll miss you, Joe.