Closing time, puckheads: I leave you with some season highlights before a little R&R
July, 10, 2009
07/10/09
8:21
PM ET
Dear puckheads, I'm closing up my laptop and turning off my BlackBerry for a month. That's right, time for some summer holidays.
Time for me to spend more time as a daddy to six-month-old Melanie. My wife Stacy and I and our little angel have made our way up to our cottage up here, about two hours north of Toronto in the Muskoka region.
My only stressful decision for the next few weeks is whether or not to wear that bathing suit thong I picked up during the playoffs. At this point, my gut feeling is no, but that could easily change.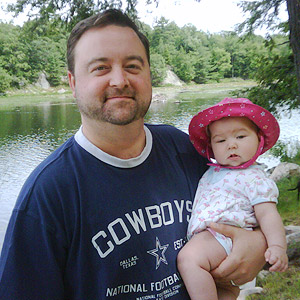 Pierre LeBrun for ESPN.comMelanie now gets to spend some quality time with Pierre, but rumor has it she may be pulling for the New York Giants in September.
It's been a whirlwind year, my first season at ESPN.com, and I've had an absolute blast.
The season began for me in Stockholm, Sweden, along with the Pittsburgh Penguins and Ottawa Senators. I remember sitting down for an interview with young Pens captain Sidney Crosby and watching his eyes grow wide as he explained the pain of losing in the June 2008 Cup finals to Detroit.
"You know what? I thought about it a lot after the season," the superstar told me on the eve of the 2008-09 season opener. "It's one of those weird scenarios where you want to win so bad, and I think the joy you would have from winning the Cup must be unbelievable. I wouldn't know, but I felt the other side of it. ... I don't want to go through that again and I'd like to get on that other side, for sure."
Fast forward 10 months, and Crosby's wish was fulfilled in what was the most entertaining Cup finals I've covered in my career, a seven-game series win over Detroit that had it all.
In between, the NHL had its many ups on the ice (the product is as good as ever), and some downs off of it, as the recession clobbered some markets, more than the league wants to admit. We're still not sure how things will turn out in Phoenix, Florida, Nashville and Atlanta, among other spots.
Some personal highlights this past season:
• Skating on the ice at Wrigley Field two days before the Winter Classic, which lived up to its name once again. I'm just happy I didn't break the ice surface. I could swear NHL ice guru Dan Craig was eyeballing me the whole time I was taking a spin around the ice.
• Seeing Patrick Roy's jersey retired in Montreal last November is something I won't soon forget. We were all wondering if the crowd would hold some resentment for his hasty exit 13 years earlier. Instead, Roy walked through the crowd and onto the ice and received a display of raw emotion I've rarely seen in my career. Their last great Cup champion was coming home and they weren't going to let a little squabble from December 1995 ruin the moment. Amazing stuff.
• Spending the NHL trade deadline with hard-working colleagues Scott Burnside and E.J. Hradek at the ESPN compound in Bristol. Writers and editors plowed through a 12-hour shift on a busy day. My favorite anecdote was receiving an e-mail from a source in the Florida Panthers' front office saying they deliberated until the final five minutes before the deadline on whether or not to accept the trade offer from Philadelphia for Jay Bouwmeester. You wonder now how much Bouwmeester in Philly would have affected the Flyers' first-round series with Pittsburgh.
• The playoffs were a blur; two months on the road watching incredible hockey. I covered four Game 7s -- New York-Washington, Pittsburgh-Washington, Anaheim-Detroit and, of course, the Cup finals denouement.
• There was the car ride with Tim Wharnsby of The Globe and Mail. It began one Sunday morning in Toronto, then we took a six-hour break in Detroit, where we covered the Wings-Ducks playoff game Sunday evening, before we headed to Chicago that night to catch last call at Mother Hubbard's in the Windy City. All told, nine hours of driving, an NHL game in between, and a few hours' sleep before Canucks-Hawks the next day. Ah, life as a sportswriter!
• During one of those stops in Chicago during the Western Conference finals, Vancouver Sun columnist Cam Cole and I couldn't find a taxi after a game at United Center and crammed into a rickshaw for a few blocks before finding a cab. And when I say crammed, I mean it.
• I really enjoyed my time in New York, Washington, Pittsburgh and Chicago, but most of my playoffs -- a good six weeks -- were spent in Hockeytown. Many thanks to the folks at Malaka's Detroiter Bar for the laughs, good times and awesome jukebox.
• We squeezed in Las Vegas for the NHL awards and Montreal for the draft before tackling the craziness of July 1 and beyond.
Whoa ... let's take a break! I'll be back in Chicago next month along with my great friend Mr. Burnside for the U.S. Olympic hockey orientation camp.
Until then, enjoy your summer, puckheads!