Latest on Isles' goalies, Foppa, GMs meeting
November, 7, 2009
11/07/09
10:16
PM ET
The NHL's 30 GMs meet Tuesday and Wednesday in Toronto on the heels of Hockey Hall of Fame weekend, and yes, head shots will definitely be a headliner on the agenda.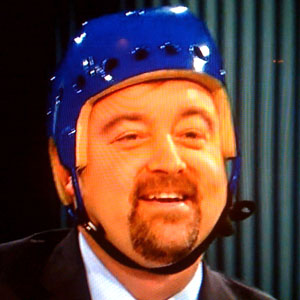 Screen grab from 'Hockey Night in Canada' broadcastHere I am, displaying the 'soft shell' of a helmet prototype that will be presented at this week's GMs meetings in Toronto.
But one other item on the agenda I found interesting was the discussion about whether to eliminate the trapezoid, the areas where goalies aren't allowed to play the puck. The trapezoid was brought in after the lockout amid the package of rule changes, which opened up the game. It was believed at the time that limiting the goalies' ability to play the puck in the corners would help the opposing team's forecheck; but there's a feeling among some GMs that goalies should be allowed to roam freely again, which may help some defensemen avoid injuries from having to play the puck. We'll see whether or not there's enough widespread support to make a change for next season. I don't get a sense either way right now.
Other agenda items:
• NHL deputy commissioner Bill Daly will bring up long-term deals and the so-called "cheat contracts," the type of deals that have low-salaried years added at the end of the contract in order to bring down the average cap hit. The league investigations, by the way, continue for the Roberto Luongo, Chris Pronger and Marian Hossa contracts.
• In the wake of Don Sanderson's tragic death in a senior league game in Ontario last year, Kris King of the NHL's hockey operations department has worked with manufacturers to try to find safe alternatives so players don't take their helmets off for a fight.
King will show GMs a couple of new prototype helmets this week. On one, the visor snaps off. Another, which I find interesting and got to see firsthand Friday at the league's Toronto office, is an invention from Marry-Ellen Baldackin of Parry Sound, Ontario (hometown of Bobby Orr). Her helmet allows the plastic shell to pop off, while the player still wears a soft shell underneath. The idea is the soft-foam shell would still protect a player's head if he fell to the ice, but it's also soft enough to punch. It looks funny (some of you may have seen me displaying Baldackin's helmet during Saturday's "Hotstove" segment on "Hockey Night in Canada"), but it's an interesting idea. We'll see what the GMs think of it this week.
Latest on Peter Forsberg
Foppa played again Saturday for Sweden in the Karjala Cup in Helsinki. Right now, the plan is for him to chat with agent Don Baizley at some point after the tournament and make a decision: play in the NHL, play in Europe/Russia, or retire.
At this point, there has been no form of contract negotiations with any NHL team, just teams calling and saying they may be interested. The Canucks and Rangers publicly stated their interest in Forsberg this week, and sources told ESPN.com that Boston and Philadelphia also are interested. All four teams had people in Helsinki scouting Forsberg this week. I would label Los Angeles and Edmonton as only maybes right now. I'm sure there will be up to a dozen teams that at least reach out to the Forsberg camp to kick the tires. But again, Forsberg first has to decide whether he feels he's up to it.
Islanders' goalies
I am told Rick DiPietro is a couple of weeks away from returning; once that happens, and if he stays healthy, the Islanders will move Martin Biron. The team is already getting calls for Biron and it shouldn't be hard to move him. His one-year, $1.4 million deal is easy to digest and he's a darn good goalie. This was the plan all along when Biron signed there in July, that he would be moved at some point if and when DiPietro recovered.
NHLPA
The executive board (30 player reps) and four-man review committee will convene again Sunday night at 7 ET, when, I'm told, these two main topics will be discussed:
• Update on who it's going to hire to handle the settlements for Paul Kelly and Ian Penny.
• Update on players who may be chosen to form two committees: the constitution committee and executive director search committee.