A safer helmet: An idea whose time has come
November, 11, 2009
11/11/09
4:54
PM ET
TORONTO -- Somewhere along the line, the mood in the room shifted.
It was gradual, it took a long time, but after years of discussing head shots at the NHL general managers meetings, the tone in Wednesday's discussion was different.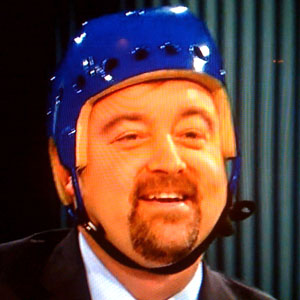 Screen grab from 'Hockey Night in Canada' broadcastHere I am, displaying the "soft shell" of a helmet prototype that was presented at this week's GMs' meetings in Toronto.
"It was quite a bit different: Some of the guys who have taken a strong position that it may take hitting out of the game have adjusted their views a little bit," veteran GM Jim Rutherford of the Carolina Hurricanes said after the two-day meeting wrapped up in a downtown Toronto hotel.
"If we continue down what was talked about today, then we will see a change."
Somehow, just eight months after head shots essentially were shelved at the March 2009 GM meetings in Naples, Fla., because the group couldn't come to a consensus on how to address the issue, a new direction was approved Wednesday.
Seven GMs will be appointed to a group that will study blindside hits and collect data on the subject for the next GMs meeting in March.
Although not every GM is on board, it's clear that for the first time there's a majority who are willing to consider banning blindside hits if that's what the group of seven recommends come March.
And that, my friends, is a giant leap from where this group had been in the past.
"I think that I agree with the consensus today that it's an agenda item that has continued to come back," Montreal Canadiens GM Bob Gainey said. "We were given a time line of this discussion over the past few years. The fact that it continues to come back and we make adjustments that we hope will rectify and improve the safety and durability of the players, the fact that it's here again means that there's more that needs to be done. Exactly where it ends up, I'm not prepared to take a position on it."
The poster-child incident for the renewed interest in this subject was Mike Richards' hit on David Booth last month. Everyone agrees it was a legal shoulder-to-head bodycheck as defined by today's current rulebook. The question now is whether it's time for that legal hit to be made illegal because it was a blindside hit to the head -- Booth was an unsuspecting player who couldn't see Richards coming.
"The hitting in the game is great," Washington Capitals GM George McPhee said. "Every once in a while you have to sit back and say, 'That hit may be legal, but is there something wrong with it?'"
"The most important thing is we're concerned about guys getting blindsided or kind of caught unaware," Ottawa Senators GM Bryan Murray said.
But the group was also clear on another thing: They aren't looking at making every single hit to the head illegal. Chris Neil's thunderous but clean hit on Victor Hedman was a popular example. That was not a blindside hit. The GMs don't want to ban that kind of hit, because it was straight-on.
"That was a good hockey hit," Pittsburgh Penguins GM Ray Shero said.
"Chris Neil finished his check, didn't leave his feet, didn't elbow him," Toronto Maple Leafs GM Brian Burke said. "We want that hit in the game. We want to straddle the line. Our job is to make this game as safe as a contact game can be."
There are factors in the past few years that have forced GMs to rethink this issue. The crackdown on obstruction and hooking and holding after the 2004-05 lockout has sped up the game like never before. The players are bigger and faster and colliding with one another at record speed. That has had a big impact on players getting hurt, even on clean checks.
"It is faster, the guys are bigger, no question," Murray said. "We opened the game up, you can't hold people up so much now. There are more mid-ice hits than before because of the style of the game."
So what the group finally agreed upon Wednesday is that something needs to be done. And I say good on them.
It will be interesting, to say the least, to see exactly where the GMs end up going with this in March. It'll be one of the most significant decisions the GMs make since the package of rule changes adopted coming out of the lockout.
Will the GMs vote to ban blindside hits in March, and if so, how will they clearly define it?
"I heard today that we want to redraw the line, but there won't be consensus today on where that line should be drawn," Gainey said.
"And there may not be unanimity in the end. But I think we're moving in the right direction."
If blindside hits are made illegal, the players will adjust. They always do.
"It's no different than we learn at a young age now that if a player is facing the boards, you don't hit him from behind. It's instinct," Shero said. "Maybe this will be instinct, too."
Other notes from Wednesday as GMs wrapped up their two-day meeting:
• There has been no shortage of laughter at my expense for wearing that funky-looking helmet on "Hockey Night In Canada" on Saturday night. It's a prototype the NHL is looking at. On Wednesday, it was Kris King's turn to wear it for the 30 GMs.
King, from the NHL's hockey operations side, showed the GMs the helmet that was sent to him from a woman in Parry Sound, Ontario, a unique design that allows for easy removal of the outer plastic shell but leaves a soft shell on the player's head so that he still has protection in a fight. The league is sensitive to this subject ever since the tragic death of Don Sanderson last season during a senior league game in Ontario.
"The concept is neat; it's something we never thought of," King told reporters Wednesday. "A lady in Parry Sound was watching Sidney Crosby play on TV and taking his helmet off to fight once this year. She thought it would be terrible if he ever fell and hurt his head on the ice. So she came up with this idea. It's interesting. It's one that I don't know where it will go, but it's something that we deserve to look at a little further.
"Part of our job at hockey operations is to better protect our players," King said. "Sometimes our fans think of things that we don't. It's something from the indication of our group today [the GMs] that has some merit and we should look further at."
The helmet looks funny, but as one GM told me while walking out of the hotel Wednesday, "Sometimes you have to think outside the box."
Still, don't count Leafs GM Brian Burke among the fans of it.
"Next question," Burke said. "Not buying it."
But Burke was enamored with the new M11 helmet Mark Messier has put on the market. His helmet is supposedly the safest in terms of concussions. Messier made a presentation to GMs on Wednesday.
"I teased Mark afterwards," Burke said. "'It's amazing that you're in here talking about helmet safety.' When he played for me, I couldn't get him to do his chin strap up more than about 4 inches below his chin. It was useless.
"But I really like this helmet," Burke said. "I told Mark and [his sister] Mary-Kay that I'll be in touch with them. I want to get it on some of the [AHL Toronto] Marlies immediately. We have one [Maple Leafs] player wearing it -- Garnet Exelby wears it. I really like that helmet."
Canucks GM Mike Gillis also was impressed by Messier's helmet.
"I like the look of it and think it's an advancement in technology that any player should be open to," Gillis said.
• Following the NHL GMs meeting, Team USA GM Brian Burke assembled his Olympic management staff for a meeting. The group consists of Nashville Predators GM David Poile, Los Angeles Kings GM Dean Lombardi, Philadelphia Flyers GM Paul Holmgren, Atlanta Thrashers GM Don Waddell and Pittsburgh Penguins GM Ray Shero.
Team USA will announce its Olympic roster Jan. 1 at the Winter Classic in Boston. The organization has been producing scouting reports on American NHL players since the start of last season.
"We continue to refine the list, we're continuing the process," Burke said before heading off to the Team USA meeting. "We're going to have one more meeting in Pebble Beach [in mid-December], and then we're going to chase guys. We'll split up and look at a few players. Hopefully we're down to two or three decisions to make at that point. We'll probably do the last bit by conference call."
• As advertised, NHL deputy commissioner Bill Daly addressed the GMs Wednesday regarding the controversial long-term contracts, the so-called cheat deals that bring down the average salary of the deal -- and thus produce a smaller cap hit -- by tacking on low salaries at the end of the contract. The NHL is currently investigating the contracts signed by Marian Hossa, Roberto Luongo and Chris Pronger to see whether there's any proof the parties involved willingly conspired to circumvent the collective bargaining agreement.
"We just covered the issue," Daly said Wednesday. "We reiterated the concern that we had raised with the managers in March. I updated them on the status of the investigations. I think they kind of have an understanding of what we're concerned about."
This is an issue that won't really get resolved until the loophole is closed in the next CBA. But the NHL Players' Association will have a say in that.
• Caps GM George McPhee didn't have an update on the status of veteran center Michael Nylander, who cleared waivers this week and awaits to see where he'll end up. The Caps are trying to arrange a loan agreement with a team in the KHL in Russia. That would get Nylander's $4.875 million cap hit off the NHL books, although the Caps still would pay him some part of his salary in real life.
"We're still working on it," McPhee said. "Hopefully we'll have an answer in a day or so."