'Stache Gear to help foundations for kids
November, 30, 2009
11/30/09
4:32
PM ET
George Parros is far removed from the runways in Paris, but let's give the Anaheim Ducks tough guy credit for having the gumption to throw himself into the fashion world.
OK, fashion might be a stretch, but last week the 29-year-old winger launched the 'Stache Gear apparel line of T-shirts and hats with his personalized mustache as the trademark insignia. The 'Stache Gear went on sale at the Ducks' team store this past Friday after Anaheim's 3-0 win over visiting Chicago, and much to his relief, the items were a hit.
[+] Enlarge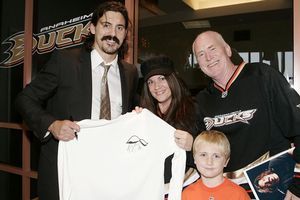 Anaheim Ducks for ESPN.comAll the proceeds from the 'Stache Gear line go to George Parros' two favorite charities: the Childhood Leukemia Foundation and Garth Brooks Teammates for Kids.
Parros' biggest fear was showing up at the launch and not selling anything. He put in a lot of hours -- and some of his own dime -- setting up the charitable clothing line. The time leading up to the launch was nerve-racking.
"Yes, it was," the Princeton grad told ESPN.com on Monday. "I've been designing it and trying to get it off the ground since last summer. I had to start an LLC and go through all kinds of government offices to get the right paperwork and all sort of stuff like that. The designing took a long time. So, when you're done and ready to go, you're worried about whether anybody is going to buy it and if it's going to be a big flop."
Then, as he was sitting on the bench during Friday's matinee game, the PA announcer told the crowd about the 'Stache Gear launch later that day. Parros wanted to crawl under the bench.
"That was embarrassing," he said with a laugh. "At least all the money is going to charity, so I can take some flak as long as we raise a couple of dollars."
The 'Stache Gear has brought in $7,500 in sales since the launch Friday, with all proceeds going to his two favorite charities: the Childhood Leukemia Foundation and Garth Brooks Teammates for Kids.
The club said Monday that due to high demand, more 'Stache Gear products have been ordered for the team store.
Parros began his charity work back in his AHL days in Manchester, where he was first growing out his trademark hair.
"All my coaches in high school and college wouldn't let me grow my hair out," said Parros. "So my first year in pro hockey, I let my hair grow out. It was getting long around Christmas and someone told me about Locks of Love at the time. I figured if I was going to cut if off, I might as well do something good with it. And it kind of started from there."
He continued the hair-cutting tradition after reaching the NHL and, on Dec. 14, the "George Parros Cut for the Kids" event will see him once again cut his hair with proceeds from the day also going to the Childhood Leukemia Foundation.
Cutting his hair is no big deal. But the stress of launching his self-designed apparel line makes you wonder, why put yourself through it?
"Hey, we live a fortunate life," said Parros. "I think it's important that you give back any way you can, whether it's a straight donation in the charity you believe in, or whether it's getting people involved. The way things have gone, I've been able to get people involved and it's been fun. There's a connection with fans and there's some cool stories."
The downside of the 'Stache Gear is that, well, he can't ever shave off his moustache.
"I'm stuck with it for a while," he said. "But that's OK. I wouldn't want to alienate myself from the fan base. I'll probably keep it as long as I play."
The experience of launching 'Stache Gear has perhaps shown Parros what life after hockey may present.
"We'll see," said Parros. "I'm not going to pretend that selling T-shirts and hats is like running a corporation, but I guess there is a little taste there. I'm not sure which road I'll head down [after hockey], but this was something interesting to do away from hockey. If it blossoms into something else, then great."
This isn't some $5 million-a-year star who cuts a check to charity. This is a guy on the low end of the NHL totem pole, making $875,000 a season, realizing he's still one of the luckiest guys on earth to be doing what he's doing. He wants to make sure he gives back. I say kudos to you, George.