Gretzky on hockey future: 'I honestly don't know'
December, 23, 2009
12/23/09
9:38
PM ET
As the calendar prepares to switch over to 2010, the greatest player in the history of the NHL and the sport's greatest ambassador remains on the sidelines.
[+] Enlarge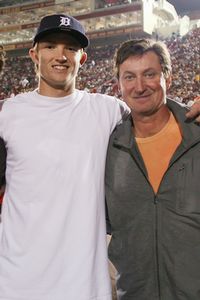 Jeff Golden/Getty ImagesWayne Gretzky, right, says he is enjoying time with his family, including son Trevor, who is excelling in baseball and football.
And that may be the case for quite a while.
"You know what, I don't know what the future holds for me," Wayne Gretzky told ESPN.com in an interview Wednesday night. "I honestly don't know."
The NHL lost Gretzky in September when he stepped down as coach of the Phoenix Coyotes after The Great One felt his unclear future was becoming too big a distraction for the team.
He has kept a low profile since then, aside from a media scrum at the Hockey Hall of Fame induction night in November, staying very much under the hockey radar. He's enjoyed life back in Los Angeles with his family and, for now, hockey is on the back burner.
"I mean, I love the game," Gretzky said. "To me, it's the greatest game in the world and everything I have in my life is because of hockey. Yeah, there are days I really miss it. But the reality is that everything happens for a reason and I don't see myself doing anything for at least a year and a half."
That timeline matches the rest of his son Trevor's high school years. Trevor is a stud athlete who is turning heads and attracting interest from colleges in both football and baseball.
"My son is coming up on making a decision on what school he's going to go to and what sport he's going to play," Gretzky said. "It's nice to be around him 100 percent of the time to be able to be a companion for him to talk about different things. So I've really enjoyed that part of it right now."
Trevor Gretzky was the backup quarterback this year at the same Oaks Christian School that saw Joe Montana's son, Nick, as the starting QB and actor Will Smith's son, Trey, as a wide receiver. Thing is, Trevor Gretzky can't make up his mind about which sport he wants to eventually pursue.
"He's a normal kid. When he's playing football, he says football; when he's playing baseball, he says baseball," Gretzky said with a laugh. "The good news for him is that he does work hard, he's very humble, he's 6-foot-5 -- he has all the attributes. He's got a good work ethic, a good attitude, and we'll just see what happens in the next couple of years.
"He's got a great situation in front of him, and I'm really proud of him."
Gretzky has migrated back to Los Angeles, but he and wife Janet still go back to Phoenix once in a while to visit their oldest son, Ty, who is a freshman at Arizona State University.
"We still have lots of friends there," Gretzky said. "I still root for the Coyotes to do well, and they're having a great year."
It is believed Gretzky is still owed more than $8 million in deferred salary from the once-bankrupt team, money that may or may not find its way to his pockets. If Gretzky remains at all bitter at the NHL for not going to bat for him in bankruptcy court, he certainly didn't let on about it Wednesday. Given what Gretzky has done for the NHL over three decades, I would certainly be bitter. But he insisted he wasn't.
"No, no, because you know what, no individual, no one person is better than the game," Gretzky said. "The National Hockey League and the commissioner, they have to do what they think is best, not only for 30 teams, but for the Phoenix Coyotes and everything that went with that. They can't always be worrying about individual people's feelings. They have to do what they think is best for the game. At the end of the day, that's what I think they did. I don't hold any animosity, I don't hold any grudges. I think they were just doing the best they could do to make an unfortunate circumstance turn out as good as they could make it."
Life is good right now, there is no reason to complain, Gretzky said.
"I'm like an everyday hockey fan now, I watch the games on TV," he said. "I'm pulling for Team Canada to win a gold medal in Vancouver, and other than that, I'm just enjoying not being in the pressure cooker."
Now that he's no longer behind an NHL bench, Gretzky realizes how much stress the job brought.
"People have asked me what's the biggest difference between coaching and playing. When you're doing it, you don't really realize it, but when you do take a step back, there's a lot more pressure on the management and coaching side than being a player," Gretzky said. "Because when you're player, you have to worry about one person, get yourself ready and be the best you can be that night or that day in practice.
"When you're a coach, you're dealing with 23 different personalities, and some guys need to be coddled, while some guys need to be pushed. The losses are stressful. When you're a player, you get up the next day and you say, 'I'll be better the next day.' When you're a coach, you're already trying to figure out what you did wrong the night before and what you [have] got to do the next game. There's a lot of work involved, but you talk to anyone who [has] done it, it's still very much enjoyable. It's a great game."
His only tangible link to the game at this point is that he's officially listed as an advisor to the Team Canada management staff. General manager Steve Yzerman told ESPN.com on Wednesday via text message that he does occasionally bounce things off Gretzky, who ran the 2002 and 2006 Canadian Olympic teams, capturing gold in Salt Lake City nearly eight years ago.
But it's clear Gretzky doesn't want to steal any thunder from Yzerman and has kept a low profile in this edition of Canada's Olympic team.
"As I said to Stevie last year, it's his team, but if he ever wanted to bounce something off me to give me a call," said Gretzky. "So we've communicated periodically, not a lot, over a few issues. The one thing we don't really get into is individual players. It's his team. I can give him more the other side of it, some surprises that may come along before the Olympics or some surprises that may come along during the Olympics, and things to be prepared for and watch out for. That's more the advice that I give him. They've got a really good management team and a good coaching staff."
Gretzky will be in Vancouver, but he won't be in the way of Team Canada.
"I'll just be there to enjoy it. I'm not going to interfere whatsoever," he said. "If they have any questions for me, I'll be around. But I'm going there to enjoy the Games and I'm going to relax. I'm hoping they can win a gold medal."
Gretzky's name has been bandied about, along with others, as a possible choice to light the Olympic torch at the Opening Ceremonies. It would certainly be a fitting choice giving his stature in the sport Canada invented and still passionately cherishes.
"I haven't really thought about it, but I'm very proud of the fact I was part of the committee that went to Prague and helped Vancouver and British Columbia and Canada get the Games," Gretzky said. "So from my point of view, I feel thrilled that I've already been part of it. I'm just going up there to enjoy it and I think it's going to be a great Opening Ceremonies and a great Olympics, and Canada is going to be extremely proud by what Vancouver and British Columbia put together."
Two months after the Olympics are over, the men's world championships will begin in Germany. Gretzky's longtime buddy and former NHL teammate Mark Messier was recently named GM of Canada's entry, and it didn't take long for reporters to ask "The Moose" about "The Great One" as a coaching candidate. So far, Gretzky said that hasn't been broached between the two friends.
"No, we haven't talked about that," Gretzky said. "More importantly, I'm happy that he's back in the game, I'm happy that he's back with the Rangers. He's meant a lot to the game and done a lot of great things for our sport. I've told him for years that one day he would really enjoy being part of Team Canada again and working with [Hockey Canada president] Bob Nicholson and his staff. He's going to learn a lot and have some fun. At this point in time, I'm sure he's got a lot on his plate and we haven't even talked about it [coaching at the worlds]."
Regardless of his hockey future, he remains busy on the business front with his many endorsement deals and speaking engagements. The Gretzky brand remains a big sell. His current partners include Pepsi, Ford, Samsung, Breitling Watches, Bigelow Tea and Upper Deck. He's also been touring doing various wine tastings promoting his wine. Wayne Gretzky Estates is doing pretty well for a third-year label. A portion of the proceeds from the wine goes to his charitable foundation.
"The wine side of things has been a lot of fun," he said.
By the end of the 20-minute interview, Gretzky had me convinced. Indeed, he is happy, relaxed and enjoying time with his family. But I couldn't resist asking one last time: What if an NHL offer came tomorrow?
"I haven't really contemplated that because I know in my heart I wouldn't do it for at least a year and a half until my son graduated," he said. "But it is a great game and there's a lot of great people in the game and great organizations. Yeah, to say I won't be back is probably crazy. Right now, I don't see it on the horizon. But things have a way of changing and shaking out differently as time goes on."