Doughty 'not going to disappoint anybody'
January, 27, 2010
01/27/10
11:51
AM ET
TORONTO -- The puck was on his stick for a fleeting moment, his one-timer a thing of beauty. His 10th goal of the season Tuesday night was nothing but a blur to Toronto Maple Leafs goalie Jonas Gustavsson.
Drew Doughty makes it look so effortless, it's mind-boggling to think he just turned 20 last month.
[+] Enlarge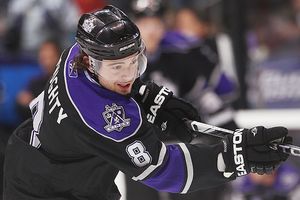 Bruce Bennett/Getty ImagesThe Kings drafted Drew Doughty with the second overall pick in the 2008 NHL draft.
"What he's got, you can't teach," Los Angeles Kings GM Dean Lombardi told ESPN.com.
What he's got is 40 points (10-30) in 52 games, good for fifth among NHL defensemen in scoring, and a plus-15 rating to boot.
"His poise level and the subtleties, I mean, you ask me what it feels like to have him on our team, No. 1, it's comforting, and No. 2, we feel pretty lucky to watch him every night," said Lombardi. "These guys don't grow on trees."
The Kings' GM was just getting started. He had many things to say about the wonder boy blueliner he chose second overall in the 2008 NHL draft. Hockey fans that live in the Eastern time zone likely don't fully know what all the fuss is about, since the Kings play most of their games so late at night (I get paid to watch hockey, so it's been a delight to stay up and watch Mr. Doughty play the past season and half).
When executive director Steve Yzerman made Doughty his final pick on defense for the Canadian Olympic team Dec. 30, the secret was out of the bag. Doughty beat out studs such as Mike Green and Jay Bouwmeester, and Kings coach Terry Murray said no one should blink at that.
"The impact that he's had for our hockey club right from the first day of training camp to right now is tremendous," Murray said. "He's going to be on the Olympic team and he's not going to disappoint anybody. He has tremendous composure. He has a great ability to recognize the situation when something big has to happen; he can make it happen. I'm very excited for him."
The Olympics? That was the last thing on Doughty's mind in September 2008, when he was trying to make the jump from the Ontario Hockey League to the NHL. He laughed when I asked him what he would have said if someone told him then that he'd be playing in the 2010 Olympics.
"I probably would have said, 'There's no chance,'" Doughty said Tuesday. "Going into my first camp, I didn't even know if I would make the Kings. Being a big part of that team last year was a surprise to me, as well. Now being named to the Olympic team, I still can't really believe that it happened. I'm just so excited about it."
And he belongs. Everything about him suggests he won't buckle under the pressure in Vancouver.
"I've gotten to know Drew real well the last year and half and I see what he can do," said 38-year-old Kings blueliner Sean O'Donnell. "People have asked me whether he can play against the best players in the world in the Olympics, and I say, 'Well, he plays the best players every night, that's who he's matched up against.' Going against [Evgeni] Malkin and [Alex] Ovechkin and [Henrik] Zetterberg and [Pavel] Datsyuk, he's been doing that already."
Doughty is already doing it at a higher level than when he broke in 17 months ago. The learning curve is weekly for this player.
"I've become a better all-around defenseman in my own zone," Doughty said, not cocky but matter-of-factly. "I'm starting to shut down the other team's best players and doing well at that. I'm jumping into the offense, my point production has improved this year. I think just overall in every area I've improved."
I apologize ahead of the time for the hyperbole, but an NHL scout recently told me Doughty was a "right-handed Scott Niedermayer in the making."
O'Donnell just happens to have played with both players, so I asked him.
"If I was playing one game in the last 10 years and I could only take one guy, it would be Scott Niedermayer," said O'Donnell. "So that's a lot on a kid that just turned 20. At the same time, he does have some of the same tendencies. He doesn't get rattled after making a mistake. He has that ability as well to shake that first forechecker, and next thing you know he's gliding up the ice.
"I don't remember exactly what Scotty was like at 20, but it's a nice comparison to have at this age," added O'Donnell. "Some of the same qualities are there and obviously it would be a great thing if he ends up having a career like him."
Most young players would shrivel after hearing such lofty comparisons to stars they grew up watching. But Murray said that's not the case with Doughty.
"He's not overwhelmed by hearing those comparables," said the Kings' coach.
Lombardi said it's because Doughty is a grounded individual, courtesy of terrific parents and a great family environment growing up in London, Ontario, two hours west of Toronto. That calm demeanor was on full display the first day of training camp in September 2008.
"I can't get over the first training camp last year when he gets on the ice and it's like, 'Well OK, I'm here, let's get this thing going and start playing the games,'" said Murray. "He was so relaxed and composed and fit in well with the veteran players."
A common observation with this young and talented Kings team is all they're missing is a superstar-type presence to further excite the Los Angeles market. Well, they've already got one right under their nose, even if they don't fully realize it yet.
"I remember talking to him at the draft. 'You want to be a King, well, they haven't won in 40 years. We'll take you with this pick, but some day, you'll be responsible for winning,'" recalled Lombardi. "The great ones all take that challenge in all sports. The great players are truly, truly judged by wins and losses. There truly aren't that many great athletes that play the game with only that in mind, and I think he's that type of kid. You see it during times in a game when he recognizes that he has to take matters in his own hands."
On Tuesday in Toronto, Doughty's 10th goal triggered a $212,500 performance bonus in his entry-level contract. He smiled when I asked him about it after the game. Oh yeah, he knew, but he didn't want to make a big deal of it.
What do they say? Act like you've been there before? Doughty has figured that one out.